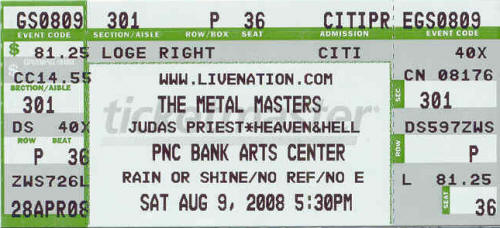 THE BAND
Ronnie James Dio - Vocals
Tony Iommi - Guitar
Geezer Butler - Bass
Vinny Appice - Drums
Scott Warren - Keyboards
SET LIST
Unknown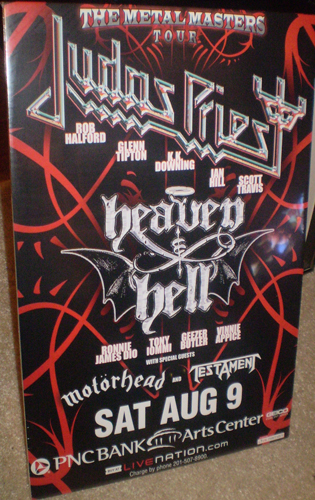 CONCERT PHOTO GALLERY
None yet. Have any? Submit 'em!.
FAN SUBMITTED TOUR REVIEWS & REMARKS
Great show! not the best concert i've been to but definitely the loudest. Though my friends disagree with me, i think sabbath completely stole the show from priest and motorhead. no neon knights this show but they threw in sign of the southern cross
Posted by: Rick at August 9, 2008 11:49 PM
---
So I am back from the show and was thoroughly pleased with tonight's performances. If you like loud then this is a must see event. I will say Motorhead just gave it to the audience and we loved it. Straight ahead kick ass R&R. On to Heaven & Hell whom I was there to see. I thought they were really tight although the sound seemed a bit off in the beginning. Iommi was on and Dio's voice was brilliant. Geezer is just an animal on the bass and Vinny hit the skins hard. The song selection was good. I liked the rendition of the song Heaven & Hell. It seemed to change up a bit more than the way they usually do it. My one disappointment (and I am not alone) was not hearing Neon Knights. I am probably being selfish but I thought for sure it would have been played for an encore but there was none. It's the first song on the album H&H and it just smokes. It sets the tone for the rest of what is a great album. I am not sure why they didn't do it. I would have preferred to hear that than see the drum solo if time was an issue or even cut down on the song Heaven and Hell so they could play it. I noticed a few scattered boos at the end of their set but that may have been because there was no encore. All in all a great show and they were the best band of the evening.
Posted by: Bob Peterson at August 10, 2008 12:55 AM
---
Although I am aware that this is a Black Sabbath site, I am going to review the entire show. So, if you only want to hear about Sabbath, scroll down a few paragraphs.
Unfortunately, I missed most of Testament. They were already playing as I entered the venue. After I went to the bathroom, got a beer, bought a t-shirt (I got the one with the Heaven and Hell album cover on the front with the tour dates on the back), and found my seat, they only had three songs left. But those three songs sounded pretty damn good. They played the classic "Practice What You Preach" along with two songs off of the new album: "More Than Meets the Eye" and the album's title track "The Formation of Damnation." I haven't listened to much Testament in a while, but I plan on giving the new album a listen based on the strength of their performance.
I was also somewhat surprised by how well-received Testament was. With a relatively barren stage and only a Formation of Damnation backdrop to identify them, Testament proved that they were a great choice to open this tour. The crowd was at about 60% capacity and gave the band a very warm response. I was worried that a thrash band like Testament wouldn't go over well in such a big venue, but Chuck Billy and co. seemed perfectly comfortable being given such a large forum. Overall, and based on only three songs: 7/10.
Motorhead followed and kicked ass despite a muddy sound mix. I will attempt to give you their set list, but I may miss a few or put them in the wrong order:
Dr. Rock
Stay Clean
Killers
Metropolis
Over the Top
In the Name of Tragedy
Going to Brazil (replaced Just Cos You Got the Power from previous shows)
Killed by Death
Ace of Spades
Overkill
This was actually my first time seeing Motorhead and, since they are one of my favorite bands, I absolutely loved it. Of course, I could gripe about the set list (I was really hoping for "We are Motorhead," "Limb from Limb" and "Burner"). However, as an opening act, they can't exactly play an extensive set and I understand that. What I will gripe about is the sound mix. Basically, the music sounded fine, but Lemmy's vocals were muffled to the point that you could barely make out what he was saying, even between songs. Still, Phil Campbell smoked on guitar, Mikkey Dee proved that he is still one of the greatest drummers in rock/metal, and Lemmy is still God.
The rest of the crowd seemed to share my sentiments about Motorhead. The band took the stage in front of a large Motorizer banner flanked by two smaller Motorhead England banners and promptly announced "We are Motorhead and we play rock and roll." From this point on, they owned the place. The crowd swelled to about 80% capacity for Motorhead and even had the only moshpits of the day (that I could see and I was only five rows from the lawn). If someone had wondered into the venue from the street, they might have though that this was a Motorhead headlining show. Overall: 8/10
Now, moving on to the first of the two headliners: Black Sabbath. This was my first time seeing Sabbath with Dio, though I have seen them twice with Ozzy. This show made me wish that the pointless and fruitless reunion with Ozzy never happened. Quite simply, they were awesome. Again, I will try to give you their set:
E5150/The Mob Rules
Children of the Sea
I
Sign of the Southern Cross
Drum Solo
Time Machine
Falling Off the Edge of the World
Die Young
Heaven and Hell (extended)
The band sounded great, the stage looked awesome (featuring twin demons perched in trees on the sides of the stage and a huge backdrop that looked like steel girders with vines growing over them) and the crowd loved it. Dio especially sounded excellent and the band seemed to be in a really good mood. Iommi smiled constantly, the band was high-fiving fans in the front and Dio made a comment about how large the crowd was. It was quite refreshing to see Sabbath with a singer that could hit high notes, move around, interact with fans and not rely on a teleprompter for the entire show.
However, I do have to comment about the set list. When they didn't play "Ear in the Wall," I was sure that we would get "Neon Knights" as an encore. Instead, we got neither. This was made even more frustrating considering the inclusion of a drum solo and an extended "Heaven and Hell," the exclusion of which would have allowed for two more songs.
This complaint aside, Sabbath was great and the crowd loved it (the venue was now pretty much full). One of the previous reviewers mentioned some booing at the end of their set. I can confirm, as I was close to the source of the booing, that this was because of the lack of an encore. Anyway, great show. Overall: 9.5/10
As a sidenote, between Sabbath and Priest I went to get a beer and saw just how full the venue was. It was completely packed. The crowd on the lawn extended all the way to the back of the place. It's nice to see that metal shows like this, and Iron Maiden from earlier in the year, can still attract such large crowds.
Going into this show, I considered Judas Priest the greatest live band ever, followed by Maiden and Sabbath. This show only reinforced this belief. Once the lights dimmed, the noise from the crowd was thunderous as they awaited Priest's arrival, and the band didn't disappoint. Here is their set list:
Dawn of Creation/Prophecy
Metal Gods
Eat Me Alive
Between the Hammer and the Anvil
Devil's Child
Breaking the Law
Hell Patrol
Dissident Aggressor
Angel
The Hellion/Electric Eye
Rock Hard, Ride Free
Painkiller
Hell Bent for Leather
The Green Manalishi
You've Got Another Thing Coming
The band was tight and Halford was ear-shattering. Watching videos of this band simply doesn't prepare you for how loud Rob Halford can scream. I thought that my ears were going to start bleeding during "Painkiller." Just like Sabbath earlier in the evening, Priest seemed to be in very high spirits and took time to shake hands with the crowd.
Priest's stage was fairly elaborate, featuring metal stairways and ramps, a large light show, fog machines, elevating platforms and multiple backgrounds. No pyro or major special effects/props, though. The set list was also quite satisfying, including some songs that haven't been played in years while not forgetting the crowd-pleasing classics. The inclusion of "Devil's Child," "Hell Patrol," "Eat Me Alive" and, especially, "Dissident Aggressor" proves that Priest isn't afraid to reach into their extensive catalogue for some forgotten classics. Meanwhile, the inclusion of Priest staples like "Breaking the Law," "Painkiller," "Electric Eye," Hell Bent for Leather" and You've Got Another Thing Coming" gave the crowd a nice selection of well-known hits alongside the more obscure tracks. The only questionable songs were "Prophecy" (I know they have a new album out, but that doesn't make it good) and the bizarre selection of "Angel" to represent the "Angel of Retribution" album.
If you have never seen Judas Priest, you should do so as soon as possible. Overall: 10/10.
This was one of the best shows I have ever seen and the best show of the year, which is quite a feat considering the performance given by Iron Maiden at the Izod Center earlier this year. I have to give the tour organizers a lot of credit for putting such a great bill together. Hopefully, "Metal Masters" will return next year with a new lineup. Judas Priest/Iron Maiden/Slayer/Overkill sounds about right to me.
Posted by: Michael Dooney at August 10, 2008 9:43 PM
---
The Heaven and Hell performance was great. I saw them at PNC last year and at Radio City. They sounded as good if not better this year. Dio sounded incredible. Tony was materful as was Geezer. I love watching them both play. They are incredible. It's an orgy for the eyes. So much to see and appreciate watching all four guys perform. Not to leave Vinnie out; he also sounded great.
I can tell you first hand about the booing because; Me and my son may have been booing the loudest and the longest. We were dead center stage row 17.
Reading the reviews here and on Tony's site; I knew the setlist going in. I knew they removed Ear In The Wall and added an encore of Neon Knights for the second show. So; I was expecting the encore.
After finishing the song Heaven and Hell. They left the stage. Lights remained dim for awhile as the crowd erupted in applause. We were all expecting the encore. All of a sudden the lights went on; meaning no encore. I started booing immediately that; is when the booing ensued. The booing was strictly because the crowd wanted more and were disappointed they were not coming back out.
I have to disagree with some when they want to cut down the song Heaven and Hell to add another song. I never tire of Heaven and Hell and the longer the BETTER! I hope they never stop playing it or give it a shortened version. I would be gravely disappointed if they did!
While I would've loved more music from them; especially Neon Knights. I would not want it at the expense of a scaled down version of Heaven and Hell. That song to me defines Dio with Black Sabbath/Heaven and Hell. It was so powerful when I first heard it and it still is today!
Posted by: Frank Costarelli at August 10, 2008 11:14 PM
---
I seen the Heaven And Hell show in Hamburg, and all I can say, even without Judas Priest, the show was GREAT. Testament may have overdone the re-verb, but hey it still was hard, loud, and got people moving. Motorhead destroyed the crowed which was great. And Dio was his always great normal self, I mean when you got Tommy, Geezer, and Vinnie backing you up, how could you not be great, a great show to see
Posted by: john at August 16, 2008 6:00 PM
---
Post a concert review
Thanks for signing in, . Now you can comment. (sign out)
(If you haven't left a comment here before, you may need to be approved by the site owner before your comment will appear. Until then, it won't appear on the entry. Thanks for waiting.)