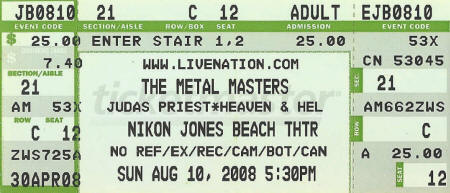 THE BAND
Ronnie James Dio - Vocals
Tony Iommi - Guitar
Geezer Butler - Bass
Vinny Appice - Drums
Scott Warren - Keyboards
SET LIST
Unknown
CONCERT PHOTO GALLERY
None yet. Have any? Submit 'em!.
FAN SUBMITTED TOUR REVIEWS & REMARKS
Saw the show with a friend and my 8 yr old son in tow. Set list was identical to night before.
Ronnie kept mentioning sausages all during the show (must have been some inside joke).
Band kicked butt - this was in fact my first time seeing them live (I'm 48). Geezer was on fire.
Ronnie's voice sounded IMO better than it was on Live at Radio City. Tony was incredible;saw him crack a few smiles as he played. Vinnie was stellar but I could have dispensed with the solo in favor of another song (like Neon Knights!) This theme is recurring; they need to end the show with that song. Only thing I can think of is that with this 4 band lineup maybe many venues have a tight curfew and H&H have no time alloted for encores. Maybe Bristow was the exception.
Hope they return next year with a full show!
Posted by: BwanaBob at August 11, 2008 9:16 AM
---
The band sounded great as this is early in the tour,and Ronnie sounded somewhat stronger vocally as opposed to last year.It's ridiculous that they're not getting equal time,how can you leave "Neon Knights" out of the set(isn't that song the introduction most of us older people had to this lineup that spring/summer of '80 and blew our minds?!)....Vinny's drum solo or the very weak Testament not playing could definitely be dropped for this tour!But other than that,they set the mark and Priest didn't meet it really...
Posted by: Vinnie Messina at August 11, 2008 11:56 AM
---
Third time seeing the band - 2nd time with Dio. You could see that Iommi was upset with the sound quality which thankfully improved a bit as the set progressed. But the boys really rocked especially on Die Young and Heaven & Hell. Hope 2 c them again as headliners because they really shouldn't take a back seat to any other band, including Priest.
Posted by: Shaun at August 12, 2008 12:25 PM
---
The first time I ever saw Sabbath was in 1980. I've been listening to Dio sing since Rainbow days. I don't know what this guy is made out of, by now I've seen Dio perform A LOT, and this show was by far the best I've ever heard him. Even through the crap sound in the beginning of the show, this dude just kicks ass. Voice shines like it did back in the 70's.

Tony Iommi, greatest guitarist ever, and really ripped on tonight's version of Heaven and Hell, which was actually quite a bit different from the prior night's jam.Really brings back what Sabbath was all about way back when. Someone please get them to drop the drum solo, though. Vinny's great, hits hard but c'mon.
What can you say about Geezer that hasn't already been said. Sabbath blew away all the other bands but I still enjoyed checking them all out. A great day of metal. Can't wait for the new album and Sabbath doing a full set.
Posted by: Brian at August 12, 2008 4:53 PM
---
Setlist for this show, taken from metalsetlists.com:
E5150
The Mob Rules
Children Of The Sea
I
The Sign Of The Southern Cross
Time Machine
Falling Off The Edge Of The World
Die Young
Heaven And Hell

Posted by: Alex Bergdahl at August 14, 2008 2:49 AM
---
Post a concert review
Thanks for signing in, . Now you can comment. (sign out)
(If you haven't left a comment here before, you may need to be approved by the site owner before your comment will appear. Until then, it won't appear on the entry. Thanks for waiting.)