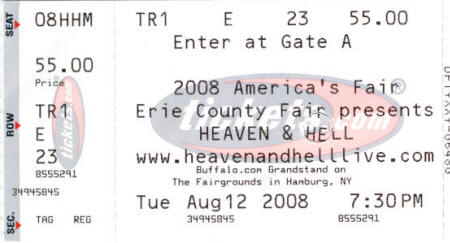 GIG NOTE: This was not an official "Metal Masters" gig, as Judas Priest did not play. Heaven & Hell was the headliner on this gig.
THE BAND
Ronnie James Dio - Vocals
Tony Iommi - Guitar
Geezer Butler - Bass
Vinny Appice - Drums
Scott Warren - Keyboards
SET LIST
E5150 (intro)
The Mob Rules
Children of the Sea
I
Sign of the Southern Cross
Drum Solo
Time Machine
Falling off the Edge of the World
Die Young
Heaven and Hell
Neon Nights
Set list Note: The band did bits of TV Crimes, Lonely is the Word, Voodoo, & Lady Evil during sound checks.
CONCERT PHOTO GALLERY
None yet. Have any? Submit 'em!.
FAN SUBMITTED TOUR REVIEWS & REMARKS
Had the pleasure to see this great line up for the second time last night at the Erie County Fair in Hamburg, NY.
Opening act Testament was unfortunately forgettable. Their sound was way off and I really couldn't tell one song from another. I was actually looking forward to seeing them, as I was never a fan and thought the performance might turn me on to their music - unfortunately it was just the opposite.
Motorhead got the crowd fired up - there were lots of Motorhead t-shirts in the crowd and it was biker night at the fair on top of that. Motorheads sound was MUCH better than Testament and I was glad I got to see a live performance from this much overlooked band.
Black Sabbath (I refuse to refer to them as H&H) were on top of their game. I saw them in Cleveland last year and they appeared to be even sharper this time around. The setlist was the same as previous shows, with Neon Knights returning at the end. Dio's vocals were fantastic (he had to put some effort into some of the high notes, but I'll cut slack here all things considered). Tony was having a blast - big smiles all around and another rock solid performance. Geezer was on the money with the bass and Vinny put on a great show with the drums. I get bored with solos during concerts, but Vinny's drum solo was pretty entertaining and the crowd seemed to get into it.
All I can say is I have been lucky enough to see the original Sabbath line up once but being able to see this line up twice has been a the top as far as concerts go...
Posted by: Craig Madey at August 13, 2008 12:13 PM
---
I saw Black Sabbath MKII (Heaven and Hell) in concert last night in Hamburg, NY, which is about 15 miles south of Buffalo in a show that was not part of the 'Metal Masters' tour. Testament and Motorhead opened and there was no Judas Priest, which explains why this was not an official MM date. The show was listed, however, on the concert schedule portion of the band's official heavenandhelllive.com web site. The gig was at the Erie County Fair and the bands played on a stage set in the infield of the race track on the fairgrounds, with reserved seating on the track and general admission seating in the grandstand. After playing in huge amphitheatres for the first 4 dates of the MM tours, this venue was an odd choice.

Here is a review from the Buffalo News:
http://www.buffalonews.com/entertainment/story/413475.html

I didn't enjoy Testament at all and the poor sound surely contributed. Their loud, thrash syle just didn't work for me. They were on for 35 minutes. Lemmy and Motorhead were next and they played a great 55 minute set and were very, very well received by the crowd, many sporting Motorhead t-shirts. Heaven and Hell took the stage next, at 10:10pm and ripped through the following set:
E5150 (intro)
The Mob Rules
Children of the Sea
I
Sign of the Southern Cross
Drum Solo
Time Machine
Falling off the Edge of the World
Die Young
Heaven and Hell
Neon Nights
The sound was crystal clear, at least after working out a couple of kinks during 'The Mob Rules'. Iommi was a stoic giant, delivering those monster riffs with such precision. Geezer continues to amaze after all these years, Appice plodded along well and Dio was simply excellent, hitting all the notes (is he really 66?!?) and being ever the gentlemanly MC. He also made reference to the good New York State crowd, having been raised about 3 hours away in Cortland. As you can see, the setlist was the same as the last couple of shows from the MM tour. However, we did get 'Neon Nights', which they tore through without leaving the stage after they said their initial goodbyes at the end of 'Heaven and Hell'. Since they were the headliners, with no Priest to follow, I had hopes that they would expand the setlist by a couple of songs, but no. They went off at 11:22pm.

Great show and I'm glad I didn't miss them, as I did last year when they visited the Darien Lakes Amphitheatre with Cooper. Interesting to see band-signed "Rules of Hell" box sets for sale for $100, along with the t-shirts. If I hadn't just picked the box set up a week ago, I probably would have grabbed one as a souvenir of a memorable show.
Posted by: Chris G at August 13, 2008 12:53 PM
---
I would like to add to these reviews that We arrived at the Hamburg Fairgrounds a little early for some pregaming in the parking lot that just happened to be on the side of the stage and was able to hear the sound check! TV Crimes,Lonley is the word and Lady Evil were played for sound check,Pretty cool
Posted by: Timothy Fote at August 13, 2008 9:39 PM
---
I saw Sabbath in buffalo a couple days ago it was amazing. Testament was good but their sound was off. I got to meet chuck and alex after their set. Motorhead kicked ass and got everybody up. and sabbath came on teared through mob rules playing their regular set except ear in the wall. ohh well. i also saw ronnie smoking what looked like a joint on the side of the stage during the drum solo. great show.
Posted by: Eric at August 14, 2008 6:36 PM
---
Post a concert review
Thanks for signing in, . Now you can comment. (sign out)
(If you haven't left a comment here before, you may need to be approved by the site owner before your comment will appear. Until then, it won't appear on the entry. Thanks for waiting.)