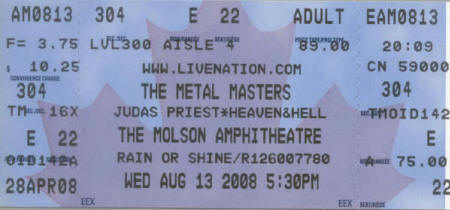 THE BAND
Ronnie James Dio - Vocals
Tony Iommi - Guitar
Geezer Butler - Bass
Vinny Appice - Drums
Scott Warren - Keyboards
SET LIST
Unknown
CONCERT PHOTO GALLERY
None yet. Have any? Submit 'em!.
FAN SUBMITTED TOUR REVIEWS & REMARKS
I have a few comments I need to make on last nights show in Toronto. For starters our boy Vinnie Appice didn't seem like him self. It was not the usual up beat Vin we all love. He seemed to not be into the music at all for the first few songs. He never really shinned last night. He often would play with one arm while he spent large amounts of time fiddling with his high-hat or wiping sweat from his face. I'm not trying to be critical of him at all, but he just didnt give off the same vibe he usually gives off. To further my point, Vinny didn't even join Geez, Ronnie or Tony on stage to say their good byes. Ronnie was shaking hands with the fans in the front row as Geezer and Tony threw picks into the crowd and Vinny was not around. He vanished off the stage without even a wave. My second comment is the absence of Ear in The Wall. They simply didn't play it. But they did play Neon knights as an encore, which was awesome! Any one else at the same show agree with me or have any ideas? Thanks Joe.
Posted by: Sam at August 14, 2008 1:38 AM
---
Last night's show in Toronto was amazing. This was my first time seeing Testament live and, they really opened the place up. They played a couple off of their new album and Chuck Billy commented that this was their best stuff in a very long time. I have to agree. If you haven't got the new disc yet, what are you waiting for? Don't be late….they come on @ 5:30 PM.
Late beer sales (par for the course in Toronto) started to get people on edge. But, as we stood in line for some refreshments, we heard those famous words: "We are Motorhead….we play Rock 'n Roll." Lemmy had a smile of everybody's face…everything was under control. By this point it was a packed house and there were plenty of Lemmy look-a-likes to go around. It's been a long wait for Motorhead to come back to Canada. Looking forward to their show in Montreal in September!!
Now, for the band we were all waiting for: Heaven & Hell. They came to kill. I could almost see it in their eyes that they loved being in the #2 slot. They knew that they would bring the roof down on top of us, and they did! I could feel the music all the way to the lawn, where I stood most of the night. It hadn't been very long since their last stop here but it felt like it. After a long set of classics, they came back to play Neon Knights for an encore and the place just fell apart. At this point I was ready to go home…..but, the night wasn't over.
Judas Priest brought out the theatrics. Rob Halford seemed to be wearing a different jacket with every song and they played a good mix of new and old. At most shows, most people are spent nearing the end of the headliner. Not at this show. Priest had us going the whole night. Halford really knows how to keep the crowd on their feet.
Great tour…..this was an all-star line-up and a dream come true. Don't miss it!!
Mark Talbot
Toronto, Canada

Posted by: Mark Talbot at August 14, 2008 4:12 PM
---
Has to be one of the greatest concets i have ever seen. Testament started off the metal mayhem and gave one hell of a intense performance. Im a huge Motorhead fan and i could not wait to see Lemmy in person. Motorhead did not disapoint. Highlight was Metropolis. Then came time for the Black Sabbath!!!!! The Sun was slowly setting outside, which gave some great atmosphere. Sabbath started off with the thunderous Mob Rules and did let up the rest of the night. True musicians playing true music. They were the best band of the night. As for Judas Priest, I mean dont get me wrong. Iam a big Priest fan, but i dont know. Something seemed off with them. Halford can still sing like a metal god though. Overall a excellent show and i would recommend all you metal heads to check it out.
Posted by: Anthony Nicoletti at August 16, 2008 10:33 AM
---
I was also at the Toronto show at The Molson Amphitheatre on Wednesday Aug 13th
and I thought it was an absolutely killer performance ! Testament got it off to a mediocre start initially,
but then Lemmy and the boys took it to the next level.
Motor Head was fast, furious, LOUD and had their guns a blazin' ..
Then Heaven & Hell took the stage as the sun began to set ..
They opened with E5150 and then broke into The Mob Rules.
They played for about 90 minutes or so
and did one hell of an elongated rendition of Heaven and Hell (which I captured live on video :)
I posted two video clips for the song Heaven & Hell to give you a feel for the excitement and energy levels of the band .. It exceeded the allowable time limit for one so unfortunately I had to split it into two parts. Kinda kills the continuity but the video and sound quality are exceptional and it really makes you feel like you're there so I am told. I also posted a pretty good excerpt of The Sign Of The Southern Cross as well.
Here are the URL's to the videos I shot from Section 304 a good distance back :
Heaven & Hell Part 1 of 2 - http://www.youtube.com/watch?v=O4yaos2hin4
Heaven & Hell Part 2 of 2 - http://www.youtube.com/watch?v=o1IpAS5bVJU
The Sign Of The Southern Cross http://www.youtube.com/watch?v=0nnIQYbRTYY
They had an awesoome looking set and light show, played well into the darkness ..fittingly so, and encored with Neon Knights and sounded great throughout their entire performance. Kudos to everyone involved in it's production !
They could have easily been the Headliner for this event but being the sports and gentlemen they are, they stepped aside and let Halford and the boys put the icing on the cake, which they did exceptionally well.. Priest was awesome and proved worthy of being a headliner.
I've seen the Sabs 3 times now in Toronto .. once in 99 on the Reunion Tour with Ozzy and Bill
at The Rogers Center (a.k.a SkyDome) and then last year in 07 at the Air Canada Centre as H&H
and finally this year in 08 at The Molson Amphitheatre as H&H and I must say,
they looked their sharpest this time around.. Cheers ! ..and I hope you enjoy the footage!!
Scott

Posted by: Scott M at August 18, 2008 7:07 AM
---
This concert was indeed one of the best concerts I have seen in awhile.
I am a huge fan of all four bands, so that was a bonus.
Testemant were amazing, sounded fantastic. Paul Bostaph really gives the band a really good sound on the drums now. Disappointed that their set list was really really cut down.
Motorhead, great set, again a little short, and loud, as usual. Lemmy and the boys looked and sounded great.
I have now seen Heaven and Hell (Sabbath) on this tour three times now. And I believe that this concert they sounded the best.
I did notice as well about Vinnie, I was wondering the same thing as someone else mentioned (sorry I forgot your name mate).
They also had a short set list to accomodate the other bands, which was a shame. But they did play the usual songs:
E5150
The Mob Rules
Children of the Sea
The Sign of the Southern Cross
I
Falling off the Edge of the World
Time Machine (which was a treat to hear them add this song this time around)
Die Young
Heaven and Hell
and then the encore of
Neon Knights
Would have loved to have heard Voodoo in there. Still the sound was amazing, they really had a great time and had the crowd going the whole set. I didn't really find the "togetherness" of the band after the show though, I found them all to be rather 'stand-offish'. I could be wrong, but I think all this time together has taken it's toll on the band. It maybe just me.
Judas Priest played one of the strangest set lists. A great stage, and they sounded okay. I think Rob sounded as better than he has sounded in tours past. His pitch was unbelievable.
Priest only did one song from the new album, which was odd.
Then they did a slow song from the last album, which again was odd.
They did seem to want to play songs they haven't played in awhile, which was great.
Playing songs from Painkiller like;
Painkiller
Between the Hammer and the Anvil
Hell Patrol
and then going to Defenders of the Faith with songs like;
Rock Hard, Ride Free
Eat Me Alive
from Screaming with Vengeance;
The Hellion and Electric Eye
their trademark: You've got Another thing 'comin
and Devil's Child (which they haven't played in quite a long time)
From British Steel;
Metal Gods
From Hell Bent for Leather (or Killing Machine)
Hell bent for Leather
Green Manalishi
And then from Sin After Sin they played Dissident Agressor, which was a real treat.
I think that was all the songs they played. If I missed any let me know. :)
All in all, a great show. Loved all of it. :)
Posted by: Craig at August 20, 2008 4:39 AM
---
Post a concert review
Thanks for signing in, . Now you can comment. (sign out)
(If you haven't left a comment here before, you may need to be approved by the site owner before your comment will appear. Until then, it won't appear on the entry. Thanks for waiting.)