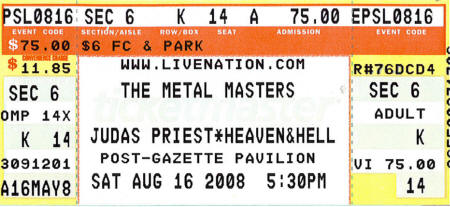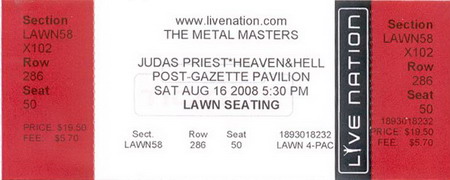 THE BAND
Ronnie James Dio - Vocals
Tony Iommi - Guitar
Geezer Butler - Bass
Vinny Appice - Drums
Scott Warren - Keyboards
SET LIST
E5150
The Mob Rules
Children of the Sea
I
Sign of the Southern Cross
Vinny Appice Solo
Time Machine
Falling off the Edge of the World
Tony Iommi Solo
Die Young
Heaven and Hell
Neon Knights
CONCERT PHOTO GALLERY
None yet. Have any? Submit 'em!.
FAN SUBMITTED TOUR REVIEWS & REMARKS
i just saw them last nite in pittsburgh and i have to say this is the tightest sabbath ever! i have seen them in 76 and 95 and there is no comparison, dio's voice is just as good as when i saw him with rainbow in 77. iommi effortlessly rules the guitar. geezer and vinny possibly best rhythm section ever! drum solo was short and sweet. same set list as others but they did an encore last night "neon nights"
PS they blew motorhead and priest off the stage!
Posted by: david at August 17, 2008 2:09 PM
---
I attended the Pittsburgh show last night. Set list was as follows...
E5150
Mob Rules
Children of the sea
I
Sign of the Southern Cross
Time Machine
Falling Off the Edge of the World
Die Young
Heaven and Hell
ENCORE Neon Knights
I am 50 years old and saw the Heaven and Hell tour, the Mob Rules tour, the Reunion tour and I have seen Dio and Ozzy solo multiple times. I have to say last night was the best I have ever seen any incarnation of Sabbath perform. All the songs they performed last night were on the Live at Radio City CD-DVD except they did Time Machine last night. As well as they did all the songs on Radio City releases, they were better last night. It seems to me that the Radio City versions were a bit more....commerciallized, prettied up...there was none of that last night. Every song they did last night was fierce, feral, pedal to the metal metal. The best way to describe it is this...listen to the ferocious way they do Neon Knights on Live at Hammersmith....that's how they did EVERYTHING last night. Highlight of the show for me was the version of Die Young....after the line "someone stopped" the band stopped playing, the stage gargoyles shot red light and smoke out of their eyes and mouths...Dio continued with "the fair" and the band continued. Really great. If you have the chance to go see them, do not miss the opportunity. I agree with an earlier review..Heaven and Hell blew everyone else on the bill away.
Posted by: Frank Morea at August 17, 2008 9:04 PM
---
Well, well, well. The 'Burgh finally saw the return of Dio after a VERY long absence, and it couldn't have been a better return at that. I saw H&H last year in Cleveland, but was very happy to make the trip from Columbus to my old hometown. The plan was to meet up with my two friends from one of my old jobs there and hang out in the parking lot for a few hours with good beer, food, and tunes. Due to a tragedy in a friend's family this week, my wife had to attend a funeral Saturday morning, so I couldn't leave until 12:30. Even with that, we figured we had a good two hours to tailgate beforehand.
I headed east and got off at the Burgettstown exit around 3:15. After calling my friend John to find out where they were, the bad news hit. Seems that their offer to buy another house that day fell through, so he was just picking up our other friend right then. Oh, did I mention 279 South, the main highway coming in from the north end of town, was closed for the weekend? So it was at least an hour before they'd be at the show. A drive down Rt. 22 east ran into one lane traffic, but I eventually ended up at Pizza Milano in Robinson Township to pick up some food. I headed back to the amphitheater, and after more traffic when parking, we finally got in at 4:50 PM and started our evening.
After knocking back a few and filling our stomachs, we made it down to will call and pick up our tickets. As we were already running late and spent some time trying to sell an extra ticket we had, I didn't get into until halfway through Testament's set. I did manage to hear the old classic "Practice What You Preach" from the outside and the rest once I was in for good. Nice to see the original lineup (almost)! Not surprisingly, Paul Bostoph didn't miss a beat as the new songs I heard weren't too bad. I will have to check out their new album at some point.
Next up, as you know, Lemmy and company. "This is Pittsburgh, you like rock and roll, don't you?" Of course! Same set as previous nights, but without "Just Cos You Got The Power". No matter, they're still Motorhead, and still sound better than many other bands out there today. I think Mikkey Dee flipped up about ten drumsticks during the end of "Killed By Death"! Great show, as I had expected.
And then, the reason why we came, Iommi, Dio, Butler, Appice, and Warren. The sun started to set not long after the start of the set, but we did have a few songs in the daylight. Set list confirmed as follows:
1. E5150
2. The Mob Rules
3. Children of the Sea
4. I
5. Sign of the Southern Cross
6. Vinny Appice Solo
7. Time Machine
8. Falling off the Edge of the World
9. Tony Iommi Solo
10. Die Young
11. Heaven and Hell
12. Neon Knights
I think it's safe to say "Ear In The Wall" is completely gone at this point. Regardless, great, GREAT show by all the guys! Sounds as good if not better than last year in Cleveland. If only they were the headliner, but I guess it's not to be this time around.
Of course, we can't forget the Priest. Overall good set list, although nothing from Ram It Down? C'mon guys! Anyway, they sounded just as tight as they did after getting back together in 2004, so all in all a good show from them as well. Definitely don't miss this one! Pictures on the way to Joe. Nothing great since I had lawn seats
and still trying to figure out my new camera, but they're there.

Posted by: Bob at August 18, 2008 10:11 PM
---
drove 4 hours for this show worth everry dime.
Posted by: damon at August 26, 2008 7:09 AM
---
Post a concert review
Thanks for signing in, . Now you can comment. (sign out)
(If you haven't left a comment here before, you may need to be approved by the site owner before your comment will appear. Until then, it won't appear on the entry. Thanks for waiting.)