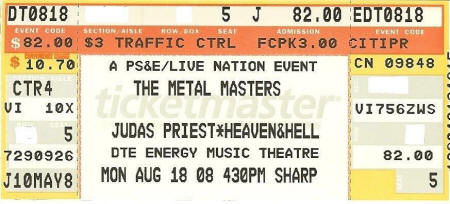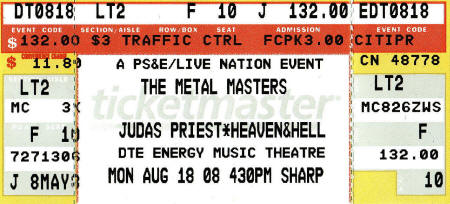 THE BAND
Ronnie James Dio - Vocals
Tony Iommi - Guitar
Geezer Butler - Bass
Vinny Appice - Drums
Scott Warren - Keyboards
SET LIST
Unknown
CONCERT PHOTO GALLERY
None yet. Have any? Submit 'em!.
FAN SUBMITTED TOUR REVIEWS & REMARKS
The Metal Masters show in Clarkston (Detroit) was absolutely amazing. I could not have asked for a better show. I will not bother criticizing any of the set lists because there really is no point, and even though there were no surprises, they were mostly all great songs anyway.
We didn't get there until Testament was just about over. I'm not a fan of the heavy thrash metal, so they really didn't do anything for me. I was really excited to see Motorhead live for the first time and they didn't disappoint. Their set list:
Dr. Rock
Stay Clean
Be My Baby
Killers
Metropolis
Over The Top
In The Name Of Tragedy (w/ drum solo)
Going To Brazil
Killed By Death
Ace Of Spades
Overkill
I was surprised that Mikkey Dee did a drum solo in the middle of a song, considering that Motorhead wasn't headlining, but it was a short and powerful solo. Lemmy's vocals were lost in "Dr. Rock" but got better as the night went on. After the third or fourth song they asked if we wanted it turned up. Lemmy said "We don't wanna hurt your ears, we wanna tear 'em f---ing off!" They were excellent on stage and I felt they deserved more time. Most of the crowd felt that way, because when Lemmy announced "Overkill" as the final song of the show, many of us started jeering. He smiled and said "Hey, don't blame me, I didn't make that decision". They seemed to really enjoy their set and the crowd loved it.
Even though Black Sabbath (I still can't get used to H&H) wasn't headlining, they played as though they owned the night.
E5150/Mob Rules
Children Of The Sea
I
Sign Of The Southern Cross
Drum Solo
Time Machine
Falling Off The Edge Of The World
Die Young
Heaven & Hell
Neon Knights (encore)
I noticed that the demons that have been perched on the trees were missing for some reason. The band entered the stage on high spirits, all smiling and played with the ferocity of guys half their age. Dio's voice was not only "on", but better than last year. When not singing, he spent much of his time slapping hands with the crowd and interacting with them. The sun was just setting as the band hit the stage and Dio made the comment "Could you please turn the sun down? It's kind of hard to be evil with that much light!" During "I", he used the mic stand as though it were a weapon, spitting the lyrics out as he stalked the stage. Iommi proved why he is considered the greatest metal guitarist ever, Geezer's bass was over the top, and Vinny's playing was spot-on. His drum solo was considerably shorter than on the last tour, but still good.
It was too bad a large number of fans picked "Falling..." to make a beer run (maybe they're unfamiliar with the song?), because it was incredible. Of course, the whole set was.
"Heaven & Hell" was gigantic and the improvising was wonderful. It's a clear difference to me between the Ozzy and Dio line-ups that when Ozzy is out front, the band never gets the chance to just jam and show what amazing musicians they are, but with Dio, everyone is more equal on stage. The band ended with the encore of "Neon Knights" which had the audience at a fever pitch.
Judas Priest is a band that never lets its fans down live, and kept that reputation up in Detroit.
Dawn of Creation/Prophecy
Metal Gods
Eat Me Alive
Between the Hammer and the Anvil
Devil's Child
Breaking the Law
Hell Patrol
Dissident Aggressor
Angel
The Hellion/Electric Eye
Rock Hard, Ride Free
Painkiller
Encores:
Hell Bent for Leather
The Green Manalishi
You've Got Another Thing Coming
The band took the stage and Halford came shooting up wearing a silver hooded cloak and carrying a staff with the Priest medallion on it, roaring through "Prophecy". Even though it is a new song, the crowd really got into it. "Metal Gods" is a personal favorite so I'm glad the kept it in the set. I am also glad that they didn't go out and play just a "hits" show, but dug into their albums and brought out some phenomenal songs. "Eat Me Alive", "Hell Patrol", and "Rock Hard, Ride Free" all had the crowd shouting along with the band. I thought "Angel" was not the best representation of the "Angel of Retribution" album, but Priest always does a slow song during the show, and this one worked well.
As with Dio, Halford never ceases to amaze me with what he can do vocally. Once he gets going with those ear-shattering screams, there is no stopping him! And he also spent a lot of time interacting with the crowd, slapping hands and singing right to them. He may not move around quite as much as 25 years ago, but he was full of energy and only got better and more active as the night went on. As for the rest of the band, they are the most well-oiled machine in rock & roll. Tipton and Downing were in top form on guitar, and Ian Hill and Scott Travis are the ultimate rhythm section.
This might well have been the greatest show I've ever been to. The amount of talent on stage is mind-blowing! This was my third time seeing Priest and fifth seeing Sabbath (twice with Dio), and they only get better every time. I cannot wait to see all three main bands on headling tours of their own.
Posted by: Brett Billedeau at August 19, 2008 12:05 PM
---
This show was great. By the time Heaven & Hell went on The sound was great. For the Detroit date there was another band called Seduce that played when the doors opened. All the bands were great and it was great to see them all.
Posted by: Steven Wilson at August 20, 2008 12:30 AM
---
This was my very first concert. Being the age of __ i really loved this concert. I missed testament (thank god) but got there in the middle of motorhead. Motorhead never ceased to amaize. their drummer did a 10 minute drum solo (go figure). I knoew only a few songs as i am really into the iron maiden and judas priests of the 80s. When Sabbath came on the stage presence was amiazing. i loved it. Heaven and Hell was the most amaizing song at the concert. everyone sung along and Dio got a few quilts made byoneof the fans with the photos from his this was handsewn. The encore neon nights was okay but it wasnt bad. When priest came on i wasa at the top of the hill at the DTE. we had moved beacause my uncles Friend was there and he got the nice seats. Priest showed their guns when Halford came on stagewearing a cloak and sung one of thier new songs. Metal Gods was next. They did the whole thing swing the flag with thier emblum on it. BUt we left as BReaking the law began. Myuncle who didnt use the VIP parking pass because he neglected to think about asking about it. We didnt wantto leave and be stuck in a crowded parking lot with ididots running around. I wish we could have stayed for the rest. BUt i heard they didnt play Ram it DOwn (that was #1 on theplay list) but it was Amaizing for my first concert.
Posted by: NIcholas T. at September 21, 2008 10:02 PM
---
Post a concert review
Thanks for signing in, . Now you can comment. (sign out)
(If you haven't left a comment here before, you may need to be approved by the site owner before your comment will appear. Until then, it won't appear on the entry. Thanks for waiting.)