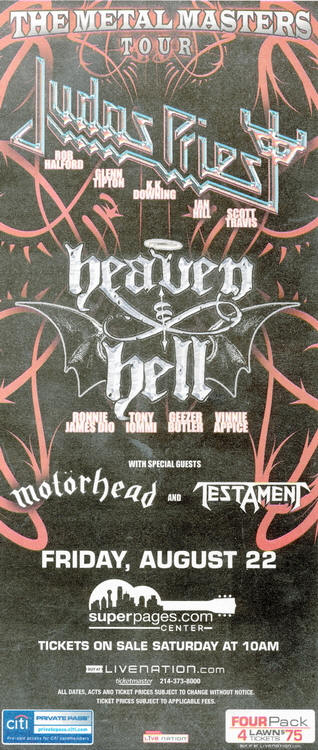 THE BAND
Ronnie James Dio - Vocals
Tony Iommi - Guitar
Geezer Butler - Bass
Vinny Appice - Drums
Scott Warren - Keyboards
SET LIST
Unknown
CONCERT PHOTO GALLERY
None yet. Have any? Submit 'em!.
MAGAZINE / NEWSPAPER REVIEWS

FAN SUBMITTED TOUR REVIEWS & REMARKS

Oh man, what can I say? This was my 15th time to see Sabbath (beginning with the Never Say Die tour), and I hope I can see them 15 more times.
It was my 6th Dio-Sabbath experience (the 3rd since the current reunion), and I've never seen Ronnie sound better. His performance tonight surpassed the even the superb Dehumanizer effort at the now Home Depot'd Bronco Bowl. I'd say it was his best work I've seen since the amazing Holy Diver show (also at the Bronco Bowl, rest her soul). The man is simply awe-inspiring, completely on fire throughout the show. Spectacular, I tells ya. Spectacular.
Iommi, the elder statesman of metal, was his usual magnificent self. This time around, his tone packed a boost on the high end that sliced to the bone. His sound was a little muddy early, but by the time the "I" solo rolled around, it was like getting raped by his amp. Seriously wicked, evil sounding stuff. He keeps getting better and better.
Geezer, the most underrated bassist in rock, was, sadly, lost in the mix. Even leading into the "Time Machine" solo, we could barely hear him. That was kind of a bummer, 'cause we loves us some Geezer around here. But, loud or not, he played his ass off, like always.
Vinnie had an off night, genuinely sluggish at times. As a huge Bill Ward fan, I'm probably biased, but Ward's absence was quite conspicuous at times like the latter half of "Children of the Sea". Of course, there's only one Bill Ward, so it's unfair to expect anyone to properly fill those big shoes. I would have gladly traded the drum solo for another song.
Minor nitpicks aside, the band did what they always do - they delivered. It's beyond argument that the Dio Sabbath lineup is one of the grandest forces in rock history. I knew there was a good reason that, since junior high school in this skanky hellhole called Dallas, I've been referring to these guys as the world's greatest rock and roll band. Tonight was just another in a long line of affirmations of that fact. They just whip that ass, plain and simple.
When Sabbath finished, it seemed like I'd had a full day's fun. Motorhead kicked out the great set I've come to expect from them (that drummer is a BEAST), so it was quite a moment to realize, once Sabbath was done, that a wicked Priest set loomed. Wow! What a night.
30 years ago, my family chuckled at my affinity for rock and roll, saying it was a phase. Well, I got some news for those people - at the age of 40 I continue to love metal more every year. There's a reason why bands like Sabbath, Maiden, and Priest are still filling big venues after all these decades: their material is superior, and that's that. After watching one crappy band after another fade into the cruel vapor of obscurity, I enjoy endless redemption and affirmation every time I see a parking lot fill up when one of these great bands comes to town.
It's been awesome, I knew this music would stand the test of time, and best of all, we're not done yet. They'll be back, and you can bet your ass I'll be right there every time.
Many thanks to Joe for this excellent site. Rock on ;)
Posted by: CaptainYowza at August 23, 2008 4:16 AM
---
First let me say "I understand now".
I don't know any setlist or anything. Testament came on, we saw the whole set. I don't know what to say, their sound was terrible. It was probably the worst band I have ever sat and listened to.
Motorhead. The sound was just as bad thru the first two songs, then got alot better and as I read somewhere on this board before, they just tore our heads off. It was really great to see this band. Only having about 45 minutes to play I didn't understand putting in a drumsolo, but the guy is awesome, so, it was great.
Heaven and Hell. Like I said up top, "Now i understand". Having never seen this band I didn't know what to expect, but when I saw Tony come around the corner I just started thinking "Holy shit, Theres Tony Iommi". The sound was Great. It was the best performance I'd ever seen up to that point in my life. Dude, when they did "Time Machine" I lost it. That was by far the most awesome song I've ever heard and seen performed live. Just a great show.
I was left thinking "we just as well go home mow" because Judas Priest can't top that........I was wrong. Now I know why they are called "The Metal Gods". Song after song they just "Attacked" the crowd with blistering solos and I heard several people say Rob never sounded better.
This is a must see show. This was by far the best show I've ever seen. My ears are still ringing.
T-shirts are $35.00 apiece, but they don't sell shirts with all the bands on them. But I found a dude in the parking lot selling shirts for $10.00 that have all the bands on it. Awesome shirt. I bought two!!!
Posted by: LizzyRocks at August 23, 2008 11:07 AM
---
All I can say is... HOLY SHIT (caps lock necessary). That was the best concert I had ever seen. I live in Norman and had to travel to dallas to see this show but it was well worth the drive and the money me and my dad spent for tickets. We were in sec. 100 row J.
We arrived in time to see Motorhead take the stage. The sound was a bit muddy through there set, but it got better after a while. Their set was great.
Up next, the main reason I came, Heaven and Hell aka Sabbath. Just simply amazing from start to finish. The sound during Mob Rules was still a bit muddy but was finally nixed by the time I was performed. Ronnie was in fine form all through the night and Tony's guitar cut like razor blade. Vinnie and Geezer were a great Vinnie's drum solo was good I thought, however, knowing that they weren't the main headliner the solo could have been dropped, and another song added. Time machine was just awesome live. Falling off the edge of the world rocked as did die young and Heaven and Hell to end the main set. Neon Knights was great as well. This show blew the St. Louis show I saw last year out of the water, and I thought that was awesome.
After hearing Sabbath, I wondered if Priest could follow that incredible set. I had been hearing reviews of previous shows were Halford's voice wasn't good and other negative things, but Priest took no prisoners. Halford's voice was great throughout and Tipton and Downing's guitars were powerful. Each song was great from the opening Sands of Time/Prophecy to the the end of the main set Painkiller to the three song encore Hell Bent for Leather, Green Manilishi, and You Got Another Thing Coming. I went back to my hotel room with a mile long smile.
Posted by: Oliver Ware at August 23, 2008 6:27 PM
---
Testament. Don't know if it was the sound or sloppy playing, but it was really hard to make out riffs. Also, Chuck's vocals could have been better. Bostaph was on fire, though.
Motorhead. Played better than Testament. Odd set list. Dee was great -- best drummer on this night.
Heaven and Hell. Sounded absolutely fantastic through the drum solo. Afterwards, it sounded like they juiced up the volume, the guitars sounded distorted, and Dio's vocals got drowned out a bit. Good performance, otherwise. Dio was amazing. The song Heaven and Hell was really well done, as was I, and Sign of the Cross. Otherwise, preferred the Grand Prairie show last year.
Priest. Very good performance. They were the best band on this night. Only irritation is that they reverbed Halford's vocals way too much.. way too much. Sure the effect was good at times, but overused. Halford's use of the teleprompter and lack of energy took away from things as well. Otherwise he did well keeping the audience into it.
Posted by: Todd at August 23, 2008 7:03 PM
---
Well it was an average show not very much you can expect for the first 2 bands but once Sabbath started jamming you knew that these guys know everything there is to know about performing.Their set was spectacular E5150/The Mob Rules had a little bit of technical difficulties but it all got fixed and they performed better than any other band I've ever seen.Judas priest though they had awesome sound had a very poor set they only played 1 song off their new album. With the exception of Rock Hard, Ride Free and Green Manalishi all the other songs were live staples that I've grown tired of hearing Priest really needs to revise their core set list and let s fans hear the real gems that haven't been played since the 70's.
Posted by: Andrey at August 25, 2008 12:23 AM
---
The Metal Masters rolled through Dallas on Friday August 22nd. The show was nothing short of incredible! Although we missed Testament, we did catch the legendary Lemmy and Motorhead, fueled by powerhouse drummer Mikkey Dee and guitarist Phil Campbell and a set list consisting of hits 'Killed By Death', 'Ace Of Spades', 'Overkill', 'Metropolis', and a host of other old and new "classics". In what seemed like an eternity between set changes (no curtains here - we could see the road crew wheeling out drum risers, set pieces, equipment, etc.), Heaven And Hell finally hit the stage. As the sun slowly set, the familiar sound of E5150 rang through the sound system. Thanks to the internet, these days there are very few secrets and surprises regarding setlists and stage setups as I'm sure most of the crowd predicted that Mob Rules was soon to follow. Regardless - this was HEAVEN AND HELL!!! Iommi, Dio, Butler, and Appice delivered near musical perfection. Song predictability aside, this band proved that true metal is alive, well, and will never go away! From where I was sitting the crowd devoured every minute of their much too short set. Die Young, Heaven And Hell, Falling Off The Edge Of The World, Sign Of The Southern Cross, I, the much welcomed addition of Time Machine, and the set closing Neon Knights literally brought the house down. As evidenced by the young man standing in front of us (who waited specifically for the encore to pull out his 'air guitar' and wail), most if not all in attendance were there to rock and sing along. Thus is the power and reverence of Sabbath with Dio. Judas Priest was next, opening with a new track from the Nostradamus album. A few different tunes were added to their setlist this time around, including Between The Hammer And The Anvil, Rock Hard Ride Free, Hell Patrol, Devil's Child, etc. Even though they closed their show with the predictable You've Got Another Thing Coming, the audience was still on their feet singing along (me included). For me personally, this show harkened back to the classic metal shows of the '80's - big sets, heavy music, and all on a Friday night - with no work or school the next day! It is also good to see bands returning to elaborate (yet simple) stage sets and props, whether it be Gargoyles in trees for HH, stairs and a very tall drum riser for JP, or just a cool Motorizer backdrop for Motorhead. A sure sign that I will always have an affinity for this music is the feeling I got when I saw Tony Iommi walk on stage. Even though I had seen the man in black several times (with Ozzy, Dio, Tony Martin), I was still genuinely excited to see him play again. I felt like I was 15 again, and not in my late 30's. Such is the power and escape of Metal.
Posted by: Christopher Alvarez at August 27, 2008 2:44 PM
---
Post a concert review
Thanks for signing in, . Now you can comment. (sign out)
(If you haven't left a comment here before, you may need to be approved by the site owner before your comment will appear. Until then, it won't appear on the entry. Thanks for waiting.)