I wanted to start a thread for collectors and aspiring collectors, and after bouncing the idea off a few people, it seemed like a good idea to start today. I am a long time music collector. I collect because I love the music, and I collect for investment. In some recent discussions on BSO, I was surprised to hear that some of the basic principles of investment collecting were not known by people who spent a great deal of time and money tracking down obscure items for their Sabbath collections. Let me say that investment collecting is not for everyone, and I get that; some people just want the music, and that is just fine. Others, like me, want the music, and want to preserve the value in the physical media, as many items go up in value over time. Some become astronomical in value; others not as much. If we had a crystal ball, we would know which items to look after, but unfortunately, we don't. I have singular items in my collection that are worth over $1000, although when I bought them they were still relatively affordable. They have appreciated in value, and have been preserved as investment pieces in my collection. They do not get dragged around in the car, or left on the floor for people to step on. They are kept in a climate controlled environment in individual protective sleeves, in a smoke free house. Ironically, I also have items that have soared in value and later plummeted to embarrassing lows; I should have sold them when I had the chance, but now I am stuck with them. Like the stock market, collecting can be a serious business.
Some basic rules for collecting:
1) Keep your items as mint as possible
2) Buy the right artist
3) Scarcity attracts value
4) Originality attracts value
Simple right? Not as simple as you would think. For example, keeping original labeling and stickers is critical to preserving investment value. Most people throw this stuff away, and that creates scarcity and value for those who kept their items original. You can do what you want with your stickers and labels, but preserving collector value requires that you keep them in tact. If you must remove shrink wrap labels, etc, don't throw them out, keep them in the jewel case; they still have value. Here is how I preserve my Deluxe Editions, which I still listen to regularly. They are basically unaltered; the sticker has been cut on the end and left in tact. Everything in my library is stored in ultra clear mylar sleeves; if this interests you, check out Bags Unlimited on line: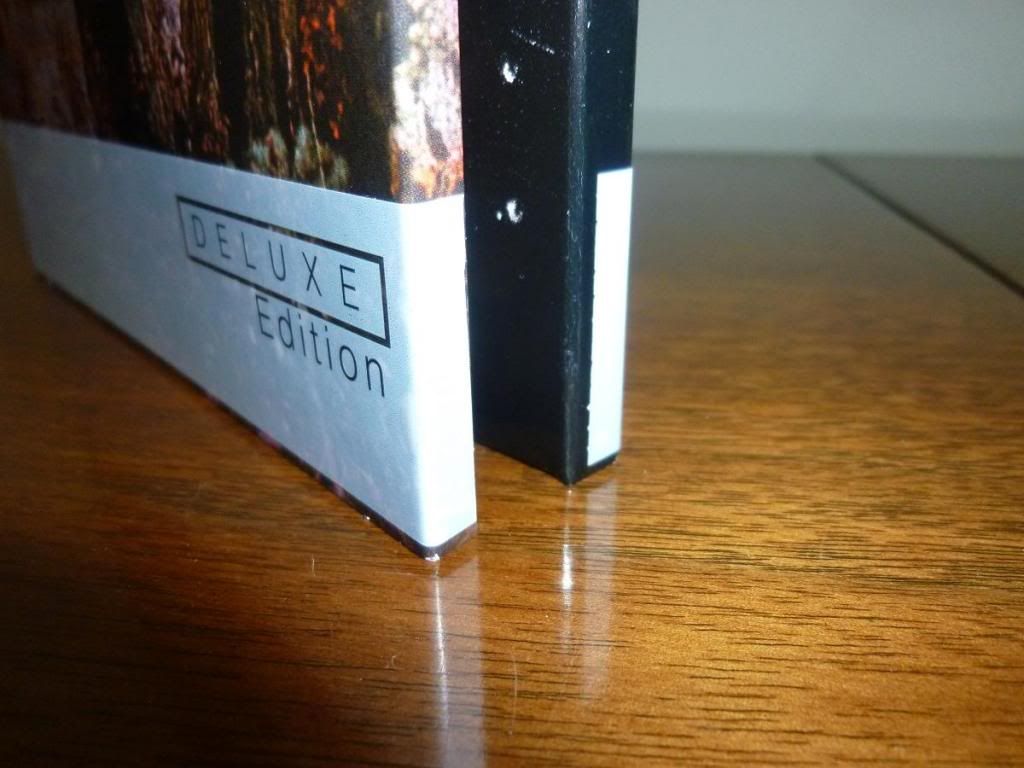 Here are a couple of examples of how stickers can increase value, if you happen to be collecting a desirable artist:
http://www.popsike.com/SEALED-BEATLE...364723014.html
http://www.popsike.com/BEATLES-SUPER...224765458.html
http://www.popsike.com/LED-ZEPPELIN-...299282320.html
Investing in the odd item and leaving it unopened (an example would be the "13" Deluxe Box) can also prove lucrative. Here's a Beatles set that is worth about $200-$300 in very good plus (VG+) condition today, once opened. Now, just imagine that you bought one in 1970, for $20, and never opened it. It would be worth over $10,000 today. As for the new Sabbath album, "13", one of the most affordable investments would be the 8 track regular CD. Fewer were pressed; fewer were sold; and that means future scarcity and desirability.
http://www.popsike.com/BEATLES-LET-I...383734762.html
Anyway, enough of the pre-amble, I have been collecting for about 40 years, and Black Sabbath are part of my library. I am a big vinyl collector, but I have every form of media in my collection. I wanted to share some "promo" LP's, and the next time I'll post something else. I don't have a lot of promos in my Sabbath collection, but here is one:
1) Master of Reality: A true "white label promo". In the early 1970's, record company's released white label promos, which had a similar label as the commercially available copy (in this case, solid olive green), except that it was white. By the mid to late 1970's this practice had been replaced by issuing promo records with a commercially available disc, and a promo stamp on the cover. White label promos are quite collectible. Mine is still in its 40+ year old original shrink wrap:
And, the rare, full sized poster: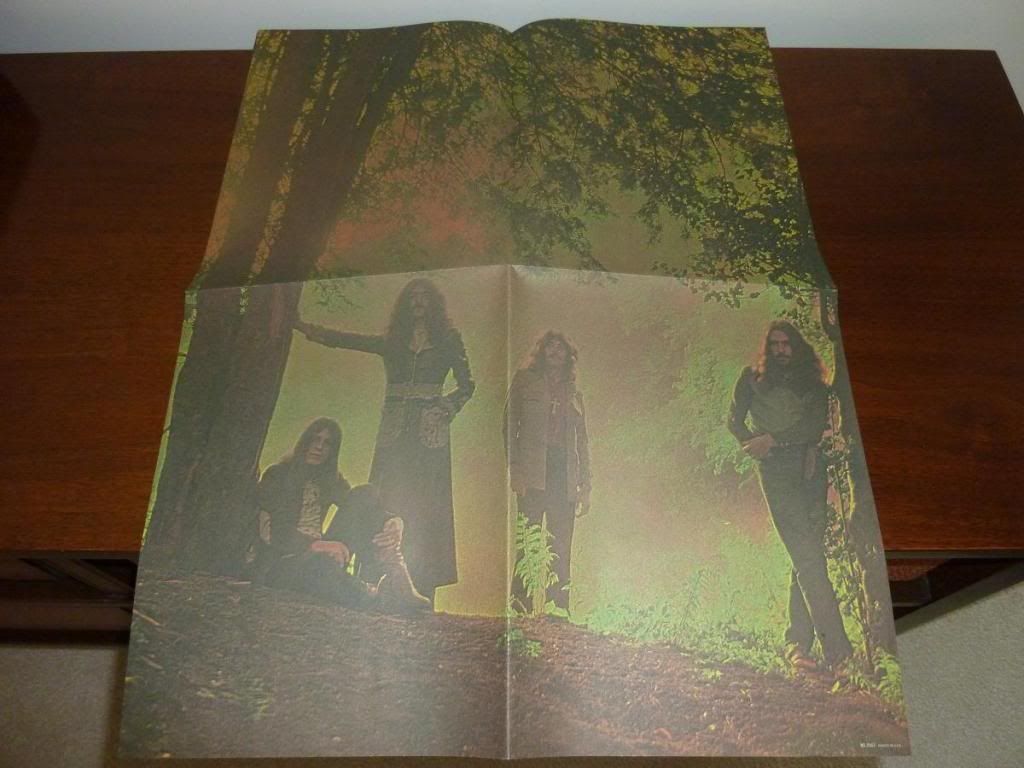 I wanted to show a few more goodies, but I'll have to do that in another post as there is a maximum of 5 pictures allowed per post. I am convinced that people are born with the collecting gene, or not, and "neither the twain shall meet". So, if you have the gene, please share your collections and the items that you are proud of. Let's talk collecting and see where it goes. For many, loving Sabbath, and collecting Sabbath, go hand in hand. Whatcha got in your library?