Black Sabbath Concert Reviews
July 20, 2004
Germain Amphitheatre
Columbus, OH
73 PEOPLE ARRESTED AT JUL 20 OZZFEST GIG
This morning on Blabbermouth, a story was posted about 73 people being busted for drugs and underage drinking. Here's a quote from the article..
Central Ohio's WBNS TV is reporting that police went undercover Tuesday night (July 20) at Ozzfest in Columbus, OH to bust people with drugs and teens with alcohol.

The annual traveling heavy metal festival — headlined this year by BLACK SABBATH and JUDAS PRIEST — attracts thousands of screaming fans. But for some, the night of music and good times ended in arrests at Polaris Ampitheater.
The WBNS TV website also has a video clip about this you can watch by clicking here.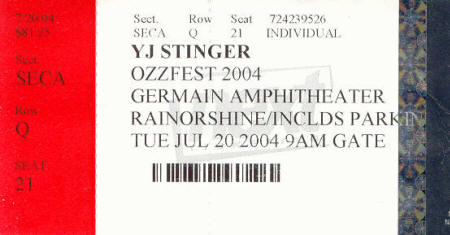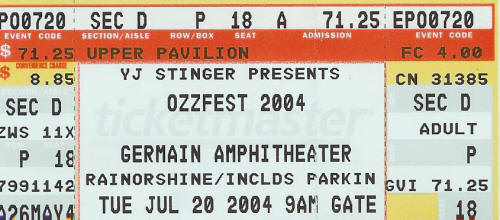 THE BAND
Ozzy Osbourne - Vocals
Tony Iommi - Guitar
Geezer Butler - Bass
Bill Ward - Drums
Adam Wakeman - Keyboards
CONCERT PHOTO GALLERY
You can view the photo gallery for this concert here.
TOUR REVIEWS & REMARKS
From: Kaleb Burkhart
Subject: Ozzfest 2004 Tour Review (July 20th, Columbus Ohio)
Date: Wed, 21 Jul 2004 10:39:16 -0400
It was the best concert of my life. We got there around 4 pm, Hatebreed was finishing up on the second stage. We went over and laughed at Slipknot, then headed to the main stage.

Black Label Society came out, and they kicked my ass. It was bad that they only got 30 minutes to play. They are one of my favorite new bands, and they really kick ass on their live performances.

Superjoint Ritual was one of the worst bands ever, of any show. They just plain sucked.

Dimmu Borgir was....interesting . The music was pretty good, but the singer was one of those growling guys.

Slayer was next, wow they were really good. Dunno what else to say about them.... they were just really fast. Kerry King had volume issues with his guitar most of the time.

Judas Priest was next....they were the best band that I've ever seen live (I hate to admit it...I've been a Sabbath fan forever). Halford can still belt out his screeches perfectly, and Downing can still solo with the best of them.

Black Sabbath was the last band to play. I have been waiting to see them for about 4 years. I really loved every second that they played. It was one of the best crowds ever, we sung with every song and all that. They did some stupid voice effects on Ozzy sometimes, but Iommi stole the show. He played about a three minute improvised solo for "Black Sabbath". I think Iommi might have been tuned to Eb, so Ozzy could have a little help reaching his high notes.

Best night ever. 10/10

Setlist:
BLACK LABEL SOCIETY
Funeral Bell
Suffering Overdue
Stillborn
Stoned and Drunk
Berserkers

SUPERJOINT RITUAL
Anti Faith
Fuck Your Enemy
Personal Insult
Waiting For The Turning Point
Ozena

DIMMU BORGIR
In Death's Embrace
Vredesbyrd
Kings Of The Carnival Creation
Progenies Of The Great Apocalypse

SLAYER
Hell Awaits
Threshold
Disciple
Necrophiliac
Dead Skin Mask
Hallowed Point
Spirit In Black
Payback
South Of Heaven
Raining Blood

JUDAS PRIEST
Hellion (Recorded Intro)
Electric Eye
Metal Gods
Heading Out to the Highway
A Touch of Evil
Victim of Changes
Painkiller
The Sentinel
Beyond the Realms of Death
Breaking the Law
Hell Bent for Leather
Living After Midnight
You Got Another Thing Comin'

BLACK SABBATH
War Pigs
NIB
Fairies Wear Boots
Into the Void
Black Sabbath
Sweet Leaf (This was played at a few other shows...not here though)
Snowblind
Iron Man
Children of the Grave
Paranoid
---
From: James Fintel
Subject: Ozzfest Review for July 20, 2004
Date: Thu, 22 Jul 2004 11:39:47 -0400
Hey Joe. I attended the Ozzfest on July 20, 2004 down in Columbus. Following is the review. I didn't enclose the ticket stub, because they were the kind your print from TicketMaster, so they're not very interesting.

We arrived at the Germain Amphitheatre in Columbus a little before noon so that we could stake out good seats on the long. We were actually able to get in the very front and center, so despite having lawn tickets, we actually had a very good view of what was going on. We spent the entire afternoon just holding down the seats, nobody in our group was really interested in the second stage, or overpriced merchandise. We did go look at the Village of the Damned and whatnot, but not for very long.

Black Label Society came on a little bit before 4:45. It was a 30 minute burst of goodness before the other bands came on. Zakk's mix was one of the poorest of the night, but he put on a decent show. After Zakk, Superjoint Ritual was up, and they were easily the worst band of the night. One word that can really describe seeing Superjoint Ritual live is "fuck." Unfortunately, Phil's vocabulary consists of that word, and about 5 others. He spent more time swearing then playing. which, considering what their songs sound like, was fine by me. After Superjoint, Dimmu Borgir was up. They are fairly decent, except for the whole "cookie monster" vocal things. I'm not familiar with any of their material, and in one shocking moment, the vocalist started singing! He had a very melodic voice, and it was awesome, and right after that there was a blistering guitar solo. But, it didn't last, and no sooner had some talent shown through, they went back to growling power chords. Next was Slayer, which I don't happen to be much of a fan of, so I can't really say I enjoyed their show.

The Hellion kicked in on the PA and the whole crowd went nuts. Rob came out through the eye and the band delivered a blistering version "Electric Eye." Judas Priest just played song, after song, each one exceptional. This was my first time hearing Priest live, and I would've never guessed Halford was getting on in his years. His screams were insanely loud. It felt like my ear drums were going to shatter. He was belting out the screams all night. And he hit a lot of high notes, a lot more than I thought he was going to be able to hit. One of the highlights of their set was "Beyond the Realms of Death" I was amazed at how good that sounded live. "Victim of Changes" and "Painkiller" were the other two really big highlights of the Priest set for me. By the time Priest was finished, I really didn't think any band could top them.

Around 9:30 we start to hear some incredibly incoherent shouting on the P.A. from none other than Ozzy. After some incoherence he was creaming about wanting to "HEAR A WILD CROWD." Then the video screens and PA played the Sabbath montage intro, while the shadows of the band were visible behind the drum kit. Sabbath came out with an electrifying version of "War Pigs" - which featured no anti-Bush, or any, political sentiments. It looked mostly like Vietnam footage. Sure, Ozzy wasn't hitting all the high notes, but the rest of the band was in top-form, and from War Pigs they charged into "N.I.B." Ozzy sounded a lot better for this one, I was disappointed that Geezer's "Basically" intro wasn't played. "Fairies Wear Boots" sounded a bit different, I think Tony must've been playing in a lower tuning then normal, because his power chords really sounded funny, but his solo was powerful, and even Ozzy was in top form. I was really amazed how well Ozzy performed given his age, and what happened to him recently. He was running around, throwing water on people, himself, jumping around, and hitting pretty much every note right on. I don't think he ever made any major screw-ups. In fact the whole band played a fairly flawless set. The highlight was Tony's extended solo in "Black Sabbath." If you'd never heard the song before, you'd probably think it was just part of the real solo; Tony did a really exceptional job. The rest of the set was what everybody else has been getting, except we didn't get Sweet Leaf. I don't know why, they would've had time. Could it have had anything to do with the drugs busts earlier in the day (which we did see at least one person get arrested by undercover cops out in the parking lot?) Either way, Sabbath's set was slamming. They were loud as Hell, and they did what I thought they couldn't do. top Priest. There's not one band that could've followed Sabbath. It was one of the best experiences of my life. Sabbath had the best crowd response, by far, of the night. For the encore, they of course did Paranoid, and then confetti was shot all over the crowd. After that Ozzy warned against drinking and driving and that was it. It went way to fast. Black Sabbath is clearly still at the top of their game, even after 35 years.
---
From: Scott Setchfield
Subject: Black Sabbath 7/20/04 Columbus, Ohio
Date: Thu, 22 Jul 2004 11:06:18 -0700 (PDT)
Joe, Here is my review from Columbus, Ohio show on July 20. I was in 11th row and this is my take on the show.

Black Sabbath? wow! They not only still have the magic, but it was stronger last night than it was when I saw them in 1999 as well as 2001. At Ozzfest 2002, Ozzy was in near-perfect condition, last night he was in the same condition. He was jumping around, singing great, and having a fantastic time on stage. He was doing what he loves and having fun with it - one could see that just by looking at the smiles on his face. He informed us that when the doctor told him he couldn?t perform for 18 months after his ATV accident, he told him ?Fuck You!? and that he?s not going anywhere ? he?s bullet proof. He seems to be famous for ignoring doctors? orders but based on how many doctors he has, I don?t know if I?d quite consider him bullet proof? He apparently said the same thing to his doctor in August of 1999 when he performed in Grand Rapids with some sort of illness that made him ?sing like an asshole? so he said.

After Priest left the stage, the crew pulled a big curtain across to hide the stage. The curtain had a bunch of Black Sabbath logos on it. We were all wondering why we weren?t allowed to see them setting up. The show started with Ozzy yelling at the crowd like usual. It was so good to hear him laugh. Then they played clips of numerous Sabbath songs through the years and showed old clips and a lot of Sabbath pictures on the side screens. Right before the band was unveiled, a bright light came from the stage that turned the curtain into a sort of projection screen that showed the giant shadows of Black Sabbath standing on the stage. They were larger than life ? just like the first note of ?War Pigs? that soon followed. Tony and Geezer were standing still while Ozzy?s shadow showed his profile and he used the microphone pretending to be jacking off and sticking it in his ass.

The rest of the band was right on, but they?ve played well every time I?ve seen them. The difference last night was that the sound was mixed so well. When I saw Sabbath in 1999, Ozzy was sick and didn?t sound too well, although the band sounded great. In 2001, Ozzy was good but the band?s sound was mixed so that the drums were way too loud and Iommi?s guitar wasn?t in the sound quite right. This performance showed Sabbath?s sound in prime condition. The volume of each member was just about perfect so that everyone was heard but nobody was overpowered. I think the standout song of the night was ?Black Sabbath?. One of the most powerful sounds ? one of the very first sounds ever produced for heavy metal ? the song Black Sabbath had a very powerful aura with it. Ozzy sang this song especially well ? he seemed to add a special emphasis to the last word of every line. The way they showed his face so up close on the big screen added a nice touch as well. During the line ?Satan sitting there, he?s smiling?, Ozzy had a big grin on his face and of course he did the evil laugh right after that line, which the crowd loved. Overall the crowd gave a decent response to Ozzy. He told us so many times that he loved us and he showed it through his performance. During ?you are the first to have this love of mine? of the song ?N.I.B.?, Ozzy pointed at the audience and I thought that was a nice touch. Tony seemed to have played the beginning of ?Fairies Wear Boots? differently than I?ve ever heard it though I don?t know what he changed exactly. Ozzy did a little dance to it, which was pretty cool. The intro to the song had a sound that was very easy to do a little jig to; I think it was quite a clean guitar sound with a groovy feel without the usual distortion.

For the first of the six times I?ve seen Ozzy, he mooned the crowd. Not that I was looking forward to see his arse, but I know it?s something he does regularly that I?d never seen. To me, pulling his pants down and slapping his arse was a great indicator that he was feeling good that night. Another part I enjoyed was when Ozzy introduced the band and he said Bill Ward?s name at least five times. He wasn?t satisfied with Bill getting the applause of just one drummer, because this was ?BILL FUCKING WARD!!!!!!?, not just a drummer and he deserved as much respect as Ozzy could muster up from the crowd. When Ozzy introduced the one and only Mr. Tony Iommi of course the crowd gave a great response and Ozzy got right down on his knees to kneel to the master of the metal riff. My friend was lucky enough to get a guitar pick from the master after the show.

Overall Sabbath blew me away. The set was short, but I knew it was going to be. I thought that would be a bad thing, meaning that Ozzy wasn?t doing too well but it was quite the opposite. Though it was a short 1-hour set, Ozzy was right on throughout it all. They went through the classics ?War Pigs?, ?N.I.B?, ?Fairies Wear Boots?, ?Into The Void?, ?Black Sabbath?, ?Snowblind?, ?Iron Man?, ?Children Of The Grave?, and ?Paranoid?. His voice was in prime condition and so was he. A friend of mine has seen Sabbath numerous times and has seen Ozzy more than twenty times and he was equally impressed by this show. Nobody could walk away from this show saying that Black Sabbath doesn?t still have what it takes unless they are out of their mind or just don?t understand what Black Sabbath is all about. This a Black Sabbath show that would have been satisfactory for the band 30 years ago - for a band of 55 year old guys who all look their age, this was nothing short of amazing.
---
From: Shawn Von Derau
Subject: Ozzfest 2004 Columbus,Ohio
Date sent: Wed, 04 Aug 2004 17:29:37 -0400
Ozzfest 2004 Columbus,Ohio

Our party of 7 arrived early,but the line had already formed to get in, but things moved fast once they started to let us in. The only band I saw on the 2nd stage was Lacuna Coil and they were quite good,the female vocalist has a special quality to her voice that stands out. There was nothing else that interested me at the 2nd stage, so most out party headed out into midway and to the VIP area. Two people from our group spent most the day at the 2nd stage though and enjoyed theirselves,it just isnt my style of music, I like a little melody with my metal . My daughter and her boyfriend wondered around and bought some shirts and checked out the sights and then we made some new friends from New York that bought the Party LIke a Rock Star passes and spent quite a bit of the day with them in the VIP area. One friend decided he had found heaven and spent most of the afternoon having some beers and watching probably 100 women getting their breasts painted, he was quite content!! Finally there all headed in there. Zakk and BLS opened and did their four songs quite well, the mix was off some with the drums being overbearing, but it was still enjoyable.

I am not going to do set lists, not that good of typist. Superjoint Ritual was next and they did nothing but insult my eardrums,they were horrible to me, nothing but overamped bass drums and growling vocals and very mediocre guitar. Zakk and Phil did both mention the USA troops in the war zones and expressed support for them. Dimmu Borgir was rather interesting, they had some good melodic riffs with very good organ and keyboard backing and completely made up in goth attire. Once again the growling vocals detract for me, but when their bass player sang it was quite good and enjoyable. Slayer was Slayer,quite fast and heavy,almost pulverizing. Judas Priest came out and Rob Halford was the top of the stage setup standing in the middle of an electric eye backdrop in his leather and metal outfit. He stalked the stage while sing vements, his vocals were excellent and spot on as was the rest of band. At times Halford would stand at a certain spot and just sink into the floor and pop back up,a cool effect and them he came out on the motorcycle and they did their encore.I did not think I would enjoy Priest that much, but they were excellent live and had the crowd going wild,beating on the seats and chanting PRIEST!!!!!!!!

Next up was the mighty Sabbath and I really didnt think they could keep with Preist after their performance and the shape Ozzy's vocals were in last year. They had a curtain across the stage with the flying Satan logo and lights going off behind it. Then we heard the " I can't fucking hear you" and the crowd went wild. Ozzy's shadow was projected onto the curtain and he pretended to masturbate and stick the microphone up has anal cavity, all the time pschying the crowd up,quite funny! When War Pigs began and the curtain opened there was the whole band and Ozz was in FINE form! His vocals were ergy unmatched by any other frontman,he mooned us, he loved us,he made us dance, wave, shout and sing. The band was Phenomenal,Butler playing a Fender bass and shaking the earth(literally), Ward attacking the drums like a 30 year old athelete and Iommi slowly walking around and shredding some of the best riffs and leads ever heard. Iommi did have some problems with feedback and tuning for a short time, but it was resolved. On Faires Wear Boots Ozzy started doing a jazzy rock n roll dance and was bopping all over the stage. Black Sabbath absolutely blew Judas Priest out of the water,I was utterly amazed and I have seen them many times. ALmir, I lifted my glass and toasted you during Sabbath's set my friend. This was a great day and Black Sabbath are still the unmatched kings of hard rock!!!!!!!!
---
From: Dan Memmer
Subject: Black Sabbath July 20th, 2004 Ozzfest Concert Review + Pics
Date sent: Wed, 4 Aug 2004 21:27:04 -0700 (PDT)
I filed into Germain Amphitheatre at around 10:00 AM, just in time to catch Lacuna Coil, who I felt gave the second best performance of the day. I actually got to meet the band and got their autographs, which was cool. I heard that a lot of people got arrested for underage drinking and selling drugs, but I didn't see any arrests. I wasn't too familiar with most of the Second Stage acts, so I walked around and browsed the different shops that where set up there. A little bit before 5:00 PM, Slipknot finished their set and then it was time for the main stage acts!
BLACK LABEL SOCIETY:
Zakk Wylde's solo band. I'd never heard any of his material before, and I was a little surprised to learn that he also is the lead singer. His voice reminded me slightly of the late, great Layne Staley. The only song I recognized was 'Stillborn,' and only because Ozzy sings the studio version and I heard it once on the radio. I'm personally not a big Zakk Wylde fan, I don't understand how he gets away with playing 900 squeaky little guitar fills in every song he writes.
SUPERJOINT RITUAL:
Didn't catch their performance? Trust me, you didn't miss anything worthwhile.
DIMMU BORGIR:
Well, what can I say about this guy. Bad guitar riffs, overdramatic keyboards, facepaint galore, and he sure did try his hardest to sound like Randy "Macho Man" Savage. The only part of his performance I enjoyed was when he was talking to the crowd in between songs and he forgot to talk in his stupid "scary" voice for a few sentences, and then realized he wasn't and slipped back into it, hoping no one would notice.
SLAYER:
Not too much of a Slayer fan, but their performance was solid. Check other reviews for a setlist/more indepth review.
JUDAS PRIEST:
How did these guys get to Ozzfest? Horrible hair metal garbage if you ask me.
BLACK SABBATH:
Finally. After about 12 hours of enduring subpar acts, the granddaddy of all heavy metal music hit the stage. A curtain with the Black Sabbath angel was blocking everyone's view of the stage, when all of a sudden a very familiar voice screamed "Let's hear a wild crowd!" The band stood behind the backlit curtain and their shadows appeared larger than life, while Ozzy put his microphone between his legs and began acting like he was, well, I'm sure you can guess. A montage of videos played on the screens while the intros to some of the most popular Sabbath songs were played. Memorable moments include Ozzy mooning the crowd, and Oz shouting his famous lines "LOUDER" and "GOD BLESS YOU ALL." When Ozzy introduced the band, the crowd only gave a lukewarm reaction to Bill Ward, so Ozzy said "Mr. Bill - FUCKING - Ward!" and that got the response he wanted. Ozzy got down on his hands and knees and bowed to "the one and only" Tony Iommi after introducing him, all while the crowd was cheering loudly. After playing a few songs, Ozzy stopped to take a drink of water and then said to the crowd, "So I hurt myself pretty badly a while back, and the doctor said that I wouldn't be able to perform again for 18 months. And do you know what I told him? FUCK YOU! I'm not going anywhere! You can't kill me, I'm bulletproof!" The crowd loved it, and gave Ozzy's doctor another round of FUCK YOUs for good measure. Ozzy mentioned that a girl out in the crowd had sent a letter to him earlier in the day saying it was her first Ozzfest and she was looking forward to seeing Sabbath play, and he took the time to acknowledge her and say thank you. Ozzy was in top form, sounding nearly as stong as he did 35 years ago. He ran around the stage, dumped buckets of water on the crowd, jumped around and appeared to be having a great time. Sabbath only played for just over an hour, which was a little disappointing to me, but they aren't kids anymore I suppose. The band sounded almost perfect, you'd never guess that they are all pushing 60 years old. Ozzy's microphone had a weird echo effect on it for some reason, which at times sounded good and at others sounded quite odd. Before playing Children of the Grave, Ozzy said they would play another song if we all cheered loud enough. After the song was over, Germain Amphitheatre was shaking. The band came back onto the stage, Iommi with a black version of his famous Gibson SG guitar instead of the red one he'd played earlier, and played the intro to 'Sabbath, Bloody Sabbath,' and then performed a perfect rendition of 'Paranoid.' Afterwards Ozzy thanked us all for coming, the band took a bow, and Oz said "God bless," and warned people who had been drinking not to drive, otherwise he would "kick all their asses." After all the ticker tape had fallen, the show was over. Black Sabbath rocked.
Set List:
War Pigs
NIB
Faeries Wear Boots
Into the Void
Black Sabbath
Snowblind
Iron Man
Children of the Grave
Sabbath Bloody Sabbath Intro/Paranoid
Ozzy Osbourne – vocals
Tony Iommi – guitar
Geezer Butler – bass
Bill FUCKING Ward – drums
Despite that the vast majority of the opening acts sucked, this was still the best rock show I've ever been to. Its so amazing that I can go see Black Sabbath, a band that was releasing albums 15 years before I was born, play a show in 2004 and still sound nearly flawless. A fantastic performance.