[ Previous | Next ]
[ Tour Photo Gallery ]
Dates and research compiled by Joe Siegler & Robert Dwyer.
If you'd like to use any of this text for non-commercial purposes, please obtain permission first.
Commercial utilization of this work in whole or in part is prohibited.
---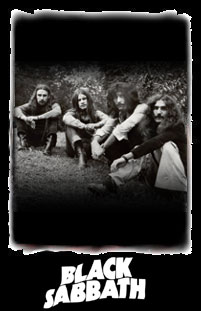 THE BAND
Ozzy Osbourne - Vocals
Rob Halford - Vocals
Tony Iommi - Guitars
Geezer Butler - Bass
Bill Ward - Drums
Adam Wakeman - Keyboards
US Tour Date Bands:
Main Stage: Judas Priest, Slayer, Dimmu Borgir, Superjoint Ritual, Black Label Society, and festival headliners Black Sabbath.
Second Stage: Slipknot (headliner), Hatebreed, Lamb of God, Atreyu, Bleeding Through, Lacuna Coil, Every Time I Die, Unearth, God Forbid, Otep, Devil Driver, Magna-Fi, Throwdown.
Do you have tour ads from your newspaper,
ticket stubs, or a concert review?
Email me - I'd love to use them here!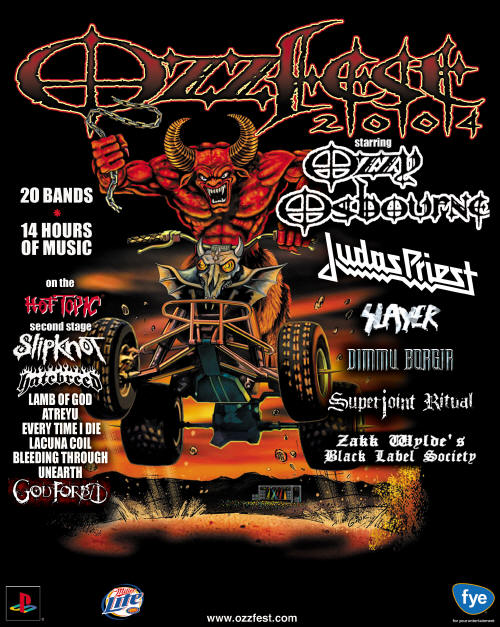 Date
Location
Venue
Notes
July 10
Hartford, CT
ctnow.com Meadows Music Theatre
[ Concert Review Page ]
July 12
Boston, MA
Tweeter Center
[ Concert Review Page ]
July 14
Wantagh, NY
Hilfiger at Jones Beach Amphitheatre
[ Concert Review Page ]
July 16
Holmdel, NJ
PNC Bank Arts Center
[ Concert Review Page ]
July 18
Bristow, VA
Nissan Pavilion
[ Concert Review Page ]
July 20
Columbus, OH
Germain Amphitheatre
[ Concert Review Page ]
July 22
Nashville, TN
Starwood Amphitheatre
[ Concert Review Page ]
July 24
Denver, CO
Coors Amphitheatre
[ Concert Review Page ]
July 27
Seattle, WA
White River Amphitheatre
[ Concert Review Page ]
July 29
San Francisco, CA
Shoreline Amphitheatre
[ Concert Review Page ]
July 31
San Bernadino, CA
Hyundai Pavilion
[ Concert Review Page ]
Aug 3
Albuquerque, NM
Journal Pavilion
[ Concert Review Page ]
Aug 5
Dallas, TX
Smirnoff Music Center
[ Concert Review Page ]
Aug 7
San Antonio, TX
Verizon Wireless Amphitheatre
[ Concert Review Page ]
Aug 10
Kansas City, KS
Verizon Wireless Amphitheatre
[ Concert Review Page ]
Aug 12
St. Louis, MO
UMB Pavilion
[ Concert Review Page ]
Aug 14
East Troy, WI
Alpine Valley Music Theatre
[ Concert Review Page ]
Aug 17
Detroit, MI
DTE Energy Music Center
[ Concert Review Page ]
Aug 19
Cleveland, OH
Blossom Music Center
[ Concert Review Page ]
Aug 21
Chicago, IL
Tweeter Center
[ Concert Review Page ]
Aug 24
Indianapolis, IN
Verizon Wireless Music Theatre
[ Concert Review Page ]
Aug 26
Camden, NJ / Philadelphia
Tweeter Waterfront
[ Concert Review Page ]
Aug 28
Pittsburgh, PA
Post Gazette Pavilion
[ Concert Review Page ]
Aug 31
Raleigh, NC
Alltel Pavilion
[ Concert Review Page ]
Sep 2
Tampa, FL
Ford Amphitheatre
[ Concert Review Page ]
Sep 4
West Palm Beach, FL
Sound Advice Amphitheatre
[ Concert Page ] - CANCELLED