Black Sabbath Concert Reviews
July 22, 2004
Starwood Amphitheatre
Nashville, TN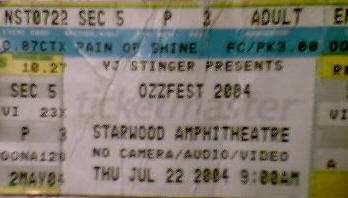 THE BAND
Ozzy Osbourne - Vocals
Tony Iommi - Guitar
Geezer Butler - Bass
Bill Ward - Drums
Adam Wakeman - Keyboards
SET LIST
War Pigs
N.I.B
Fairies Wear Boots
Into The Void
Snowblind
Black Sabbath
Iron Man
Children Of The Grave
Sabbath Bloody Sabbath intro / Paranoid
CONCERT PHOTOS
None available - if you have any, let me know.
TOUR REVIEWS & REMARKS
From: "Church of Sabbatology"
Subject: Judas Priest and Black Sabbath in Nashville
Date: Sun, 25 Jul 2004 21:16:18 -0500

So we have been under lock-down here since spawning a few second generation Sabbatologists. However, when Sabbath comes to town its time to venture out of the compound. So it is Thursday morning and I don the ole "Ozzy for President" T-Shirt since it is an election year and head out to this year's Ozzfest featuring Judas Priest and Black Sabbath. Judas Priest and Black Sabbath. Let me say the again, Judas Priest and Black Sabbath. Yes, Judas Priest with Rob Halford and Black Sabbath with Ozzy. Take us back to any point in the last 20 years and this would be the line up for a concert to match no other. A hard rockgasim, one-two punch from the bands that define the musical universe.

So we arrive as the mid afternoon sun is really beginning to oppress my graying skull. A quick pass through the vendor area and of notice is a stand that has infant and toddler clothing. And there is actually a Dio shirt there. There's a joke to be made here but we just love the guy too much for that

The second stage area has been moved around from past events into a larger area. Seems like a better arrangement, especially because there is quite a crowd in front of the stage. While waiting for the last band to begin we notice Mr. King of Slayer signing stuff in one of the tents. Since it is not Geezer there was no reason to get in line. But we do stand there for a few minutes to watch him talk to fans. Seems like a cool guy. He must be a Sabbatologist even if he doesn't know it. The last band Slipnot begins their set and I notice a lot of young dudes are into it. We have seen these guys before and it is not something that we care for. The idea seems ok; scary masks, jumpsuits, drums, a little bit of guitar and gruffocals. Well, bet the masks and jumpsuits weren't such a great idea in that hot summer sun! A little of that goes a long way so it is off to wander down to the main stage area.

Great seats right next to the sound board. And pretty soon its Zakk Wylde on stage. He really did not impress much with his playing as would be expected. Pretty sure he played one of his songs twice. He really suffered from the "Sameness" syndrome.

Next we sat through the Phil Donahue of metal hour. Man, that guy can talk shit. He should not even try to sing. Just talk about shit the whole time while the band plays. Pretty sure he played that same song Zakk played a couple times. Mindless, unyielding chord crunching is great if the song works up to that in some musical sense but to simply rely on it for the duration of every song is brutally boring.

The next band had the KISS-on-a-budget stage setup. However, there was some actual melody detected in their songs. Can't really say that we cared much for them but that's probably because they did not play that song, "The Monster Mash".

OK, now it was time for something that was at least somewhat familiar. Slayer took the stage and definitely kicked it up a notch. Yes, Raddion they played War Ensemble. I think maybe Angel of Death too? Might be wrong about that. They seemed to start out a bit rough but by the end of the set we were really into it.

Next up its Priest with Halford rising up next to the Electric Eye. They were great. Tipton goofed a few leads but for the most part nailed it. "Touch of Evil" threw us for a loop for a minute because not being as familiar with that track we thought they playing something new. They should drop that one for "The Sinner". There is an amazing difference from the songs that Priest and Sabbath laid out than from all the other bands. There is musical structure. Maybe it lack of familiarity with the other band's material? "Beyond the Realms of Death" and "The Sentinel" were high points of their set. Saw them a couple times in the 80's but its hard to remember much from back then. Just recall that they were the only band that actually inflicted physical pain from volume. All hail the Priest!!!

So we're sitting there after they roll the Harley off the stage and thinking, ". just saw Judas Priest and now we're waiting for Black Sabbath to take the stage." ..holy shit!!! Judas Priest and Black Sabbath.

As has been often said by our friend, Raddion, three notes in and Iommi has put every other band of the day in their place. Truly, less is more. Very much more. More power. More song. More everything. However, there was some "More" missing. Like, "Wheels of Confusion", "Hole in the Sky" or "Symptom of the Universe". We would of liked to of seen something else in the set. Never the less, it was Black Sabbath and there was Geezer standing in front of me. How could there be compliant? Ozzy sounded good. They pulled it off again. Highlights of the set were "Fairies Wear Boots" where Bill really sounded incredible and "Into the Void".

After a day of praise at the altar of Sabbath it was time to head back to the compound. We all had a great time outside of the gates.

Praise Geezer
http://home.comcast.net/~sabbatology/
---
From: "Stephen Gurr"
Subject: Nashville review
Date sent: Fri, 30 Jul 2004 02:30:32 -0400 (EDT)
Youth is served? Try old age and treachery...this show was for the old metalheads...and may have served to educate this younger breed.

I confess to missing all but two minutes of the second stage...I had hoped to see more of Slipknot, whom I hear isbig with the kids. I can say this for the "Hot Topic Second Stage" in Nashville...it was definitely hot...and dusty...the stage was set up in a gravel dirt parking lot and must have been a vicious place to mosh...

As for the main stage, Black Label Society was good despite a lousy mix. Zack came through with his energy even if his vocals seemed lost in the mud of the P.A. system...A highlight was the breaking out of the sacred Randy Rhoades (please correct the spelling, Joe) guitar, a beautiful white Jackson flying v. Zack said, "God Bless Randy Rhodes", which brought scattered cheers from the youngish crowd, and launched into the next number. Never seen Zakk before...he reminds me of a 21st century Ted Nugent, plus the trademark vibratto. There were TONS of BLS-garbed fans in Nashville. From what I could gather, he drew a number of people just for his performance..

I only caught one song from Superjoint Ritual, as I was trapped in the beer line from hell. Many posters have said they sucked, but I met a guy in the parking lot before the show that swore by Phil...I'll reserve judgement.

Dimmu Borgir were boring...it didn't help that the PA was turned down to the obligatory "opening act" volume. I have a feeling I would have dug them a lot more had they been louder. I did speak to a number of black metal fans in attendance...they said Cradle of Filth was a better representation...I'll have to take their word for it. I have no problem with the keyboards and the so-called "Cookie Monster" vocals....it just seemed very subdued. Again, some volume, and a nighttime environment, probably would have done wonders for this band.

Then there was Slayer. A band which I looked forward to seeing very much, being a longtime Slayer fan. Unfortunately, I saw them in a masterful headling performance in Atlanta the previous November, which made this brief, 50-minute set in the setting sun seem meek by comparison.

Darkness of Christ (Intro)
Disciple
....sorry..think this is a complete set list..too buzy thrashing...
Dead Skin Mask
Hallowed Point
Spirit In Black
Payback
South of Heaven
Raining Blood
(note: No "hell awaits" in Nashville)

They may have cranked up the PA a few notches after Dimmu, but I dunno. It was nothing like the Tabernacle in Atlanta...

Kerry King had a serious problem in some songs with his amp and was unable to match his Tipton/Downing partner in the dueling solos department. This apparently happene prior to Nashville, as well. I get a feeling a Slayer sound tech may be out of a job by the time you read this.

I have seen a post on the Ozzfest message board that said Tom Araya actually mumbled "pathetic" to himself...I cannot confirm this...I tried to do my part for the cause by thrashing my head off.

Judas Priest came out and blew everyone in the festival off the stage (sorry, Joe).

The Hellion (prerecorded Intro)
Electric Eye
Metal Gods
Heading Out To The Highway
Touch of Evil
The Sentinel
Victim Of Changes
Breaking The Law
Beyond The Realm of Death
Painkiller

Encore:
Hell Bent For Leather
Living After Midnight
You've Got Another Thing Coming

Halford emerged from the iris of the "Electric Eye" and was the epitome of heavy metal cool the rest of the show. And folks, in case you're wondering, the 52-year-old metal god can hit all the high notes, still. I was amazed. The sound of the Priest show was exceptionally clean for a metal show, and yet loud. Sabbath may have gotten a few notches on the volume level for their headlining gig, but Priest had the best sound of the night. These Birmingham bois won the battle of the "Brummies" for Ozzfest. Maybe that's why they got 75 minutes to Sabbath's 60? Nuff said.

Sabbath opened their show with what I felt was a gratuitous display of video highlights from their golden years. All it needed was a caption at the bottom of the video screen reading.."The Black Box... on sale now at Best Buy." OK, I love Sabbath and I bought that box as soon as it came out...but this video seemed to me to be some kind of shit they put on for the people who are out at the bar to get em in the seats...do we need 10 minutes of that shit?

Then we get a bit of Ozzy teasing the audience..."are you ready to go CRAZY?!?" etc. I never get tired of ol Oz.

Finally, the great Sabbath appear behind a beautiful "angel" embossed curtain, with their shadows 30 feet high. Ozzy takes the opportunity to do some big-leauge handshadows with his microphone (simulating the masterbatory act.)

Then the curtain drops, and "War Pigs," in all its air-siren glory, begins. Being a big anti-fan of George W., I was disappointed to see that his image had been wiped from the video accompanyment...must've had something to do with Bill Ward's post on his Website. And folks, it had to be that more than any other "complaint". Though my buddy Andy insists Clear Channel, which is a big Republican supporter and underwrote a major part of this tour, had something to do with it. He also believes they had a role in nixing "Sweet Leaf" from the set list.

Sabbath played a typical Sabbath set.

War Pigs
N.I.B
Fairies Wear Boots
Into The Void
Snowblind
Black Sabbath
Iron Man
Children Of The Grave
Sabbath Bloody Sabbath intro -> Paranoid

It was great, but damn, can't we hear something else? I mean, I love "NIB" and "Snowblind" as much as the next Sabbath fan, but can't we just retire "Iron Man" "Black Sabbath" and "Paranoid"? Pleeeze??

What really irks me are these cute little teasers Iommi likes to throw into the intro to "Paranoid". Last time it was "Supernaught"...this time it was "Sabbath Bloody Sabbath". Fuckin play the song or dont' play it at all!

Ozzy did fuck up "NIB", but who cares? I do believe he repeated the second verse and the song ended up being at least four minutes longer than it should have been. I think I saw a bit of a wince of Tony's face.

A breakdown of each member's performance (since this is a Black Sabbath site):

Ozzy: Sounded great, moved around a lot, didn't appear to have any ill effects from his quad-bike accident. Same ol' loveable madman. For folks who have never seen him live, he is nothing like "the Osbournes".... he seems to have developed some weird water festish, tho.

Geezer: Always the rockinest member of Sabbath, he's the guy that stands in place and bangs his head like most of those kids have never seen. Plus, he wrote all the lyrics. Geezer rules. (and still looks good for a man in his 50s)

Bill: Hmmm...well, he still pounds the skins...he's part of Sabbath...I worry about his health...he had a heart attack, and he looks old as god (and really big)...Ozzy introduced him five times..."Mr. Bill Ward!....Mr. Bill Ward!....Bill Ward!.... Bill Ward!.....Bill Ward!" Bill looked embarrassed by all the curtain calls. And truthfully, he looks out of place. But Joe, don't get me wrong...I love Bill Ward...

Tony: Well, he is Black Sabbath, isn't he? Even if he only moves a few feet around the stage during the show (and he seemed particularly stuck to stage right this performance), he's still the fucking MAN! Anyone who can play those killer riffs and wear that damned leather duster in the hot Nashville night without breaking a sweat is either a reptile or a metal immortal (or he's got some ice packs stuffed in the inner pockets).

They wrapped it up with "Children of the Grave" and the obligatory "Paranoid", took their curtain calls, then had the sun-drained mass of metalheads wandering out to the parking lots.

A great day worth the wait...long live the Metal Gods!
---
From: matt campbell
Subject: Ozzfest 2004 Tour Stuff
Date sent: Fri, 30 Jul 2004 01:04:01 -0700
The Nashville Show was a great time. However i was more impresed with second stage and Judas Priest. Halford played longer than Sabbath. Preist got two encores. Halford was shaking his head in disbelief. I belive he will come back here after that show. I was also impressed with Superjoint Ritual. Phill,Hank,Kevin,Jimmy,and Joe all blew my Fucking mind. Defininltly hope they come back. Not to mention they were signing autographs, that was exciting in its self to see SuperFuckingJoint Ritual. I must Say Sabbath Blew my mind too. I never thought I would get to see them again I was more than impressed and Ozzy sounded better than he has in years. This is by far the best Ozzfest that i have ever been too. Sabbath, Slayer, Priest,SuperJoint,Black Label Society, Slipknoy, Hatebreed, Lamb of God, Devildriver,Otep,Lucuna Coil. couldnt ask for more. Thanks Ozzy.

matt
---
From: "Neil Davis"
Subject: Ozzfest 2004 Review:Nashville TN
Date sent: Tue, 03 Aug 2004 17:36:49 +0000
First off I'd like to say that this was THE best show I have ever seen. Slayer, Priest, Sabbath, BLS all in one day, that's insane. On to the review

We got there about 11:00 that morning (Lacuna Coil was on their last song, Heaven's a Lie). We walked around alittle before Bleeding Through began, just to see what the place was like. The venue itself was awesome, 10x better than Hi Fi Buys in Atlanta (where I usually go). The Village of the Damned was in good shape this year. Some of the games from the year before were intact, such as my favorite, where you kick a ball at this guys face. Now to the bands.

Bleeding Through-Had a good set. Not really familiar with their stuff, but they did a good job.

Atreyu-Didn't watch em, went to get drinks, but from what I heard they did pretty good.

Darkest Hour-didn't see or hear em. Went over too the lawn and checked out the main stage. They had Bill Ward's drum set up for some reason, probably for soundchecks. The singer for Bleeding Through was walking around out there and we talked to him for a while. Cool guy.

Throwdown-Really good. Had a great crowd participation.

Otep-Killed. Great crowed participation, awesome setlist, by Warhead still gets on my nerves :)

Magna FI-Didn't watch. Didn't think they fit with the show, but from what I heard they didn't get booed off.

Devildriver-Really good. Dez was in fine form. Great crowd participation.

Lamb of God-Awesome. Had good crowd participation. They didn't do the Wall of Death though, and I was looking forard to that.

Hatebreed-Prety good. We left about half way through to go and get in line to meet Kerry King from Slayer. The line was bloody huge, and we got there about half an hour before he even got there. We met Kerry right before Slipknot came on. I mean we were walking out of the line when the intro music came on.

Slipknot-Not that good. They had minimal pits from what I could tell. Their setlist was pretty good, but I think that it could have been picked better. Left the 2nd stage are when they started Surfacing to get to the main stage intime for one of my favorite bands, BLS.

BLS-fucking owned. They were awesome. Zakk was in fine forom, vocally and with his guitar. He never messed up once (he rarely messes up anyway). They're setlist was as follows. 1.Funeral Bell 2.Suffering Overdrive 3.Stillborn 4.Stoned and Drunk 5.Berserkers One of the best on the main stage. 2nd only too Priest and the Mighty Sabbath.

Superjoint Ritual-Totally blew. They were horrible. Phil is a self-obsessed prick. He's EXTREMELY full of himself. They just totally blew.

Dimmu Borgir-Did pretty good, but they didn't get a good crowd response at all. No one was into them. Not sure of the songs they played, but they did play Kings of Carnival Creations and Progenies of the Apocolypse

Slayer-Ah, the home stretch has begun. They opened with Disciple and just totally owned the rest of the time. I've heard they didn't play War Ensemble at some of the other shows, but they played it here. They were awesome. But the next 2 were what I was waiting on.

Judas Priest-Awesome, sheerly awesome. No other way to explain it. I'm a HUGE Sabbath fanatic, but Priest stole the show. This fest is about them anyway, since its' their first US tour with Halford back. They were great. Rob was in fine form and seemed to be enjoying himself. But I was still totaly psyched for the next band: the Mighty Sabbath

Black Sabbath-Awesome, sheerly awesome. They were insanely good. When Priest left the stage hands pulled a BIG curtain across the stage with the dancing demon logo on it to hide the stage for some reason. After a while Ozzy came on and was teasing the crowd with the "I can't fuckin hear you"s. Soon a video montage came on and then Supertzar began playing. Lights lit up the screen and you could see the silouttes of Tony on the left, Geezer on the right and Ozzy in the middle acting like he was jacking off on Geezer. Funny stuff man. Then the curtain pulled back, the war siren started and WarPigs began. They continued on a sonic assault on the crowd with the following setlist 1.War Pigs 2.N.I.B 3.Fairies Wear Boots 4.Into the Void 5.Black Sabbath 6.Snowblind 7.Iron Man 8.Children of the Grave 9.Paranoid I was a little dissapointed with the lack of Spiral Architect, SBS, and Dirty Women, but it was still an insane show. Ozzy was in great shape, considering what he has been through in the
past year. He was in better form this year that last year. Iommi was of course mind blowing, and showed why he's the best metal guitarist on the song Black Sabbath by adlibbing an INSANE solo at the end. Geezer was awesome as always, but the real surprise was Bill. He did a bang-up job.He only stubled once in Into the Void, but made up with it by pulling some good fills. He'd stand up and hit the cymbals and all kinds of stuff. It was funny when Ozzy called Snowblind the whole band was off the stage except him and Bill. Ozzy stood there for a minute and all the guys came back on. They stood there a little longer and then looked back at Bill who as just casualy sitting there looking around. Ozzy went up and apparently told him to start Snowblind then came back to the mic and said "it's ok. Bill's dead" The crowd laughed at that one. Funny stuff man. All and all the show was amazing. Very memorable. Looking forward to Sabbath again. Maybe a new album and tour.........