Black Sabbath Concert Reviews
July 31, 2004
Hyundai Pavilion
San Bernadino, CA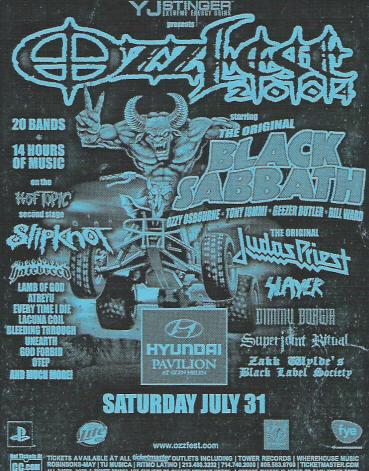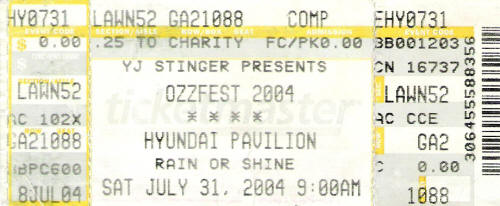 THE BAND
Ozzy Osbourne - Vocals
Tony Iommi - Guitar
Geezer Butler - Bass
Bill Ward - Drums
Adam Wakeman - Keyboards
CONCERT PHOTOS
None available - if you have any, let me know.
TOUR REVIEWS & REMARKS
From: Cary White
Subject: Ozzfest 2004 Tour Stuff
Date sent: Sun, 01 Aug 2004 02:12:19 -0700
Greetings from SoCal.....

Having just arrived home from the Ozzfest at the Hyundai Pavilion in San Bernardino tonight, here's a copy of my ticket stub and a little bit about the show. We just came for the highlights. We had reserved seats at the Pavilion and were in the middle of the second section, eight rows back. The sound was really great from there.

We arrived at our seats just as Slayer was getting started. Their set wasn't as long as many people wanted it to be. Then Judas Priest hit the stage. Halford was defiant as ever, pacing about the stage and coming up various elevators. I was disappointed that Priest was not projected up on the screen. Sabbath, on the other hand, had a wicked multimedia show on two big screens. Lots of split screen close ups on the guys mixed in with some great CG images. All kinds of Gothic shapes, band logos and such. A lot of video images were shown on the big screen, too.

They opened, of course, with War Pigs. This was after Ozzy stood behind the curtain a yelled at everyone. There was truly a shit load of people there. We were so glad we had seats. Tons of war images flashed on the screen through War Pigs. Can't say enough about how cool the screens were.

The band was very tight. They were tuned down at least one step from standard. The sound was so heavy. This made songs like Into The Void and Black Sabbath especially heavy. Ozzy sang well and was as crazy as ever, dumping buckets of water on his head and throwing them into the crowd. The full moon was rising directly behind the crowd and Ozzy commented how great it looked from his viewpoint. Images of Scarface flashed on the screen during Snowblind. The band pretty much played the same set list we've been hearing.

This is my first time to ever see the band, after becoming a Sabbath fan at the age of 12 via my older brother in 1979. I totally enjoyed the performance. I couldn't have been higher. The band was having a great time with each other. The songs were played with master precision. Ozzy's moon comment preceded the band playing Into The Void, giving Ozzy a great segue. That song was so heavy. Iommi's guitar sound was awesome. The band played NIB and Fairies Wear Boots just slightly slower than they are recorded, grinding them out with a fantastic groove. Iron Man was crushing. Children of the Grave was hypnotic. After a totally upbeat Paranoid, the band went off with a tremendous puff of confetti and bright lights. It was fabulous, a very enjoyable evening with a band I've idolized for years.
---
From: Christopher Monterrosa
Subject: Concert Review for July 31st Ozzest 2004
Date sent: Tue, 3 Aug 2004 03:56:58 -0700 (PDT)
This is my concert review for that particular date in San Bernardino.

I've been waiting to see Black Sabbath for quite a while, as they are my favorite band. When the 31st came upon I was excited. The weather in San Bernardino was pretty good for an outdoor concert. My nephews and I went to show at about 4 pm and were on time to see 5 bands play : Super Joint Ritual, Dimmu Borgir, Slayer. Judas Priest and Black Sabbath. The first band really did blow. I couldnt stand Phil Anselmo's rhetoric. Someone needs to learn how to talk intelligently. The second band wasn't too hot either, but that might have been because i dont really like black metal. Too cheesy for my tastes. Slayer came next and they were pretty good. I enjoyed their show. Judas Priest was next. ALthought they played well, I didnt enjoy it as much as i could have because everyone in the field was starting bon fires and trying to trash the joint. I came to OZzfest to see bands play live, not to act like an idiot. When Sabbath came on at about 9:30, Everyone seemed to calm down. Ozzy came out and tried to get crowded started before the the rest of the band came up. Finally you could see the mighty Sabbath standing in front of the stage as they started with War Pigs. It was surreal to see them play. They played a typical setlist, but thats ok. All of the performances were great. Geezer butler was using Fender Basses! I never knew he did! Anyways, heres the setlist:

War Pigs
NIB (Minus the bass intro)
Fairies Wear Boots
Into the Void (Best Song they played i think)
Black Sabbath
Snowblind
Iron Man
Children of the Grave
Paranoid (w/ the intro of Sabbath Bloody Sabbath)

The crowd loved the show. Everyone was singing along with Ozzy through each and every song! After the last song, Ozzy told us to not drive if we were loaded on drugs or beer. Not many of us did because the parking lots were jammed for almost three hours! I didnt leave the venue until about 1 am. Overall though, it was an awesome Concert ! I got to see three great bands play, especially my all time favorite !
---
From: "Eric & Susan Hokenson"
Subject: Ozzfest 2004 Tour Stuff (July 31 review and scan)
Date sent: Wed, 4 Aug 2004 21:35:38 -0700

Ozzfest 2004 ? July 31

I went to yet another Ozzfest at the Hyundai Pavilion in Devore, CA last Saturday. I had a great time, and thought I would submit my concert review.

It started out great as I got a free ticket voucher for participating in the annual KLOS Blood Drive. Unfortunately, they didn?t want to use my blood as I visited some areas of China nine months ago that were considered at risk for Malaria. (Hmmm, I feel fine?). Anyway, they still gave me a voucher and a t-shirt for volunteering and showing up.

The Hyundai Pavilion (formerly Blockbuster) out in San Bernadino County is absolutely HUGE. For the first time I can ever remember at that venue, it was SOLD OUT!!! Unfortunately, two of my friends had to buy ?scalped? lawn tickets for $70 each. Ouch.

We got to the parking area about 3pm. Enough time for some beer and a round of Frisbee. Seeing as how the event was so packed we had to park like two miles away, so it was a long walk. Fortunately, we got there just in time for all the bands on the main stage.

BLS was pretty solid. However, I thought Zakk would do a lot more shredding with his ?solo? band. They did play a good set albeit pretty short.

Superjoint was up next. I?ve seen Pantera a few times open for Sabbath, so I knew Phil Anselmo was kind of a character, but this time he seemed to get even more obnoxious. He was ranting big time between songs about some absurd nonsense. Of course, every other word was fuck. I am not one to be offended by obscenities, but in my opinion, guys who use profanity for every other word just sound ignorant. Phil should try to remember my motto: ?Less talk, more rock!? The band however was pretty good. Their songs are pretty fast and short, and they actually sounded pretty good. Definitely alot faster than Pantera!

Between sets, those of us on the lawn were treated to several young ladies flashing their breasts. It?s amazing how when one or two girls start doing it, a bunch of women start doing likewise. I wonder how many photos of these girls have been posted on the internet? :)

I wasn?t familiar with Dimmu Borgir, but they sounded pretty good as well. I am not really big on the face painted Death Metal bands, but these guys weren?t too bad at all. Maybe I should check out more of their material.

After getting a beer, Slayer started. I can?t remember every song, but their set included: God Hates Us All, War Ensemble, Mandatory Suicide, Dead Skin Mask, Seasons in the Abyss, Stain of Mind, South of Heaven, Raining Blood. I have seen Slayer five times now (three times at Ozzfest), and they are always pretty consistent. They sure never fail to whip the kids into a frenzy as the pits really got going on the lawn. Gotta love it.

After at least 13 years, Halford is back with Judas Priest!!! I was looking forward to seeing them a lot. They had a pretty decent stage setup, and they had a much better sound than the previous bands. The crowd was REALLY into them too. From their set and the audience?s reception, you would really think they were the headliners. The set list included: Electric Eye, Metal Gods, Heading out to the Highway, Touch of Evil, The Sentinel, Breaking the Law, Victim of Changes, Beyond the Realms of Death, Painkiller, encore: Hell Bent for Leather, Living After Midnight, You Got Another Thing Comin?.

All in all Priest, was great. Halford is still a top notch metal vocalist, and I am eagerly anticipating a new album form them. The only complaint I would have is that the set list was pretty much a condensed version of the one from their Painkiller tour.

Next up of course was Black Sabbath. This was the seventh time I have seen them, and fifth with Ozzy. Black Sabbath put on a great show as always. Ozzy was in great form, he sounded great and was very lively. He also didn? t go overboard with splashing water on the crowd like he did last time I saw them. Bill and Geezer sounded great too, but unfortunately were drowned out by Tony at times. Don?t get me wrong, Tony is my favorite guitar player, but I thought he was a bit too high in the mix for the first half of the set.

Sabbath set was unfortunately pretty predictable: War Pigs, NIB (sans Basically), Fairies Wear Boots, Into the Void, Black Sabbath, Snowblind, Iron Man, Children of the Grave, encore: Paranoid. Pretty much the same set as the 97 and 99 Ozzfests.

By the way, did I mention the place was packed. I mean packed, I had never seen that many people at that venue before. There have been easily 60,000 there! All of them screaming the lyrics to War Pigs as well. OH LORD YEAH!!

For a bunch of guys in their mid-fifties, Black Sabbath and Judas Priest put on great sets. You could really tell who the headliners were in terms of stage setup, sound, and even stage presence. Don?t know how long these guys can keep this up, but it?s certainly something worth checking out.

Crossing my fingers that next Sabbath show will be supporting a new album. (I think I said that after the 97 and 99 Ozzfests as well.) Yeah, who am I kidding, that album is probably never coming out. Oh well, at least we can still all have a blast at the Ozzfests.

Oh yeah, it took us almost three hours to get out of the parking area. That is the one thing I really hate about the Hyundai Pavilion. However, since they always have Ozzfests there, I guess I have to like Hyundai Pavilion for that.

Eric Hokenson
---
From: "Gene Trosper"
Subject: July 31 OZZFEST rant and review
Date sent: Sat, 7 Aug 2004 17:53:26 -0700
I've written standard-fare reviews before regarding Ozzfest, so this will be a bit of a departure...part rant, part review.

For the first time ever, I bought orchestra seats for the July 31 Ozzfest in Devore, CA at the Hyundai Pavilion.

In order to get a good parking space, I bit the bullet and arrived at 9:45 am. The parking lots are still relatively clear at that time and I prefer not walking over a mile to the gates!

No band on the second stage interested me this year, except for Lacuna Coil. Their music is both heavy and beautiful. Some call it "goth metal", which I have no problem with, as I also like Tiamat and Moonspell. I bought a copy of "Comalies" for $10.00 and got it signed by each member of Lacuna Coil. What was really cool about the signing was each and every member said "thank you for coming". It's nice to see a band who truly appreciates their fans and audience. Of course, seeing the female singer, Christina Scabbia up close and personal was a real treat!

While pretty much ignoring most of the second stage (the moshing made it way too dusty anyway. You could barely see the stage!), I spent time in the "Village of the Damned", doing some shopping and bullshitting with various people. I've gotta say that the prices for the merchandise was on par to prison rape. You felt abused and dirty after buying something like a t-shirt or tour program. $25.00 for a tour program? That is insane, considering that the tour program consists of many advertisements!

Speaking of rape...the cost of water was equally insane: $5.00!!!!!! I won't even en mention the prices for beer (way too much for me to imbibe) or food.

This brings me to another subject, but I must back up the story here.

In May, my wife underwent the popular weight loss surgery at Cedar-Sinai Hospital in Los Angeles. As a result, she has to eat a more specialized diet and drink plenty of fluids....unfortunately, Ozzfest is not sympathetic to people's medical conditions. They would NOT allow even one bottle of water inside the venue. As for the small amount of high-protein food my wife brought (a small container of mixed nuts), they wouldn't allow that either.

Your truly went through the roof.

We were standing at the gates with tickets in hand, ready to go through when the "police-state" known as Ozzfest kicked into high-gear.

They would not allow handbags, backpacks, water, food or even sunblock inside the gates.

I had a feeling I would be in for a fight and how right I was! I immediately DEMANDED to see the security guards' supervisor. I was hostile and demanding that my wife, who held a $120.00 ticket and has special medical needs, be allowed inside with ONE bottle of water and her small container of nuts (the size of her stomach is about the size of a golf-ball, post surgery). Yes, I threw a fit and made a scene, but I do what works....and it worked.

I shouldn't have to resort to such tactics, but the evil being perpetuated by the security (and by extension, Clear Channel) was too much to bear. Something HAD to be done! We were assured by Clear Channel staff on hand that my wife will be able to bring in some water and a little food.

I DO plan on lobbying the operators of Hyundai Pavilion (I believe it's San Bernardino County) to allow each concert patron to bring in ONE bottle of water and a tube of sunscreen. Anything less is inhuman.

How funny though...once we entered through the gates, sunscreen was being sold at $10.00 per tube by vendors!

Anyone else of this list who attended the July 31 Ozzfest in Devore who are just as pissed off as I am, please contact me: gtrosper@ez2.net . I have been politically active and have made political successes, so I know what I'm doing...the more people who join together and speak out, the better!

Anyway, on to the main stage review.

Black Label Society kills once again. Every time I see BLS in action, they never fail to disappoint! I really DO wish that BLS got higher billing on the main stage though. It quite surprised me to find out this biker-looking bass player was James Lomenzo, formerly of White Lion and Pride & Glory. He looked like a cross between Lynyrd Skynyrd's now departed bassist, Leon Wilkinson and a Hell's Angel biker! What a change for his hair metal days!

Superjoint Ritual. I dig the music and *some* of what Phil Anselmo had to say, but the dude talks way too fucking much! There was more talking than music, far as I could tell. As for his constant threats to kick ass for those who disagree with him, I'll take him up on the offer any day of the week. Now, I respect Anselmo, but damn...his freaking rants had me WANTING to kick his ass and get him into performing. I didn't pay to hear babble.

Dimmu Borgir. I must be the ONLY person in attendance who enjoyed some Norse black metal. I've been into it ever since Venom came out with "Welcome to Hell" in 1981 (I'm 38 years old). My daughter and her boyfriend dug the Norwegian blackness also. The stage show did leave a bit to be desired...mostly because it was still daytime and the time constraints prevented the band for performing in full glory. Still, it was pleasurable to see and hear a band who is pushing the boundaries of black metal beyond hyperspeed guitars and "let's burn churches" attitude. The symphonic element to Dimmu was definitely a breath of fresh air.

Slayer. Another band I grew up on and appreciate. They seemed less energetic and aggressive than when they played the 1999 Ozzfest. Gone also was the cool video they played in 1999 also. This time, they had some crypto-fascist style Slayer banners hanging behind the band.

The music was good, just not as aggressive as years past.

Judas priest. Oh my freaking god! The entire audience went bezerk when the stage lights went down, just seconds before the glory of Priest hit the stage. It's been a LONG time boys, and you proved that the legend of Judas Priest is no mere hoax or overstatement. Halford's stage presence and vocal range hasn't suffered at all since he initially left the band. Hell, it hasn't suffered since he joined Priest way back when!

The stage show was excellent, the choice of songs (Touch of Evil was a great inclusion) and Halford's re-emergence in Priest made for a very memorable evening. I wish them all the luck and look forward to their new album and world tour!

Black Sabbath. I know that Sabbath has been inactive and pretty much acting as a touring "juke box" Since their reunion, but I am a diehard Black Sabbath fan and will take any opportunity to see my musical heroes, even though they have nothing new to offer fans or the music world (It was painful to say that).

If anything, the evening demonstrated that Ozzy cannot be kept down for long. You have to respect that the man has seen his share of problems lately...his near death accident in December and Kelly being photographed by the British press making a drug deal (with a subsequent stint in a rehab center). It's enough to make most people give up in disgust.

But damn...Ozzy showed no signs of ill health or a weak voice. The man was jumping around, yelling, running, throwing buckets of water....I was impressed...very impressed!

It would have been nice to see Sabbath play a longer and more varied set, but we must remember, Ozzy DID sustain heavy and serious injuries less than a year ago. he is STILL recovering and has metal implants in his body now. A sixty minute set is enough for now. Once he recovers fully, I would expect him to begin performing 75 minute sets again...maybe even longer ones.

Black Sabbath live always satisfies me. This was no exception. Each band member was performing excellently, even the almighty Bill Ward (who I see has taken to growing his hair back out again!).

I IMPLORE you guys...make another album! Soon! It could be the crowing achievement on an otherwise glorious career. Sharon Osbourne, are you listening?

--Gene Trosper
---
From: Nicole Susan
Subject: July 31st Ozzfest Review
Date sent: Fri, 27 Aug 2004 13:15:13 -0700 (PDT)
This review is late but hey, better late then never!!

I got to the venue at about 10:30 and just wanted to look around the grounds. Seeing who's actually there is pretty fun and seeing what kinda booths they have is interesting as always. My favortie was probably the "Kick me in the f*cking head!!" booth. Priceless. I wish all the women over the age of 40 wouldn't get the half naked bodies painted though. Kinda sick.

I ventured down to the 2nd stage area but didn't find anything too interesting that would make me stay. I did hear a little bit of Lacuna Coil, who were actually alright sounding. Other than them, all the bands sounded exactly the same.

Mainstage started a little early...like 4:30ish with the War Pigs siren and BLS took the stage and did Funeral Bell. Jesus, Zakk sounded great as did Nick Cantanese. Definately a great band if you haven't checked them out yet. I wish they had a longer set though. Zakk dedicted a song to the troops over sea and played on the Randy Rhoads Jackson V for Stoned and Drunk and Genocide Junkies I think. It was slamming. He said God Bless Randy Rhoads at the end.

Then came Super Joint Ritual. I really loved Pantera and I wish Phil would just shut up, get over it, and stop talking about it. Leave the legacy alone, you know? But no, he couldn't do that. He brough Rex out which was cool I guess. One song they did sounded like a really crappy version of Symptom of the Universe. He also dedicated a song to himself because he is "so cool." Lay off the shrooms Philly. They were "meh."

Then came Dimmu Borgir. A little too corny. It's hard for me to take you seriously when you wear more make up than Kiss. The crowd didn't really react to them which didn't surprise me. Their set seemed to drag on forever. If BLS and Dimmu Borgir traded spots, that would have been perfect.

SLAYER!!! Ok, I'm not a big fan of Slayer...never have been. But they were excellent and did a very good show. They skipped a few classics which I thought was weird. But they sounded good. They got the pits going crazy. I've never seen more stretchers in my life.

Judas Priest. I always thought they were fairly good. I was interested to see them because I've heard how brutal they were live. They didn't dissapoint. Rob Halford had more wardrobe changes than Cher. But he was in great form as was Glenn and KK. I think KK had a hole in his pants...too funny! Rob rode out on the Harley for the encore. Fabulous set...Painkiller, You've Got Another Thing Comin' and Hellbent for Leather sounded particularly good.

Then, the moment of truth. I've been a big time Sabbath fan since I was about 12 or 13 and I was getting worried that I would never see them. I was so happy when I found out they were doing Ozzfest. So they were all standing behind this curtain and looked larger than life. Everyone goes crazy. Slayer and Priest got the crowd going...but Sabbath, Christ...just insane. Ozzy starts to "jack off" and everyone laughs and whatever then the curtain drops and they kick into War Pigs. I couldn't really tell how Ozzy sounded because with War Pigs, it's more like "Sing along with Ozzy" then "Listen to Black Sabbath." I don't remember him flubbing any lyrics or even reading the teleprompter that much but he hit a couple of sour notes. Only a couple though. He was in the best shape I've ever seen him in. It was a glance at the old crazy 22 year lead singer from Black Sabbath. It was awesome. Tony Iommi was smoking!! Just unbelieveable. During introductions, he basically got the loudest response from the crowd...he was a bit bashful even. Geezer is the coolest head banger of all time. He hasn't aged a day. Bill Ward was in top form. I can't understand how people kinda knock him. Because he was perfect.

Ozzfest was the best this year. I have to say, I wish Sabbath did a longer, more diverse set list, but doesn't everyone? There's always next year.

---
From: "KnowZen"
Subject: review ozzfest 2004 devorse july 31
Date sent: 1 Sep 2004 01:50:16 +0100
Been a fan of Black Sabbath and Ozzy since 71. I have been to about 160 concerts ,but never Sabbath. (did see the first Ozzy tour with Rudy Sarzo and of course Rhoads, following 4 more Ozz shows(jake lee, zakke wilde)) So the day of the show July 31rst, without a ticket and still undecided whether to go to the show, i listened to KLOS, the DJ announced a blue moon and that the best bands were still ahead, i looked at the clear blue California sky and wondered "what the "f?*ck" am i doing? Its 6pm, ive never seen Sabbath or Priest! Like what am i going to do instead? be lame? go to some boring movie? I PANICKED!!! I turned the truck around and took the usually 1 hour drive and just went, what happens happens, ive had some great fortune with spontaneious concert decisions, Hauled ass made it in 45 minutes,arrived about 7pm, parked, walked onto a waiting passanger tram bus, which started to pull out less than a minute after i boarded, sat next to a guy that sold me a "pit" ticket for $150.00. (was i so glad i brought extra cash)we made the deal as we left the tram and started walking, without loosing barely a step. As we drew closer to the venue(never been here before)people were asking for tickets like they had been there for hours without success. I realized i was lucky to have ANY ticket!!! Now check this out.... went thru security, walked down in front of stage, walked into the "pit" and Priest started to play 2 minutes later, there i was 10 feet from stage, AMAZING, .The guy that sold me the ticket told me the story about how somebody told him the pit isnt that wild, and for priest it wasnt..... Then came Sabbath,,, at that point you had 2 choices, push or be trampled by the other "sardines"and spend the rest of your time just trying to stay on your feet.....OR......stand back about five feet and enjoy being moshed! I decided to split my time, Curiously though, when i retreated to the mosh area i looked around and i think the dude left..
Priest was great,,,,,Sabbath was so tight, Cant give a real accurate discription because i was so close and i had no idea before i arrived where i would be, so didnt bring plugs,,, considering the sound from the amps had to be pushed out to 65,000 + fans, it was pretty loud!!! The only part that was drowned out a bit was Bill Ward, but they played great together, Ozzy was the ozzy of 71, the long black hair (remember the perms of the 80,s)?.....Basically just standing at the mike and singing, with an occasional water bucket run (some cool water splashing on me felt good).... He actually looked more secure and content, and perhaps just felling lucky to be alive and with his old friends again. Well a couple of shots to the ribs, a face shot, some guy climbing on fence behind pit and jumping on my neck, some close up views of breast bearing girls in the pit(which were quickly put on the large screen) Ozzy said something to the effect"oh very nice" "cant touch" "wait a minute" "im OZZY" "i can do anything" thru up his hands and crowd roared. I thought was a classy way to joke. This goes up to one of the top 5 concert experiences ive had, thought i would share it (oh and if you do the pit where a hockey goalie uniform or just wrap yourself in foam>