Black Sabbath Concert Reviews
August 28, 2004
Post-Gazette Pavillion
Pittsburgh, PA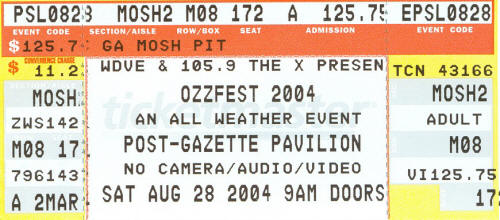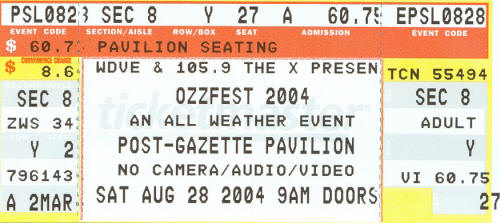 THE BAND
Ozzy Osbourne - Vocals
Tony Iommi - Guitar
Geezer Butler - Bass
Bill Ward - Drums
Adam Wakeman - Keyboards
CONCERT PHOTOS
You can view the photo gallery for this concert here.
TOUR REVIEWS & REMARKS
From: "cas dylewski"
Subject: Ozzfest 2004 Tour Stuff- Burgettstown, PA concert review/Post-Gazette Pavilion
Date sent: Sun, 29 Aug 2004 09:03:02 -0400
Don''t know if this review is a little late in the game, as there are only a few dates left for Ozzfest, but here goes. On the second stage, the bands that impressed me were Lamb of God, Hatebreed, God Forbid, and Devildriver. The rest may have been viable, but for whatever reasons, they started to sound the same. On the main stage BLS did a nice job, though Zakk's vocals seemed a little sub-par. Superjoint Ritual sucked. They were noisy for the sake of being noisy. Philip Anselmo remarked that this was the worst crowd he'd ever played in front of. Mind you, it was about 87 degrees, with about 90% humidity, and we were in the thick of things at the 2nd stage for about 7 hours already. We were hot, tired, and nearly out-of-gas, so to speak. Dimmu Borgir were good musicians, but me personally, I could do without all of the theatrics, and gimmicks. Slayer were very good. They are always consistent, and high-energy. Judas Priest were very impressive. Rob Halford still has the pipes!
Now Sabbath. Ozzy was there and was having a difficult time singing, because of the bronchitis. The rest of the band appeared agitated, as well. Ozzy was way out of tune with the songs to a point at which it made the band sound the same way. Not a great Sabbath show like the '99 reunion tour, IMO. Tried to keep this review short, and to the point, so forgive me for any omissions. Hope this helps out anybody who is going to the last couple of shows.
---
From: "Andrew Falsetti"
Subject: Review- Pittsburgh August 28
Date sent: Sun, 29 Aug 2004 14:09:21 -0400
Rather than give an in depth review, I would just like to make a few comments about Ozzfest in Pittsburgh 2004.
I was fortunate enough to see Sabbath from the mosh pit. I cannot say enough about it- it was incredible! The only downside was that only eight songs were performed- no Snowblind or Sweet Leaf this time out. The band sounded fantastic- Bill, Geezer and Tony were all great.

But it was Ozzy who really blew me away. The last two Ozzfests, Ozzy seemed a bit down. We were his first stop after he learned Sharon had cancer, and last year he told the crowd one of his long-time roadies had just died. But his year, he was better than ever. He had a smile on his face the whole time. He was jumping and running around a lot, and didn't seem to relying on the teleprompter much at all. I would really have to say that Ozzy seemed to be joyous. The guy was completely pitch-perfect 95% of the time, and his voice was strong.

I thought it was important to write this to put in my two cents about a lot of the Ozzy bashing that goes on on this sight. I saw Sabbath in '86 on the Seventh Star tour, and I'm sorry, there is no comparison. I think it's great to appreciate Sabbath's entire catalog and Tony's body of work, but to even think any of the other front men is even in the same league is a joke. I was 15 feet from the guy last night, and I assure you, there was no perfect Ozzy sound-alike in the wings doing his vocals as some have suggested. The guy is 55 years old and almost died 6 months ago. He is still the greatest. Come out on the closet, Ozzy lovers, it's O.K! There is only one Sabbath: Ozzy, Tony, Geezer and Bill. Long may they rock!

---
From: Ron Cybulskie
Subject: Ozzfest Pittsburgh Fan Review
Date sent: Tue, 31 Aug 2004 12:26:44 -0400
Showed up at the Post Gazette Pavilion around 2pm. The day was stiflingly hot and unbearably humid. So after checking out the vendors for a spell, we basically spent the remainder of the afternoon trying to stay out of the sun and out of earshot of the horrible cacophony of nu-metal bullshit (Fuck you, Hatbread!!) coming from the second stage (while sipping tentatively at our piss-warm, skunky Rolling Rocks).

Then six o1clock. And Slayer. Hangover disappears. Tired legs and blistered feet find new strength. I found myself in the center of the crowd, banging my freakin1 head right off while air-guitaring and screaming 3On and on South of Heaven!². Bliss. Beer is flowing like a river of blood. The uncomfortable heat is gone, replaced by a drunken, sweaty, speed-rifferama induced euphoria (NOT the Anthrax kind, either?we1re talkin1 fucking SLAYER!!) that hasn1t been felt since the second leg of the Reign in Blood tour, all those long years ago!

Slayer ends. More beer. Then Judas Priest. I1ve never been a huge fan, but the songs I like are worth seeing. Some of the others are kinda dull. Still, overall worth seeing.

Dark now. I turn my head left and see an orange full moon hovering in the thick night air. To my right, storm clouds gather, periodically illuminated by lightning. Oddly, I hear no thunder. There has been talk around the venue all day that Ozzy is ill and won1t be performing. Two nights prior, Rob Halford had to fill in?the old boy1s bronchitis had gotten the better of him. There is a nervous tension in the crowd as we watch the riggers scaling the ladders flanking the enormous Black Sabbath curtain that covers the stage. Minutes pass like hours. Is he here? He HAS to be here. Halford is good, but...

"I can1t hear you motherfuckers!!!"

The crowd erupts.

"Are you ready to go fucking crazy!!!"

Three enormous silhouettes appear on the stage curtain. The one in the center keeps getting bigger and smaller as he paces backward and forward. A siren begins to howl. The crowd is ecstatic. The curtain opens as the first chords of War Pigs explode from the PA!! Ozzy is running back and forth, jumping up and down, clapping his hands, banging his head and working the crowd into a frenzy like a 25-year old! I1ve NEVER seen him look so good! Whoever rehabbed him after his ATV accident should get a fucking medal! No shakes, so hands to the floor frog jumps, no old-man shuffling?the guy was on fire like it was 1973!!

3After my accident, the doctors told me it1d be 18-months before I1d be able to play again, man. I told them ?Fuck you!1 What1d I say?²

Fuck you!

3What1d I SAY?!²

FUCK YOU!! 3

WHAT1D I SAY?!?!²

FUCK YOOOOUUU!!!

Then finally, as if predestined, as the band launched into Paranoid for their encore (after a surprising, much welcomed false-start of Sabbath Bloody Sabbath), the heavens opened up and drenched the crowd, cleansing us of our rock n1 roll sins. And the harder it rained, the closer the lightning got, the louder the thunder roared...

the more we fuckin1 liked it.

Written by,
Just a fan