Here are the tour dates that I have from the band's start of touring from 1970 up until 2009. Click on the album cover or tour date you want the info for. This is by no means meant to be a 100% accurate list (at least not pre 1995, anyway). If you have information about a date that's not listed, or a correction, let me know. However, please have some concrete information available before submitting an addition/correction. Don't just say "Oh, I think they played here, on this date. Have some proof of the date other than just "I remember it" - a ticket stub, or an advert would be optimal.
I'm always on the lookout for more materials. If you have concert pictures, ticket stubs, or tour advertisements, I'd love to see them and use them here. Send materials to me at siegler@black-sabbath.com - I can handle just about any kind of file attachment. I do ask a small favor if you send me something via email. Send me two emails. One with the attachment, and another letting me know you're sending it (that way I can check my spam software filters - frequently file attachment emails get killed, and I need to rescue them).
Also, DO NOT WRITE ME AND ASK IF I KNOW OF ANY NEW TOUR DATES! IF I HAD TOUR DATE INFO, IT WOULD BE POSTED HERE! If you write me anyway after reading this, your email will be ignored. I get enough email, please don't think "Oh, he'll just answer this one email" - I won't. If there are ever more tour dates announced, I will post them online when I get them.
2012 Tour Dates Note:
I'm not adding these to the Tour dates section - I'm getting close to finishing the new version of my website,
and I'd rather not spend the time setting that up on the old site (this one), just to remove it quickly.
When the new version of my site launches, 2012 Tour dates will be there.
[ Heaven & Hell European Tour 2010 ]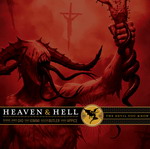 [ Metal Masters 2008 | Heaven & Hell 2007 ]
[ Ozzfest 2005 | Ozzfest 2004 | Ozzfest 2001 ]
[ 1998 European Tour |1997 Ozzfest & NEC Reunion ]