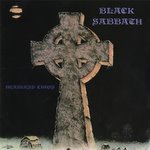 1989 "Headless Cross" Tour Dates
Dates and research compiled by Joe Siegler & Robert Dwyer.
If you'd like to use any of this text for non-commercial purposes, please
obtain permission first
.
Commercial utilization of this work in whole or in part is prohibited!
If you have an update to one of the dates below, please help keep the list accurate by
telling us
!

Touring Band
Tony Martin – Vocals
Tony Iommi – Guitar
Neil Murray – Bass
Cozy Powell – Drums
Geoff Nicholls – Keyboards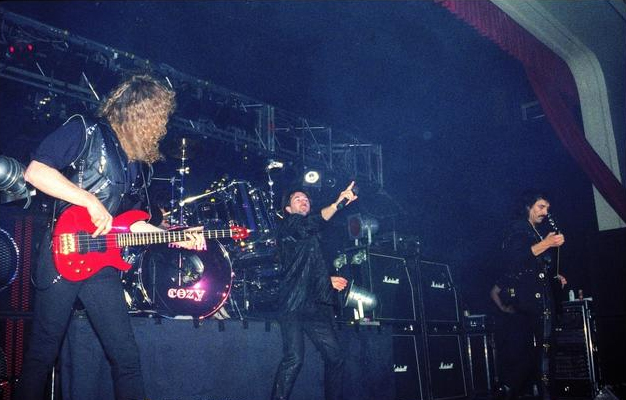 Openers
In USA – Kingdom Come, Silent Rage
In Europe – Axxis
In Rusia – Girlschool
Typical Set List
Headless Cross
Die Young
Black Sabbath
Devil & Daughter
Iron Man
Children of the Grave
Heaven & Hell
Neon Knights
Children of the Sea
Call of the Wild
The Mob Rules
When Death Calls
War Pigs
The Shining
Guitar Solo
Paranoid
Alternate Set List
The set list varied during the tour, here is one from another gig.  The show was September 11, 1989:
Intro – The Omen (tape)
The Gates of Hell
Headless Cross
Neon Knights
Children of the Sea
Die Young
War Pigs
When Death Calls
Mob Rules
Black Sabbath
Devil and Daughter
The Shining
Smoke on the Water (feat. Ian Gillan)
Iron Man
Children of the Grave
Heaven and Hell
Paranoid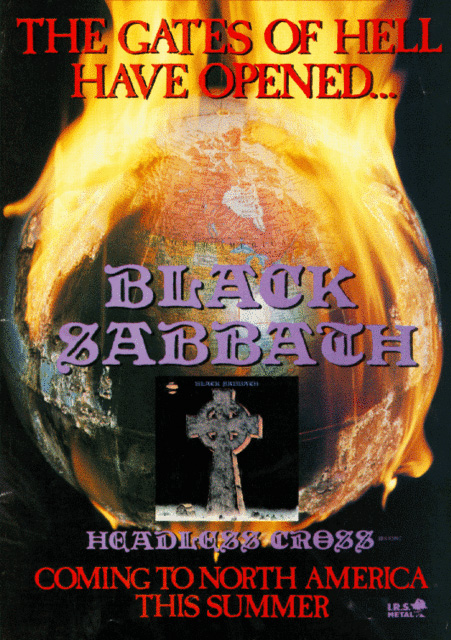 List of Dates
Click on a date to see details from that show, including pictures, video, and reviews.
Black Sabbath
Date
City
Venue
Country
August 1, 1988

Headless Cross Recording Sessions – Through Nov 1988

April 24, 1989

Headless Cross Released in the UK

April 25, 1989

Headless Cross Released in the UK

May 31, 1989
Poughkeepsie, NY
Mid-Hudson Civic Center
United States
Openers: Kingdom Come, Silent Rage
1st date of HEADLESS CROSS tour
June 2, 1989
Portland, ME
Portland Metropolitan Exposition Center (Expo)
United States

Openers: Kingdom Come, Silent Rage

June 3, 1989
Boston, MA
Orpheum Theater
United States

Admission:

$17.50.

Openers: Kingdom Come, Silent Rage (Unconfirmed)


[ Concert Reviews ]
June 4, 1989
Columbia, MD
Merriweather Post Pavilion
United States

Time:

6:30pm.

Admission:

$15.00-$20.00.

Openers: Kingdom Come, Silent Rage

June 6, 1989
Pittsburgh, PA
Syria Mosque
United States
Openers: Kingdom Come, Silent Rage
Moved to Norfolk Cancelled
June 6, 1989
Norfolk, VA
The Boathouse
United States

Time:

8:00pm.

Admission:

$14.50.

Opener: Kingdom Come

June 8, 1989
Clifton Park, NY
Clifton Park Arena
United States
Openers: Kingdom Come, Silent Rage
Cancelled due to ticket sales & religious protests. Cancelled
June 8, 1989
Springfield, MA
Springfield Civic Center
United States

Time:

7:30pm.

Admission:

$17.50-$18.50.

Openers: Kingdom Come, Silent Rage

June 9, 1989
Upper Darby, PA
Tower Theater
United States

Time:

7:30pm.

Admission:

$17.50. Openers: Kingdom Come, Silent Rage
Also billed as Philadelphia
June 10, 1989
New York City, NY
Palladium
United States

Admission:

$20.00-$22.00.

Openers: Kingdom Come, Silent Rage

June 12, 1989
Toronto, Ontario
Masonic Temple Concert Hall
Canada

Admission:

$23.50. Openers: Kingdom Come, Silent Rage
Moved from Varsity Arena
June 13, 1989
Clarkston, MI
Pine Knob Music Theatre
United States

Opener: Kingdom Come

June 14, 1989
Cleveland, OH
The Agora
United States

Admission:

$16.50-$17.50. Opener: Silent Rage
Last confirmed US Date – Moved from Nautica Stage
June 15, 1989
Cincinnati, OH
Riverbend Music Center
United States

Time:

8:00pm.

Admission:

$13.50-$18.50. Openers: Kingdom Come, Silent Rage
Venue also listed as Kings Island Cancelled
June 17, 1989
Chicago, IL
Aragon Ballroom
United States

Time:

7:30pm.

Admission:

$17.50-$20.00.

Openers: Kingdom Come, Silent Rage

Cancelled
June 18, 1989
Milwaukee, WI
Riverside Theatre
United States

Openers: Kingdom Come, Silent Rage

Cancelled
June 20, 1989
Minneapolis, MI
State Theatre
United States

Openers: Kingdom Come, Silent Rage

Cancelled
June 22, 1989
Kansas City, KS
Memorial Hall
United States

Openers: Kingdom Come, Silent Rage

Cancelled
June 23, 1989
St. Louis, MO
Fox Theatre
United States
Openers: Kingdom Come, Silent Rage
Moved to June 24 and cancelled again. Cancelled
June 24, 1989
Memphis, TN
Ellis Auditorium
United States

Openers: Kingdom Come, Silent Rage

Cancelled
June 24, 1989
St. Louis, MO
Fox Theater
United States

Time:

8:00pm.

Admission:

$14.00-$16.00. Openers: Kingdom Come, Silent Rage
Moved from June 23 and cancelled again. Cancelled
June 25, 1989
Huntsville, AL
United States
Openers: Kingdom Come, Silent Rage
Venue Never Announced Cancelled
June 27, 1989
Atlanta, GA
The Fox Theatre
United States

Time:

8:00pm.

Admission:

$16.50.

Openers: Kingdom Come, Silent Rage

Cancelled
June 28, 1989
Daytona Beach, FL
Ocean Center
United States

Time:

7:30pm.

Admission:

$16.50.

Openers: Kingdom Come, Silent Rage

Cancelled
June 29, 1989
Sunrise, FL
Sunrise Musical Theatre
United States

Admission:

$16.75.

Openers: Kingdom Come, Silent Rage

Cancelled
June 30, 1989
Tampa, FL
Performing Arts Center
United States

Openers: Kingdom Come, Silent Rage

Cancelled
July 2, 1989
Biloxi, MS
Mississippi Coast Coliseum
United States

Time:

8:00pm.

Admission:

$16.50.

Openers: Kingdom Come, Silent Rage

Cancelled
July 3, 1989
Houston, TX
Sam Houston Coliseum
United States

Openers: Kingdom Come, Silent Rage

Cancelled
July 4, 1989
McAllen, TX
Villa Real
United States

Openers: Kingdom Come, Silent Rage

Cancelled
July 6, 1989
Corpus Christi, TX
Coliseum
United States

Openers: Kingdom Come, Silent Rage

Cancelled
July 7, 1989
San Antonio, TX
Sunken Garden Theater
United States

Openers: Kingdom Come, Silent Rage

Cancelled
July 7, 1989
Denver, CO
Mardi Gras
United States

Time:

8:00pm.

Openers: Kingdom Come, Silent Rage

Cancelled
July 8, 1989
Dallas, TX
Bronco Bowl
United States

Openers: Kingdom Come, Silent Rage

Cancelled
July 11, 1989
Chandler, AZ
Compton Terrace
United States

Time:

4:00pm.

Admission:

$13.50-$16.00.

Arizona Jam 89. Other bands: Kingdom Come, W.A.S.P., Accept, Metal Church, Silent Rage

Cancelled
July 12, 1989
San Diego, CA
Golden Hall
United States

Openers: Kingdom Come, Silent Rage

Cancelled
July 13, 1989
Anaheim, CA
Celebrity Theatre
United States

Openers: Kingdom Come, Silent Rage

Cancelled
July 14, 1989
Los Angeles, CA
Palladium
United States

Openers: Kingdom Come, Silent Rage

Cancelled
July 15, 1989
Oakland, CA
Kaiser Auditorium
United States

Openers: Kingdom Come, Silent Rage

Cancelled
July 16, 1989
Sacramento, CA
Sacramento Community Center – Exhibit Hall
United States

Openers: Kingdom Come, Silent Rage

Cancelled
August 31, 1989
Birmingham
Aston Villa Leisure Centre
United Kingdom
Opener: Axxis
Venue owned by Geezer's favorite football team, "Aston Villa FC"
September 1, 1989
Liverpool
Royal Court
United Kingdom

Opener: Axxis

September 2, 1989
Sheffield
City (Oval) Hall
United Kingdom

Opener: Axxis


[ Concert Reviews ]
September 3, 1989
Newcastle-Upon-Tyne
Newcastle City Hall
United Kingdom

Opener: Axxis

September 5, 1989
Edinburgh
The Playhouse
United Kingdom
Opener: Axxis
Tour poster (in Devil &; Daughter box set) mentions this gig being at Odeon in Edinburgh. Moved from Hammersmith Odeon.
September 6, 1989
Manchester
Apollo Theater
United Kingdom

Time:

7:30pm. Opener: Axxis
Show was broadcast on FM radio.
September 7, 1989
Leicester
De Montfort Hall
United Kingdom

Opener: Axxis, That Girl Can't Help It

September 9, 1989
London, England
Hammersmith Odeon
United Kingdom

Time:

7:30pm.

Opener: Axxis


[ Concert Reviews ]
September 10, 1989
London, England
Hammersmith Odeon
United Kingdom

Time:

7:30pm. Opener: Axxis
Brian May played on the encores
September 11, 1989
Bristol
Colston Hall
United Kingdom
Opener: Axxis
Ian Gillan sang on the encores
September 14, 1989
Solna (Stockholm)
Solnahallen
Sweden

Time:

7:30pm.

Admission:

160 kr.

Opener: Axxis

September 15, 1989
København (Copenhagen)
K.B. Hallen
Denmark
Opener: Axxis
Ian Gillan sang on the encores
September 16, 1989
Hamburg
Docks
Germany

Opener: Axxis

September 18, 1989
Dortmund
Westfalenhalle
Germany

Opener: Axxis

September 19, 1989
Böblingen
Sporthalle
Germany

Opener: Axxis

September 20, 1989
München (Munich)
Circus Krone
Germany
Opener: Axxis
Show postponed until 9/22 due to Tony Martin having voice issues. Cancelled
September 22, 1989
Würzburg
Carl-Diem-Halle
Germany

Opener: Axxis – Show replaced by rescheduled Munich show.

Cancelled
September 22, 1989
München (Munich)
Circus Krone
Germany
Opener: Axxis.
Rescheduled from Sep 20.
September 23, 1989
Neumarkt
Jurahalle
Germany

Admission:

30-35 DM.

Opener: Axxis

September 24, 1989
Wien (Vienna)
Sommer Arena
Austria

Opener: Axxis

September 25, 1989
Budapest
Budapest Sportcsarnok
Hungary

Opener: Axxis

September 27, 1989
Ljulbljana
Hala Tivoli (Tivoli Hall)
Slovenia

Opener: Axxis

September 28, 1989
Milano (Milan)
Rolling Stone
Italy

Opener: Axxis

September 29, 1989
Zurich
Volkshaus
Switzerland

Opener: Axxis

October 1, 1989
Frankfurt
Kongresshalle
Germany

Opener: Axxis

October 2, 1989
Ludwigshafen
Friedrich-Ebert-Halle
Germany

Opener: Axxis

October 14, 1989
Kawasaki
Club Citta
Japan

May have been rescheduled from Oct 10.

October 16, 1989
Shinjuku (Tokyo)
Shinjuku Kosei Nenkin Hall
Japan
October 17, 1989
Shinjuku (Tokyo)
Shinjuku Kosei Nenkin Hall
Japan
October 19, 1989
Osaka
Festival Hall
Japan
October 21, 1989
Nagoya
Aichi-ken Kinro Kaikan
Japan
October 28, 1989
San Luis Potosi
Estadio Plan de San Luis Potosí
Mexico

Time:

6:00pm.

Show moved from Guadalajara to León and then San Luis Potosi. Show aborted due to a combination of reasons including religious protests and inadequate PA and stage.


[ Concert Reviews ] Cancelled
November 19, 1989
Moscow
Olimpiski Hall (Olympic Hall)
Russian Federation

Time:

2:15pm.

Opener: Girlschool

November 19, 1989
Moscow
Olimpiski Hall (Olympic Hall)
Russian Federation

Time:

8:15pm.

Opener: Girlschool

November 20, 1989
Moscow
Olimpiski Hall (Olympic Hall)
Russian Federation

Opener: Girlschool

November 21, 1989
Moscow
Olimpiski Hall (Olympic Hall)
Russian Federation

Opener: Girlschool

November 22, 1989
Moscow
Olimpiski Hall (Olympic Hall)
Russian Federation

Opener: Girlschool

November 24, 1989
Moscow
Olimpiski Hall (Olympic Hall)
Russian Federation

Opener: Girlschool

November 25, 1989
Moscow
Olimpiski Hall (Olympic Hall)
Russian Federation

Time:

2:15pm.

Opener: Girlschool

November 25, 1989
Moscow
Olimpiski Hall (Olympic Hall)
Russian Federation

Time:

8:15pm.

Opener: Girlschool

November 26, 1989
Moscow
Olimpiski Hall (Olympic Hall)
Russian Federation

Time:

2:15pm.

Opener: Girlschool

November 26, 1989
Moscow
Olimpiski Hall (Olympic Hall)
Russian Federation

Time:

8:15pm.

Opener: Girlschool

November 30, 1989
Leningrad
SKK Hall
Russian Federation

Opener: Girlschool

December 1, 1989
Leningrad
SKK Hall
Russian Federation

Opener: Girlschool

December 2, 1989
Leningrad
SKK Hall
Russian Federation

Time:

2:15pm.

Opener: Girlschool

December 2, 1989
Leningrad
SKK Hall
Russian Federation

Time:

8:15pm.

Opener: Girlschool

December 3, 1989
Leningrad
SKK Hall
Russian Federation

Time:

2:15pm.

Opener: Girlschool

December 3, 1989
Leningrad
SKK Hall
Russian Federation

Time:

8:15pm.

Opener: Girlschool

December 5, 1989
Leningrad
SKK Hall
Russian Federation

Opener: Girlschool

December 6, 1989
Leningrad
SKK Hall
Russian Federation

Opener: Girlschool

December 7, 1989
Leningrad
SKK Hall
Russian Federation

Opener: Girlschool

December 8, 1989
Leningrad
SKK Hall
Russian Federation
Opener: Girlschool
Last date on the Headless Cross Tour