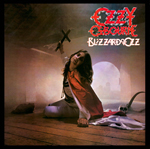 Released September 20, 1980 (UK)
Released March 27, 1981 (US)
Re-Released August 22, 1995
Re-Released April 2, 2002
Re-Released May 31, 2011


1995 CD [ Amazon US | Amazon UK ] | 2002 CD [ Amazon US | Amazon UK ]
2011 CD [ Amazon US | Amazon UK ] | 2011 MP3 [ Amazon US | Amazon UK ]
2011 Blizzard/Diary Deluxe Edition Box Set [ Ozzy Direct ] | 2011 iTunes (US)

Track Listing
I Don't Know
Crazy Train
Goodbye To Romance
Dee
Suicide Solution
Mr. Crowley
No Bone Movies
Revelation (Mother Earth)
Steal Away (The Night)
You Looking at Me Looking At You (2002 & 2011 Versions)
Goodbye to Romance (2010 remix – 2011 Version only)
RR (2011 Version only)
 Writing Credits
All songs by Osbourne, Rhoads, & Daisley, except..
No Bone Movies by Osbourne, Rhoads, Daisley, & Kerslake
Dee & RR by Randy Rhoads
Credits
Ozzy Osbourne – Lead Vocals, Harmony Vocals
Randy Rhoads – Guitar
Bob Daisley – Bass, Backing Vocals, Gongs
Robert Trujillo – Bass (2002 version only)
Lee Kerslake – Drums, Tubular Bells, Timpani
Mike Bordin – Drums, Timpani, Gongs (2002 version only)
Don Airey – Keyboards
Danny Saber – Tubular Bells (2002 version only)
Mark Lennon – Backing Vocals (2002 version only)
John Shanks – Backing Vocals (2002 version, Steal Away The Night only)
Produced by Osbourne, Rhoads, Daisley, Kerslake
Engineered by Max Norman
Catalogue Numbers
LP Jet JETLP 234 (UK 1980)
CASS Jet JETXC 234 (UK 1980)
LP CBS/Sony 25AP 1992 (JPN 1980)
LP Jet JZ 36812 (US 1981)
CASS Jet JZT 36812 (US 1981)
CD Jet ZK 36812 (US 1986)
CD Jet CDJET 234 (EUR 1986)
CD Epic EK 67235 (US 1995)
CD Epic 481674 2 (EUR 1995)
CD Epic EK 85247 (US 2002)
CD EPC 502040 2 (EUR 2002)
CD Sony EICP 779 (JPN 2007)
CD Epic/Legacy 88697 73818 2 (US 2011)
Notes
The album was recorded from March 22 – April 19, 1980, and was mixed from May 5-20, 1980.
The 1995 remastered versions have a interesting interaction with the Internet, where you'd put the disc in your drive, and be taken to special content on the Sony website.  They were one of the first CD's to have interactive content on the web based on having the CD in your computer drive.
The original bass & drum recordings by Bob Daisley & Lee Kerslake were removed in the 2002 reissue, and replaced by Ozzy's then rhythm section of Robert Trujillo & Mike Bordin as a response to the pending lawsuit by Daisley/Kerslake over unpaid royalties from the album.
"You Looking at Me, Looking at You" was originally a B-side to the "Crazy Train" single.
There is one additional released track from this era that was never released on any CD version.  That track is "You Said it All".  It was recorded "live" and released as a B-Side to the "Mr. Crowley single".  There is no studio version of this track.  It is for that reason that the track was not included in the 2002 version.  Since Daisley & Kerslake could not be replaced on that version, the song were merely dropped.  However, when Daisley & Kerslake were restored to the 2011 versions, why "You Said it All" was not included is a mystery.  It is not truly "live" live though – it was recorded "live" at a sound check, and then the audience crowd was added in later, so it's not a true proper studio mixed track as such.  The usage of "live" is kind of odd here.  :)
It was originally announced that the 2011 "Deluxe Edition" was going to have far more extras than the final edition actually had.  Ongoing legal problems with Bob Daisley & the Ozzy camp have prevented these materials from being released.  Dammit.
Officially, the 2011 edition is referred to as an "Expanded Edition".
 Links