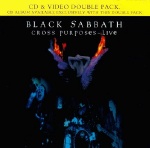 Released March 13, 1995 (European)
Released Apr 4, 1995 (USA/North America)
A CD & VHS video double pack

Original VHS/CD Pack [ Amazon US | Amazon UK ]
1993 DVD [ Amazon US | Amazon UK ] | 2010 DVD [ Amazon UK ]

Track Listing
Time Machine
Children of the Grave
I Witness
Mob Rules *
Into the Void
Anno Mundi *
Black Sabbath
Neon Knights *
Psychophobia
The Wizard
Cross of Thorns
Symptom of the Universe
Headless Cross
Paranoid
Iron Man
Sabbath, Bloody Sabbath
Writing Credits
Dio/Iommi/Butler – 1,4
Butler/Osbourne/Iommi/Ward – 2,5,7,10,12,14,15,16
Butler/Iommi/Martin – 3,9,11
Iommi/Powell – 6
Butler/Ward/Dio/Iommi – 8
Martin/Powell/Iommi – 13
Credits
Tony Martin – Vocals
Tony Iommi – Guitar
Geezer Butler – Bass
Bobby Rondinelli – Drums
Geoff Nicholls – Keyboards
Filmed Live at the Hammersmith Apollo, London
Video directed by Duncan Smith
Video produced by Martin R. Smith
Audio produced by Will Ashurst
Catalogue Numbers
CD/VHS IRS 7343-4-77806-08 (USA 1995 – Box)
CD IRS 7243-8-30069-22 (US 1995 – CD)
VHS IRS 7243-4-77807-38 (US 1995 – VHS)
CD/VHS IRS 7243-4-91314-3-9 (EUR 1995)
NOTE: While the CD & VHS had their own catalogue numbers (separate from the box set itself) in 1995, they were never sold individually.
Notes
* – Mob Rules, Anno Mundi, & Neon Knights appear only on the videotape, and not on the CD.
The show that was recorded for use on the VHS and CD was 13 Apr 1994.  This was in London at the Hammersmith Odeon.
Symptom of the Universe is misspelled on the US box as Symton of the Universe.
Tony Martin was sick during much of this tour – this unfortunately isn't a great representation of what he can do live.
The video was re-released on DVD in 2003, 2010, and again in 2012. However, both releases were put out without Tony Iommi or Black Sabbath's authorization, and should be considered UNOFFICIAL.
The 2003/2010/2012 DVD's are also incomplete, missing up to six songs that were on the original VHS release.
Images
Here are some images from the 2003 & 2010 DVD releases. The first two are 2003, the other three are 2010. All of these should be considered unofficial.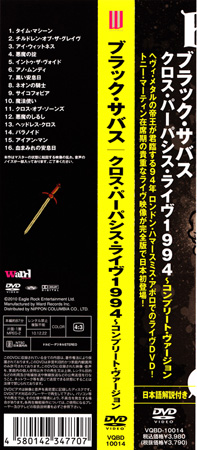 Here are some pictures from the original 1995 European CD & Video combo release: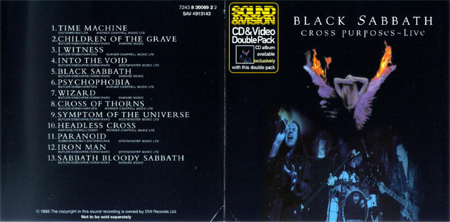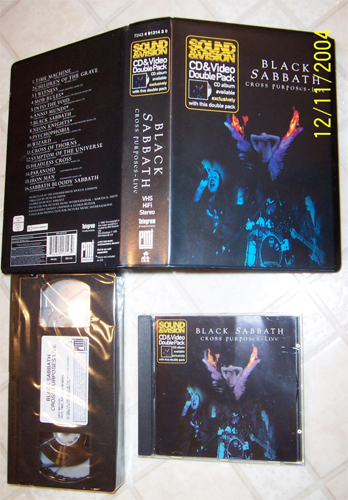 Video