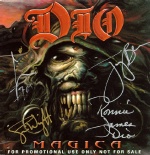 Released March 21, 2000
Re-Released Jun 25, 2013 (Deluxe Edition)
Re-Released Feb 21, 2020 (CD/Vinyl, UK/EU)
Re-Released Mar 20, 2020 (CD/Vinyl US/NA)

2020 2CD: [ Amazon US | Amazon UK ]
2020 Vinyl [ Amazon US | Amazon UK ]
CD [ Amazon US | Amazon UK ]
Japanese CD [ Amazon US ]

Track Listing
Disc 1
Discovery
Magica Theme
Lord of the Last Day
Fever Dreams
Turn to Stone
Feed my Head
Eriel
Challis (Marry the Devil's Daughter)
As Long as it's not about Love
Losing My Insanity
Annica (Japanese CD ONLY)
Otherworld
Magica – Reprise
Lord of the Last Day – Reprise
Magica – The Story (this is on Disc 2 in other editions)
Disc 2 (Deluxe Edition Only)
The Magica Story (Narrated By Ronnie James Dio)
Annica (Japanese Only Bonus Track)
Electra (Recorded for Magica II & III)
Feed My Head (Official Live Bootleg)
Fever Dreams (Official Live Bootleg)
Turn To Stone (Official live Bootleg)
Lord Of The Last Day (Official Live Bootleg)
As Long as It's Not about Love (Official live bootleg)
Losing My Insanity (Official live bootleg)
Disc 2 (2020 Edition Only)
Mostly Live – Recorded on Magica Tour 2001
Discovery
Magica Theme (listed as just Magica)
Lord of the Last Day
Fever Dreams
Feed My Head
Eriel
Challis
Losing my Insanity
Otherworld
Electra (Studio track)
Magica Story (Studio track)
Writing Credits
Disc 1 Tracks 5-10, plus 13 & 14 by Ronnie James Dio & Craig Goldy
Everything else by Ronnie James Dio
Credits
Ronnie James Dio – Vocals, Keyboards
Craig Goldy – Guitars, Keyboards
Jimmy Bain – Bass
Simon Wright – Drums
String Arrangements by Dio, Goldy, & John Keane
Produced by Ronnie James Dio
Engineered by Wyn Davis
Recorded & Mixed in Total Access – Redondo Beach, CA
2000 Mastering by Eddy Scherer
2013 Remaster by Wyn Davis
2019 Remaster by Wyn Davis (released in 2020)
Catalogue Numbers
CD Spitfire SPTCD15020 (US 2000)
CD Polydor POCP-7465 (JPN 2000)
CD Spitfire SPITCD020 (UK 2005)
CD Spitfire GAS00020SPR (EUR 2005)
CD Membran 223165-205 (GER 2005)
CD Snapper SMDCD586 (GER 2007)
CD Eagle EDGCD383 (GER 2008)
LP Night of the Vinyl Dead NIGHT045 (Italy 2008)
CD Niji NEG017 (USA 2013 – Deluxe)
CD Niji BMGCAT3892CD (USA 2020)
LP BMG BMGCAT389LP (USA 2020)
Links
Notes
The last track on disc 1 is a 14 minute long spoken word piece by Ronnie James Dio explaining the entire Magica story.  In this webmaster's opinion, it's unlistenable.  I tried to force myself a couple of times to listen to it.  I couldn't do it.
The autographed cover art above is a promo copy I received from Spitfire records back in the day before the album came out.
The rumours about Magica being a concept album about the Fatima legend are false.
Magica is, however, a concept album.
There was a short story on the back side of the promotional copy you see in the image above. That story goes:
Ronnie James Dio, arguably metal's most enduring and well regarded heavy metal vocalist returns with his first new work in four years, a concept album which is surprisingly his first in 35 years as a recording musician. But don't expect a concept record in the standard sense of the word. Having seen many attempts amongst his metal compatriots through the years, Dio has something special in store. As is begetting his proven literary stature, the critical mass of the album itself is cloaked in allegory and metaphor, abstraction to the point where little of the plot can be ascertained within the flow of the songs. Such illumination is left for the booklet, as well as the 20 minute narration from Ronnie that caps and brackets the record. Ronnie explains: "Not ever having done this before, and wanting to take some time with it, I didn't want to be foolish about it. These things can turn out pretty strange. It has its peaks and valleys of course, but it has to tell a story. I didn't want to do it all in verse. So it tells the story in music as well, with logs of high relief, share and light. It's much more involved than the things we've done before, but again, it retains the character of Dio music. As well, the songs can be removed from the whole process and stand on their own, so much so, that I've provided the narration. I'm trying to tell as much as I can in the music, but I want to tell something extra. But in essence, it's a journey that should be consumed beginning to end." Musically, Ronnie's band has turned in a regal, self-assured timeless performance as befits their veteran status within metal's upper echelons. On guitar and co-writer, Dio welcomes back Dream Evil axeman Craig Goldy. Simon Wright also returns to the fold, having pounded the skins for 1990's Lock up the Wolves. And last but definitely not least Magica marks the return of bass legend Jimmy Bain, having worked with Ronnie during Rainbow's golden era. So everything points to a return: a reunion of personnel, a reinvigoration back to the roots of Dio's creative high points (Ronnie feels the record specifically invokes the spirit of Holy Diver, Mob Rules, & Long Live Rock & Roll) and, given the weighty grooves enclosed, a return to the critical and commercial statue Ronnie commanded through much of the 1980's. Magica awaits…
Images
Here is an image of the 2013 Deluxe Edition cover.  Also, make sure to read my review of the Deluxe Edition, I include several pictures from the deluxe edition package there.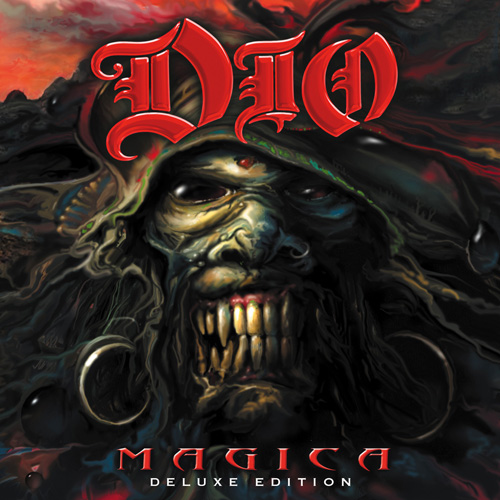 There was a 3 song promotional CD made available to radio stations that was sent to people who ordered Magica DE direct from Niji right around the time of release.  Here are a couple of pictures of that promo CD.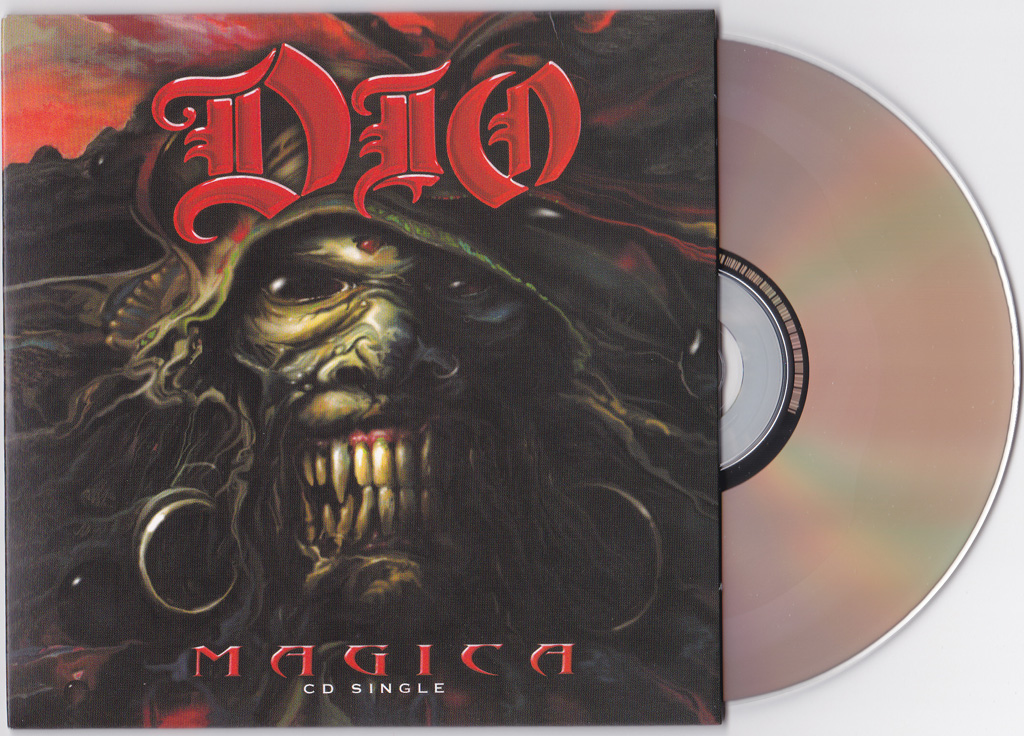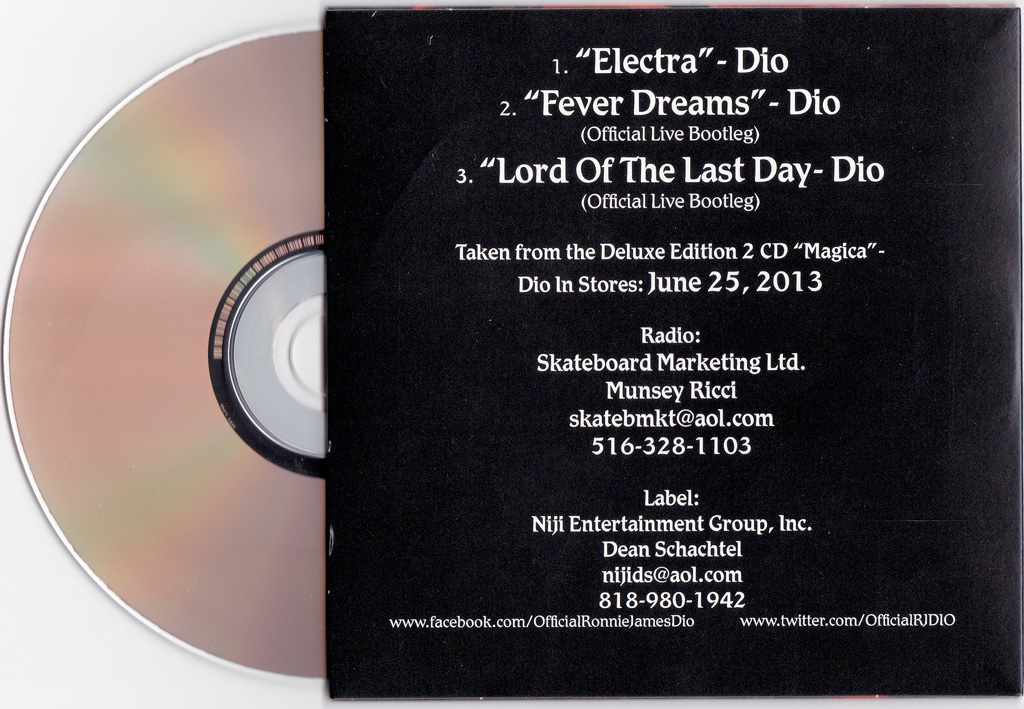 Here are a couple of pictures of a 2007 German repackage of Magica, along with a second disc that had Killing the Dragon.  This release was issued without the cooperation of Niji.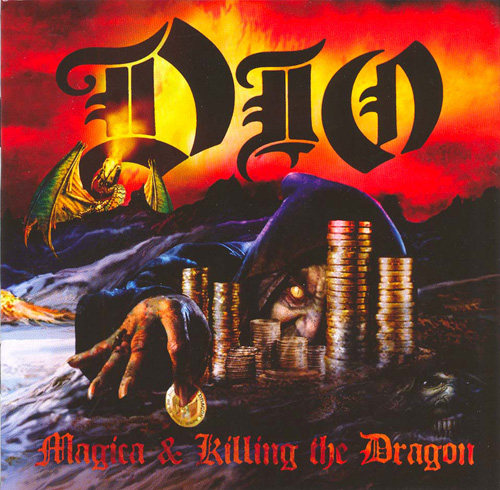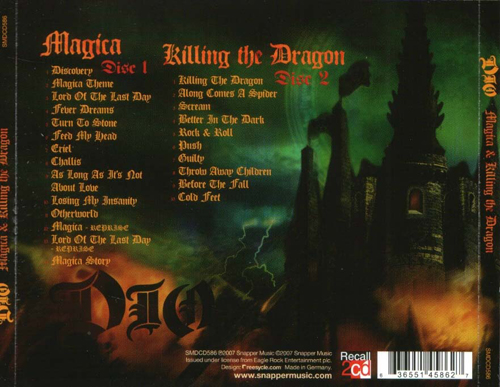 Here is a front cover image from a 2008 German repackage of Magica with the "Evil or Divine" live Dio album.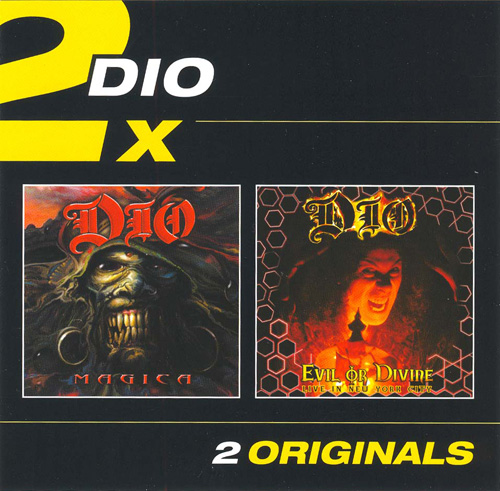 Video