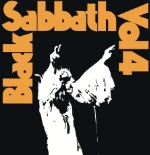 Released September 25, 1972
Re-Released February 28, 1996
Re-Released Apr 27, 2004 (Black Box)
Re-Released September 21, 2009
Re-Released Feb 12, 2021 (Super Deluxe)
[ Lyrics | Tour Dates ]

2021 Super Deluxe Edition [ Amazon US Vinyl | Amazon US CD ]
2021 Super Deluxe Edition [ Amazon UK Vinyl | Amazon UK CD ]
2009 CD [ Amazon UK | Amazon US ] | 2011 Vinyl [ Amazon US ]
1996 CD [ Amazon US | Amazon UK ] | 2004 CD [ Amazon US ]
Original CD [ Amazon US | Amazon UK ]


Track Listing
Wheels of Confusion / The Straightener
Tomorrow's Dream
Changes
FX
Supernaut
Snowblind
Cornucopia
Laguna Sunrise
St. Vitus' Dance
Under the Sun / Every Day Comes & Goes
Writing Credits
All songs written and arranged by Iommi / Ward / Butler / Osbourne
Credits
Ozzy Osbourne – Vocals
Tony Iommi – Guitar, Keyboards
Geezer Butler – Bass, Guitar on "The Straightener"
Bill Ward – Drums
Produced by Patrick Meehan & Black Sabbath
Engineered by Colin Caldwell & Vic Smith
Recorded at Record Plant – Los Angeles, CA
Original Cover Design by Bloombury Group
1996 Remaster by Ray Staff @ Whitfield St Studios
1996 Design, booklet notes, and sleeves by Hugh Gilmour
2009 Remaster by Andy Pearce & Matt Wortham @ Wired Mawsters
2009 Product Management: Jon Richards
2009 Project Consultants: Steve Hammonds & Hugh Gilmour
2009 Design: Hugh Gilmour
2009 Sleeve Notes: Malcolm Dome
2012 Digital Remaster by Andy Pearce & Matt Wortham
2012 Vinyl Mastering by Greg Moore @ Masterpiece
Catalogue Numbers
LP Vertigo 6360-071 (UK/EUR 1972)
LP Vertigo 20.007 (VEN 1972)
LP Vertigo 6360-071-A (ITL 1972)
CASS Warner Bros CWX-2602 (CAN 1972)
CASS Warner Bros M5-2602 (US 1972)
LP Warner Bros BS-2602 (US 1972)
LP WWA WWA-009 (UK 1973)
LP PGP RTB LP-55-5897 (TUG 1975)
LP Nippon RJ-6025 (JPN 1975)
LP NEMS NEL-6005 (UK 1976)
LP Arabella 913196 (FRA 1976)
LP 7 Records MLF-421 (AUS 1980)
LP NEMS 16L0146 (SPN 1981)
LP Ariston ARM-42014 (ITL 1981)
LP Victoria VLP105/30.469 (SPN 1984)
LP Castle CLALP199 (GER 1985)
LP Castle CLACD199 (FRA 1986)
CD Castle NELCD6005 (UK 1986)
LP Vertigo 832-703-1 (NETH 1987)
CD Warner Bros 2602-2 (US 1988)
CD Vertigo 23PD-136 (JPN 1989)
CD Vertigo 832703-2 (GER 1989)
LP SNC C90-31091-007 (RUS 1990)
CD Essential ESMCD304 (UK 1996)
CD Teichiku TECW-20145 (JPN 1996)
CD Castle CMTCD006 (UK 2000)
LP Sanctuary CMHLP179 (UK 2001)
LP Earmark 41011 (ITL 2003)
LP Earmark 41011P (ITL 2003 – Picture Disc)
CD Sanctuary SMRCD034 (UK 2004)
CD Rhino R2-73923-D (US 2004 – Black Box)
CD Strange Days POCE-1100 (JPN 2007)
LP Sanctuary 2716858 (UK 2009)
LP NEMS NEL-6005 (UK 2009)
CD Universal 2716857 (UK 2009)
LP Rhino R1-2602 (US 2011)
CD Universal UICY-20107 (JPN 2011)
LP Sanctuary 3715291 (UK 2012)
LP Rhino R1-643817 / BMG BMGCAT426BOX (US 2021)
CD Rhino R2-643817 / BMG BMGCAT462QCD (US 2021)
Notes
The original name of this album was to be Snowblind.  Warner Bros wouldn't release the album with that name, so it was changed to the more pedestrian "Volume 4".
The song Wheels of Confusion was originally called Illusion.
"The Straightener" on the first song refers to the instrumental part at the end.  Most copies of the album/CD do not have that name on the album.
Geezer actually plays guitar on "The Straightener".  Specifically he played a Fender 12 string guitar, and a piece underneath Tony's soloing.
The same thing goes for "Every Day Comes & Goes" on the final track.
The song "Changes" was revived and played live in 1995 when Sabbath played Japan on the Forbidden tour when Tony Martin was the vocalist.  You can hear that version here (Let me know if this link doesn't work please).
"Changes" was covered by Kelly Osbourne (with Ozzy) on her 2003 album "Changes" (formerly Shut Up)
The duet version of Changes with Kelly Osbourne reached #1 on the British charts in December of 2003.
Geezer Butler told me that he "whispered" the word "Cocaine!" in the background of the song Snowblind.
The sessions for the album took place in May 1972 in Los Angeles, and were famously drug-fueled. "We were all absolutely out of our brains at the time," Butler recalls of how one track was made. "I think Tony took all his clothes off at one point. He was pissing about in the studio when he was stoned. He had this cross [necklace] on and he kept hitting the strings on the guitar. We were all smashed out of our brains and he was like doing this stupid dance in the studio and his cross was banging on the strings. We put some reverb and an echo on it and that was it." The group titled the track "FX."
Links
Images
The following are the back CD images for the 1996 & 2009 releases respectively.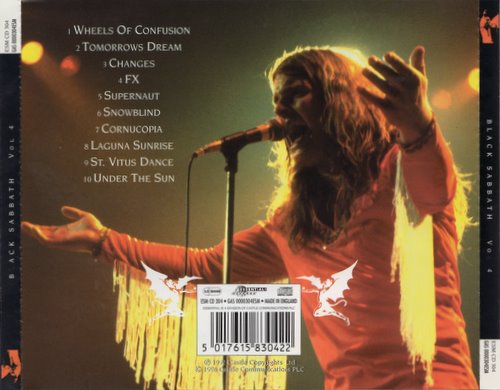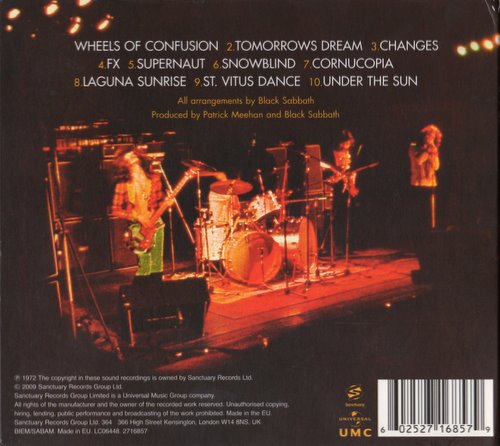 The following are images from the original cassette tape release of the album in the US from Warner Bros.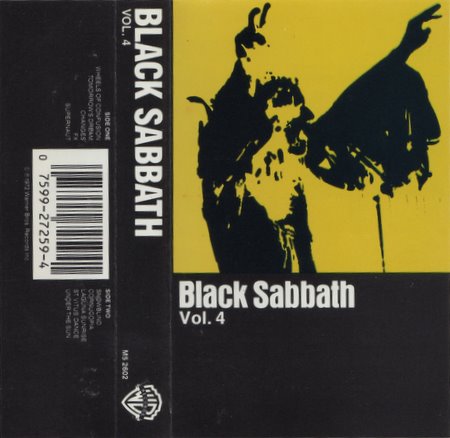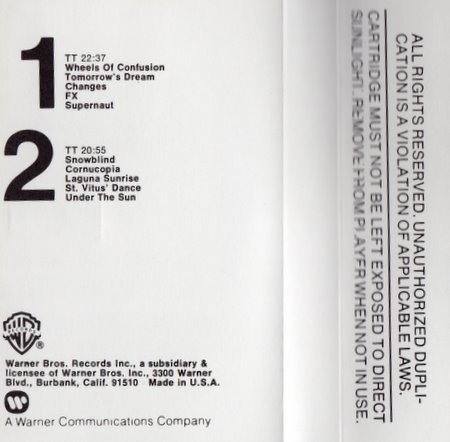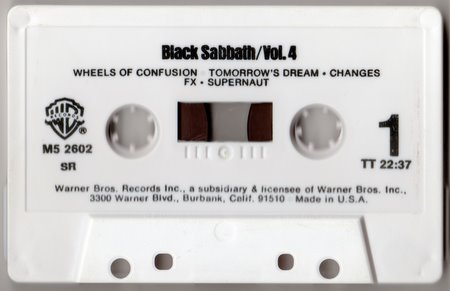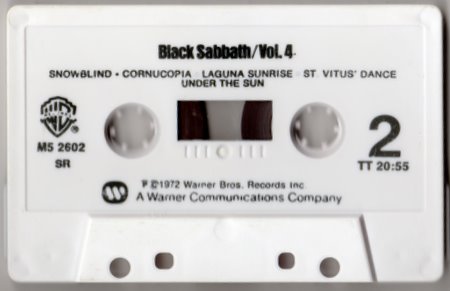 Here's an old image of an 8 Track of the Volume 4 album from Warner Bros in the 70's.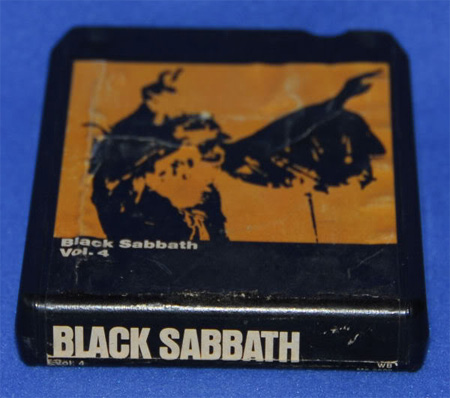 Here's some cover images from the 2021 Super Deluxe Editions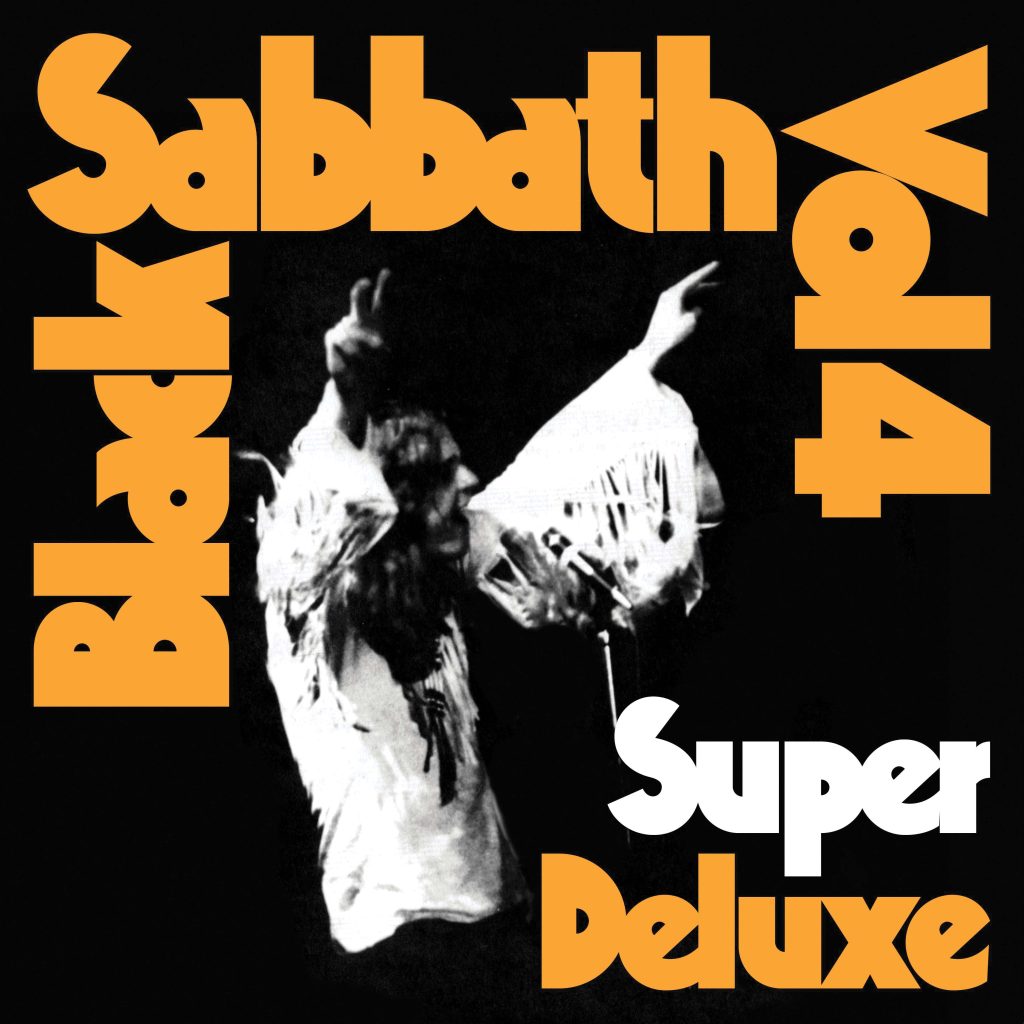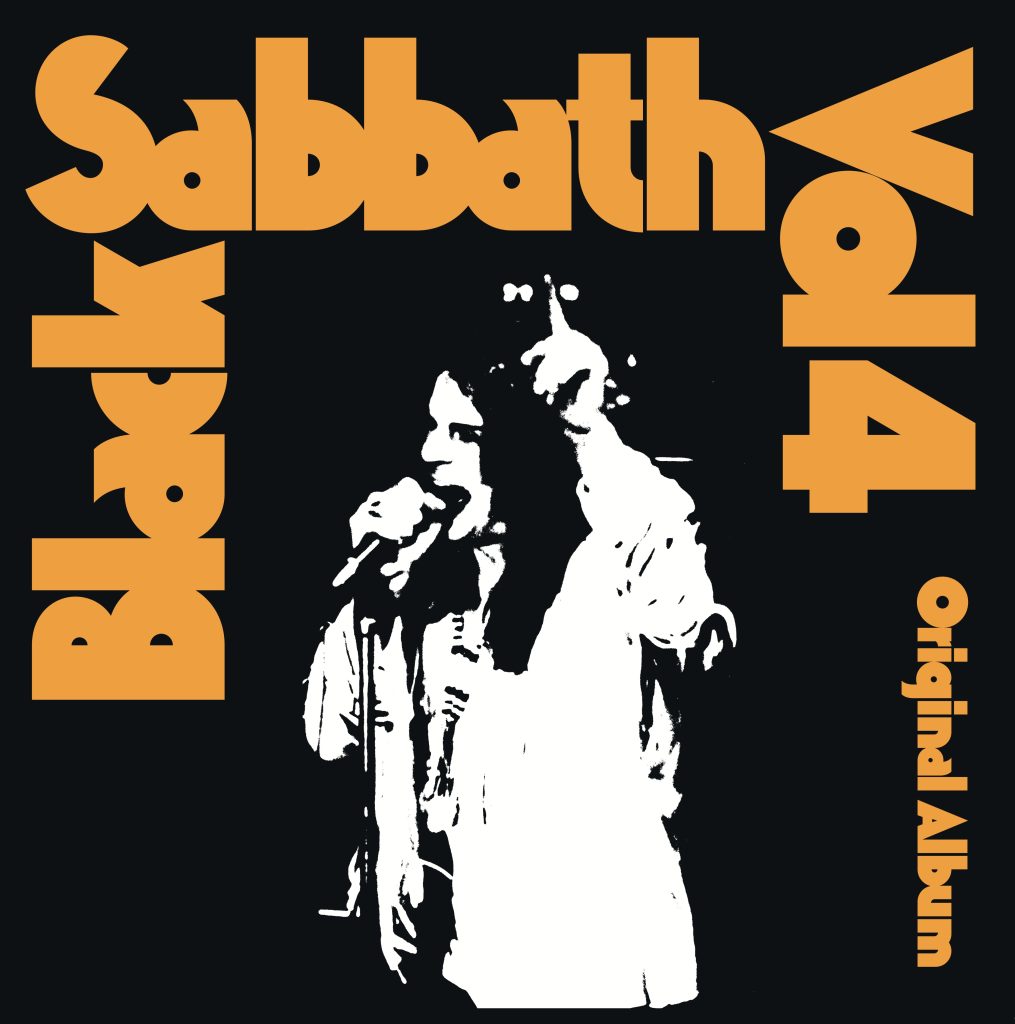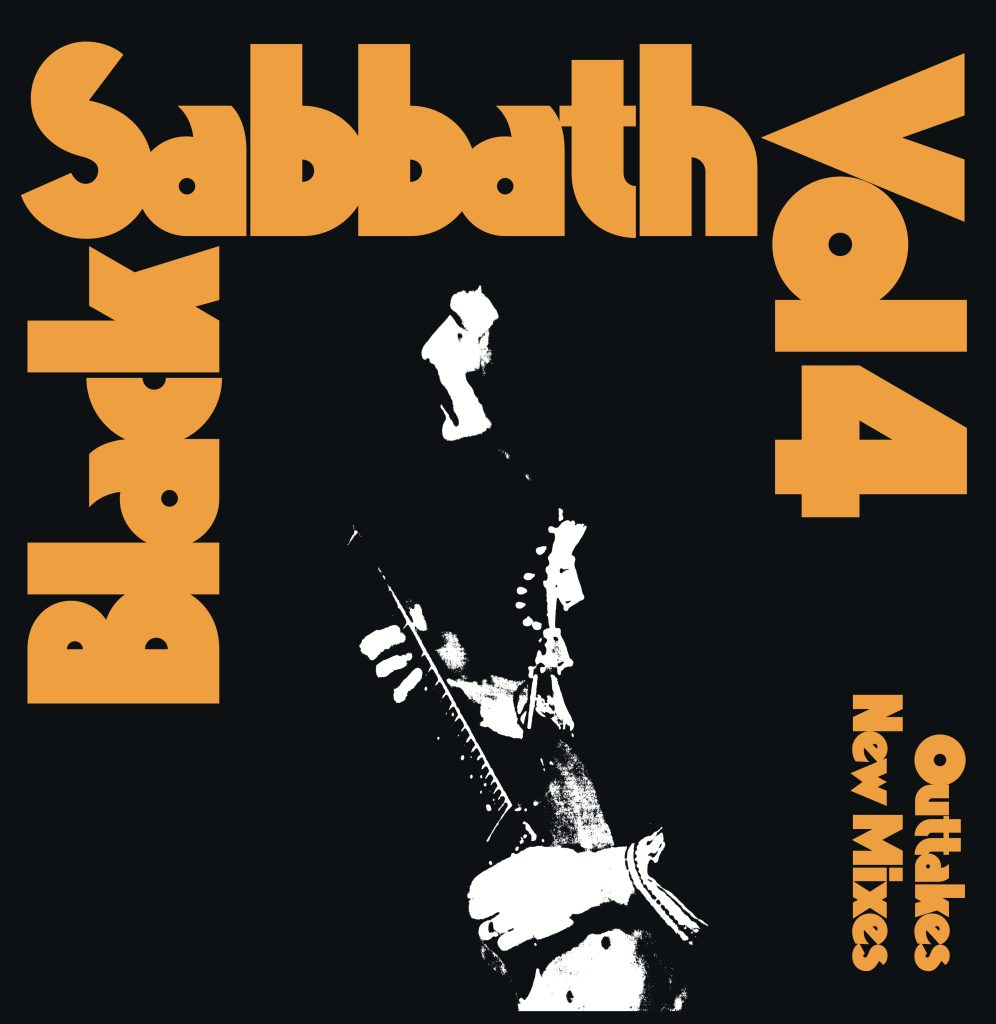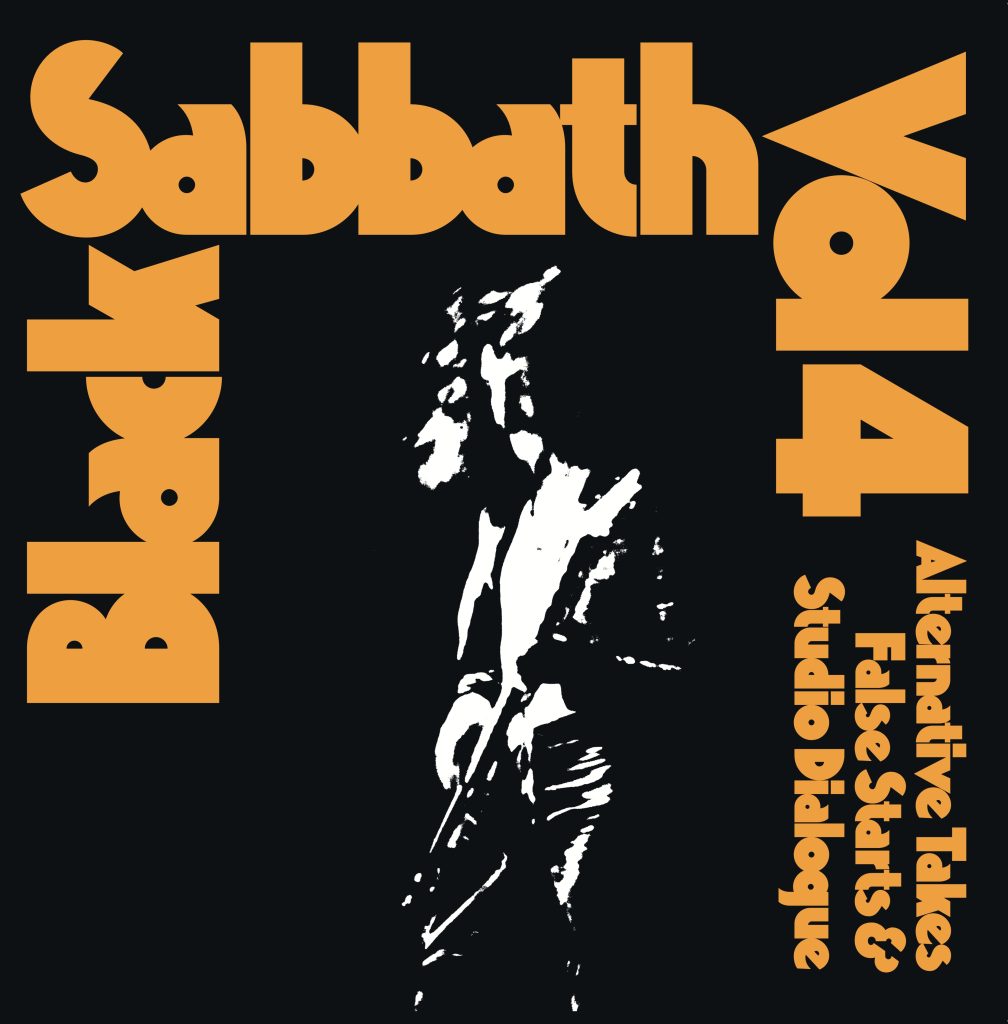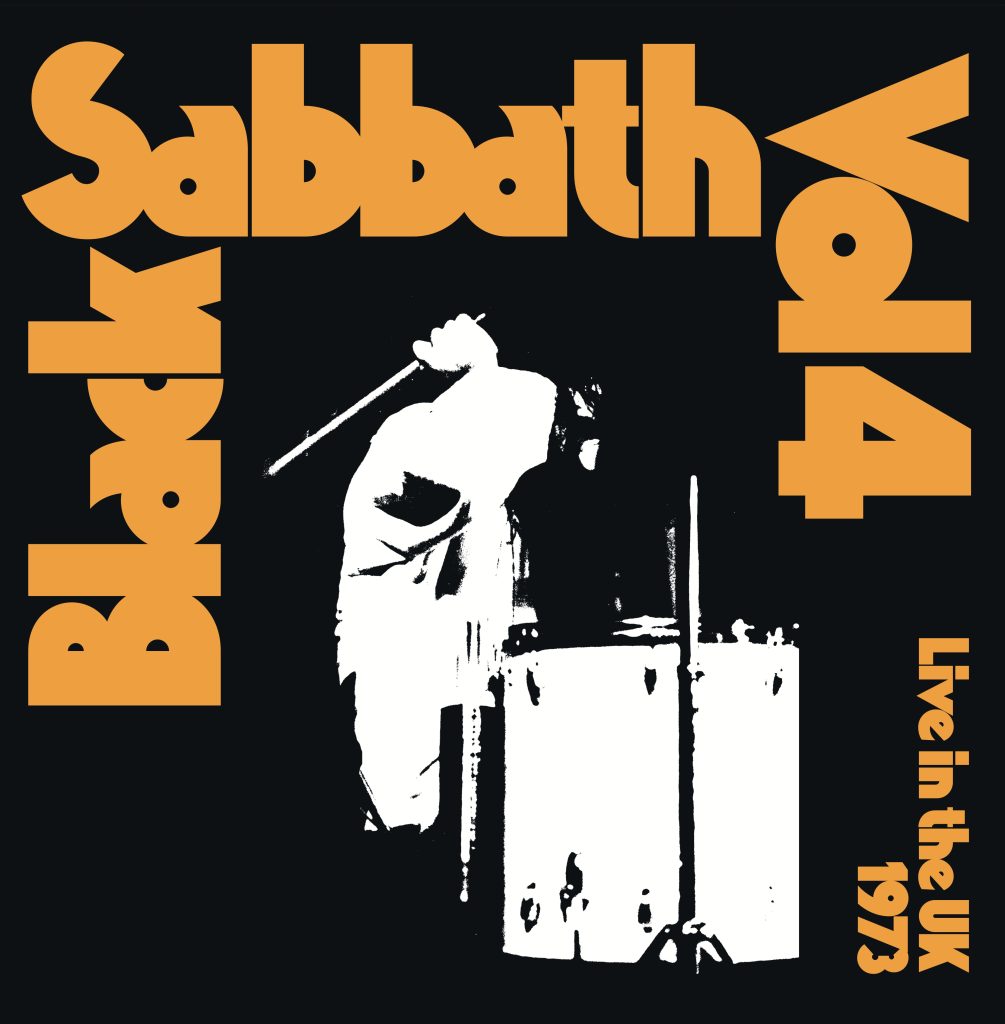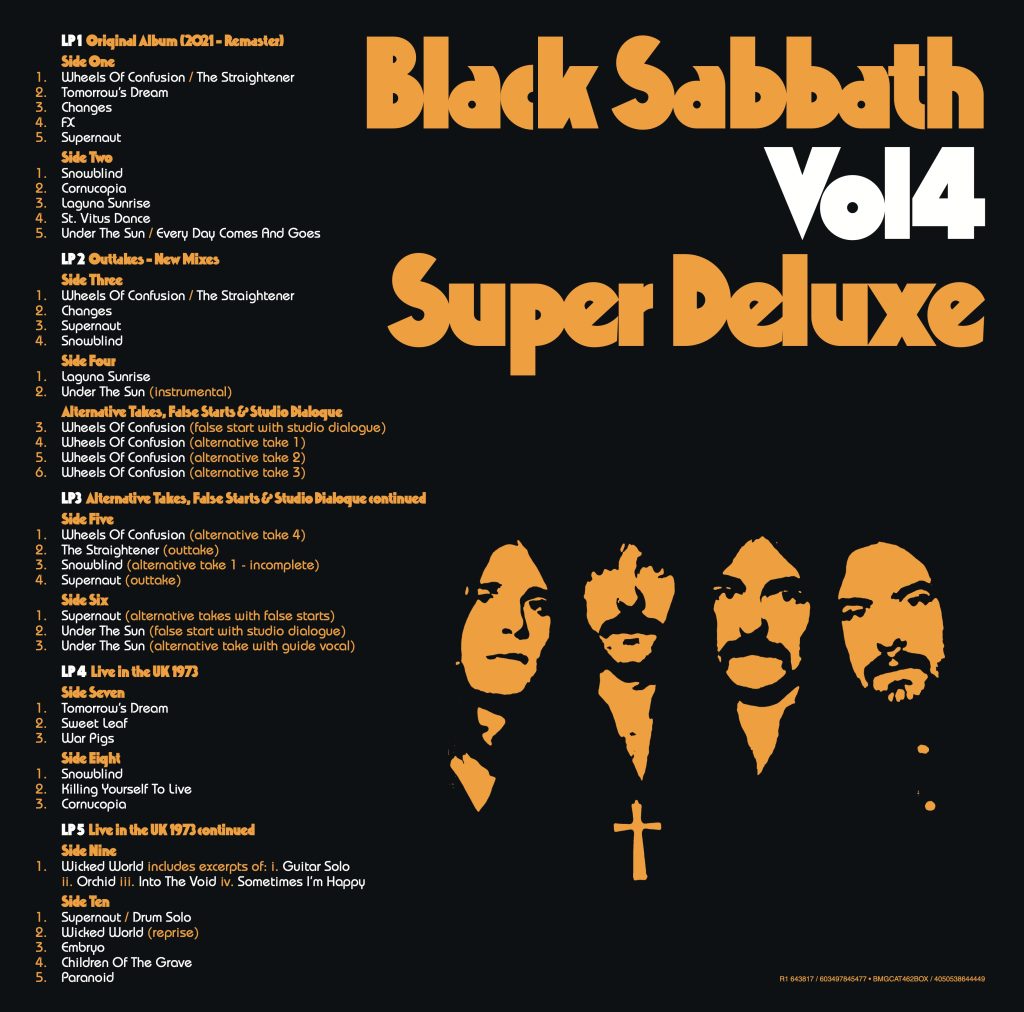 Video
The first video was when Black Sabbath played Changes live in 1995, which was the first time they'd played it in 23 years in concert.


Wheels of Confusion
Long ago I wandered through my mind
In the land of fairy tales and stories
Lost in happiness I knew no fears
Innocence and love was all I knew
It was an illusion
Soon the days went passing into years
Happiness just didn't come so easy
Life was more than fairy tales and daydreams
Innocence was just another word
It was an illusion
Lost in the wheels of confusion
Running through valleys of tears
Eyes full of angry delusion
Hiding in everyday fears
So I found that life is just a game
But you know there's never been a winner
Try your hardest, just to be a loser
The world will still be turning when you're gone
Yeah, when you're gone!
Tomorrow's Dream
Well I'm leaving tomorrow at daybreak
Catch the fastest train that I find
Yes I'm leaving the sorrow and heartache
Before it takes me away from my mind
Send me love and I may let you see me
Send me hopes I can fit in my head
But if you really want me to answer
I can only let you know when I'm dead
When sadness fills my days
It's time to turn away
And let tomorrow's dreams
Become reality to me
So realize I'm much better without you
You're not the one and only thing in my heart
I'll just go back to pretending I'm living
So this time I'm gonna have the star part
Changes
I feel unhappy
I feel so sad
I lost the best friend
That I ever had
She was my woman
I loved her so
But it's too late now
I've let her go
I'm going through changes
I'm going through changes
We shared the years
We shared each day
In love together
We found a way
But soon the world
Had its evil way
My heart was blinded
Love went astray
I'm going through changes
I'm going through changes
It took so long
To realize
That I can still hear
Her last goodbyes
Now all my days
Are filled with tears
Wish I could go back
And change these years
I'm going through changes
I'm going through changes
FX
Instrumental
Supernaut
I want to reach out and touch the sky
I want to touch the sun
But I don't need to fly
I'm gonna climb up
Every mountain of the moon
And find the dish that ran
Away with the spoon
I've crossed the ocean, turned every bend
I found the plastic and the gold at rainbow's end
I've seen through magic and through life's reality
I've lived a thousand years and never found the key
Got no religion
Don't need no friends
Got all I want
And I don't need to pretend
Don't try to reach me
'Cause I'll tear up your mind
I've seen the future
And I've left it behind
Snowblind
What you get and what you see
Things that don't come easily
Feeling happy in my pain
Icicles within my brain (cocaine)
Something blowing in my head
Winds of ice that soon will spread
Down to freeze my very soul
Makes me happy, makes me cold
My eyes are blind, but I can see
The snowflakes glisten on the tree
The sun no longer sets me free
I feel the snowflakes freezing me
Let the winter sunshine on
Let me feel the frost of dawn
Fill my dreams with flakes of snow
Soon I'll feel the chilling glow
Don't you think I know what I'm doing
Don't tell me that it's doing me wrong
You're the one that's really a loser
This is where I feel I belong
Kiss the world with winter flowers
Turn my day to frozen hours
Lying snowblind in the sun
Will my ice age ever come?
Cornucopia
Too much near the truth they say
Keep it 'til another day
Let them have their little game
Delusion helps to keep them sane
Let them have their little toys
Matchbox cars and mortgaged joys
Exciting in their plastic ways
Frozen food in a concrete maze
You're gonna go insane
I'm trying to save your brain
All right
I don't know what's happening
My head's all torn inside
People say I'm heavy
They don't know what I hide
Take a life, it's going cheap
Kill someone, no one will weep
Freedom's yours, just pay your dues
We just want your soul to use
You're gonna go insane
I'm trying to save your brain
Laguna Sunrise
Instrumental
St. Vitus' Dance
So you think you know
What's going on inside her head
You think she wants your money
But it's you she wants instead
When you think about the things
That she did love to go
It breaks your heart but deep down
Boy you don't want her to go
You feel your love so shattering
You feel you want to die
Just because the one mistake
Of telling you a lie
If I were you I'd try again
And try to make amends
She only thinks of you, you know
I'm talking as a friend
Under the Sun
Well I don't want no Jesus freak to tell me what it's all about
No black magician telling me to cast my soul out
Don't believe in violence, I don't even believe in peace
I've opened the door now my mind has been released
Well I don't want no preacher
telling me about the god in the sky
No I don't want no one to tell me
Where I'm gonna go when I die
I wanna live my life, I don't want people telling me what to do
I just believe in myself, 'cause no one else is true
Every day just comes and goes
Life is one long overdose
People try to rule the nation
I just see through their frustration
People riding their real face
Keep on running their rat race
Behind each flower grows a weed
In their world of make-believe
So believe what I tell you, it's the only way you'll find in the end
Just believe in yourself – you know you really shouldn't have to pretend
Don't let those empty people try to interfere with your mind
Just live your life and leave them all behind