CD [ Amazon US | Amazon UK ] | Japanese CD [ Amazon US ]
MP3 [ Amazon US | Amazon UK ] | iTunes (US)

Track Listing
After Forever by Bio Hazard
Children of the Grave by White Zombie
Paranoid by Megadeth
Supernaut by 1,000 Homo DJ's
Iron Man by Therapy? w/Ozzy Osbourne
Lord of this World by Corrosion of Conformity
Symptom of the Universe by Sepultura
The Wizard by The Bullring Brummies
Sabbath Bloody Sabbath by Godspeed w/Bruce Dickinson
NIB by Ugly Kid Joe
War Pigs Live by Faith No More
Black Sabbath by Type O Negative
Solitude by Cathedral *
Writing Credits
All songs by Iommi, Butler, Osbourne, Ward
Credits
The performance credits are different on every song, so they won't be covered here
Published by TRO-ESSEX MUSIC INTL. INC (ASCAP)
Executive Producer: Bob Chiappardi
Associate Executive Producer: Ross Elliot
Mastered by Stephen Marcussen at Precision Mastering, Hollywood CA
Art direction & Design: Joel Zimmerman
Cover Art & Tarot Card Illustrations: Michael Kaluta
Catalogue Numbers
CD Columbia CK66335 (US 1994)
CD Columbia 477671-2 (AUS 1994)
CASS MJM MHM349M (POL 1994)
LP Disco Records 238.006-7 (BRA 1994)
LP Columbia 477671-1 (EUR 1994)
CD CBS/Sony 477671-2 (JPN 1994)
CD Columbia 477671-2 (EUR 1994)
CD Columbia CDMI-477671 (MEX 1994)
Notes
The video for After Forever by Bio Hazard had Bill Ward in it.  I also believe that Biohazard's cover is better than the Black Sabbath original, but lots of people consider that heresy.  :)
This is the first (and in my opinion, the best) of the three Sabbath tribute albums of 1994. The other two are death-metal type stuff, and Death Metal bites hard. This is far more listenable.
1000 Homo DJ's features Al Jourgensen of Ministry
Bullring Brummies is Geezer Butler, Bill Ward, & Rob Halford. The two guitarists are Scott "Wino" Weinrich (sp?) from the band called The Obsessed, and Brian Tilse from the band fight.  Additionally Jimmy Wood plays harmonica.  The band was supposed to be the original Black Sabbath, but management and label politics caused that not to happen.  Also, the fracas behind the scenes here lead to the breakup of the band after the Cross Purposes Tour.  That tour ended with a band of Tony Martin / Geezer / Iommi / Bill Ward, they were supposed to record the next album.  There was an apparent fight between Gloria Butler & Tony Iommi over this tribute album, and it caused 'em to split up again.
The cover of Solitude appears only on some versions of the album, one of which is NOT the US domestic version.
The CD single for Biohazard's "After Forever" contains two other tracks which do not appear on another version of the album.  They're both by the band Cathedral, and they are "Wheels of Confusion", and "St Vitus Dance".
Links
Images
This is the cover for the CD single for the Biohazard After Forever cover.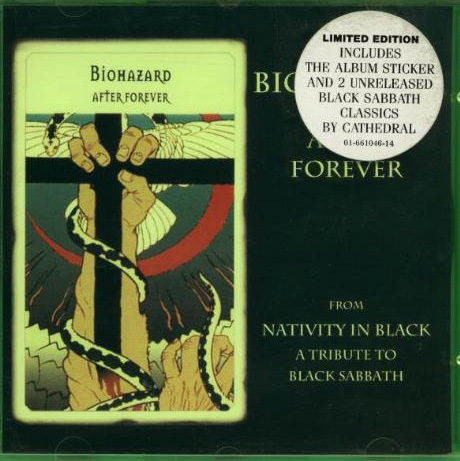 Video
Here is the video for "After Forever" by Bio Hazard.  If this video does not work, please email me.  Thanks.