CD [ Amazon US | Amazon UK ]
MP3 [ Amazon US | Amazon UK ] | iTunes (US)


Track Listing
 Disc 1 (Heaven & Hell)
Neon Knights
Children of the Sea
Lady Evil
Heaven & Hell
Wishing Well
Die Young
Walk Away
Lonely is the Word
Disc 2 (Mob Rules)
Turn Up the Night
Voodoo
The Sign of the Southern Cross
E5150
The Mob Rules
Country Girl
Slipping Away
Falling off the Edge of the World
Over & Over
Disc 3 (Live Evil Disc 1)
E5150
Neon Knights
N.I.B.
Children Of The Sea
Voodoo
Black Sabbath
War Pigs
Iron Man
Disc 4 (Live Evil Disc 2)
The Mob Rules
Heaven And Hell
The Sign Of The Southern Cross/Heaven And Hell
Paranoid
Children Of The Grave
Fluff
Disc 5 (Dehumanizer)
Computer God
After All (The Dead)
TV Crimes
Letters From Earth
Master of Insanity
Time Machine
Sins of the Father
Too Late
I
Buried Alive
Time Machine (Wayne's World Version)
Disc 6 (Best Buy Exclusive Bonus Disc; Live 1981)
Neon Knights
The Mob Rules
Children of the Grave
Voodoo
Country Girl
iTunes/Amazon Digital Only Bonus Tracks
The Devil Cried
Shadow of the Wind
Ear in the Wall
Writing Credits
Various – See original album credits for details
Credits
Ronnie James Dio – Vocals
Tony Iommi – Guitar
Geezer Butler – Bass
Vinny Appice – Drums (Discs 2-5)
Bill Ward – Drums (Disc 1 only)
Geoff Nicholls – Keyboards
Mason Williams – A&R Supervision
Dan Hersch @ Digiprep – Remastering
Liz Erman – Product Manager
Catalogue Numbers
NOTE: The overall box had it's own catalogue number, but the 4 albums (5 discs) inside the box were released individually, and have their own catalogue numbers.  This section is just for the box itself.
CD Rhino R2-460156 (US 2008)
CD Rhino R2-513689 (US 2008 – Best Buy)
Notes
When the box was originally released, Best Buy had an exclusive version for sale with a sixth disc not available anywhere else.  All of the tracks were culled from the "Live at Hammersmith Odeon" limited release from the previous year.
The first four of the live tracks also appeared on the "UK Tour Edition" of the Dio Years compliation from 2007.
The MP3/digital download versions from Amazon.com & iTunes include the three new tracks from "The Dio Years" compilation.
Some fans refer to this release as "Black Box II", a reference to the Ozzy era studio album compilation in 2004.
Despite there being a new remastering work done for 2007's "The Dio Years", the tracks that appear here are an even newer remastering than the work done for the 2007 Dio Years package.  If you count the 2003 Dio compilation, "Stand Up and Shout", that makes three times in the last 5 years that the the following tracks have been remastered!   The tracks that appear on all three are: Neon Knights, Heaven & Hell, Turn up the Night, & The Mob Rules.
The following alternate tracks were not used in this box set.  The Mob Rules (Heavy Metal version), Letters from Earth (Alternate Version – From CD Single for TV Crimes).   The Mob Rules version from the Heavy Metal soundtrack was not on Warner/Rhino, so presumably it would have had to have been licensed.   When queried by me about it, a producer at Rhino said they didn't even know the Alternate Letters from Earth existed!  D'oh!
The name 'The Rules of Hell' was thought of by Geezer Butler. It is a reference to the inclusion of the first two Dio era Sabbath album names. Those being Heaven & Hell and Mob Rules. That is where the name comes from.
There was a "professional" review of the set posted here on IGN.com.
The four albums that comprise this five disc box were later released individually, unlike the Black Box set, which was not released individually.
Links
Images
Here is a picture of what the exterior of the entire package looks like.  If you want to see additional photos of the box set, click here to view the photo gallery for this release.  Below that is a poster advert for the box set.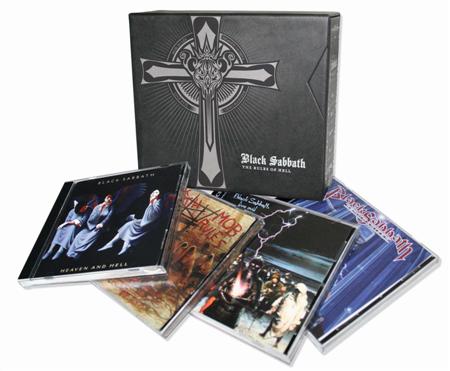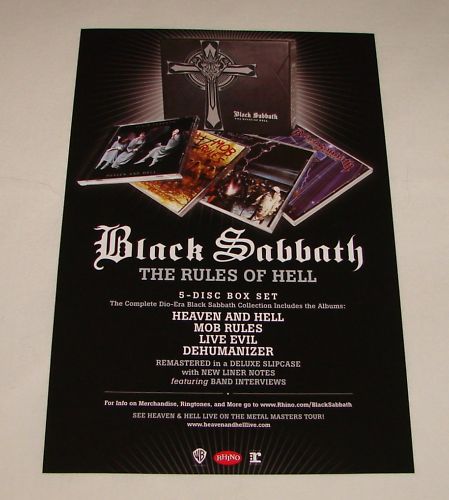 Video