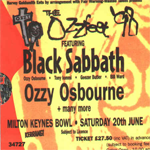 1998 European Festival Tour
Including the one lone non US Ozzfest date
Dates and research compiled by Joe Siegler & Robert Dwyer.
If you'd like to use any of this text for non-commercial purposes, please obtain permission first.
Commercial utilization of this work in whole or in part is prohibited!
If you have an update to one of the dates below, please help keep the list accurate by telling us!
Touring Band
Ozzy Osbourne – Vocals
Tony Iommi – Guitar
Geezer Butler – Bass
Vinny Appice – Drums
Geoff Nicholls – Keyboards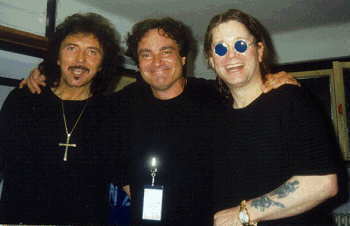 Typical Set List
War Pigs
NIB
Fairies Wear Boots
Snowblind
Into the Void
Spiral Architect
Lord of this World
Sweet Leaf
Sabbath Bloody Sabbath
Electric Funeral
Black Sabbath
Iron Man
Children of the Grave
Paranoid (encore)
Tour Notes
During rehearsals for the 1998 tour, Bill Ward had a heart attack that sidelined him for awhile.
Vinny Appice was brought on board to play for Bill for obvious reasons.
Vinny left Dio to take this gig. Rumors abound that Ronnie was po'ed at Vinny, and that's why Vinny wasn't invited back to the Dio band.
Additional info is available  on the official Ozzy site.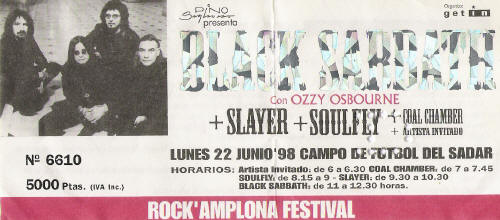 Date
Location
Venue
Other Bands / Openers
Notes

Jun 03 1998

First gig on the European 1998 Tour

Jun 03 1998

Budapest, Hungary

Kisstadion

Jun 04 1998

Vienna, Austria

Wels Rock

Jun 06 1998

Milan, Italy

Gods of Metal Festival

Jun 09 1998

Prague, Czech Republic

Slavia Athletics

Jun 10 1998

Katowice, Poland

Spodek

Jun 13 1998

Hultsfred, Sweden

Festival Hall

Jun 14 1998

Seinajoki, Finland

Provinssirock Festival

[ Concert Reviews ]

Jun 20 1998

Milton Keynes, UK

Superbowl

Technically an Ozzfest date – only non US Ozzfest date in 1998

Jun 22 1998

San Sebastian, Spain

Football Stadium

Jun 25 1998

Rosklide, Denmark

Festival

Jun 27 1998

St. Gallen, Switzerland

Open Air Festival

Jun 28 1998

Dessel, Belgium

Metal Meeting Festival

Jun 30 1998

Oslo, Norway

Spectrum

Jun 30 1998

Last gig on the 1998 European Tour