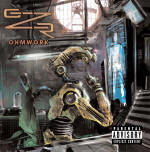 Released May 10, 2005 (US/Canada)
Released May 9, 2005 (UK/Europe)
Re-Released (digitally) Mar 27, 2020
Re-Released Oct 30, 2020


2020 CD [ Amazon UK ] | 2020 Vinyl [ Amazon UK ]
2005 CD ( Amazon US | Amazon UK )
MP3 Download ( Amazon US ) | iTunes (US)


Track Listing
Misfit
Pardon My Depression
Prisoner 103
I Believe
Aural Sects
Pseudocide
Pull The String
Alone
Dogs of Whore
Don't You Know
Writing Credits
All tracks by Terence Butler & Pedro Howse
Other Credits
Clark Brown – Vocals
Pedro Howse – Guitar
Geezer Butler – Bass Guitar
Chad Smith – Drums
Produced by Terence "Geezer" Butler
Mixed by Toby Wright
Catalogue Numbers
CD Sanctuary 06076-84679-2 (US 2005)
CD Mayan MYNC0037 (EUR 2005)
LP BMG BMGCAT474LP (US 2020)
CD BMG BMGCAT474CD (US 2020)
Notes
On this album, the band is being marketed as "GZR".  On Plastic Planet, it was "G//Z/R", and on Black Science it was "Geezer".  There will probably be some new combination for his next album. haha.
There was one single released from this album, that being "I Believe".  The single was not released publicly, just via promos for radio stations.
Toby Wright produced this album – some other bands he's worked with are Slayer, Alice in Chains, Primus, Jerry Cantrell, & Sevendust.
During recording, the track Misfit used to be called ph Balance
During recording, the track Alone used to be called Dooms Day.
The female vocal intro to the song Pseudocide is done by Lisa Riefell from the LA band Killola.
Geezer's son Biff sings harmony vocals on "I Believe" and "Don't You Know".
The Ohmwork cover art was done by Lawrence Azerrad of LADesign.
Geezer says the band name is pronounced "gee zed R or gee zee R depending where in the world I am"
The three Geezer Butler "solo" albums were re-released digitally in March 2020.  At that time, all three were rebranded as just "Geezer Butler" vs the names they had before (G//Z/R, Geezer, or GZR).  At the same time, they got an artwork refresh, you can see the 2020 digital artwork below.
Images
Below is the back cover for the lone single issued, "I Believe".  As this was a radio station promo, there was no proper front cover art produced.  This was the back cover.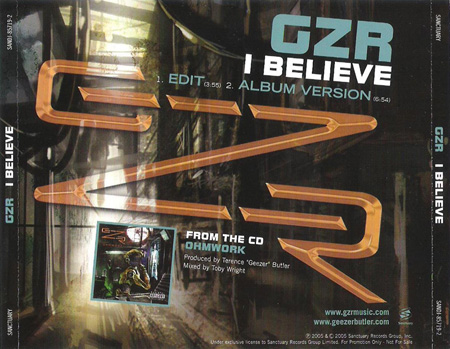 This image is the 2020 digital re-release artwork for Ohmwork.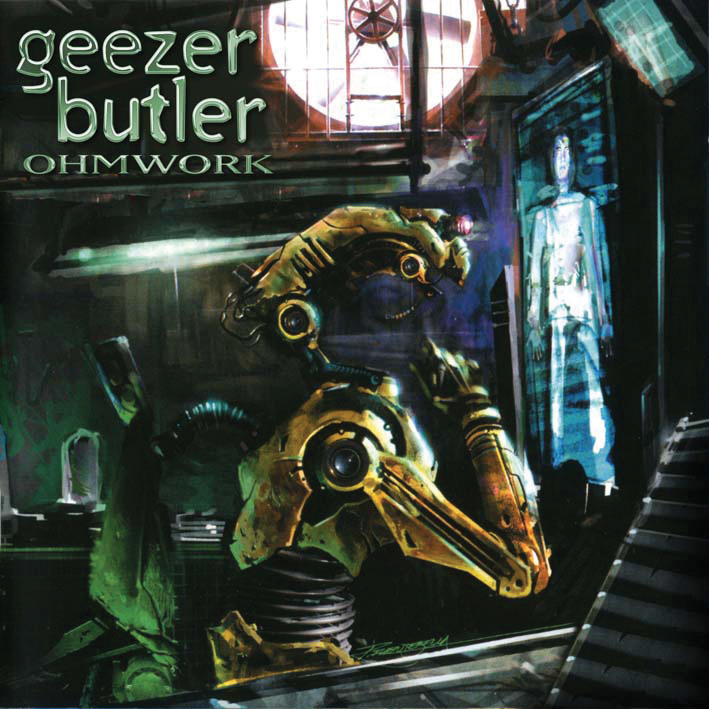 These images are connected to the 2020 physical re-release of Ohmwork.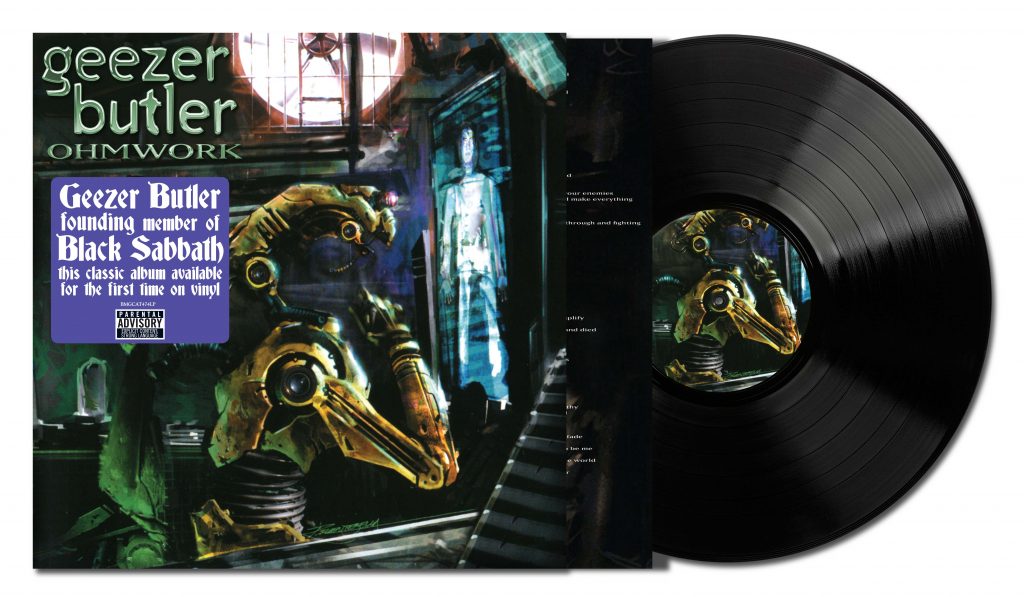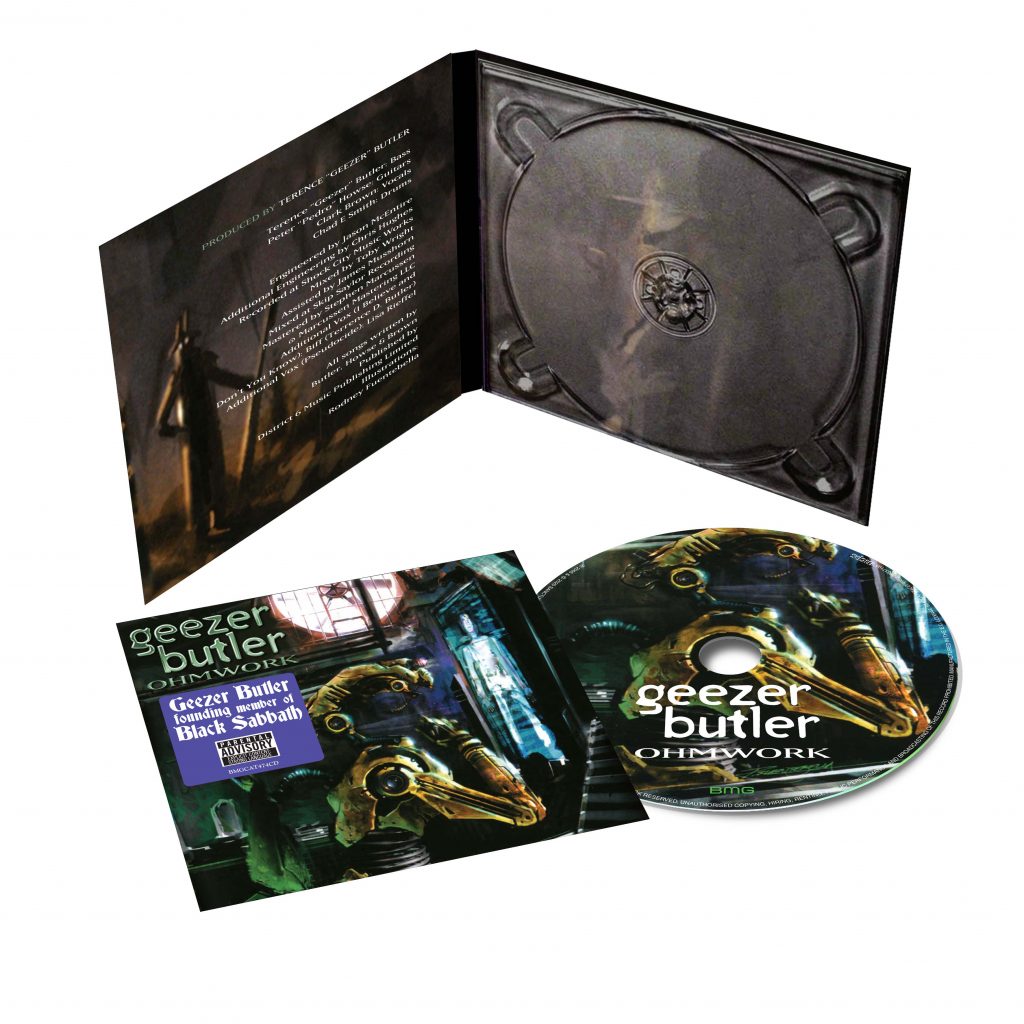 Links
Press Release
Here is a press release about the album that came out a couple of weeks before release:
GZR, FEATURING BLACK SABBATH'S GEEZER BUTLER, TO RELEASE 'OHMWORK' ON MAY 10, 2005, VIA SANCTUARY RECORDS
'OHMWORK' IS THE THIRD SOLO BAND PROJECT FROM THE LEGENDARY BASS GUITARIST AND LYRICIST
GZR, the quartet led by legendary Black Sabbath bass guitarist and lyricist Geezer Butler, will release its new studio album Ohmwork through Sanctuary Records on May 10, 2005. Ohmwork is Butler1s first album in eight years.
The 10 songs on Ohmwork are "Misfit," "Pardon My Depression," "Prisoner 103," "I Believe," "Aural Sects," "Pseudocide," "Pull The String," "Alone," "Dogs Of Whore" and "Don't You Know." "I Believe" is the first single.
Butler is joined by vocalist Clark Brown and guitarist Pedro Howse, his longtime collaborators, and new drummer Chad Smith. Ohmwork is Butler's third solo band release. His first project under the GZR banner was 1995's Plastic Planet while 1997's Black Science was credited to Geezer. Howse has worked on all three albums. Brown performed on Black Science.
"I feel that this album is more like our first album, Plastic Planet. On this album I wanted to strip everything down to the bare essentials, so every song would have a live band feel, which I think we achieved."
The band went hurtling into the studio with a hectic 10-day recording schedule. 3There1s a spirit of spontaneity and freshness that can only be achieved when you approach a record in that manner," recalls Geezer. "It1s the way the first two Sabbath albums were done. Black Sabbath was recorded in two days and Paranoid took a week and that1s what I wanted with my new record – 10 days done 'n dusted."
A potent, tangible band dynamic is crucial for Butler. He does not ever want an album credited to "Geezer Butler" when it is a true band effort.
"It's important to me that we have a band identity, because the album is a band collaboration. Everyone brings their own specialties to the songs, and we all know our capabilities, and we all work extremely hard together," Butler says.
Butler is proud of the fact that GZR's music appeals to both young metal fans as well as Black Sabbath fans. He attributes this fact about cross-generational appeal to heavy metal's very essence.
GZR touring plans are being put together for Fall 2005.
www.gzrmusic.com
www.geezerbutler.com
Spotify Play