1989 CD [ Amazon US | Amazon UK ]
2001 CD [ Amazon US ] | 2010 CD [ Amazon UK ]

Track Listing
High Wire
Dreams in the Dark
Jade's Song
Winter's Call
Dancing on the Edge
Streets Cry Freedom
Hard Driver
Rumblin' Man
Devil's Stomp
Seasons
Ball & Chain
Writing Credits
All songs by Lee/Gillen/O'Neill except:
High Wire + Ball & Chain by Lee/Gillen
Jade's Song by Lee
Winter's Call by Lee/Gillen/Gonzales
Credits
Jake E. Lee – Guitar, Keyboards
Ray Gillen – Vocals, Blues Harp
Greg Chaisson – Bass
Eric Singer – Drums
Produced by Paul O'Neill & Badlands
Engineered by James A. Ball
Dave Nives – Reissue Producer (2001)
Brad Wrolstad – Reissue Design (2001)
Curt Evans – Reissue Design (2010)
Derek Oliver – Reissue Producer (2010)
Andy Pearce & Matt Wortham – 2010 Remastering
Catalogue Numbers
LP Atlantic 7-81966-1 (US 1989)
CD Atlantic 81966-2 (US 1989)
CASS Atlantic 78-19664 (US 1989)
LP Atlantic 781-966-1 (EUR 1989)
CD Atlantic 781-966-2 (EUR 1989)
CD Atlantic AMCY-3115 (JPN 1989)
CD Atlantic AMCY-698 (JPN 1989)
CD Koch KOC-CD-8276 (US 2001)
CD Rock Candy CANDY071 (EUR 2010)
Notes
Ball & Chain was not on every version of the album.  It was on every CD issue, and some prints of the cassette.  But on no vinyl copies.
This band (at least on this album, anyway) has a very strong Black Sabbath connection, with two members (Ray Gillen & Eric Singer) having been in Black Sabbath, and a third having played with Ozzy.
Jake E. Lee used to be the guitarist for a few years for Ozzy Osbourne.
The band played War Pigs live quite a few times.
The 2010 reissue was handled by the Rock Candy label in Europe, and was not released domestically in the US.
The 2010 remastered by Andy Pearce & Matt Wortham.  That team handled a lot of the 2009+ Black Sabbath remaster series of discs (or Pearce himself).
Links
Images
Below is an image showing the original US Cassette tape cover image.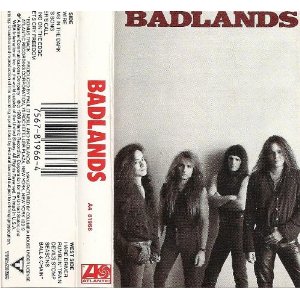 Video