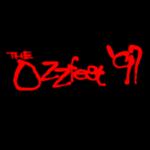 Ozzfest '97
1997 US Ozzfest Tour
Dates and research compiled by Joe Siegler & Robert Dwyer.
If you'd like to use any of this text for non-commercial purposes, please obtain permission first.
Commercial utilization of this work in whole or in part is prohibited!
If you have an update to one of the dates below, please help keep the list accurate by telling us!
Touring Personnel
Ozzy Osbourne – Vocals
Tony Iommi – Guitar
Geezer Butler – Bass
Mike Bordin – Drums
Shannon Larkin – Drums (Jul 1 only)
Bill Ward – Drums (Dec 4 & 5 only)
Geoff Nicholls – Keyboards
Typical Set List
War Pigs (complete with siren tape)
Into the Void
Sweat Leaf
Iron Man
Children of the Grave
Black Sabbath (complete with Rain SFX)
Fairies Wear Boots
Paranoid
Set List for Dec 4/5
Video Intro
War Pigs
Behind the Wall of Sleep
Fairies Wear Boots
NIB
Electric Funeral
Sweet Leaf
Spiral Architect
Orchid
Lord of this World
Sabbath Bloody Sabbath ( first two verses only )
Snowblind
Into the Void
Dirty Women
Black Sabbath
Iron Man
Embryo
Children of the Grave
Paranoid
Ozzfest 97 Main Stage
Ozzy Osbourne Band
Black Sabbath
Marilyn Manson (selected dates)
Pantera
Type-O Negative
Fear Factory
Machinehead
Powerhead 5000
Ozzfest 97 Second Stage
Downset
Neurosis
Slo Burn
Drain STH
Coal Chamber
Vision of Disorder
NOTE: The tour advert here on the right used the same font for the Black Sabbath logo that was used for the 1989 Headless Cross album cover.
Mike Bordin had this to say about the 1997 dates and Bill Ward in January of 2004..
"I've been really, really into music since I was about eight years old, but when I first heard a BLACK SABBATH record, that was it – there was nothing else," Bordin said. "The very next week, on April 6, 1974, I saw them on TV on the 'California Jam'. It was the most compelling, the most exciting, the most physical thing that I had ever seen – it was a revelation. I remember Bill as this big, crazy, giant hairy dude with red tights and no shirt. By the middle of the first song, you couldn't see him – it was just hair and flailing arms. "When you look at Bill's style of playing, you have to look at it in the context of the giants around him. Geezer, Tony and Ozzy are like forces of nature, and to balance in between them and not be squished, you have to be a giant as well. "Bill's playing is phenomenally individual and completely unique – nobody can play those songs like him. I was raised on BLACK SABBATH music and it was hugely important to me even before I started playing drums. "Bill Ward is a prince of a human being and I feel honored to have had a chance to play in BLACK SABBATH with Ozzy, Tony and Geezer. It was my tribute to the man that wasn't onstage, but should have been."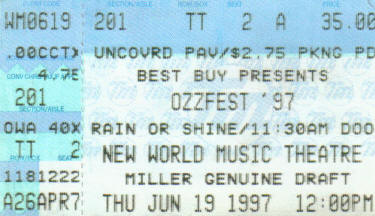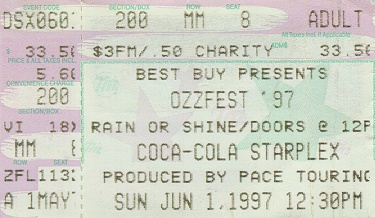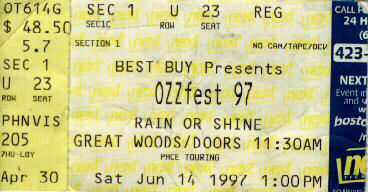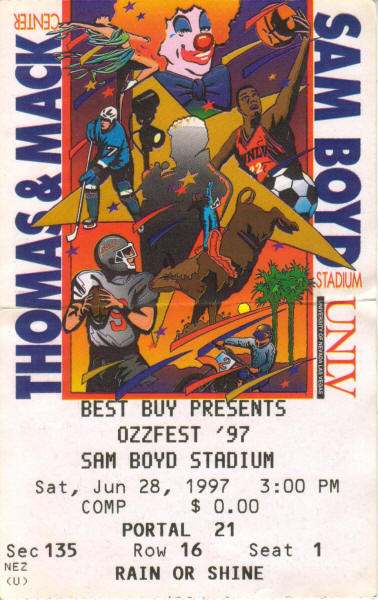 Black Sabbath: Home At Last
The Original Reunites!
On two nights in December of 1997, the original heavy metal band, the founders of all that is good music, the ORIGINAL BLACK SABBATH reunited for two full length shows. These two shows (on the 4th & 5th) were both video taped and recorded for the first official live album ever from the original Black Sabbath that was released in the fall of 1998 as "Reunion".