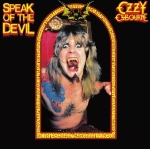 Released November 27, 1982
Re-Released August 22, 1995
Deleted from Catalog – April 2002
Re-Released 2007 (Japan Only)

 1995 CD [ Amazon US | Amazon UK ] | 2007 JPN Import [ Amazon US ]

Track Listing
Symptom Of The Universe
Snowblind
Black Sabbath
Fairies Wear Boots
War Pigs
The Wizard
NIB
Sweet Leaf
Never Say Die
Sabbath, Bloody Sabbath
Iron Man/Children Of The Grave
Paranoid
Writing Credits
All songs by Osbourne, Iommi, Butler, Ward
Credits
Ozzy Osbourne – Vocals
Brad Gillis – Guitar
Rudy Sarzo – Bass
Tommy Aldridge – Drums
Don Airey – Keyboards
Produced & Engineered by Max Norman
Recorded Live at the Ritz, New York Sep 26/27, 1982
Catalogue Numbers
LP Jet ZX 2 38350 (US 1982)
LP Jet JETDP 401 (UK 1982)
LP Epic EPC 451124 1 (EUR 1982)
CD CBS/Sony 30DP 5222 (JPN 1988)
UK Castle CCSCD 296 (UK 1991)
CD CBS ZK 38350 (US 1985)
CD Jet/CBS – ZK-38350 (CAN 1992)
CD Epic EK 67237 (US 1995)
CD Epic EPC 481679 2 (EUR 1995)
CD Soy EICP 781 (JPN 2007)
Notes
This album known as "Talk of the Devil" outside of the US, as that is the proper idiom of "Speak of the Devil" there.
The album of "Sabbath covers" was Ozzy's idea, as he was contractually obligated to deliver this, and he didn't want Randy's name & work on an album called "Speak of the Devil".
Sweet Leaf does not appear on all versions.  Some of the earliest prints of the album omitted this song due to "compact disc programming limitations".
Recorded live at the Ritz, New York, New York on September 26 & 27, 1982.
The band had only a couple of days to rehearse and learn all these songs (it shows in places).
In April 2002, this album was deleted from the Ozzy catalog and is no longer being made, except for some prints in Japan.
This is the only official Ozzy Osbourne album that Brad Gillis appears on.
When the album was released in 1995, it gained the "small cover art, giant Ozzy" motif.  That cover can be seen below.
 Links
Images
The Talk of the Devil cover and the Speak of the Devil cover are extremely similar – in fact the only difference appears to be the difference in word between "Talk" & "Speak".  Click on them for larger versions.