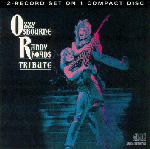 Released March 19, 1987
Re-Released August 22, 1995
Re-Released April 2, 2002
Re-Released 2007 (Japan Only)

1987 CD [ Amazon US ] | 1995 CD [ Amazon US | Amazon UK ]
2002 CD [ Amazon US | Amazon UK ] | 1987 Vinyl [ Amazon US ]
2002 MP3 [ Amazon US | Amazon UK ] | iTunes (US)

Track Listing
I Don't Know
Crazy Train
Believer
Mr. Crowley
Flying High Again
Revelation (Mother Earth)
Steal Away (The Night) (With Drum Solo)
Suicide Solution (With Guitar Solo)
Iron Man
Children Of The Grave
Paranoid
Goodbye To Romance
No Bone Movies
Dee (Randy Rhoads Studio Out-Takes)
Writing Credits
All songs co written by Ozzy, Randy, & Bob Daisley, except
9, 10, & 11 by Black Sabbath
14 by Randy Rhoads
Credits
Ozzy Osbourne – Vocals
Randy Rhoads – Guitar
Rudy Sarzo – Bass
Tommy Aldridge – Drums
Lindsay Bridgewater – Keyboards
Bob Daisley – Bass (12 & 13 only)
Lee Kerslake – Drums (12 & 13 only)
Produced & Engineered by Max Norman
2002 Producer: Bruce Dickinson
2002 Remaster by Chris Athens
Executive Produer: Ozzy Osbourne
Catalogue Numbers
CD CBS Associated ZGK 40714 (US 1987)
CD Epic EPC 450475 1 (UK 1987)
Vinyl CBS XZ2 40714 (US 1987)
Cass CBS ZXT 40714 (US 1987)
Vinyl Epic 450475 1 (UK 1987)
CD CBS/Sony 67240 (US 1995)
CD Epic 481516 2 (UK 1995)
CD Epic EK 85444 (US 2002)
CD Epic 502045 2 (UK 2002)
CD Sony EICP 784 (JPN 2007)
Notes
Ozzy's tribute to Randy Rhoads. He claims this is the only recording he has with Randy. Sounds like bull to me.  Bootleg collectors have tons of Randy recordings – I doubt this is the ONLY recording of Randy that Ozzy has.
The track "Dee" was written for Randy's mother, Delores.
Tracks 1-11 were recorded in Cleveland, OH on May 11, 1981.  Tracks 12 & 13 were recorded (possibly) on Oct 2, 1980.  Randy's guitar solo was recorded on July 28, 1981.
Ozzy is said to have re-recorded all the vocals on this, what you hear are not the true vocals as they were with the rest of the band playing.
The Classical Music at the start of Track 1 is "O Fortuna" from Carmina Burana by Carl Orff.
Links
Video