1990 Tyr Tour
World Tour to support the "Tyr" album.
Dates and research compiled by Joe Siegler & Robert Dwyer.
If you'd like to use any of this text for non-commercial purposes, please obtain permission first.
Commercial utilization of this work in whole or in part is prohibited!
If you have an update to one of the dates below, please help keep the list accurate by telling us!
Touring Personnel
Tony Martin – Vocals
Tony Iommi – Guitar
Neil Murray – Bass
Cozy Powell – Drums
Geoff Nicholls – Keyboards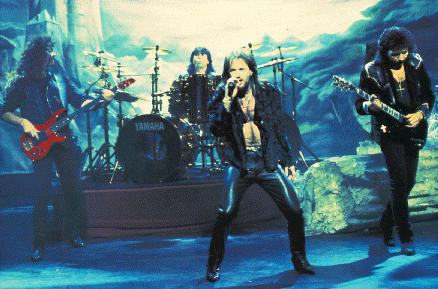 Typical Set List

NOTE: The first show of the tour had several songs that were never played again live – Feels Good to Me, Sign of the Southern Cross, Heart Like a Wheel, Odin's Court.
Anno Mundi (The Vision)
Neon Knights
Headless Cross
When Death Calls
War Pigs
The Shining
Guitar Solo
The Law Maker
The Sabbath Stones
1812 Drum Solo
Die Young
Heaven And Hell
Iron Man
Children Of The Grave
Bass Solo
Sabbath Bloody Sabbath (Instrumental)
Black Sabbath
Electric Funeral (guitar version)
Scarlet Pimpernel
Die Young (intro)
N.I.B. (bass version)
Strangers In The Night (bass solo)
Supernaut (Inc. in a guitar solo)
Alternate Set List (Sep 10, 1990)
Intro – The Omen (tape)
The Gates of Hell
Neon Knights
Iron Man
Anno Mundi
Children of the grave
Headless Cross
When death calls
War Pigs
The Shining
Lawmaker
Neil Murray bass solo
Tony Iommi guitar solo (inc excerpts from Sabbath bloody Sabbath & Sign of the southern cross)
Cozy Powell drum solo (to backing track of Holst's Mars from the planets suite)
Tony Iommi guitar solo
Heart like a wheel
Black Sabbath
Die young
Heaven and Hell
Paranoid & Heaven and Hell reprise
Fluff (tape)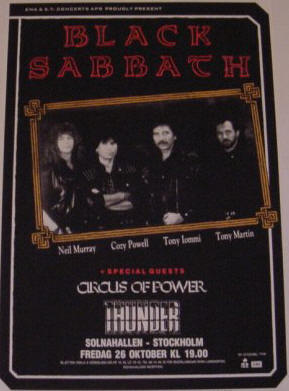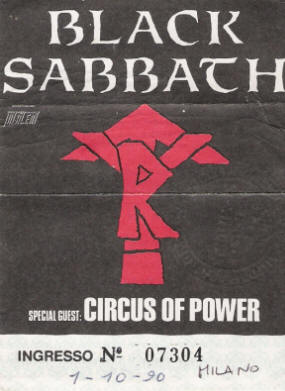 Date
Location
Venue
Other Bands / Openers
Notes

Feb 01 1990

Tyr Recording Sessions – Rockfield & Woodcray Studios (Feb – Jun)

Aug 06 1990

Tyr Released Worldwide

Sep 01 1990

First date on Tyr Tour

Sep 01 1990

Wolverhampton

Civic Hall

Circus of Power

Sep 02 1990

Liverpool

Royal Court

Circus of Power

Sep 03 1990

Leicester

De Montfort Hall

Circus of Power

Sep 05 1990

Cambridge

Corn Exchange

Circus of Power

Sep 06 1990

Newport

Newport Centre

Circus of Power

Sep 08 1990

London

Hammersmith Odeon

Circus of Power

Geezer Butler & Brian May on Encores

Sep 09 1990

London

Hammersmith Odeon

Circus of Power

Sep 10 1990

St. Austell

Cornwall Coliseum

Circus of Power

Sep 12 1990

Manchester

Apollo Theatre

Circus of Power

Sep 13 1990

Bradford

St. George's Hall

Circus of Power

Sep 15 1990

Carlisle

Sansa Centre

Circus of Power

Canceled – Poor Ticket Sales

Sep 16 1990

Edinburgh

The Playhouse

Circus of Power

Canceled – Poor Ticket Sales

Sep 17 1990

Aberdeen

Capitol Theatre

Circus of Power

Canceled – Poor Ticket Sales

Sep 18 1990

Glasgow

Barrowlands

Circus of Power

Canceled – Poor Ticket Sales

Sep 20 1990

Sheffield

City (Oval) Hall

Circus of Power

Canceled – Poor Ticket Sales

Sep 21 1990

Hanley

Victoria Hall

Circus of Power

Canceled – Poor Ticket Sales

Sep 25 1990

Modena

Palasport Nuovo

Circus of Power

Sep 27 1990

Napoli (Naples)

Tendra Strice

Circus of Power

Sep 28 1990

Roma (Rome)

Teatro Tenda

Circus of Power

Sep 29 1990

Firenze (Florence)

Palasport

Circus of Power

Oct 01 1990

Milano (Milano)

The Rolling Stone

Circus of Power

[ Concert Reviews ]

Oct 02 1990

Pordenone

Palsport

Circus of Power

Oct 03 1990

Locarno

Palsport

Circus of Power

Oct 05 1990

Zurich

Volkshaus

Circus of Power

Oct 06 1990

Locarno

Palazzetto FEVI

Circus of Power

Oct 08 1990

Vienna

Kuurhalle

Circus of Power

Oct 09 1990

Innsbruck

Olympiahalle

Circus of Power

Oct 10 1990

Senden

Gorki Park

Circus of Power

Oct 12 1990

München (Munich)

Circus Krone

Circus of Power

Oct 13 1990

Immenstadt

Stadthalle

Circus of Power

Oct 14 1990

Appenweiler

Schwarzwald Halle

Circus of Power

Oct 16 1990

Fürth

Stadthalle

Circus of Power

Oct 17 1990

Offenbach

Stadthalle

Circus of Power

Oct 18 1990

Böblingen

Sporthalle

Circus of Power

Oct 20 1990

St. Wendel

Sporthalle

Circus of Power

Oct 21 1990

Düsseldorf

Phillipshalle

Circus of Power

Oct 22 1990

Osnabruck

Stadthalle

Circus of Power

Oct 24 1990

Berlin

Tempodrom – Potsdamer Platz

Circus of Power

Oct 26 1990

Stockholm

Solnahallen

Circus of Power, Thunder

Oct 27 1990

Copenhagen

K.B. Hallen

Circus of Power

Oct 30 1990

Ghent

Vooruit

Circus of Power

Oct 31 1990

Oslo

Skedsmon Hall

Circus of Power

Nov 01 1990

Amsterdam

Jaap Eden Hall

Circus of Power

Part of this venue's roof collapsed during the show

Nov 03 1990

Hamburg

Docks Konzerte

Circus of Power

Nov 04 1990

Hamburg

Docks Konzerte

Circus of Power

Canceled

Nov 05 1990

Hannover

Music Halle

Circus of Power

Nov 07 1990

Pentagne

Centre Sportif

Circus of Power

Nov 08 1990

Paris

Le Zenith?

Circus of Power

Canceled

Nov 10 1990

Zwolle

Ijsselhallen Veemarkt (Ijsselhal)

Circus of Power

Canceled

Nov 24 1990

Leipzig

Messehalle

Circus of Power

Nov 25 1990

Erfurt

Thuringerhalle

Circus of Power

Nov 26 1990

Chemnitz

Eissporthalle

Circus of Power

Nov 28 1990

Schwerin

Kongresshalle

Circus of Power

Nov 28 1990

Final date on the Tyr Tour