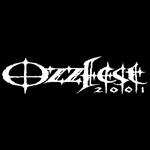 Ozzfest 2001
Dates and research compiled by Joe Siegler & Robert Dwyer.
If you'd like to use any of this text for non-commercial purposes, please obtain permission first.
Commercial utilization of this work in whole or in part is prohibited!
If you have an update to one of the dates below, please help keep the list accurate by telling us!
Touring Band
Ozzy Osbourne – Vocals
Tony Iommi – Guitar
Geezer Butler – Bass
Bill Ward – Drums
Geoff Nicholls – Keyboards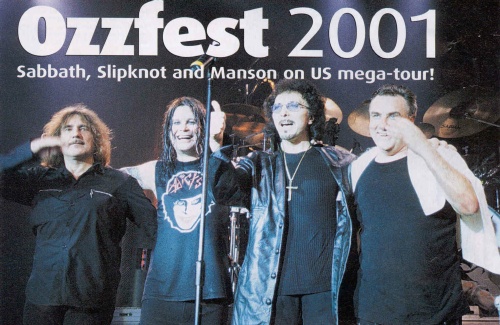 Ozzfest Bands
Second Stage: Disturbed (headliner), The Union Underground, Systematic, Drowning Pool, Nonpoint, American Head Charge, Beautiful Creatures, Hatebreed, Pure Rubbish, Mudvayne, Cold, No One, Spineshank, & Taproot.
Main Stage: Marilyn Manson, Slipknot, Papa Roach, Linkin Park, Crazy Town, Black Label Society, and festival headliners Black Sabbath.
Tour 2001 Note
Click here to read Ozzy Osbourne's dressing room contract rider for the 2001 tour!

Date
Location
Venue
Notes

May 2

2

Birmingham, England

Academy

1000 seat place – a charity gig

May 26

Milton Keynes

National Bowl

 

June 8

Chicago, IL

The World Amphitheatre

 

June 9

East Troy, IL

Alpine Valley Amphitheatre

 

June 12

Indianapolis, IN

Verizon Music Amphitheatre

 

June 13

Indianapolis, IN

Verizon Music Amphitheatre

 

June 16

Somerset, WI

Float-Rite Park

 

June 18

St. Louis, MO

Riverport Amphitheatre

 

June 19

Kansas City, MO

Sandstone Amphitheatre

 

June 2

1

Denver, CO

Mile High Stadium

 

June 25

George, W

A

The Gorge

[ Read Concert Review ]

June 27

Sacramento, CA

Sacramento Valley Amphitheatre

 

June 29

Mountain View, CA

Shoreline Amphitheatre

 

June 30

San Bernadino, CA

Glen Helen Blockbuster Amphitheatre

 

July 3

San Antonio, TX

South Texas Verizon Music Amphitheatre

 

July 5

Dallas, TX

Smirnoff Music Center

 

July 7

Atlanta, GA

Hi-Fi Buys Amphitheatre

 

July 13

West Palm Beach, FL

Mars Music Amphitheatre

 

July 14

Tampa, FL

TBA

 

July 17

Charlotte, NC

Verizon Wireless Amphitheatre

 

July 20

Bristow, VA

Nissan Pavillion

 

July 21

Camden, NJ

Tweeter Center

 

July 24

Toronto, Canada

The Docks

 

July 26

Cleveland, OH

Blossom Amphitheatre

 

July 28

Pittsburgh, PA

Post-Gazette Pavillion

 

July 30

Detroit, MI

DTE Energy Center

 

July 31

Detroit, MI

DTE Energy Center

 

August 3

Columbus, OH

Polaris Amphitheatre

 

August 5

Hartford, CT

Meadows Music Amphitheatre

 

August 7

Mansfield, MA

Tweeter Center

 

August 8

Mansfield, MA

Tweeter Center

 

August 11

Holmdel, NJ

PNC Bank Arts Center

 

August 12

Holmdel, NJ

PNC Bank Arts Center