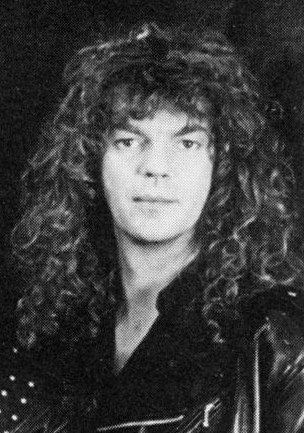 This picture is from a 1989 Headless Cross tour promo picture.

Information
Real Name: Philip Neil Murray
Birthdate: August 27, 1950
Birthplace: Edinburgh, Scotland
Band Position: Bass Guitar
Started in Band: April 1989, right after release of Headless Cross
Left Band: Late 1990
Returned to Band: Late 1994
Left Band: Sometime during 1996
Album Appearances: Tyr, Forbidden, & The Sabbath Stones
Other Bands: See note below.
Links
Note from Neil
In the summer of 1997, Neil Murray himself sent me an Email detailing all of the bands that he has appeared in. Here is a copy of that mail. Please do not ask me for his Email address, I will not give it out. Thanks for understanding.
From: Neil Murray (address withheld)
Date sent: Mon, 30 Jun 1997 19:39:08 -0400 (EDT)
To: siegler@black-sabbath.com
Subject: BS members – Neil Murray
Hi Joe! To help you out, I'll list all the bands I've been a member of, not just people I've done sessions or occasional gigs with: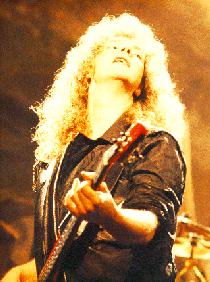 1973 Gilgamesh (jazz-rock)
1974 Hanson
1974/5 Cozy Powell's Hammer (stand-in bassist))
1975/6 Colosseum II
1976/7 National Health
1977/82 Whitesnake
1982/3 Gary Moore
1983/86 Whitesnake
1986/7 MGM (ex-Whitesnake guys)
1987/89 Vow Wow (overlaps with MGM) – Japanese band
1989/90 BLACK SABBATH!
1992/3 Brian May Band
1994/5 BLACK SABBATH!
1996/8 Peter Green & Splinter Group
1998 Brian May Band
1999/2001 Company of Snakes (ex-Whitesnake guys)
I have recorded tracks or albums as a session player with: Babe Ruth (75), Alexis Korner (76), John Martyn (77), Bernie Marsden (79 & 81), Jon Lord (81), Graham Bonnet (81), Cozy Powell (81 & 93), Clapton/Beck/Sting (Amnesty Int'l. Gig) (81), Bernie Marsden's Alaska (82), Randy California (83), Scorpions (demos for 'Love At First Sting' 83), Phenomena I & II (85 & 87), Ray Minhinnett (83), Forcefield (88), Sanne (Danish singer 88), Fastway (88), Dave Sharman (90), Ian Gillan (demos 91), Mona Lisa Overdrive (92?), Tony Martin (92), Adrian Smith (demos 92), Glen Tipton (94), 'In From The Storm ' orchestral Hendrix album (95) and others that never came out, you've never heard of or I've forgotten about!
I have also played on gigs, TV shows or just rehearsals with Steve Vai, Joe Satriani, Paul Rodgers, Nuno Bettencourt (all at 'Guitar Legends' in Seville, Spain (92)), Yngwie Malmsteen, Paul Young, Curtis Stigers, Roger Taylor, Bret Michaels, Robert Palmer, Jimmy Barnes, Moody Marsden band, Chieftains, Ozzy Osbourne, Roy Wood, Bruford etc.
I hope this is of use to you, but I know that the more information I give out, the more people want, and there's only so much detail that I've got time to go into.
All the best,
Neil :-)