Released September 28, 2004 (US)
Released October 4, 2004 (UK)
Originally available as a bootleg under the name "8th Star"

Standard CD (Amazon US | Amazon UK)
Amazon MP3 (US) | iTunes (US)

Track Listing
Gone
From Another World
Don't You Tell Me
Don't Drag the River
Fine
Time is the Healer
I'm Not the Same Man
It Falls Through Me
Bootleg Track Listing
Not the Same
I'm Gone
Real World
Don't You Tell Me
I'll be Fine
From Another World
Through the Rain
Shakin' My Wings *
No Stranger to Love (1986 Remix)
Writing Credits
All songs by Tony Iommi & Glenn Hughes
2004 Credits
Tony Iommi – Lead Guitar
Glenn Hughes – Vocals, Bass
Don Airey – Keyboards
Geoff Nicholls – Keyboards
Mike Exeter – Keyboards
Jimmy Copley – Drums
Drums re-recorded at Tone Hall Birmingham (Mar/Apr 2004)
Mixed by Mike Exeter at Tome Hall and The Sound Loft, Birmingham (2004)
Mastered by Dick Beetham at 360 Mastering, London
Executive Producer: Ralph Baker
Produced by Tony Iommi
Bootleg Credits
Tony Iommi – Lead Guitar
Glenn Hughes – Vocals, Bass
Don Airey – Keyboards
Dave Holland – Drums
Originally recorded at Cabin Studios, Coventry & DEP Studios, Birmingham (Jul-Dec 1996)
Engineered by Mike Exeter & Kit Woolven (at DEP) & Paul Samson at Cabin (1996)
Catalogue Numbers
CD Sanctuary 06076-84724-2 US
CD Mayan MYNCD030 UK
Notes
* – "Shakin' My Wings" does not actually have Tony Iommi on it. Glenn Hughes is on it, but Iommi isn't.
"I'm Gone" was also released by Glenn Hughes under the title "Gone" on his 2000 album, "The Return of Crystal Karma".
The "No Stranger to Love" remix is the audio version of the music video for the same track from the Seventh Star album, as it's different than the one that appears on the actual album.  This remix version was never officially released until the 2010 "Deluxe Edition" of Seventh Star.
The main riff from the song "Don't you Tell Me" turned up in the song "Black Oblivion" from the 2001 album "Iommi".
This album was originally recorded back in October & December of 1996, and was never officially released until 2004. A bootleg version has been floating around collector's circles since 1999 and has been known as "Eighth Star".
The image below is the cover from the bootlegged version of the album.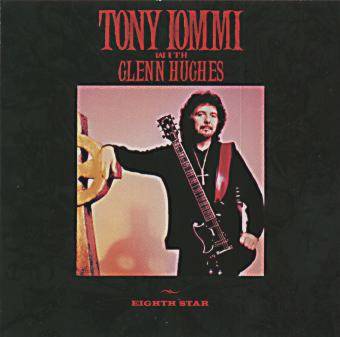 Here's a quite by Jimmy Copley on his work doing the drums for this release:
"I can't tell you how great it is to work with Tony and Glenn. I was blown away with the power and energy they produce. Tony's manager, Ralph, called me to say they needed to re-record the drums and as I was going off to Russia with M3 we only had a couple of days to do it. I went to Tony's studio on a Wednesday and it went so well we finished the whole thing by lunchtime on Friday. Which was just as well as I left for Russia on Saturday. I used Cozy's [Powell] old recording kit with a 26″ Kick, a really big warm sound, and my old 67 Ludwig Snare (the old faithful)! It's great playing to completed tracks, hearing Glenn's vocals/bass and Tony's guitar coming back at you; you can't help but be inspired. So we just went track after track, just me and Mike Exeter (engineer) and Tony would come in and say 'Yeah' or 'Can you try this?' or 'Do you fancy a bit of pork pie?' We had so much Stilton and pork pie that I called it the Pork Pie Project. All in all great music, great people. What more could you want? By the way, a special thanks to Mike Clement (Tony's tech) and a true gent."
Links
My Review of DEP Sessions:
Back in 1996, Tony Iommi was trying to put together some solo material after deciding to take a break from Black Sabbath in 1995. The album he recorded was with an old friend, Glenn Hughes, who had previously been on a psuedo-Black Sabbath album "Seventh Star". Seventh Star was OK, but it didn't feel like a Black Sabbath record – it wasn't supposed to be, it was supposed to be Tony's first solo album, but record company pressure forced it to be Black Sabbath. Well, 11 years after Seventh Star, Tony & Glenn got together to write some more material. They recorded it with Dave Holland & Don Airey, and then it got shelved. It turned up a year or so later as a bootleg named "Eighth Star". I've had that bootleg for then, and to me, it was better than the already released "Iommi" album, as it showed that Tony can do more than just Black Sabbath.
So early in 2004 I find out that Tony has finally decided to dust off the old 8th Star material and properly clean it up and finally release it. This was a great moment for me, as I so much loved the material. In addition to that, there was one track that was not on the original bootleg version, so we'd get a "new" track as well. The songs on here are of a uniformly high quality. There isn't one clunker here – it's brilliant from start to end. If you have ever been a fan of Black Sabbath, you should like this. Glenn Hughes fans should also like this as well.
There were a few minor changes from the bootleg version – the track "Don't you Tell Me" had it's main riff appear on the song "Black Oblivion" on Iommi's 2000 record. It's appearance here has the riff altered slightly, so it's not directly the same. Additionally, some of the vocals have additional lyrics on "I'm Not The Same Man", and there is the aforementioned extra track. Additionally, these aren't the original drum tracks – the original drummer (Dave Holland) was removed in favor of Jimmy Copley, but it's nothing like the bastardization that Ozzy did to his first two albums – the new drums here sound more or less the same as the original to me.
This album is brilliant folks – you will really enjoy it. The best part of this is that in late 2004, Tony & Glenn have said they're working on another album to be released in 2005 – I can't wait – if it's half as good as this, it'll be spectacular!