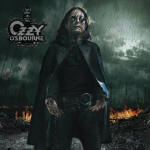 Released May 22, 2007 (Worldwide)
Re-Released August 14, 2007 (Enhanced – with video)
Released Nov 20, 2007 (Tour Edition – Worldwide)

CD (Amazon US | Amazon UK) | Enhanced CD (Amazon US) | Tour Edition CD (Amazon US | Amazon UK)
MP3 Regular Edition (Amazon US) | MP3 Enhanced Edition (Amazon UK)
MP3 Tour Edition (Amazon US) | iTunes Regular (US) | iTunes Tour Edition (US)


Track Listing
Not Going Away
I Don't Wanna Stop
Black Rain
Lay Your World on Me
The Almighty Dollar
11 Silver
Civilize the Universe
Here For You
Countdown's Begun
Trap Door
I Can't Save You (Japanese CD & MSN Europe digital exclusive track)
Nightmare (Japanese CD and iTunes bonus track)
Love to Hate (iTunes exclusive pre-order only bonus track)
Track Listing (Tour Edition)
Disc 1
Not Going Away
I Don't Wanna Stop
Black Rain
Lay Your World on Me
The Almighty Dollar
11 Silver
Civilize the Universe
Here For You
Countdown's Begun
Trap Door
Disc 2
I Don't Wanna Stop (Live)
Not Going Away (Live)
Here For You (Live)
Nightmare
I Can't Save You
Love to Hate
Writing Credits
Ozzy Osbourne, Zakk Wylde, & Kevin Churko – Tracks 1, 2, 3, 4, 6, 7, 8, 9
Ozzy Osbourne & Kevin Churko – Tracks 5, 10
Unknown on addtl tracks
Other Credits
Ozzy Osbourne – Vocals
Zakk Wylde – Guitars, Keyboards
Rob "Blasko" Nicholson – Bass
Mike Bordin – Drums
Kevin Churko – Producer, Mixer
Zack Fagan – Addtl Engineering
Kane Churko – Pro-Tools Engineering
Vlado Meller – Mastered (Sony Studios, NY)
Sharon Osbourne – Executive Producer
Recorded at The Music Machine, Beverly Hills, CA
Catalogue Numbers
CD Sony/Epic ??? (US 2007)
CD Epic EICP794 (JP 2007)
CD Sony/Epic 720063 (US 2007 – Tour Edition)
Notes
At release time, there was a limited run of Black Rain copies for the US that included a pass which guaranteed a ticket to Ozzfest 2007.
There are two different versions of the cover art for Black Rain for the original release. Neither has the album title on it, which is unusual. However, the image to the left (the grey image) is the cover art the US cover art. The one with Ozzy himself on the cover is the "everywhere else" cover art. Why they chose such a boring cover art for the US release is beyond me. it's also odd that if you buy the album through iTunes in the US, you get a "digital booklet", which contains most of the same art as the non grey one anyway.
The album was re-released on August 14th as an "Enhanced" Edition.  It replaced the paper sleeve version with a "proper" version that had a jewel case, a CD insert and booklet.  It also added a video file with some behind the scenes footage from the "Black Rain" photo shoot.  It looks like the second image below.
The third image is what you get when you buy the CD in Japan (the fire was an artistic choice, it's not part of the CD package or anything).
The US Tour Edition has the "Ozzy in the Black Rain" cover as it's cover, there's still no title on the front, but it does come in a standard jewel case, and the "Tour Edition" notation is on the spine of the disc.  It looks like the second image below.
Links
Images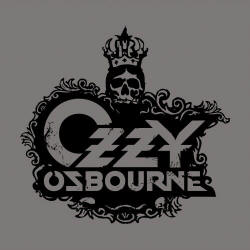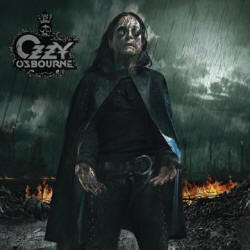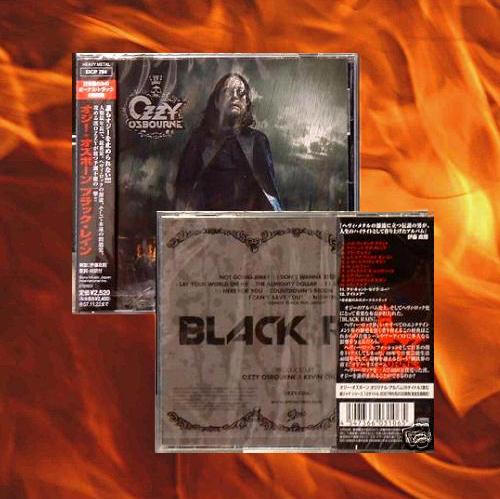 Video