1995 Forbidden Tour
World Tour to support the Forbidden album.
Dates and research compiled by Joe Siegler & Robert Dwyer.
If you'd like to use any of this text for non-commercial purposes, please obtain permission first.
Commercial utilization of this work in whole or in part is prohibited!
If you have an update to one of the dates below, please help keep the list accurate by telling us!
Touring Personnel
Tony Martin – Vocals
Tony Iommi – Guitar
Neil Murray – Bass
Cozy Powell – Drums (until Aug 3)
Bobby Rondinelli – Drums (Aug 19 onwards)
Geoff Nicholls – Keyboards
Typical Set List
Ave Satani (taped intro)
Children of the Grave
Neon Knights
The Shining
The Wizard
Get a Grip
Headless Cross
Iommi Solo (short)
Rusty Angels (US Only)
Kiss of Death (Non US)
When Death Calls
Sabbath Bloody Sabbath
Can't Get Close Enough
War Pigs
Mob Rules
Changes (Japanese dates only)
Black Sabbath
Heaven & Hell
Iron Man (encore)
Paranoid (encore)
Laguna Sunrise (Taped outro)
When Bobby Rondinelli replaced Cozy Powell on tour, Bobby was doing a drum solo; Cozy did not do one on the US tour.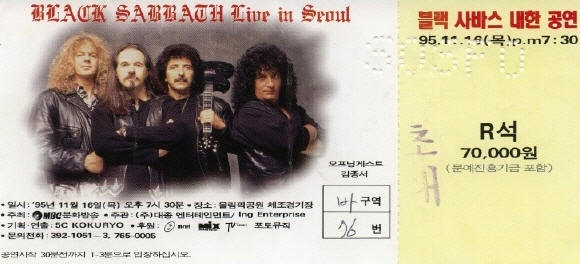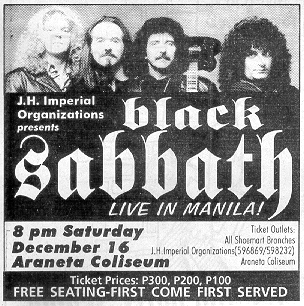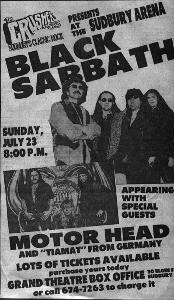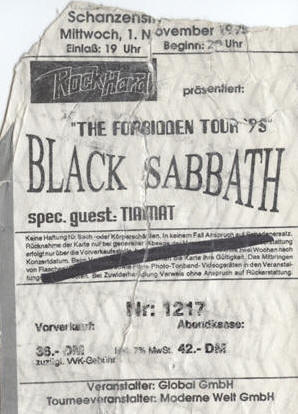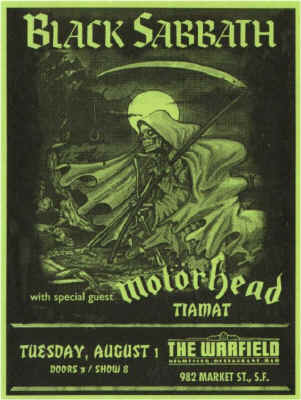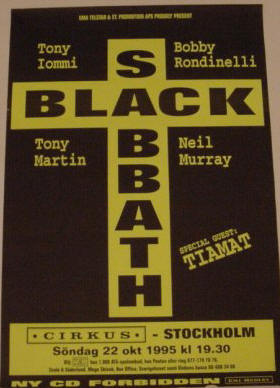 Date
Location
Venue
Other Bands / Openers
Notes

Mar 01 1995

Cross Purposes Live is released

Jun 01 1995

Forbidden is released

Jun 04 1995

First date on the Forbidden Tour

Jun 04 1995

Esbjerg

Esbjerg Rock Festival

ELO II, Fleetwood Mac [June 3rd], Saxon, Wet Wet Wet, 10CC, Smokie and many more…

Jun 16 1995

Karlshamn

Bellevueparken

Abstrakt Algebra, Bad Religion, Bob Hund, Dave Edmunds, Electric Eskimoes, Fairport Convention, Flaped Forge, Fleetwood Mac, Freak Kitchen, Jukka Tolonen Band, Kashmir, Kent, Lars Demian, Led Zeppelin Jam, Los Stjartgroggs, Mary Beats Jane, No Solution, P

Karlshamn Rock Festival – 2 day Festival Show

Jun 29 1995

New Haven, CT

Toad's Place

Motorhead

Jul 01 1995

Harvey's Lake

Bud Light Amphitheater

Motorhead, Kix [cancelled]

Jul 02 1995

Cleveland, OH

Nautica Stage

Motorhead

Jul 03 1995

Columbus, OH

Newport Music Hall

Motorhead

Jul 04 1995

Clarkston

Pine Knob Music Theater

Jul 06 1995

Kalamazoo

State Theater

Jul 07 1995

Tinley Park

Tweeter Center

Motorhead, Tiamat

Jul 08 1995

East Troy

Alpine Valley Music Theater

Motorhead, Tiamat

Jul 09 1995

Rochester, NY

Water Street Music Hall

Motorhead

Jul 10 1995

New York City, NY

Roseland Ballroom

Motorhead, Tiamat

Jul 11 1995

Philadelphia, PA

Theater of the Living Arts

Motorhead, Tiamat

[ Concert Reviews ]
Moved from Tower Theatre in Upper Darby – Originally Scheduled for July 12th

Jul 13 1995

Mansfield, MA

Great Woods Center

Motorhead, Tiamat

[ Concert Reviews ]

Jul 14 1995

Hampton Beach

Hampton Beach Casino Ballroom

Motorhead, Tiamat

[ Concert Reviews ]

Jul 15 1995

New Britain

The Sting

Motorhead

Jul 17 1995

St. Catharines

Polonia Park

Motorhead, Tiamat, S.F.H.

Jul 18 1995

Toronto, Ontario

The Warehouse RPM

Motorhead

[ Concert Reviews ]

Jul 19 1995

Montreal

Metropolis Center

Jul 22 1995

Kitchener

Lulu's Roadhouse

Motorhead

Jul 23 1995

Sudbury

Sudbury Arena

Motorhead, Tiamat

Jul 26 1995

Calgary

Max Bell Arena

Motorhead, Tiamat

Jul 28 1995

Tacoma, WA

Temple Theater

Motorhead, Tiamat

Jul 29 1995

Portland, OR

Roseland Theater

Motorhead, Tiamat

Aug 01 1995

San Francisco, CA

The Warfield Theater

Motorhead, Tiamat

[ Concert Reviews ]

Aug 02 1995

Ventura, CA

The Ventura Theater

Motorhead

Aug 03 1995

Universal City, CA

Universal Amphitheater

Motorhead, Tiamat

Last gig with Cozy Powell

Aug 19 1995

Gmund

Rock At The Border Festival

Bobby Rondinelli returns

Aug 20 1995

Vienna

Open Air Festival

Aug 22 1995

Luneville

Open Air Municipal Park

Canceled

Aug 25 1995

Gzira

Orpheum Theater

Lord Adder

Aug 31 1995

Gottingen

Outpost

Sep 01 1995

Bielefeld

PC 69 – Musikbetrieb

Tiamat

Sep 02 1995

Chemnitz

Haus Der Einheit

Sep 04 1995

Halle

Easy Schorre

Sep 05 1995

Jena

Kulturzentrum

Sep 06 1995

Prague

Small Sports Hall

Sep 07 1995

Krakow, Poland

Hala Wisley

Sep 09 1995

Poznan, Poland

Hala Arena

Sep 10 1995

Warsaw, Poland

Colosseum

Tiamat

Sep 11 1995

Ostrava, Czech Republic

Palace Of Culture And Sport

Sep 12 1995

Wroclaw, Poland

Hala Ludowa

Sep 14 1995

Bratislava, Slovokia

Amphitheater

Sep 16 1995

Torino, Italy

Palastampa

Sep 18 1995

Milan, Italy

The Rolling Stone

Sep 19 1995

Rimini, Italy

Velvet Club

Sep 20 1995

Pescara, Italy

Palastampa

Canceled

Sep 21 1995

Sežana, Slovenia

Sports Hall

Tiamat

Sep 22 1995

Brescia, Italy

Parco Tendra

Sep 23 1995

Zurich, Switzerland

Volkshaus

Sep 24 1995

Telfs, Austria

Rathaussaels

Sep 26 1995

Graz, Austria

Eintrittskarte Orpheum

Tiamat

Sep 27 1995

Wels, Austria

Stadthalle

Sep 29 1995

Nuremberg, Germany

Jurahalle

Sep 30 1995

Munich, Germany

Terminal 1

Oct 01 1995

Bocholt, Germany

Oct 02 1995

Hamburg, Germany

Docks Konzerte

Tiamat

Oct 03 1995

Hamburg, Germany

Docks Konzerte

Tiamat

Canceled

Oct 04 1995

Castrop-Rauxel, Germany

Europahalle

Tiamat

Oct 06 1995

Berlin, Germany

Huxley's Neue Welt

Oct 07 1995

Hanover, Germany

Music Halle

Tiamat

Oct 08 1995

Lichtenfels, Germany

Stadthalle

Oct 09 1995

Ludwigsburg, Germany

Forum

Oct 11 1995

Neu-Isenburg, Germany

Hugenottenhalle

Tiamat

Oct 12 1995

Dudelange, Luxembourg

Centre Sportif

Oct 13 1995

Paris, France

Elysée-Montmarte

Oct 15 1995

Utrecht, Netherlands

Central Studios

Oct 16 1995

Brussels, Belgium

Lina Theater

Oct 18 1995

Lund, Sweden

Mejeriet

Oct 19 1995

Gothenburg, Sweden

Lisebergshallen

Tiamat?

Oct 20 1995

Esbjerg, Denmark

Tobaksfabrikken

Oct 21 1995

Copenhagen, Denmark

K.B. Hallen

Tiamat

Oct 22 1995

Stockholm, Sweden

Cirkus Djurgarden

Tiamat

Oct 24 1995

Borlänge, Sweden

Cupolen

Tiamat

Canceled

Oct 25 1995

Umeå, Sweden

Sporthallen

Tiamat

Oct 26 1995

Luleå, Sweden

Arcushallen

Tiamat

Oct 28 1995

Tampere, Finland

Pakkahuone (room) – Tullikamari (venue)

Tiamat

Oct 29 1995

Helsinki, Finland

Kulttuuritalo

Tiamat

Venue name is "House of Culture" in English

Nov 01 1995

Koln, Germany

E-Werk

Nov 02 1995

Bremen, Germany

Aladin

Nov 04 1995

Cambridge, UK

Corn Exchange

Nov 05 1995

Leeds, UK

T & C

Nov 05 1995

Manchester, UK

Apollo Theater

Unconfirmed

Nov 08 1995

Bristol, UK

Colston Hall

Nov 09 1995

Wolverhampton, England

Civic Hall

Skyclad

Nov 10 1995

London, England

Shepherd's Bush Empire

Nov 11 1995

London, England

Shepherd's Bush Empire

Canceled

Nov 13 1995

Paris, France

Elysée-Montmarte

Unconfirmed. Gig also listed as Charter Hall in Colchester, England?

Nov 16 1995

Seoul, South Korea

Nov 18 1995

Tokyo, Japan

Liquid Room

Canceled

Nov 19 1995

Tokyo, Japan

Shibuya Kokaido

"Changes" put in set during Japan shows

Nov 21 1995

Nagoya, Japan

Club Quattro

Nov 22 1995

Osaka, Japan

Sankei Hall

Nov 25 1995

Perth, Australia

Entertainment Centre

Canceled by promoter

Nov 27 1995

Adelaide, Australia

Adelaide Entertainment Centre

Canceled by promoter

Nov 29 1995

Melbourne, Australia

Sports and Entertainment Centre

Canceled by promoter

Dec 01 1995

Sydney, Australia

Entertainment Centre

Canceled by promoter

Dec 02 1995

Newcastle, Australia

Entertainment Centre

Canceled by promoter

Dec 04 1995

Brisbane, Australia

Festival Hall

Canceled by promoter

Dec 06 1995

Townsville, Australia

Entertainment Centre

Canceled by promoter

Dec 09 1995

Auckland, New Zealand

Mt Smart Supertop – Penrose

Canceled by promoter

Dec 12 1995

Singapore, Singapore

World Trade Centre – Harbour Pavillion

Confirmed – DID happen

Dec 14 1995

Bangkok

Phoebus Amphitheater Complex

Confirmed – DID happen

Dec 14 1995

Last gig on the Forbidden Tour – There were a few more scheduled, however.

Dec 16 1995

Manila, Phillipines

Araneta Coliseum

Canceled by promoter

Dec 19 1995

Ho Chi Minh City / Saigon, Vietnam

Hon Min Kin

Canceled by promoter