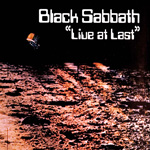 Released Summer 1980
Re-Released March 1996
Re-Released August 20, 1996 (Past Lives)
Re-Released September 27, 2010

2010 CD [ Amazon US | Amazon UK ]
1996 CD [ Amazon US | Amazon UK ] | Past Lives [ Amazon US | Amazon UK ]
MP3 [ Amazon UK ]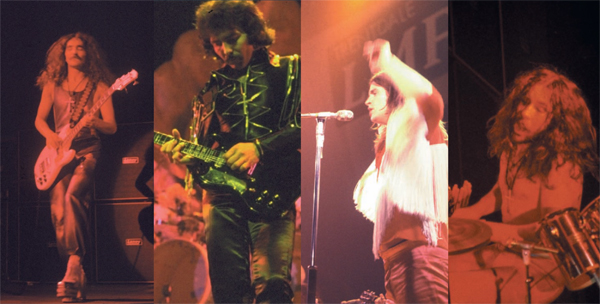 Track Listing
Tomorrow's Dream
Sweet Leaf
Killing Yourself to Live
Cornucopia
War Pigs
Laguna Sunrise
Paranoid
Wicked World
Track Listing – 1980 Australian Release
Tomorrow's Dream
Sweet Leaf
Killing Yourself to Live
Cornucopia
Snowblind
Children of the Grave
War Pigs (Side 2)
Wicked World (Side 2)
Paranoid (Side 2)
Writing Credits
All tracks by Black Sabbath
Credits
Ozzy Osbourne – Vocals
Tony Iommi – Guitar
Geezer Butler – Bass
Bill Ward – Drums
Recorded at the Free Trade Hall in Manchester on Mar 11, 1973 &
Recorded at the Rainbow Theatre in London, Mar 16, 1973
1973 Project Producer – Patrick Meehan
1996 Remaster by Ray Staff @ Whitfield St Studios
1996 Design, booklet notes, and sleeves by Hugh Gilmour
2010 Remaster by Andy Pearce & Matt Wortham
2010 Project Coordinator: Steve Hammonds
2010 Product Management by Jon Richards
2010 Sleeve Notes by Alex Milas
2010 Design by Hugh Gilmour
2012 Digital Remaster by Andy Pearce & Matt Wortham
2012 Vinyl Mastering by Greg Moore @ Masterpiece
Catalogue Numbers
LP NEMS BS-001 (IRE 1980)
LP Earmark 41037 (UK 1980)
LP Ariola Benelux 203-049 (NETH 1980)
LP NEMS MLF-412 (AUS 1980)
CASS NEMS MCF-412 (AUS 1980)
LP NEMS 27-901-9 (GER 1980)
LP NEMS SP25-5009 (JPN 1980)
LP Beograd LPS-1019 (YUG 1980)
LP Spiegelei INT-145.614 (GER 1980)
LP SNC C90-31123-002 (RUS 1980)
LP Ariston ARLP-12386 (IT 1981)
LP NEMS BS-001 (GER 1985)
CD Creative Sounds 6001 (US 1987)
CD Castle NEMS-6001 (UK 1987)
CD Power Sound NEMS-6001-2 (US 1996)
CD Essential ESMCD331 (UK 1996 – Remaster)
LP Earmark 41037 (IT 1996)
CD Sanctuary SMRCD071 (EUR 2004)
CD Universal 2749910 (UK 2010)
LP Universal 3715304 (UK 2012) – "Vinyl Collection"
Notes
This album was originally released without the band's permission, hence it not being labelled as "official" – All involved at the time discounted the record, claiming it was crap.
The original release of this album had Ozzy's name spelled "Ossie".  This error was (intentionally) reproduced in the 2010 release.
The release of this album directly led to Sabbath releasing an official Live Album about 2 years later, that being "Live Evil".
This appears to have been culled from tapes from the Volume 4 Tour.
This album was later re-released as part of the "Past Lives" double live CD in 2002, and was its first ever official recognition by the band.  It was also finally released officially by Black Sabbath on it's own in 2010.
The 2010 "Deluxe Edition" of Past Lives and the single disc 2010 release are the same contents.
Links
Images
This is the original back cover image.  However, the physical image you are looking at is a scan from the 2010 booklet, I do not have a physical original copy to scan from (hence the inclusion of the 2010 Universal catalogue number on the image).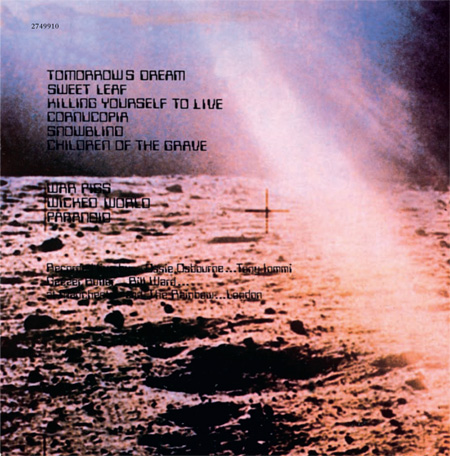 This is the back CD cover image from the 2010 re-release of the album.