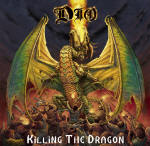 Released May 14, 2002
Tour Edition Released October 22, 2002
Re-Released Feb 21, 2020 (2CD/Vinyl, UK/EU)
Re-Released Mar 20, 2020 (2CD/Vinyl US/NA)

2020 2CD: [ Amazon US | Amazon UK ]
2020 Vinyl [ Amazon US | Amazon UK ]
Original CD [ Amazon US | Amazon UK ]
Tour Edition CD [ Amazon US ]


Track Listing
Disc 1
 Killing the Dragon
Along Comes a Spider
Scream
Better in the Dark
Rock & Roll
Push
Guilty
Throw Away the Children
Before the Fall
Cold Feet
Fever Dreams Live – w/ Deep Purple (Tour Edition only)
Rainbow in the Dark Live – w/ Deep Purple (Tour Edition only)
Disc 2 (2020 Version Only)
Recorded Live on Killing the Dragon tour 2002-2003
Holy Diver
Heaven and Hell
Rock and Roll
Speed at Night (labeled just "Speed At Night")
Killing the Dragon
Stand Up And Shout
Writing Credits
Tracks 1,4,7,9,10 – Dio/Bain
Tracks 2,3 – Dio/Aldridge/Bain
Tracks 5,6 – Dio/Bain/Goldy
Track 8 – Dio/Goldy
Credits
Ronnie James Dio – Vocals
Doug Aldrich – Guitars
Jimmy Bain – Bass, Keyboards
Simon Wright – Drums
Scott Warren – Keyboards on "Before the Fall"
King Harbour Children's Choir – Background vocals on "Throw Away Children"
Produced by Ronnie James Dio
Engineered by Wyn Davis
Recorded & Mixed at Total Access – Redondo Beach, CA
2002 Original Mastering by Eddy Schreyer
2019 Remastering by Wyn Davis
Catalogue Numbers
CD Spitfire SPT-15199-2 (US 2002)
CD Spitfire SPITCD199 (UK 2002)
CD Spitfire SPT-15211-2 (US 2002 – Tour Edition)
CD Daydream DD0237 (GER 2008)
LP Night of the Vinyl Dead NIGHT054 (EUR 2009)
LP Niji NEG005 (US 2011 – Picture Disc)
CD Niji 538488730 (USA 2020)
LP BMG BMGCAT388LP (USA 2020)
Links
Notes
The Tour Edition contains the two live tracks mentioned above, plus the music video for "Push", as well as a PC screensaver.  These last two items are only available as the "CD Extra" part of the disc, and require a PC to access.
The track "Push" was originally legally available as a free full download from the Spitfire website.  That was removed somewhere along the line, though.
The Special Edition is a single CD disc, the additional audio tracks are just tacked on the end.
The track "Throw Away Children" was originally supposed to be a charity song like "Stars" was with different vocalists, and whatnot.  The intended beneficiary of the charity piece was called "Children of the Night".  They exist to protect runaway children from prostitution.  Ronnie & Wendy supported this charity for a long time, but very much under the radar.  Anyway, the charity song thing didn't happen, and the song ended up on this album instead. Here's an explanation:
It was also important for Dio to express his somber emotions in "Throw Away Children." The vocalist originally composed the song for The Children of the Night, a charity that Dio is closely associated with, whose mission is to rescue children from the ravages of street prostitution. Although he originally intended the song to be recorded in the same fashion as "Stars" [heavy metal's answer to "We Are The World"], with various vocalists sharing the verses and guitarists sharing solos, "the powers that be deemed the song too depressing."
"The song has to portray the truth and the truth is that children are out there being pimped, getting addicted to drugs, and dying of AIDS," says Dio. "It is a heartfelt song that I had to include on the album." The song includes an appearance by the King's Harbor Church Children's Choir. "When they began singing, the hair stood up on the back of my neck and our drummer, Simon Wright, had a tear in his eye," admits Dio.
The 2020 re-releases totally changed the cover art for the CD revision, but not for the vinyl (either in the base art or the lenticular art card).  Why one format and not the other, I don't know.  The new art is available in the vinyl as a separate paper insert, however. It is unclear why the art was changed, but someone I asked postulated the theory that.. "symbolic I'd say. Dragon was Ronnie's cancer, and now Murray has slain it.".   Interesting theory, but if I find hard info as to why the change, I'll update.  You can see the image below in the photos section.
Images
The 2020 2 CD version had different cover art.  You can see that art below.  The 2020 vinyl version, however, uses the original artwork.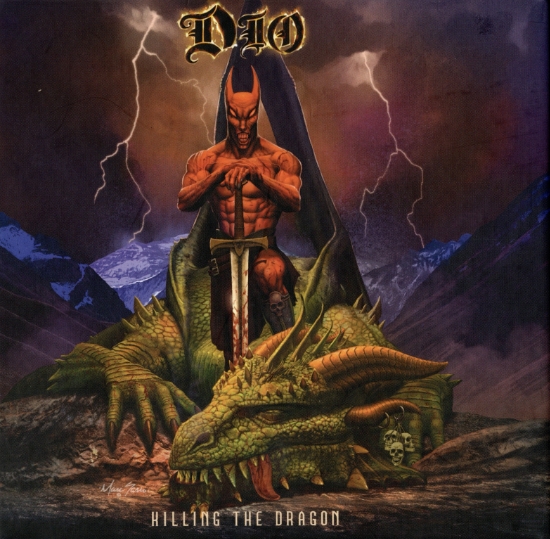 Video