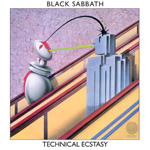 Released September 25, 1976 (US), Oct 8, 1976 (UK)
Re-Released February 7, 1996
Re-Released April 27, 2004 (Black Box)
Re-Released September 16, 2009
[ Lyrics | Tour Dates ]

2009 CD [ Amazon UK | Amazon US ]
2004 Black Box [ Amazon US | Amazon UK ] | 1996 CD [ Amazon US | Amazon UK ]
MP3 [ Amazon UK ] | Original CD [ Amazon US | Amazon UK ]


 Track Listing
Back Street Kids
You Won't Change Me
It's Alright
Gypsy
All Moving Parts (Stand Still)
Rock 'N' Roll Doctor
She's Gone
Dirty Women
Writing Credits
All songs written and arranged by Black Sabbath
Credits
Ozzy Osbourne – Vocals
Tony Iommi – Guitar
Geezer Butler – Bass
Bill Ward – Drums
Gerald "Jezz" Woodruffe – Keyboards
Mike Lewis – Strings on "She's Gone"
Produced by Robin Black
Engineered by Rock Black & Spock Wall
Recorded & Mixed at Criteria Studios (Miami, FL) by Tony Iommi & Robin Black
Also Recorded at Sounds Interchange, Toronto Canada
1976 Mastering by Bob Hata & Tony Iommi
1996 Remaster by Ray Staff @ Whitfield St Studios
1996 Design, Booklet notes, & sleeves by Hugh Gilmour
2009 Remaster by Andy Pearce & Matt Wortham @ Wired Masters
2009 Project Management – Jon Richards
2009 Project Consultants – Steve Hammonds & Hugh Gilmour
2009 Sleeve Notes by Malcolm Dome
2009 Design by Hugh Gilmour
2012 Digital Remaster by Andy Pearce & Matt Wortham
2012 Vinyl Mastering by Greg Moore @ Masterpiece
Catalogue Numbers
LP Vertigo 9124-100 (UK 1976)
CASS Vertigo 7131-001 (EUR 1976)
LP Warner Bros BS-2969 (US 1976)
CASS Warner Bros M5-2969 (US 1976)
LP Vertigo 9102-750 (UK 1976)
LP Vertigo LP55-5638 (YUG 1976)
CD Vertigo 9102-750BE (UK 1982)
LP Vertigo 910-275-0 (UK 1983)
CD Warner Bros 2969-2 (US 1987)
CD Vertigo 838-224-2 (UK 1989)
CD Essential ESMCD-328 (UK 1996)
CD Castle CMTCD030 (UK 2000)
LP Sanctuary CMHLP243 (UK 2001)
CD Sanctuary SMRCD037 (EUR 2004)
LP Earmark 41027 (IT 2004)
LP Earmark 41027P (IT 2004 – Picture Disc)
CD Rhino R2-72923-G (US 2004 – Black Box)
CD Universal UICY-94190 (JPN 2009)
CD Universal 2716550 (UK 2009)
LP Sanctuary 864067 (UK 2009)
CD Universal UICY-25124 (JPN 2011)
LP Sanctuary 3715300 (UK 2012) – "Vinyl Collection"
Notes
Bill Ward sings lead vocals on It's Alright.
It's Alright was later covered by the 90's rock band "Guns 'N Roses".  You can hear a sound sample of this version on the iTunes page for that album. (iTunes not required).
There are music videos for It's Alright and Rock and Roll Doctor. However, they're just staged live footage with overdubbed music; they're not conceptual.
Some versions of the album have Back Street Kids & All Moving Parts switched around – no idea why.
When Bill Ward was asked about who wrote It's Alright (which he sung), he replied with this: "I wrote most of "Its Alright" Tony worked out the solo part backing and solo, Geezer added bass and all of himself to the song. Ozzy liked the song also and supported me, as I did the vocals. I hope that clears up the argument."
In Feb 2008, Dan Marsicano published an article called "What the Hell happened to Technical Ecstasy", in which he examines why this album is not as popular as it is.   Dan has given permission for the article to be replicated on this site; you can read it here.
The 1995 videogame "Rise of the Triad" had one of it's levels named after this album by Apogee staffer and Black Sabbath webmaster Joe Siegler.  The title was called "Technical Ecstasy".  In the words of Joe, "The level was full of robots, so I named it Technical Ecstasy."  A picture of the title screen for that level can be seen below.
Images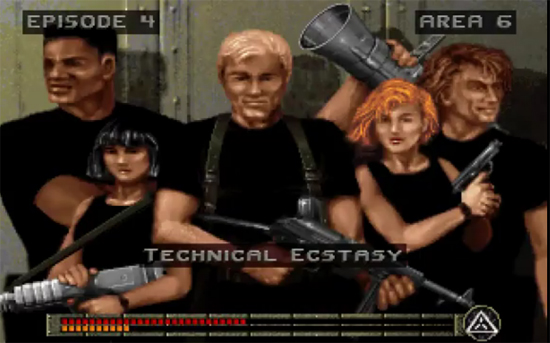 The following image is the original back cover image.  Was altered for various releases (vinyl/cd/etc).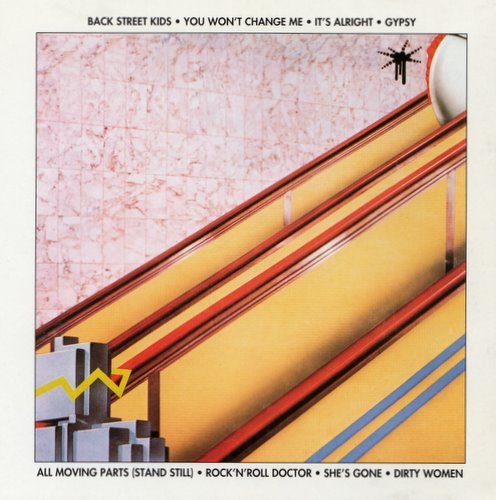 The following are a few CD back cover images.  In order, The original 1987 US CD, the 1996 Castle Remaster, and the 2009 Universal Remaster.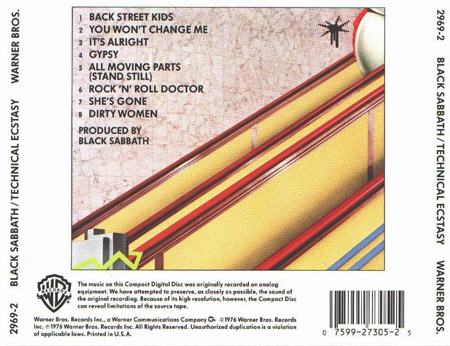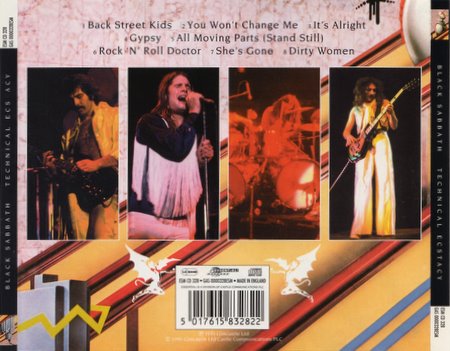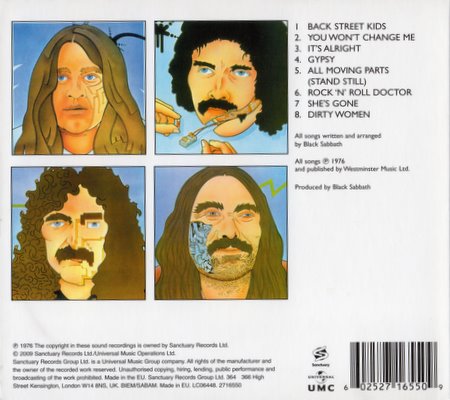 Finally is this coverage image from the original US cassette tape release of the album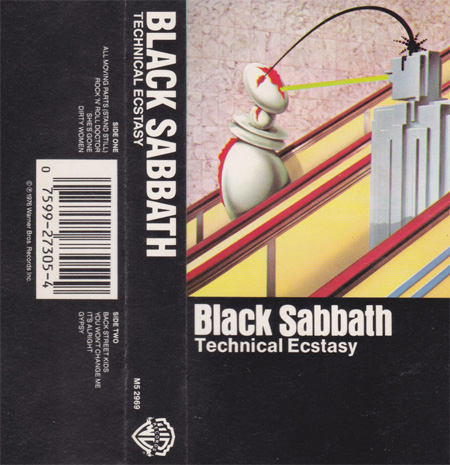 Video


NOTE: These lyrics are verified against the lyrics that appear in the "Black Box" booklet. Those lyrics were gone over by Geezer Butler (who wrote most of them anyway) for that set, and for that reason should be considered definitive.
Back Street Kids
I'm just another back street kid
Rock 'n roll music is the only thing I really dig
Can't stop the music going round inside my head
I'm a rock 'n roll soldier, gonna play it until I'm dead
Nobody I know is gonna take my rock 'n roll away from me
Sitting in the back seat of a shiny limousine
Living in a taxi can't remember where I've been
Playing my music, sitting in my hotel room
Writing about the stars and thinking about the hand of doom
Nobody I know will ever take my rock 'n roll away from me
Living life comes easy if you know which way you're going
Got to see yourself in others' eyes, surprised?
Living like I want to don't come easy, but I'm trying
Sorting out what's true and what are lies, it's wise
Brought up in a back street living with the salt of the land
Seems that now my music's paying off my tax demands
So listen to the music, want to see you getting so high
'Cause I'm a back street rocker and I will be till the day I die
Nobody I know will ever take my rock 'n roll away from me
You Won't Change Me
I'm just a man and I am what I am
Nobody will ever change my ways
I don't need money and I don't need no lies
I only need to live for today
But I'd like to talk things over with you
I want to hear the things you say, today
Although you won't change me anyway, oh no way
I wish you'd come and see me, I'd like to hold you
I want to set my mind all free
You understand me woman, you give me time
But I don't need no sympathy
Still I wonder what it's like to be loved
Instead of hiding in myself
Nobody will change me anyway, no no way
Nobody's gonna change my world
That's something too unreal
Nobody will change the way I feel
So listen to me now hear what I say
Please give me time and maybe love
If there's a God up there, well I hope he helps me
I need him now to set me free
'Cause it may be that it's over for me
If you don't hear the things that I say, today
Nobody will change me anyway, no no way
Nobody's gonna change my world, that's something too unreal
Nobody will change the way I feel
It's Alright
Told you once about your friends and neighbours
They were always seeking but they'll never find it
It's alright, yes it's alright
Where to go and where to see
It's always been this way and it can never be
It's alright, yes it's alright
Give it all and ask no return
And very soon you'll see and you'll begin to learn
That's it's alright, yes it's alright
Don't you know that it's so good for you
You can be making love and see it all go through
But it's alright, yes it's alright
Gypsy
Watched the universe at the end of another day
Fatalistic ships from a distant shore
In the back of my mind I could feel she was standing there
Like the feeling you have
When you've been there before
She was a gypsy woman
She was as cold as the day
She said I'd got it coming
And then she took me away
She took me through the shadows of her sunken dream
I thought it's over for me, she wasn't all she seemed
She took my hand and then she started to speak
She told me she'd had the call
With eyes of fire that were burning my soul
She looked into her crystal ball
She read my fortune then she read my mind
She didn't like my thoughts at all
She showed me shadows, a spectre of life
My soul just wanted to scream
She stared so deeply into my eyes
That's when I fell into a dream
When I awoke in bed she lay beside me
And she read me with her eyes, she said
So you wanna be a gypsy, come on now
Gypsy woman you're the devil in drag
You are the queen of all hell
You took my body, now you're wasting my soul
You've got me under your spell
And as the sun shines on another day
You're gonna take my mind as well, it's over
So you wanna be a gypsy, come on now
All Moving Parts (Stand Still)
Super animation, turning on a nation
And they're saying all moving parts stand still
Since he was elected, adrenalin injected
Hear him saying all moving parts should kill
Just like the hero he's got them all on the run
Yes he's won
Since he passed the motion
They're building in the ocean
And he's saying all men should all be free
What a combination, peace and radiation
And he's saying free men should fight for me
Just like his momma, he seems to get his pleasure from pain
And the rain, ain't that strange?
Very strange
I like choking toys
You've got to see me before you meet the boys
Teacher's burnt the school
He's had enough of sticking to the rules
People stop and see
He's got to be more decadent than me
Just to pass the time
He gets his kicks from licking off the wine
Pretty silly ladies
All Cynthia's and Sadie's
Call him and he takes their numbers down
Says he is a woman
Should have seen it coming
And she's saying she's married to a clown
Just like a lady she'll keep you guessing through the night
Not tonight, well I might, oh alright!
Rock 'n' Roll Doctor
Well I'm sick and tired of hearing 'bout the
world and it's hangups
Gonna get myself together
Take a ride downtown
Gotta see my Rock 'n' Roll doctor
Gotta see my Rock 'n' Roll doctor
Gotta see my Rock 'n' Roll doctor
Gotta see him, see him today
He's gonna blow me away
He makes me happy when I'm feeling down
Take away my worry takes away my frown
Gotta see my Rock 'n' Roll doctor
Gotta see my Rock 'n' Roll doctor
Gotta see my Rock 'n' Roll doctor
Gotta see him, see him today
He's gonna blow me away
If you wanna feel groovy
Give the doctor a call
Doctor rock will help you anytime at all
Gotta see my Rock 'n' Roll doctor
Gotta see my Rock 'n' Roll doctor
Gotta see my Rock 'n' Roll doctor
Gotta see him, see him today
He's gonna blow me away
She's Gone
I've been a long long time, waiting for you
I didn't want to see you go
And now it's hurting so much, what can I do?
I wanted you to be my wife
The days are passing slowly, since you've gone
Your memories are all I have
I sit here waiting but you'll never show
Without you I can't carry on
You said you'd always love me, all of my life
And then you said your last goodbye
Why the sudden change, why all the lies?
I should have seen it in your eyes
The endless hours of heartache, waiting for you
My summer love has turned to rain, oh the pain
The silent emptiness of one-sided love
My life means nothing now you're gone
Dirty Women
The neon lights are shining on me again
I walk the lonely streets in search of a friend
I need a lady to help me to get through the night, through the night
If I could find her, then everything would feel alright
The sleepy city is dreaming the night time away
Out on the street I watch tomorrow becoming today
I see a man he's got take away women for sale, yes for sale
Guess that's the answer
Cause take away women don't fail
Oh dirty women, they don't mess around
Oh dirty women, they don't mess around
You've got me coming
You've got me going around
Oh dirty women, they don't mess around
Walking the streets I wonder will it ever happen
Gotta be good 'cause then everything will be o.k.
If I could score tonight then I will end up laughing
A woman for sale is gonna help me save my day