1976-1977 Technical Ecstasy Tour
World tour to support the "Technical Ecstasy" album.
Dates and research compiled by Joe Siegler & Robert Dwyer.
If you'd like to use any of this text for non-commercial purposes, please obtain permission first.
Commercial utilization of this work in whole or in part is prohibited!
If you have an update to one of the dates below, please help keep the list accurate by telling us!
Touring Personnel
Ozzy Osbourne – Vocals
Tony Iommi – Guitar
Geezer Butler – Bass
Bill Ward – Drums
Jezz Woodruffe – Keyboards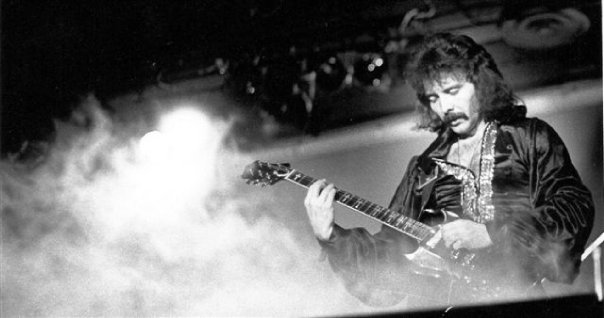 Typical Set List
Symptom of the Universe
Snowblind
All Moving Parts (Stand Still)
War Pigs
Gypsy
Black Sabbath
Dirty Women
Drum Solo
Guitar Solo
Rock & Roll Doctor
Electric Funeral
Iron Man
Embryo / Children of the Grave
Paranoid
N.I.B.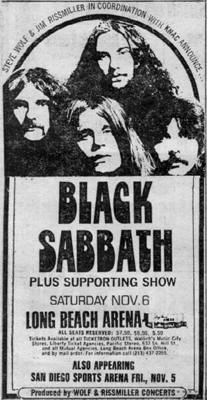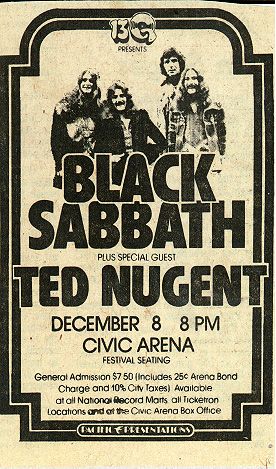 Date
Location
Venue
Other Bands / Openers
Notes

Sep 25 1976

Technical Ecstasy is released in the US

Oct 08 1976

Technical Ecstasy Released in the UK

Oct 14 1976

Portland

Memorial Coliseum Complex (Portland Coliseum)

Edgar Winter's White Trash

Unconfirmed

Oct 22 1976

Tulsa

Assembly Center

Boston, Moxy

First date of Technical Ecstasy Tour

Oct 23 1976

Houston, TX

Sam Houston Coliseum

Boston

Oct 24 1976

San Antonio, TX

San Antonio Convention Center Arena

Boston, Moxy

Oct 26 1976

Dallas, TX

Dallas Convention Center

Boston

Oct 28 1976

Des Moines, IA

Veterans Memorial Coliseum

Boston

Oct 29 1976

Lincoln, NE

Pershing Auditorium

Boston

Oct 30 1976

Kansas City, MO

Soldiers' and Sailors' Memorial Hall

Target

[ Concert Reviews ]

Oct 31 1976

Denver, CO

McNichols Sports Arena

Boston, Heart

5th Annual Halloween Show

Nov 01 1976

Phoenix, AZ

Veterans Memorial Coliseum

Unconfirmed

Nov 02 1976

San Bernardino, CA

Swing Auditorium

Nov 03 1976

Santa Monica, CA

Santa Monica Civic Center

Unconfirmed

Nov 05 1976

San Diego, CA

San Diego Sports Arena

Bob Seger

Nov 06 1976

Long Beach, CA

Long Beach Arena

Target

Nov 09 1976

Fresno, CA

Selland Arena

Boston, Bob Seger & The Silver Bullet Band

Nov 11 1976

Portland, OR

Memorial Coliseum Complex

Nov 12 1976

Spokane, WA

Spokane Coliseum

Nov 15 1976

Seattle, WA

Seattle Center Arena

Target

Unconfirmed

Nov 23 1976

Knoxville, TN

Knoxville Civic Coliseum?

Bob Seger, Target

Nov 24 1976

Chicago, IL

International Amphitheatre

Target

Black Oak Arkansas & Tommy Bolin Band were advertised, but did not play

Nov 25 1976

Chicago, IL

International Amphitheatre

Mother's Finest

Nov 25 1976

Charleston, SC

Charleston Civic Center

Black Oak Arkansas

Unconfirmed – Unlikely

Nov 26 1976

Detroit, MI

Cobo Arena

Black Oak Arkansas (featuring Ruby Starr), Target

Nov 28 1976

Cleveland, OH

Richfield Coliseum

Boston

Nov 30 1976

Kalamazoo

Wings Stadium

Mother's Finest, Climax Blues Band

Dec 01 1976

Providence, RI

Providence Civic Center – Brown Auditorium

Montrose

Unconfirmed

Dec 03 1976

Boston, MA

Boston Music Hall

Ted Nugent, Mother's Finest

Dec 04 1976

Philadelphia, PA

The Spectrum

Ted Nugent, Mother's Finest

Dec 06 1976

New York City, NY

Madison Square Garden

Ted Nugent

Dec 08 1976

Pittsburgh, PA

Civic Arena

Ted Nugent

Dec 09 1976

Largo (Landover), MD

Capital Centre

Ted Nugent

Dec 10 1976

Niagara Falls

Niagara Falls Convention Center

Ted Nugent

Dec 11 1976

New Haven, CT

Veterans Memorial Coliseum

Ted Nugent

Dec 12 1976

Syracuse, NY

War Memorial

Ted Nugent

Jan 19 1977

Nottingham

CANCELLED

Jan 20 1977

Manchester

CANCELLED

Jan 20 1977

Miami, FL

Jai Alai Fronton Hall

Jan 23 1977

Leeds

Leeds University (?)

CANCELLED

Jan 25 1977

Birmingham, AL

Boutwell Auditorium

Target

Jan 26 1977

Atlanta, GA

The Omni

Ted Nugent, Target

Jan 28 1977

Memphis, TN

Mid South Coliseum

Target

Jan 29 1977

Charlotte, NC

Charlotte Coliseum

Target, Dr. Hook

Jan 30 1977

Fayetteville, AR

Cumberland County Arena

Target, Dr. Hook

Feb 04 1977

Cincinnati, OH

Riverfront Coliseum

Target, Bob Seger & The Silver Bullet Band

[ Concert Reviews ]

Feb 06 1977

Erie, PA

Erie Fieldhouse

Target

Feb 07 1977

Salem, VA

Salem Civic Center

Target, Bob Seger & The Silver Bullet Band

[ Concert Reviews ]

Feb 08 1977

Columbus, OH

Columbus Veterans Memorial

Target

Feb 09 1977

Nashville, TN

Nashville Municipal Auditorium

Feb 11 1977

Terre Haute

Indiana State University – Hullman Civic University Center

Feb 12 1977

St. Louis, MO

Keil Auditorium

Target

Unconfirmed

Feb 13 1977

Springfield, MA

Hammons Center

Target

Feb 14 1977

Indianapolis, IN

Market Square Arena

Journey, Target

Feb 15 1977

Fort Wayne

Fort Wayne Memorial Coliseum

Journey, Target

Feb 16 1977

Little Rock

Barton Coliseum

Unconfirmed

Feb 18 1977

Lexington, KY

Rupp Arena Theater – Lexington Center

Journey, Target

Feb 20 1977

San Francisco, CA

Winterland Ballroom

Feb 23 1977

Inglewood (Los Angeles), CA

Great Western Forum?

Unconfirmed

Mar 02 1977

Glasgow

The Apollo Theater

Nutz

Mar 04 1977

Newcastle-Upon-Tyne

Newcastle City Hall

Nutz

Mar 06 1977

Stafford

New Bingley Hall – County Showground

Nutz

Mar 07 1977

Liverpool

Empire Theater

Nutz

Mar 09 1977

Cardiff

Capitol Theatre

Nutz

Mar 10 1977

Southampton

Gaumont Theatre

Nutz

Mar 12 1977

London

Hammersmith Odeon

Nutz

Mar 13 1977

London

Hammersmith Odeon

Nutz

Mar 14 1977

London

Hammersmith Odeon

Nutz

Mar 15 1977

London

Hammersmith Odeon

Nutz

Apr 05 1977

Paris

Pavillon De Paris

AC/DC

Apr 06 1977

Colmar

Parc Des Expositions

AC/DC

Apr 07 1977

Offenbach

Stadthalle

Ian Gillan Band, AC/DC, Doctors Of Madness, The Commodores

Easter Rock Festival

Apr 09 1977

Koln (Cologne)

Sporthalle

Ian Gillan Band, AC/DC, Jane

Apr 10 1977

Nürnberg (Nuremberg)

Messezentrum

Ian Gillan Band, AC/DC, John McLaughlin's Shakti, Caravan, Jane, The Commodores

Apr 11 1977

Ludwigshafen

Friedrich-Ebert-Halle

Ian Gillan Band, AC/DC, John McLaughlin's Shakti, Caravan, Doctors Of Madness

Apr 13 1977

Geneva

Salle Des Fetes de Thonex Chemin Tronchet Geneva

AC/DC

Apr 14 1977

Zurich

Volkshaus

AC/DC

Apr 15 1977

Odense

AC/DC

Unconfirmed

Apr 16 1977

Brussels

Cirque Royal (Royal Circus)

AC/DC

Apr 17 1977

Amsterdam

De Nieuwe Rai

AC/DC

Apr 18 1977

Hamburg

Ernst Merck Halle

AC/DC

Apr 19 1977

København (Copenhagen)

Falkoner Teatret (Falkoner Theater)

AC/DC

Apr 21 1977

Lund

Olympen

AC/DC

The "Killing Yourself to Die" Bootleg show

Apr 22 1977

Göteborg (Gothenburg)

Scandinavium

AC/DC

Last date of Technical Ecstasy Tour

Apr 23 1977

Oslo

Njardhalle

AC/DC

CANCELLED

Apr 26 1977

Stockholm

Concerthalle

AC/DC

CANCELLED

Apr 26 1977

London

AC/DC

CANCELLED

Apr 26 1977

Helsinki

Kulttuuritalo

AC/DC

CANCELLED