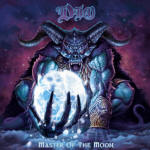 Released August 30, 2004 (UK/Europe)
Released August 31, 2004 (US/North America)
Re-Released Feb 21, 2020 (2CD/Vinyl, UK/EU)
Re-Released Mar 20, 2020 (2CD/Vinyl US/NA)

2020 2CD: [ Amazon US | Amazon UK ]
2020 Vinyl [ Amazon US | Amazon UK ]
CD [ Amazon US | Amazon UK ]
MP3 [ Amazon US | Amazon UK ] | iTunes (US)


Track Listing
Disc 1
One More for the Road
Master of the Moon
The End of the World
Shivers
The Man Who Would Be King
The Eyes
Living the Lie
I Am
Death by Love
In Dreams
The Prisoner of Paradise (Japanese CD only)
Disc 2 (2020 Release Only)
Recorded Live on the Master of the Moon Tour 2004-2005
Heaven and Hell
Rainbow in the Dark
Rock and Roll Children
The Eyes
Prisoner of Paradise (Studio, on 2020 version this is on Disc 2, not Disc 1)
Writing Credits
Lyrics & Melodies by Ronnie James Dio
Credits
Ronnie James Dio – Vocals
Craig Goldie – Guitars
Jeff Pilson – Bass
Simon Wright – Drums
Scott Warren – Keyboards
Produced by Ronnie James Dio
Engineered by Wyn Davis
Recorded & Mixed at Total Access, Redondo Beach, CA
Illustrations by Marc Sasso
2004 Original mastering by Eddy Schreyer
2019 Remaster by Wyn Davis (Released in 2020)
Catalogue Numbers
CD Sanctuary 06076-8473-2R (US 2004)
CD Steamhammer SPV 8569912 (EUR 2004)
LP Steamhammer SPV 69911 (GER 2004)
CD Victor VICP-62982 (JPN 2005)
CD Niji BMGCAT3902CD (USA 2020)
LP BMG BMGCAT390LP (USA 2020)
Links
Notes
Recording started in January of 2004, although writing had been going on for some time before that.
Was originally going to be Part 2 of 3 of a trilogy of Magica albums.  Why that was dropped for this release is unknown.
The studio album has Jeff Pilson on bass, but he had other commitments, and was replaced for the live dates by Rudy Sarzo.
Some versions of the cover art have a red Dio logo.  That version was used for pre-release promotional items, the final version has the more common "Blue" Dio logo.  The red one, however, was also used as the Japanese CD cover art.
The red & blue Dio logo covers are exactly the same, save for the difference in the color of the Dio logo.