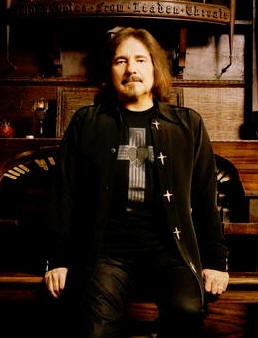 This picture is a 2009 promo picture for the "The Devil you Know" album.

Infomation
Real Name: Terence Michael Joseph Butler
Birthdate: July 17, 1949
Birthplace: Aston, Birmingham, England
Band Position: Bass Guitar
Started in Band: 1968 – Founding Member
Left Band: Mid 1984 after attempt with Dave Donato
Returned to Band: Mid 1990
Left Band: Fall 1994
Returned to Band: Spring 1997
Album Apperances: Black Sabbath through Born Again, Dehumanizer through Cross Purposes Live, plus Sabbath Stones, Reunion, Live at Hammersmith, Live at Radio City Music Hall, The Devil You Know, & Neon Nights: 30 Years of Heaven & Hell
Other Bands: Geezer Butler Band (aka G//Z/R or Geezer), Ozzy Osbourne Band, Rare Breed
Links
NOTE:
Here's an email from Geezer about the basses he used in the 70's:
I used Laney amps and Laney cabinets [mainly 4×12] in the early 70's; I gradually switched to various pre-amps going through Crown power amps and custom built JBL speaker cabinets. I started off with a Fender Precision bass, but was forced to switch to a Dan Armstrong plexiglass bass when someone in Canadian customs chopped up my Fender [its a long story]. After that, i had custom made John Birch and Jaydee basses, and occasional Rickenbackers.
Geezer.