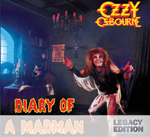 Released November 7, 1981
Re-Released August 22, 1995
Re-Released April 2, 2002
Re-Released May 31, 2011

1995 CD [ Amazon US | Amazon UK ] | 2002 CD [ Amazon US | Amazon UK ]
2011 Legacy Edition CD [ Amazon US | Amazon UK ] 2011 Single CD [ Amazon UK ]
2011 Legacy Edition MP3 [ Amazon US ] | 2011 Single CD MP3 [ Amazon UK ]
2011 Blizzard/Diary Deluxe Edition Box Set [ Ozzy Direct ] | 2011 iTunes (US)

Track Listing
Disc 1
Over The Mountain
Flying High Again
You Can't Kill Rock And Roll
Believer
Little Dolls
Tonight
S.A.T.O.
Diary Of A Madman
I Don't Know Live (2002 Version Only)
Disc 2 (2011 Legacy Edition Only – Named "Ozzy Live")
I Don't Know
Crazy Train
Believer
Mr. Crowley
Flying High Again
Revelation (Mother Earth)
Steal Away (The Night)
Suicide Solution
Iron Man
Children of the Grave
Paranoid
 Writing Credits
All songs by Osbourne, Rhoads, Daisley
Credits
Ozzy Osbourne – Vocals
Randy Rhoads – Guitar
Bob Daisley – Bass
Robert Trujillo – Bass (2002 version – studio tracks only)
Rudy Sarzo – Bass (2011 Disc 2 Only)
Lee Kerslake – Drums
Mike Bordin – Drums (2002 version – studio tracks only)
Tommy Aldridge – Drums (2011 Disc 2 Only)
Johnny Cook – Keyboards
Don Airey – Keyboards (2011 Disc 2 Only)
Catalogue Numbers
LP Jet FZ 37492 (US 1981)
LP Jet JETLP 237 (UK 1981)
LP CBS 25AP 2237 (JPN 1981)
CD Jet ZK 37492 (US 1987)
CD Epic EPC 463086 2 (EUR 1991)
CD Epic 67236 (US 1995)
CD Epic 481677 2 (EUR 1995)
CD Epic EK 85249 (US 2002)
CD Epic EPC 502041 2 (UK 2002)
CD Sony EICP 780 (JPN 2007)
LP Epic/Legacy 88697 86665 1 (US 2011)
CD Epic/Legacy 88697 73821 2 (US 2011)
Notes
The original version of this album lists the recording personnel as Ozzy/Randy/Don Airey/Rudy Sarzo/Tommy Aldridge, but Sarzo & Aldridge didn't play anything on the album – something they duplicated on Whitesnake's 1987 CD.  Sarzo & Aldridge are credited, but the bass & drum bits were played by Bob Daisley & Lee Kerslake.
The Live version of I Don't Know on the 2002 version originally appeared as a B-Side to the "Flying High Again" single.  It did not appear on the 2011 version.
There is a widely spread and believed story that this album was recorded at the same time Blizzard of Ozz was.  It was not – they were recorded separately.
After recording the album (but before it was released), Bob Daisley & Lee Kerslake were fired, and Rudy Sarzo & Tommy Aldridge's pictures were put on the album as having played on it – they didn't.
Same thing goes for Don Airey.  For the longest time it was assumed by this website's author that it was Don Airey, but in Oct 2005 it was discovered it was really Johnny Cook, not Don Airey who played keyboards on this album.
The 2011 version of this album was released in the US as a 2 disc "Legacy Edition".  In Europe that version was released too, however, a single disc with just the studio album was also released.
S.A.T.O. 's original name was "Strange Voyage".  After Bob Daisley was fired, the song was renamed to "S.A.T.O.", which stands for Sharon Ardon / Thelma Osbourne.  Not "Sailing Across the Ocean".
Thelma also designed the outfits on the cover art; she was still married to him at this point.
The cover art layout (both front and back) was designed by Steve "Krusher" Joule, who also did Black Sabbath's Born Again album a couple of years later.
Links