1994 Cross Purposes Tour
World Tour to support the "Cross Purposes" album.
Dates and research compiled by Joe Siegler & Robert Dwyer.
If you'd like to use any of this text for non-commercial purposes, please obtain permission first.
Commercial utilization of this work in whole or in part is prohibited!
If you have an update to one of the dates below, please help keep the list accurate by telling us!
Touring Personnel
Tony Martin – Vocals
Tony Iommi – Guitar
Geezer Butler – Bass
Bobby Rondinelli – Drums
Bill Ward – Drums (South America Only, Aug 27 – Sep 3)
Geoff Nicholls – Keyboards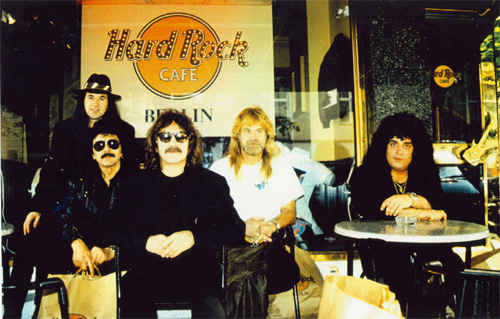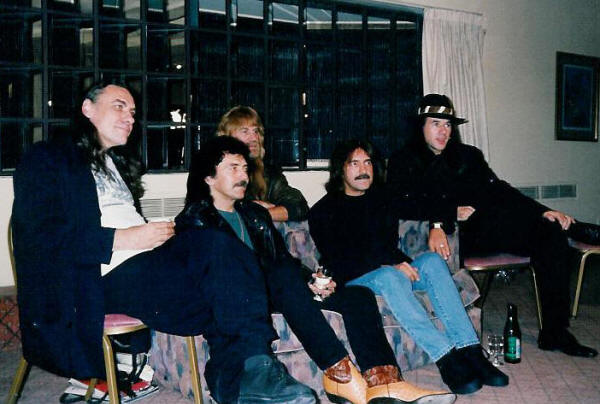 Typical Set List
Supertzar
Time Machine
Children of the Grave
Children of the Sea
I Witness
The Mob Rules
Into the Void
Psychophobia
Black Sabbath
Neon Knights
Immaculate Deception (Anno Mundi in U.K. & When Death Calls in Europe)
The Wizard
Cross of Thorns
Symptom of the Universe
Drum Solo
Headless Cross
Paranoid
Iron Man (Encore)
Sabbath Bloody Sabbath (Encore)
Dying for Love (Taped Outro)
Tour Notes
Iron Man was not originally part of the set list, the band tried dropping it, but due to popular demand, it was added back later on.
Immaculate Deception was later replaced with something else on the tour, it didn't survive the entire tour.
The set list was shorter when they did the gigs with Bill Ward.
The set list scan image at the bottom of this page was from the Buenos Aires gig in Argentina on Sep 3.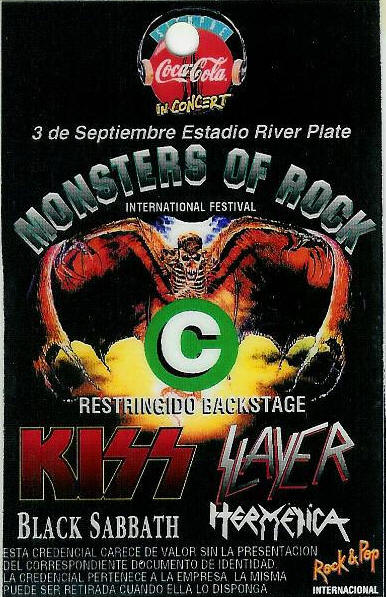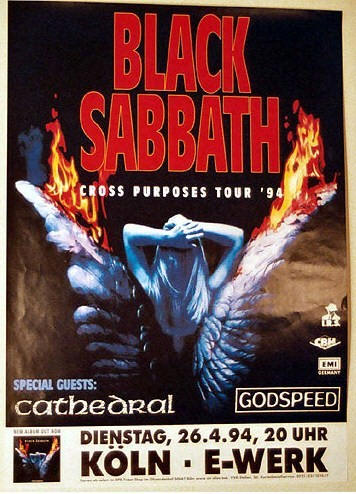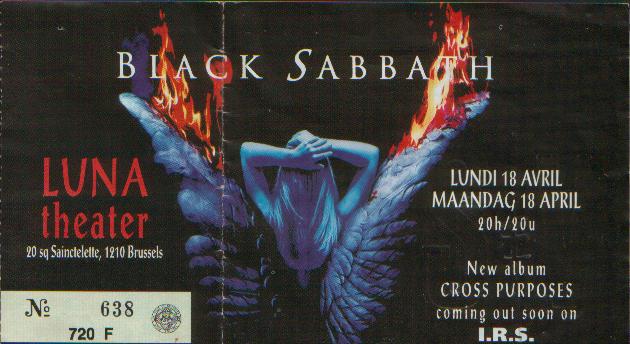 Date
Location
Venue
Other Bands / Openers
Notes

Feb 08 1994

Cross Purposes Released in the US

Feb 08 1994

First date on the Cross Purposes Tour

Feb 08 1994

New Britain

The Sting

Motorhead, Morbid Angel

Feb 09 1994

New Haven, CT

Toad's Place

Motorhead, Morbid Angel

Feb 11 1994

Boston, MA

Orpheum Theater

Motorhead, Morbid Angel

Feb 12 1994

Montreal

Metropolis Center

Motorhead, Morbid Angel

Feb 13 1994

Mississauga

The World Niteclub

Motorhead, Morbid Angel

Feb 15 1994

New York City, NY

Roseland Ballroom

Motorhead, Morbid Angel

Feb 16 1994

College Park, MD

University Of Maryland – Ritchie Coliseum

Motorhead, Morbid Angel

Feb 18 1994

Upper Darby, PA

Tower Theater

Motorhead, Morbid Angel (canceled)

Billed as Philadelphia

Feb 19 1994

Cleveland, OH

Agora Theatre

Motorhead, Morbid Angel

Feb 20 1994

Columbus, OH

Newport Music Hall

Motorhead, Morbid Angel

Feb 22 1994

Kalamazoo

State Theater

Motorhead, Morbid Angel

Feb 23 1994

Detroit, MI

State Theater

Motorhead, Morbid Angel

Feb 25 1994

Chicago, IL

Aragon Ballroom

Motorhead, Morbid Angel

Feb 26 1994

Milwaukee, WI

Eagles Ballroom

Motorhead, Morbid Angel

[ Concert Reviews ]

Feb 27 1994

St. Paul

The Forum

Motorhead, Morbid Angel

Mar 01 1994

Denver, CO

Paramount Theater

Motorhead, Morbid Angel

Mar 02 1994

San Diego, CA

Crosby Hall

Motorhead, Morbid Angel

Unconfirmed

Mar 03 1994

San Jose, CA

San Jose State University – Events Center

Motorhead, Morbid Angel

Mar 04 1994

Los Angeles, CA

Universal Amihitheater

Motorhead (canceled?), Morbid Angel

Mar 06 1994

El Paso, TX

El Paso County Coliseum

Motorhead, Morbid Angel

Mar 08 1994

Dallas, TX

The Bomb Factory

Motorhead, Morbid Angel

Mar 09 1994

Houston, TX

Bayou City Theatre

Motorhead, Morbid Angel

Mar 10 1994

New Orleans, LA

Keifer UNO Lakefront Arena

Motorhead, Morbid Angel

Mar 12 1994

Jacksonville, FL

The Edge

Motorhead, Morbid Angel

Mar 13 1994

Sunrise, FL

Sunrise Musical Theater

Motorhead, Morbid Angel

Last US Show on Tour

Mar 20 1994

Rehs

Canceled?

Mar 21 1994

Yokohama Japan

Yokohama Landmark Theater

Mar 22 1994

Tokyo

Nakano Sun Plaza Hall

Mar 22 1994

Nagoya

Club Quattro?

Mar 26 1994

Osaka

Koseinenkin (Festival) Hall

Mar 27 1994

Tokyo

Shinyuku Koseinekin Hall

Apr 11 1994

Manchester

Labatts Apollo

Apr 12 1994

Wolverhampton

Civic Hall

Cathedral, Godspeed

Apr 13 1994

London

Hammersmith Odeon

Cathedral, Godspeed

Apr 13 1994

London gig recorded and released as Cross Purposes Live VHS & CD.

Apr 14 1994

Newport

Leisure Center

Apr 16 1994

Paris

Elysée-Montmarte

Apr 18 1994

Brussels

Luna Theater

Apr 19 1994

Utrecht

Muziekcentrum Vredenburg

Godspeed, Cathedral

Apr 20 1994

Hamburg

Docks Konzerte

Godspeed, Cathedral

Apr 21 1994

Hamburg

Docks Konzerte

Godspeed, Cathedral

Apr 23 1994

Magdeburg

AMO

Apr 24 1994

Hannover

Music Halle

Godspeed, Cathedral

Apr 25 1994

Osnabruck

Stadthalle

Apr 26 1994

Koln (Cologne)

E-Werk

Apr 28 1994

Dortmund

Westfalenhalle

Apr 29 1994

Erfurt

Thuringerhalle

Apr 30 1994

Berlin

Huxley's Neue Welt

Godspeed, Cathedral

May 02 1994

Fürth

Stadthalle

May 03 1994

Ludwigshafen

Friedrich-Ebert-Halle

May 04 1994

Offenbach

Stadthalle

May 06 1994

Hof

Freiheitshalle

May 08 1994

Völklingen

Sporthalle

May 09 1994

Stuttgart

Kongress Zentrum B

May 10 1994

Munich

Terminal 1

May 12 1994

Budapest

Sporthalle

May 14 1994

Ostrava

Sporthalle

May 15 1994

Zabrze

Hala Makoszowy

Godspeed, Cathedral

May 16 1994

Prague

Sportovní Hala

May 18 1994

Fulda

Richthalle

May 19 1994

Leipzig

Haus Auensee

May 21 1994

Lienz

Tennishalle

May 23 1994

Florence

Palasport

Cathedral, Godspeed

May 24 1994

Milan

City Square

Cathedral, Godspeed

May 26 1994

Vienna

BA Zelt

May 27 1994

Salzburg

Sportshalle

May 28 1994

Zurich

Sportzentrum Wettlingen

Jun 11 1994

Seinajoki

Provinssi Rock Festival

Last gig with Bobby Rondinelli

Aug 26 1994

Sao Paulo Press Conference @ Maksoud Plaza, hosted by Philips

Aug 27 1994

Sao Paulo

Pacaembu Stadium

Kiss (HL), Slayer, Suicidal Tendencies, Angra, Dr. Sin, Viper, Raimundos. (Sabbath played before Slayer and Kiss)

Philips Monsters of Rock Festival 94 – With Bill Ward on Drums

Sep 01 1994

Santiago, Chile

Centro Cultural Estación Mapocho

Kiss (HL), Slayer, Tumulto, Suicidal Tendencies [cancelled]

With Bill Ward on drums. Filmed for Chilean TV

Sep 03 1994

Buenos Aires

Estadio Monumental de River Plate (River Plate Stadium)

Kiss (HL), Slayer, Hermética, Gatos Sucios, Suicidal Tendencies (?), Manowar [cancelled]

With Bill Ward on drums. Filmed and televised on Argentinian TV.

Sep 04 1994

Buenos Aires

Estadio Monumental de River Plate (River Plate Stadium)

Kiss (HL), Slayer, Hermética, Gatos Sucios, Suicidal Tendencies (?), Manowar [cancelled]

With Bill Ward on drums

Sep 04 1994

Last gig on the Cross Purposes Tour