2010 "Fuck Cancer" Tour
Was supposed to be a warmup tour before the recording of a new album
Dates and research compiled by Joe Siegler & Robert Dwyer.
If you'd like to use any of this text for non-commercial purposes, please obtain permission first.
Commercial utilization of this work in whole or in part is prohibited!
If you have an update to one of the dates below, please help keep the list accurate by telling us!
Touring Band
Well, it was supposed to be this:
Ronnie James Dio – Vocals
Tony Iommi – Guitar
Geezer Butler – Bass
Vinny Appice  – Drums
Scott Warren – Keyboards
Unfortunately, Ronnie James Dio's cancer problems and later death caused the cancellation of the tour.  It was a bit of an eyebrow raiser when the dates were announced, as Ronnie was undergoing treatments already.  However, the band seemed confident at the time it would come off.  On May 4th 2010, Heaven & Hell issued the following statement:
"We have to announce that all forthcoming Heaven & Hell European shows have been canceled as sadly Ronnie isn't well enough to tour this summer. We hope that everyone understands and want to thank fans and industry colleagues for their continuing support at this time."
Sadly, Ronnie died on May 16th.  About a month later, on June 15th, it was announced that one of the previously announced concerts was still going to happen; the one on July 24th.  It was officially billed as "Heaven & Hell", but had Glenn Hughes & Jorn Lande on vocals in place of the late Ronnie James Dio.  That concert was filmed, but when/if it gets released is unknown.  Rumor has it that Wendy Dio wasn't happy with Jorn Lande, and has buried the concert as a result, but that's just rumor.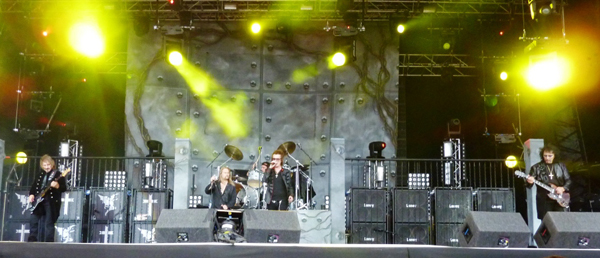 Date
Location
Venue
Other Bands / Openers
Notes

May 04

Entire Tour is cancelled due to Ronnie James Dio's continuing battle with stomach cancer.

May 16

Ronnie James Dio dies at age 67 in Houston, TX

Jun 13

Burgenland, Austria

Pannonia Fields – Nova Rock Festival

[ Concert Reviews ]
Cancelled due to illness

Jun 15

It is announced that the Jul 24 gig will still happen as "Heaven & Hell", but with Glenn Hughes & Jorn Lande as vocalists.

Jun 18

Zurich, Switzerland

Jonschwil Degenaupark

[ Concert Reviews ]
Cancelled due to illness

Jun 19

Prague, Czech Republic

Mimon Airport

[ Concert Reviews ]
Cancelled due to illness

Jun 22

Sofia, Bulgaria

Levski Stadium

[ Concert Reviews ]
Cancelled due to illness

Jun 26

Bucharest, Romania

La Katarg

[ Concert Reviews ]
Cancelled due to illness

Jun 27

Istanbul, Turkey

Sonisphere Festival

[ Concert Reviews ]
Cancelled due to illness

Jul 01

Rome, Italy

Ippodromo delle Capannelle

[ Concert Reviews ]
Cancelled due to illness

Jul 03

Milan, Italy

Alcatraz

[ Concert Reviews ]
Cancelled due to illness

Jul 04

Pordenone, Italy

Pordenone Fiera

[ Concert Reviews ]
Cancelled due to illness

Jul 06

Barcelona, Spain

Sala Razzmatazz

[ Concert Reviews ]
Cancelled due to illness

Jul 08

Lisbon, Portugal

Optimus Alive Festival

[ Concert Reviews ]
Cancelled due to illness

Jul 10

Barcelona, Spain

The Forum

[ Concert Reviews ]
Cancelled due to illness

Jul 24

London

Victoria Park – High Voltage Festival

[ Concert Reviews ]


Final gig ever for "Heaven & Hell"


Glenn Hughes & Jorn Lande on Vocals

Aug 01

Heerhugowaard, Netherlands

Waerdse Tempel

[ Concert Reviews ]
Cancelled due to illness

Aug 07

Stockholm, Sweden

Stora Skuggan

[ Concert Reviews ]
Cancelled due to illness

Aug 08

Pori, Finland

Kirjurinluoto

[ Concert Reviews ]
Cancelled due to illness

Aug 11

Bergen, Norway

Koengen

[ Concert Reviews ]
Cancelled due to illness

Aug 15

London, England

Bloodstock Metal Festival

[ Concert Reviews ]
Cancelled due to illness
NOTE: "Fuck Cancer" is not the official band sponsored name of the tour.
It was my own joke idea in lieu of an official tour name from the band. :)