CD (Amazon US | Amazon UK)
MP3 (Amazon US | Amazon UK) | iTunes (US)

Track Listing
Catatonic Eclipse
Drive Boy, Shooting
Giving Up the Ghost
Plastic Planet
The Invisible
Seance Fiction
House of Clouds
Detective 27
X13
Sci-Clone
Cycle of Sixty
Drive Boy, Shooting (Live, Japan Only)
Detective 27 (Live, Japan Only)
House of Clouds (Live, Japan Only)
Writing Credits
Music by Geezer Butler & Pedro Howse
Lyrics by Geezer Butler
Credits
Geezer Butler – Bass & Keyboards
Burton C. Bell – Vocals
Deen Castronovo – Drums
Pedro Howse – Guitars
Produced by Geezer Butler & Paul Northfield
Engineered & Mixed by Paul Northfield
Recorded at Long View Farm Studios
Originally Mastered at Bernie Grundman Mastering by Brian Gardner
Catalogue Numbers
CD TVT 6010-2 (US 1995)
CD Raw Power RAWCD105 (UK 1995)
CD Victor VICP-5764 (JPN 1995)
Notes
On this album, the band is being marketed as "G//Z/R".  On Black Science it was "Geezer", and on Ohmwork, it was "GZR".
Burton C. Bell normally sings for the band Fear Factory.
Giving up the Ghost is allegedly about the Spirit of Black Sabbath & Tony Iommi.
"The Invisible" appeared in a slightly remixed version on the soundtrack to the movie "Mortal Kombat", although the song didn't actually appear in the movie itself.
I asked Geezer Butler via email if the lyrics to Cycle of Sixty were about worshipping the actual sun, or the "Son of God – Jesus Christ".  He replied back that Pedro Howse wrote those lyrics, so I asked Pedro the same question.  He replied back with…  "yes geezer is right it is worship the sun and, it was from a diary of chinese mysticism that someone gave to me at the time of the recording of PP. It was about the turning of the seasons if i remember correctly and, i had this little guitar idea and, they kinda went well together so we put it on the end of the record. Also the bells you hear are wind chimes from outside the recording studio. When we had finished we went outside for a smoke and a few beers and, those wind chimes were chiming away for us so we took them into the studio and, recorded them."
The three Geezer Butler "solo" albums were re-released digitally in March 2020.  At that time, all three were rebranded as just "Geezer Butler" vs the names they had before (G//Z/R, Geezer, or GZR).  At the same time, they got an artwork refresh, you can see the 2020 digital artwork below.
Images
This image is the sticker that was on the outside of the jewel case when the CD was bought originally: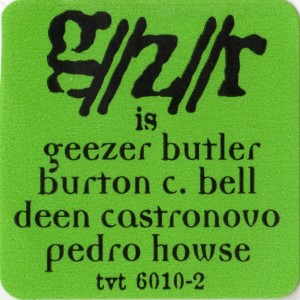 Links