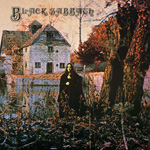 Released February 13, 1970 (UK), June 30, 1970 (US)
Re-Released February 28, 1996
Re-Released April 27, 2004 (Black Box – Disc 1)
Re-Released Jun 29, 2009 (2 CD Deluxe Edition)
[ Album Lyrics | Tour Dates ]


Original CD (Amazon US) – 1996 Remaster CD (Amazon US | Amazon UK)
2004 Remaster (Black Box – Amazon US)
2001 Vinyl (Amazon UK) – 2010 Vinyl (Amazon US Only)
2009 Deluxe Edition CD (Amazon UK only)
MP3: Original Release (Amazon UK) – 2009 Deluxe Edition (Amazon UK Only)
[ MP3 Radio Advert for this album from 1970 ]

Track Listing
Well, this depends on what version you have. The different versions vary insofar as the names of the songs go, but only one main difference exists that I'm aware of. The European version has "Evil Woman" as the first song of side two, whereas the US version has Wicked World instead. The 1996 Castle remaster has both of these songs on it. The 2004 version on Black Box is even more convoluted.  Then the 2009 Deluxe Edition muddies it up a bit by having multiple discs.  :)
European Original
Black Sabbath
The Wizard
Behind the Wall of Sleep
N.I.B.
Evil Woman
Sleeping Village
Warning
US/Warner Original
Black Sabbath
The Wizard
Behind the Wall of Sleep *
N.I.B. @
Wicked World
Sleeping Village %
Warning
* – The intro to Behind the Wall of Sleep is called Wasp.
@ – The intro to N.I.B. is called Basically.
% – The intro to Sleeping Village is called A Bit of Finger.
1996 Castle Remaster
Black Sabbath
The Wizard
Behind the Wall of Sleep
N.I.B.
Evil Woman
Sleeping Village
Warning
Wicked World
The 96 Castle release was the first one to put both Evil Woman & Wicked World on there together.
2004 Remaster (Black Box)
Black Sabbath
The Wizard
Wasp / Behind the Wall of Sleep / Bassically / N.I.B.
Wicked World
A Bit of Finger / Sleeping Village / Warning
Evil Woman
2009 Deluxe Edition
Disc 1
Black Sabbath
The Wizard
Behind the Wall of Sleep
N.I.B.
Evil Woman
Sleeping Village
Warning
Disc 2
Wicked World
Black Sabbath (Studio Outtake)
Black Sabbath (Instrumental)
The Wizard (Studio Outtake)
Behind the Wall of Sleep (Studio Outtake)
N.I.B. (Instrumental)
Evil Woman (Alternate Version – Horns)
Sleeping Village (Intro)
Warning (Part 1)
There is actually one more version, but I'm not listing it because it's not that widespread, and it's not that big of a deal. That is the 1980's Castle version. It's the same as the European version, except it has an extra live track which came from the "Live at Last" album tacked on to the end.

Writing Credits
All selections written by Iommi/Osborne/Butler/Ward, except
Evil Woman by Wiegard/Wiegard/Waggenor
Warning by Aynsley Dunbar
Other Credits
Tony Iommi – Lead Guitar & Keyboards
Geezer Butler – Bass
Ozzy Osbourne – Vocals (Spelled Ossie Osbourne on the original print)
Bill Ward – Drums
Roger Bain – Producer (for Tony Hall Enterprises)
Tom Allom & Barry Sheffield – Engineers
2012 Digital Remaster by Andy Pearce & Matt Wortham
2012 Vinyl Mastering by Greg Moore @ Masterpiece
Catalogue Numbers
LP Warner 1871-2 (US 1970)
LP Vertigo V06 (UK 13 Feb 1970)
CASS Warner M5 1871 (USK 1970)
CASS Vertigo 7138-001 (UK 1970)
LP Warner Bros WS 1871 (Canada)
LP WWA WWA 006 (UK Dec 1973)
LP Nems NEL 6002 (UK Jan 1976)
LP Nems NEL 6017 (UK 1980)
LP Vertigo 832702-1
MC RCA MC F7420 (1980)
MC Vertigo 832702-4
CD Vertigo 832702-2
CD Warner Bros 1871-2
CD Castle CLACD196 (UK 1996)
CD Essential/Castle ESMCD301 (UK 1996) – Remastered
CD Sanctuary SMRCD031 (UK 2004)
CD Warner/Rhino R2 73923-A (US 2004) – Black Box
CD Sanctuary 2700817 (UK 2009 2 CD)
LP Warner Bros WS ???? (US 2010)
CD Universal UICY-20038 (JPN 2011)
LP Sanctuary 3711479 (UK 2012)
Notes
The original release is somewhat rare. It was done on double LP sleeve, with the left sleeve glued up. Inside, the background is black. On the left hand side are the words Black Sabbath (the Sabbath spills over on to the right sleeve.) On the right sleeve is an inverted cross. On the inside of the cross is a short poem that appears below.
On the second release, the sleeve is the same as the original release, except that the sleeve background is white.
NIB does not stand for "Nativity in Black".  It is a reference to a nickname the band had for Bill Ward's beard at the time, a "pen nib".
Evil Woman is a cover song – it was originally done by a band called "Crow"
Warning is a cover song – it was originally done by "Ansley Dunbar's Retaliation"  (That's the Ansley Dunbar of early Journey fame)
Supposedly recorded Nov 17, 1969.
Geezer Butler had this to say to a fan via email when asked what bass guitars he played on the first two Black Sabbath records:  "Hello Steve, on the first two albums I used a P-bass. On the first album i used a Laney 70 watt guitar amp through a Park 4×12 cabinet [it only had three speakers in it- couldn't afford to buy a 4th speaker]. Strings were probably old Rotosound, as I think that was the only choice in those days. They were roundwound but were so old they probably sounded like flatwounds. I'm not sure what amplification I used on Paranoid, but it was probably Laney, and newer Rotosounds. Thank you for your interest, Geezer."
The 2012 vinyl remaster corrected the original error on the inner sleeve from 1970 where Ozzy was spelled "Ossie".
The original working title for "The Wizard" was "Sign of the Sorcerer".
Poem
Still falls the rain, the veils of darkness shroud the blackened trees, which contorted by some unseen violence, shed their tired leaves, and bend their boughs towards a grey earth of severed bird wings. among the grasses, poppies bleed before a gesticulating death, and young rabbits, born dead in traps, stand motionless, as though guarding the silence that surrounds and threatens to engulf all those that would listen. Mute birds, tired of repeating yesterdays terrors, huddle together in the recesses of dark corners, heads turned from the dead, black swan that floats upturned in a small pool in the hollow. there emerges from this pool a faint sensual mist, that traces its way upwards to caress the chipped feet of the headless martyr's statue, whose only achievement was to die to soon, and who couldn't wait to lose. the cataract of darkness form fully, the long black night begins, yet still, by the lake a young girl waits, unseeing she believes herself unseen, she smiles, faintly at the distant tolling bell, and the still falling rain.
Video Review
Here is a video review I recorded in August of 2009 for the 2 CD Deluxe Edition. A couple of small notes about my review..
The book I mention towards the end is not Mark Weiss, he was the photographer, I believe.
The poem from the original release *IS* here, but not the upside down cross. That was my error.

Artwork / Images
The images below are from a 1970 cassette release of this album on Vertigo in the UK
The images below are from a 1970 cassette release of this album by Warner Bros in the US I scanned myself
The images below are from some old 8 track releases of the first Black Sabbath album
The following images are from a 1976 Holland NEMS release of the first album.
Here are some pictures of the Mapledurham Watermill on the River Thames, which is used in the cover art for the album. Thanks to Hans-Ulrich Krell for the pics).
An original 1970 promo for the album's release..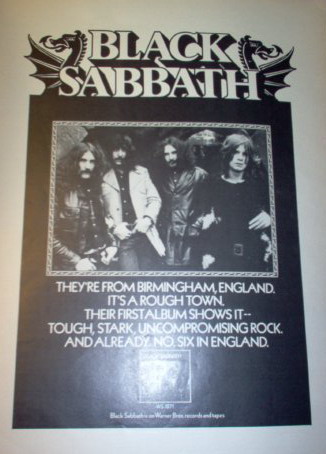 Video


NOTE: These lyrics are verified against the lyrics that appear in the "Black Box" booklet. Those lyrics were gone over by Geezer Butler (who wrote most of them anyway) for that set, and for that reason should be considered definitive.
Black Sabbath
What is this that stands before me?
Figure in black which points at me
Turn around quick, and start to run
Find out I'm the chosen one – Oh no!
Big black shape with eyes of fire
Telling people their desire
Satan's sitting there, he's smiling
Watch those flames get higher and higher
Oh no, no, please God help me!
Child cries out for his mother
Mother's screaming in the fire
Satan points at me again
Opens the door to push me in
Oh No!
This is the end my friend
Satan's coming 'round the bend
people running 'cause they're scared
You people better go and beware!
No! No! Please! No!
NOTE: Verse 3 is not commonly used.  It has only appeared on some bootlegs, and on the version of Black Sabbath that appears on Ozzy's "Ozzman Cometh" Greatest Hits album.
The Wizard
Misty morning
Clouds in the sky
Without warning
A wizard walks by
Casting his shadow
Weaving his spell
Flowing clothes
Tinkling bell
Never talking
Just keeps walking
Spreading his magic
Evil power disappears
Demons worry when the wizard is near
He turns tears into joy
Everyone's happy when the wizard walks by
Never talking
Just keeps walking
Spreading his magic
Sun is shining
Clouds have gone by
All the people
Give a happy sigh
He has passed by
Giving his sign
Left all the people
Feeling so fine
Never talking
Just keeps walking
Spreading his magic
Behind the Wall of Sleep
Visions cupped within a flower
Deadly petals with strange power
Faces shine a deadly smile
Look upon you at your trial
Chill and numbs from head to toe
Icy sun with frosty glow
Words that grow read to your sorrow
Words that grow read no tomorrow
Feel your spirit rise with the breeze
Feel your body falling to its knees
Sleeping wall of remorse
Turns your body to a corpse
Turns your body to a corpse
Turns your body to a corpse
Sleeping wall of remorse
Turns your body to a corpse
Now from darkness there springs light
Wall of Sleep is cool and bright
Wall of Sleep is lying broken
Sun shines in you have awoken
N.I.B.
Some people say my love cannot be true
Please believe me my love and I'll show you
I will give you those things you thought unreal
The sun the moon the stars all bear my seal
Follow me now and you will not regret
Leaving the life you led before we met
You are the first to have this love of mine
Forever with me 'till the end of time
Your love for me has just got to be real
Before you know the way I'm going to feel
I'm going to feel
I'm going to feel
Now I have you with me under my power
Our love grows stronger now with every hour
Look into my eyes you'll see who I am
My name is Lucifer please take my hand
Follow me now and you will not regret
Leaving the life you led before we met
You are the first to have this love of mine
Forever with me 'till the end of time
Your love for me has just got to be real
Before you know the way I'm going to feel
I'm going to feel
I'm going to feel
Now I have you with me under my power
Our love grows stronger now with every hour
Look into my eyes you'll see who I am
My name is Lucifer please take my hand
Wicked World
The world today is such a wicked place
Fighting going on between the human race
People got to work just to earn their bread
While people just across the sea are counting their dead
A politician's job they say is very high
For he has to choose who's got to go and die
They can put a man on the moon quite easy
while people here on Earth are dying of all diseases
A woman goes to work every day after day
She just goes to work just to earn her pay
Child sitting crying by a life that's harder
He doesn't even know who is his father
Sleeping Village
Red sun rising in the sky
Sleeping village, cock'rel's cry
Soft breeze blowing in the trees
Peace of mind, feel at ease
Warning
Now the first day that I met ya
I was looking in the sky
When the sun turned all a blur
And the thunderclouds rolled by
The sea began to shiver
And the wind began to moan
It must've been a sign for me
To leave you well alone
I was born without you, baby
But my feelings were a little bit too strong
You never said you love me
And I don't believe you can
Cause I saw you in a dream
And you were with another man
You looked so cool and casual
And I tried to look the same
But now I've gotten to know ya
Tell me who am I to blame?
I was born without you, baby
But my feelings were a little bit too strong
Now the whole wide world is movin'
Cause there's iron in my heart
I just can't keep from cryin'
Cause you say we've got to part
Sorrow grips my voice as I stand here all alone
And watch you slowly take away
A love I've never known
I was born without you, baby
But my feelings were a little bit too strong
Evil Woman
I see the look of evil in your eyes
Woman filling me all full of lies
Sorrow will not change your shameful deeds
You will pass someone else's bitter seed
Evil woman don't you play your games with me
Evil woman don't you play your games with me
Now I know just what you're looking for
You want me to claim this child you bore
Well you know that it must must not be
And you know the way it's got to be
Evil woman don't you play your games with me
Evil woman don't you play your games with
Evil woman don't you play your games with me
Evil woman, don't you play your games with me
Wickedness lies in your poisoned lips
Your body moves just like the crack of a whip
Blackness sleeps on top of your slate bed
Don't you wish that you could see me dead
Evil woman, don't you play your games with me
Evil woman, don't you play your games with me
Evil woman, don't you play your games with me
Evil woman, don't you play your games with me
Red sun rising in the sky
Sleeping village, cock'rel's cry
Soft breeze blowing in the trees
Peace of mind, feel at ease