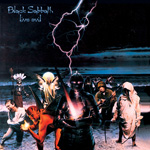 Released January 18, 1983
I'm pretty convinced it's Dec 1982, I just can't prove it.
Re-Released April 22, 1996
Re-Released July 22, 2008 (Rules of Hell)
Re-Released October 7, 2008
Re-Released April 5, 2010 (Deluxe)

2010 Deluxe Edition [ Amazon US | Amazon UK ]
2008 CD [ Amazon US ] | 2009 Vinyl [ Amazon US ] | 2011 Vinyl [ Amazon US ]
1996 CD [ Amazon US | Amazon UK ] | Original CD [ Amazon US | Amazon UK ]
MP3 [ Amazon US ] | Deluxe MP3 [ Amazon UK ] | iTunes (US)

Track Listing
E5150
Neon Knights
N.I.B.
Children of the Sea
Voodoo
Black Sabbath
War Pigs
Iron Man
The Mob Rules
Heaven & Hell
The Sign of the Southern Cross/Heaven & Hell (Continued)
Paranoid
Children of the Grave
Fluff
Writing Credits
Butler / Iommi – Track 1
Butler / Iommi / Dio – Track 2
Butler / Iommi / Osbourne / Ward – Tracks 3,6,7,8,12,13,14
Butler / Iommi / Dio / Ward – Track 4,10,11(2)
Butler / Iommi / Dio – Track 5,9,11(1)
Credits
Ronnie James Dio – Vocals (as Ronnie Dio on the original)
Tony Iommi – Guitar
Geezer Butler – Bass
Vinny Appice – Drums (misspelled as Vinnie on original)
Geoff Nicholls – Keyboards
Produced by Tony Iommi & Geezer Butler
Recorded live in Seattle, San Antonio, & Dallas
Recorded with The Record Plant Mobile, L.A.
Engineered by Lee De Carlo & Bill Freesh
Mobile Crew: Bill Hutcheson, Jim Scott, Scott Stogel
Mixed at The Record Plant, Los Angeles
Original CD mix by Lee De Carlo & Bill Freesh
1996 Remaster by Ray Staff @ Whitfield St Studios
1996 Design, booklet notes, and sleeves by Hugh Gilmour
2008 Remaster by Dan Hersch @ Digiprep
2008 Project Manager: Mason Williams
2008 Product Manager: Liz Erman
2008 Art Direction: Masaki Koike
2008 Design: Greg Allen
2010 Remaster by Andy Pearce
2010 Project Manager: Steve Hammonds
2010 Product Management: Jon Richards
2010 Art Direction & Design: Hugh Gilmour
2010 Sleeve notes by Steffan Chirazi
Catalogue Numbers
LP Warner 23742-1 (US 1982)
CASS Warner 23742-4 (US 1982)
LP Vertigo 6650-009 (NETH 1983)
LP Vertigo 6302-202 (GER 1983)
LP Vertigo SAB-10, 6650-009 (UK 1983)
CD Vertigo 826-881-2 (GER 1983)
CD Warner Bros 23742-2 (US 198?)
CD Teichiku TECW-35189 (JPN 1996)
CD Essential ESM-CD333 (UK 1996)
CD Sanctuary SMRCD074 (EUR 2004)
CD Rhino R2-460156 (US 2008 – Rules of Hell)
CD Rhino R2-460156-C (US 2008 – Individual Release)
LP Rhino 295855? (US 2009)
CD Universal 2733929 (UK 2010 – Deluxe)
CD Vertigo UICY-94476/77 (JPN 2010)
LP Rhino ?? (US 2011)
CD Universal UICY-25128 (JPN 2011)
Notes
The original 80's US CD version had 2 discs in 2 Jewel Cases. The extra space allowed for the inclusion of War Pigs from the vinyl version, which is not on the original Vertigo print.
The 1996 Castle Remaster of the CD is on a single disc, and does have all the tracks, but the in-between song banter of Ronnie is cut almost to zero, and Fluff is drastically cut off.
The 2008 & 2010 remasters have all of the cut of stuff restored.
Ronnie James Dio is listed as Ronnie Dio on the credits.
Vinny Appice was spelled Vinnie Appice on the credits.
Both Ronnie & Vinny are not listed as full members of the band. The band had already split up by this time this was released.
Track 4 was later re-released on 2007's "The Dio Years" greatest hits album in a remastered form.
Geezer Butler has referred to this album a few times in interviews as "Live in the Studio Evil", a reference to a lot of the overdubs on it.
The artwork was meant to signify several Black Sabbath song titles visually.  They are: Paranoid, Voodoo, Heaven & Hell, Neon Knights, N.I.B., Iron Man, War Pigs, Children of the Sea, & Mob Rules.
Images
This image is the cover art for the 2010 Deluxe Edition.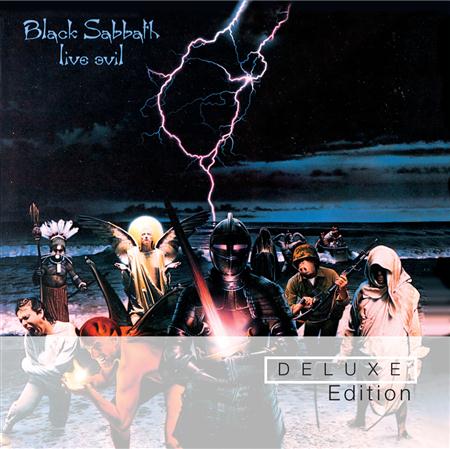 The following images are the back cover art.  The first is the vinyl original, then the CD back covers for the 1996 Castle version, the 2008 Rhino/Warner version, and the 2010 Deluxe Edition.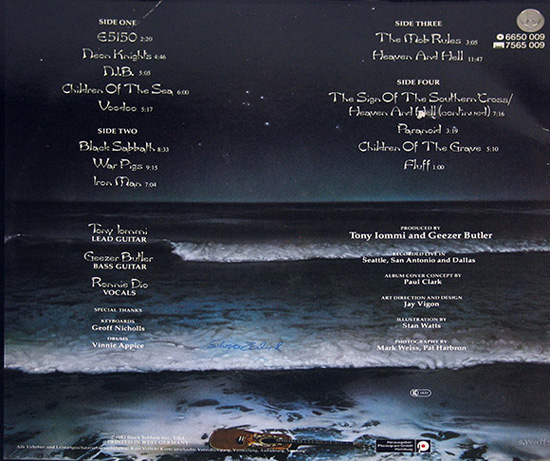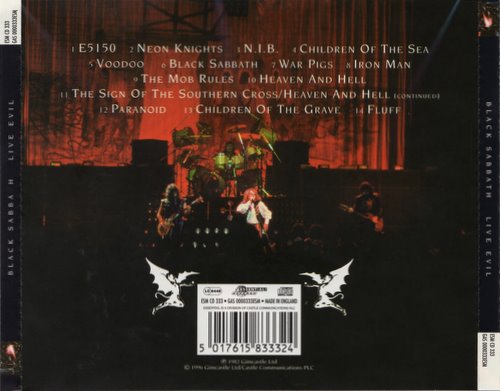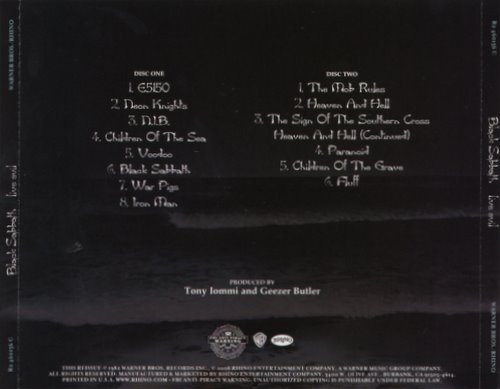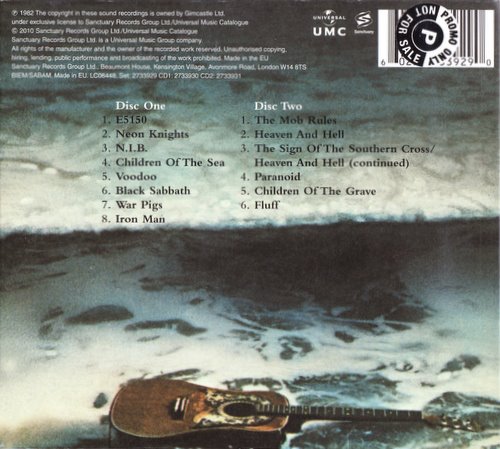 These next two images are what was inside the vinyl gatefold for the album's original release back in 1982.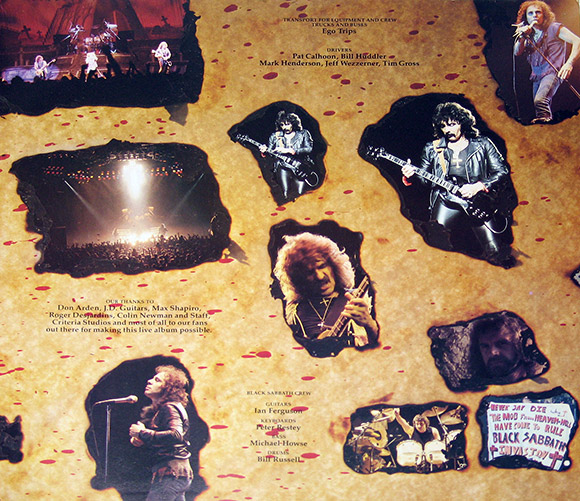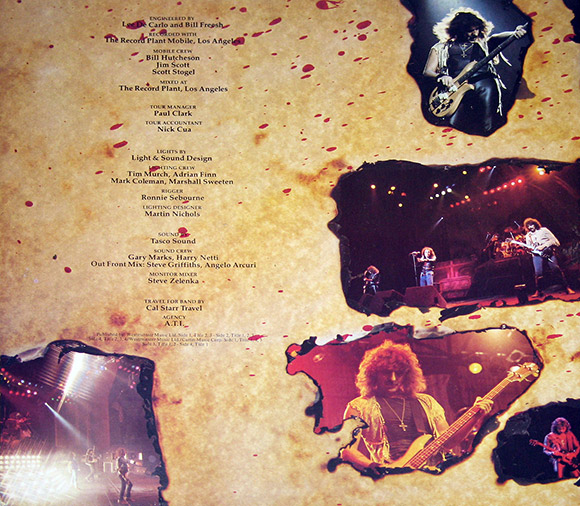 Finally, there's this image, which is a small picture of the CD longbox from the 80's when this kind of packaging was the style.