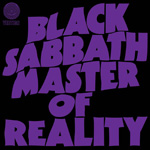 Released July 21, 1971
Re-Released March 5, 1996
Re-Released April 27, 2004 (Black Box)
Re-released June 29, 2009
[ Lyrics | Tour Dates ]

2009 Deluxe CD [ Amazon UK | Amazon US ] | 2010 Vinyl [ Amazon US  ]
1996 CD [ Amazon US | Amazon UK ] | 2004 CD [ Amazon US ]
Original CD [ Amazon US | Amazon UK ] | MP3 Deluxe [ Amazon UK ]

Track Listing
Sweet Leaf
After Forever / The Elegy
Embryo
Children of the Grave / The Haunting
Orchid
Lord of this World
Solitude
Into the Void / Deathmask
Disc 2 (2009 Deluxe Only)
Weevil Woman '71
Sweet Leaf [Studio Outtake – Alternate Lyrics]
After Forever [Studio Outtake – Instrumental]
Children of the Grave [Studio Outtake – Alternate Lyrics]
Children of the Grave [Studio Outtake – Instrumental]
Orchid [Studio Outtake]
Lord of this World [Studio Outtake]
Solitude [Studio Outtake – Alternate Version]
Spanish Sid (Early Version Of 'Into The Void') [Studio Outtake – Alternate Version]
Writing Credits
Tracks 1,4,6,7,8 by Iommi / Butler / Ward / Osbourne
Tracks 2,3,5 by Iommi
Credits
Ozzy Osbourne – Vocals
Tony Iommi – Guitar
Geezer Butler – Bass
Bill Ward – Drums
Produced by Rodger Bain for Tony Hall Enterprises
Engineered by Colin Caldwell & Vic Smith
Recorded at Island Studios in London from Feb-Apr 1971
Art Direction: Mike Stanford
Design by Bloomsbury Group
1987 CD Mastering by WCI Record Group
1996 Remaster by Ray Staff @ Whitfield St Studios
1996 Design, booklet notes, & sleeves by Hugh Gilmour
2009 Remaster by Andy Pearce
2009 Project coordination by Steve Hammonds & Jon Richards
2009 Design by Hugh Gilmour
2009 Tape to Digital Transfer by Tim Hunt
2012 Digital Remaster by Andy Pearce & Matt Wortham
2012 Vinyl Mastering by Greg Moore @ Masterpiece
Catalogue Numbers
LP Vertigo 6360-050 (UK 1971)
LP WWA WWA-008 (UK 1971)
CASS Vertigo 7138-033 (FRA 1971)
LP Warner Bros BS-2526 (US 1971)
8T Warner Bros 8WM-2562 (US 1971)
8T Warner Bros M-82562 (US 1971)
CASS Warner Bros M5-2562 (US 1971)
R2R Warner Bros WST-2562-B (US 1971)
LP Vertigo 6321-003 (FRA 1971)
LP Vertigo 12.002 (VEN 1972)
LP Vertigo NEMS 304.1061 (BRA 1976)
LP NEMS NEL-6004 (UK 1976)
LP Eurodisc 913195 (FRA 1976)
CASS RCA MC-F7419 (?? 1980)
LP NEMS 16L0145 (SPA 1981)
LP Victoria C-30.468/VLP-104 (SPA 1984)
CD Creative 6004-2 (UK 1985)
CD Castle NELCD6004 (GER 1985)
LP Castle CLALP198 (UK 1986)
CD Castle CLACD198 (UK 1986)
CD Warner Bros CD2562 (CAN 1987)
CD Warner Bros 2562-2 (US 1987)
CASS Jugodisk BDS-2112 (YUG 1987)
LP Jugodisk LPS-1115 (YUG 1987)
CD Castle CLC5037 (GER 1991)
LP SNC ME2051 (RUS 1993)
CD Essential ESMCD303 (UK 1996)
CD Castle CMTCD005 (UK 2000)
LP Sanctuary CMHLP178 (UK 2001)
LP Earmark 41001 (ITL 2003)
LP Earmark 41001P (ITL 2003 – Picture Disc)
CD Sanctuary SMRCD033 (UK 2004)
CD Rhino R2-73923-C (US 2004 – Black Box)
CD Strange Days POCE-1099 (JPN 2007)
CD Universal 2701106 (UK 2009)
CD Universal UICY-94183/4 (JPN 2009)
CD Sanctuary 2730325 (EUR 2010)
LP Rhino R1-2562 (US 2010)
CD Universal UICY-20106 (JPN 2011)
LP Sanctuary 3715288 (UK 2012)
Notes
This album had the secondary song titles like the first two albums did (and Volume 4 did after this).  However, the ones from Master of Reality were used less often than any of the others.  They are "The Elegy" (with After Forever), "Deathmask" (with Into the Void), and "The Haunting" (with Children of the Grave).
The original Warner Brothers prints of the album had some strangeness with Deathmask and being an individually labeled track.   Depending on which version you got, Deathmask had a running time as high as 3:08, which is arbitrary, as it falls in the middle of vocals in the song.  When it was corrected, the times were made worse, as Solitude was listed as an 8:08 song, and Into the Void at just 3:08.  Latter prints still had incorrect timings on the booklet, but the CD itself was properly spaced out.
The coughing at the beginning of Sweet Leaf is Tony Iommi right after he took a drag on a joint.
Some versions of the album report Embryo as a 5 minute song. This is incorrect. Embryo is a short instrumental right before the start of Children of the Grave.
Solitude had a working title of Changing Phases.
… and YES, it's Ozzy singing on Solitude.  NOT Bill Ward.
Cover Art Differences
As I was preparing the Fall 2011 revision to the site, I was looking over cover art, and was reminded there were several differences in cover art for Master of Reality.  As I had been talking with Hugh Gilmour recently, I thought to ask him.  Hugh was involved in the 1996 Castle remaster series, and the 2009-2011 Universal Remaster series.  Both times responsible for art design, so I figured he'd know a thing or two about it.  The story Hugh told me is below.  You can see many of these cover art variants in the images section below.  NOTE: The cover art used at the top of this page is from the 2009 Universal Deluxe Edition Remaster (purple & purple).
The original UK pressing on Vertigo is a relatively straight forward, simple design, but this record certainly has the most alterations and variations in comparison to any other Sabbath LP cover. The original UK pressing has a black sleeve, with "Black Sabbath" in purple, and then "Master Of Reality" embossed below it. The UK edition was housed in "box" style sleeve with a flap at the top, and as if to add some much needed colour, also came with a very nice poster of the band standing in a forest or wood, taken by Keef (who was responsible for photography for the first four Sabbath LPs). An alternative take from this photo session appears on the 1982 picture disc release of Paranoid. Unsurprisingly, few copies survive with posters intact, and can attract high prices when they are included. European versions also featured the same black and purple embossed cover design, but with more conventional sleeves. Original Japanese editions of the LP had the same design, but with the band name and title printed in white on a black background. These variations may have been due to production limitations in different territories, or possibly deliberate decisions made in these countries, but in my opinion it was simply due to misunderstanding or miscommunication between different countries. Now, virtually all design work is produced and supplied on computer, more often than not via an Apple Mac, but up until the early 1990s, designs were supplied to and by record companies as "flat artwork" with instructions for layout and colour added in writing on overlays of tracing paper of clear acetate. As artwork was often the last thing to be produced, after the record was in the can, it was regularly rushed to meet deadlines, then would have to be dispatched across the globe to different territories. Today, when artwork can be supplied on disc or via the internet, created using universally used programs, the room for error is small, and because of emails and the internet, approvals can be instant. This would not have been the case in 1971. In 1973, Black Sabbath's catalogue moved from Vertigo to the new WWA Records imprint. Evidently, it was still manufactured and produced by Phonogram (who also released Vertigo), as it was common to find old Vertigo sleeves with new WWA pressed vinyl, but with new WWA catalogue numbers stickered over the old Vertigo catalogue numbers. WWA's Master Of Reality still came with the poster, but the glossy sleeve was no longer embossed necessitating the title to be reproduced as an outline, otherwise it would not be visible. Original Brazilian pressings has the title in orange (and black, purple and orange is not a complimentary mix of tones), and later Brazilian pressings included an even more lurid mix of colours. Other variations include the title in white outline and the whole cover printed in black and purple (in US) and black and blue (in Canada). When I came to design the recent remasters for Universal, it was the non-embossed purple band and title in Purple on a black background we went for. Korean pressings featured the poster photo on the front, and apparently Master Of Reality was also issued as a gatefold sleeve in New Zealand, but I've never seen a copy.
Links
Images
The following are the back cover CD images for the 1986 Warner Bros original, the 1996 Castle Remaster, and the 2009 Universal Deluxe Edition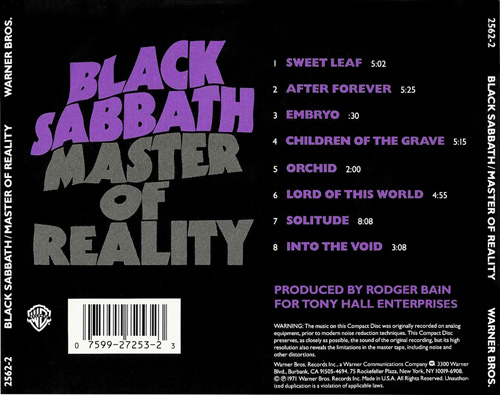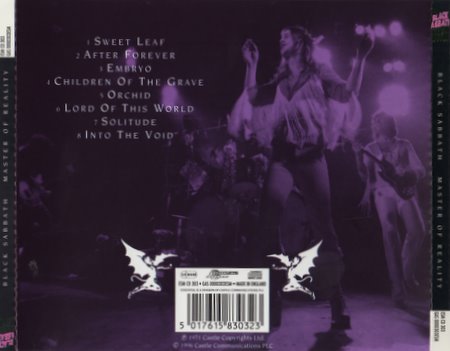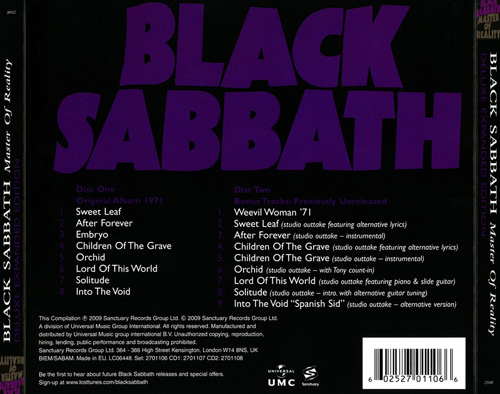 The following is the front cover image for the 2009 Universal Deluxe Edition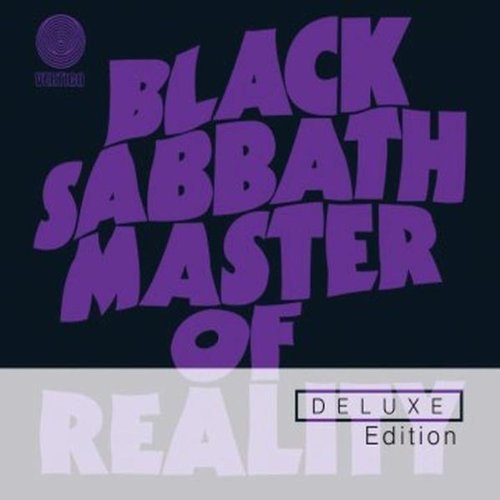 The following is the 2010 Rhino / Warner Bros vinyl re-release.  It shows the original raised "embossed" lettering used for "Master of Reality".  The true original vinyl looks like this (the vinyl in question has not held up well).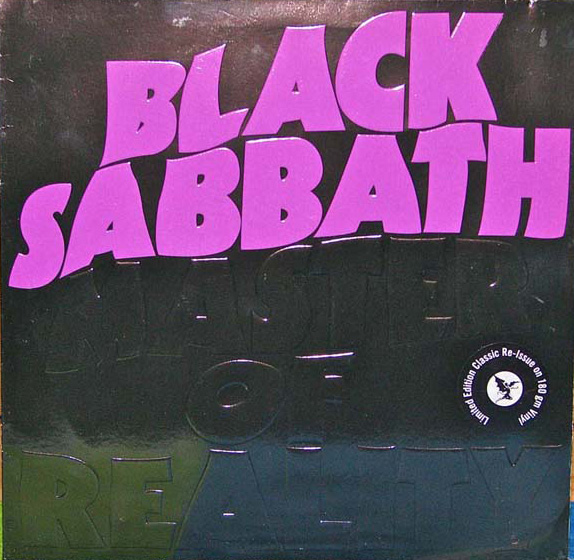 The following are images from the original 70's Warner Bros cassette tape release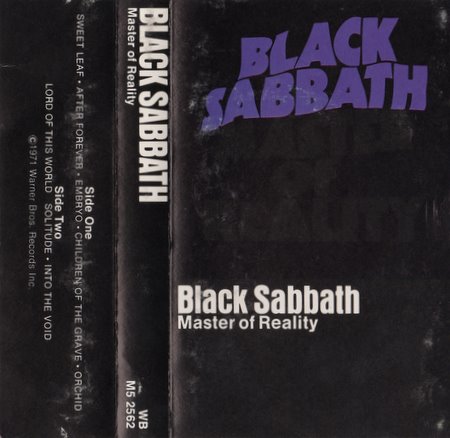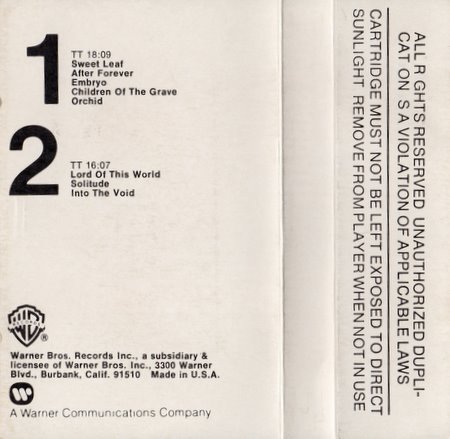 The following is a scan of a cassette tape sleeve from what I believe to be a Polish release of the album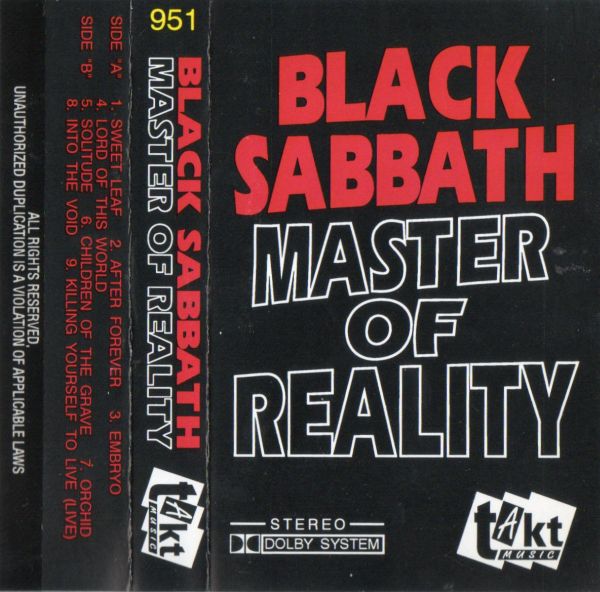 The remainder of these pictures are various cover variants for Master of Reality.  Several of which are referenced from Hugh Gilmour's story on cover art above.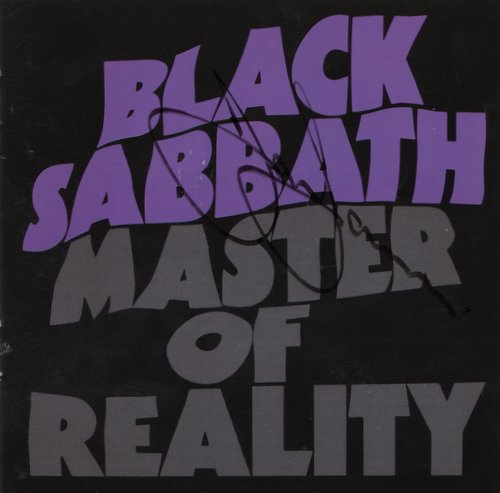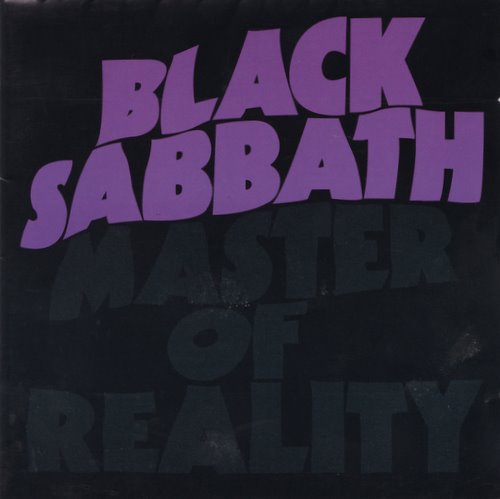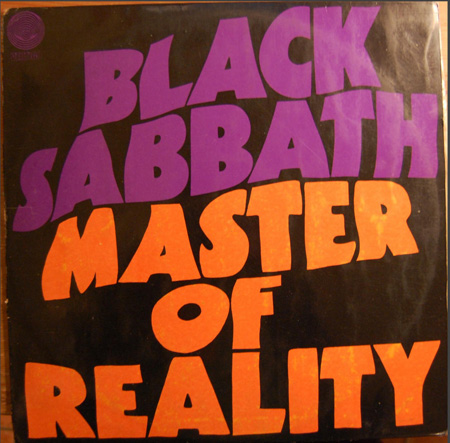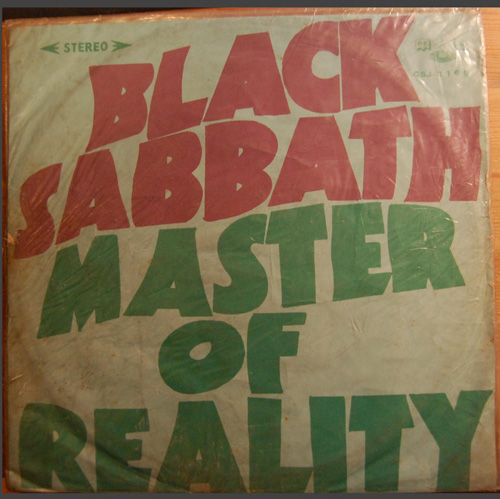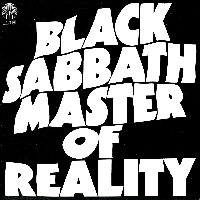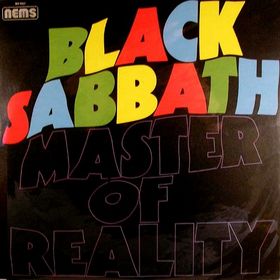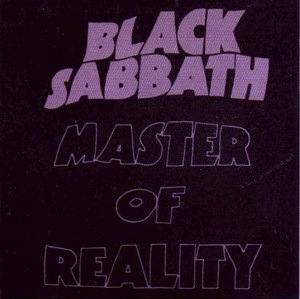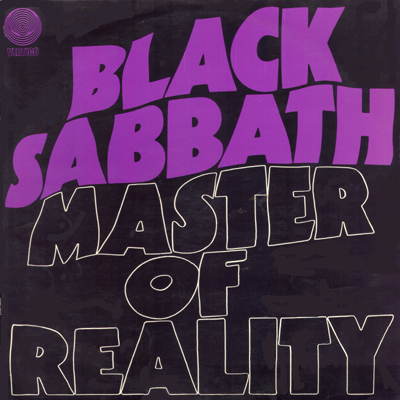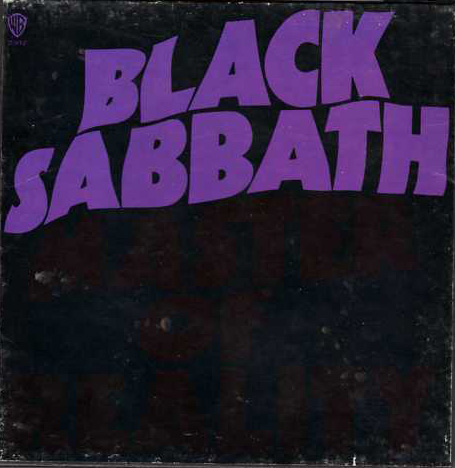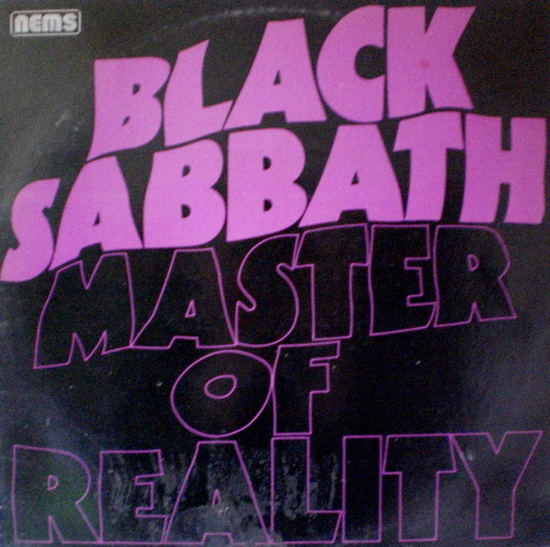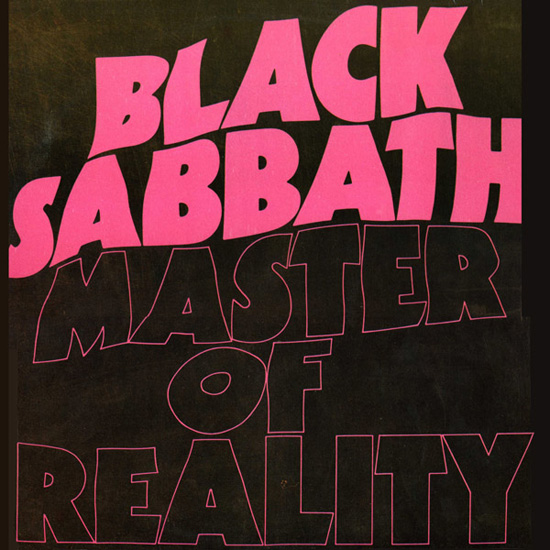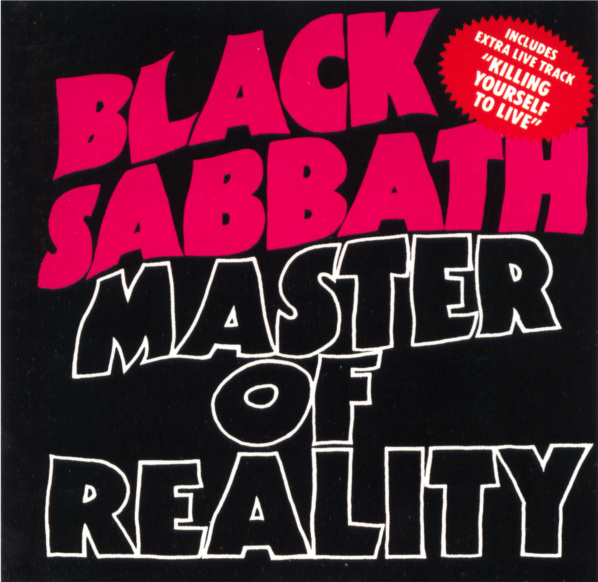 Video


NOTE: These lyrics are verified against the lyrics that appear in the "Black Box" booklet. Those lyrics were gone over by Geezer Butler (who wrote most of them anyway) for that set, and for that reason should be considered definitive.
Sweet Leaf
Alright now!
Won't you listen?
When I first met you, didn't realize
I can't forget you or your surprise
You introduced me to my mind
And left me wanting you and your kind
I love you.  Oh you know it.
My life was empty forever on a down
Until you took me, showed me around
My life is free now, my life is clear
I love you sweet leaf – though you can't hear,
Come on now – try it out
Straight people don't know what you're about
They put you down and shut you out
You gave to me a new belief
And soon the world will love you sweet leaf.
After Forever
Have you ever thought about your soul – can it be saved?
Or perhaps you think that when you're dead you just stay in your grave
Is God just a thought within your head or is he a part of you?
Is Christ just a name that you read in a book when you were in school?
When you think about death do you lose your breath or do you keep your cool?
Would you like to see the Pope on the end of a rope – do you think he's a fool?
Well I have seen the truth, yes I've seen the light and I've changed my ways
And I'll be prepared when you're lonely and scared at the end of our days
Could it be you're afraid of what your friends might say
If they knew you believe in God above?
They should realize before they criticize
that God is the only way to love.
Is your mind so small that you have to fall
In with the pack wherever they run
Will you still sneer when death is near
And say they may as well worship the sun.
I think it was true it was people like you that crucified Christ
I think it is sad the opinion you had was the only one voiced
Will you be so sure when your day is near say you don't believe?
You had the chance but you turned it down now you can't retrieve.
Perhaps you'll think before you say that God is dead and gone
Open your eyes, just realize that he's the one
The only one who can save you now from all this sin and hate.
Or will you still jeer at all you hear? Yes – I think it's too late.
Embryo
Instrumental
Children of the Grave
Revolution in their minds
The children start to march
Against the world in which they have to live
And all the hate that's in their hearts
They're tired of being pushed around
And told just what to do
They'll fight the world until they've won
And love comes flowing through.
Children of tomorrow live in the tears that fall today
Will the sunrise of tomorrow bringing peace in any way
Must the world live in the shadow of atomic fear
Can they win the fight for peace or will they disappear?
So you children of the world, listen to what I say
If you want a better place to live in spread the word today
Show the world that love is still alive you must be brave
Or you children of today are children of the grave.
Orchid
Instrumental
Lord of this World
You're searching for your mind don't know where to start
can't find the key to fit the lock on your heart
you think you know but you are never quite sure
your soul is ill but you will not find a cure.
Your world was made for you by someone above
but you choose evil ways instead of love.
You made me master of the world where you exist
the soul I took from you was not even missed.
Lord of this world
Evil Possessor
Lord of this world
He's your confessor now!
You think you're innocent you've nothing to fear
You don't know me, you say, but isn't it clear
You turn to me in all your worldly greed and pride.
But will you turn to me when it's your turn to die
Solitude
My name it means nothing
my fortune is less
My future is shrouded in dark wilderness
Sunshine is far away, clouds linger on
Everything I posessed – Now they are gone
Oh where can I go to and what can I do?
Nothing can please me only thoughts are of you
You just laughed when I begged you to stay
I've not stopped crying since you went away
The world is a lonely place – you're on your own
Guess I will go home – sit down and moan.
Crying and thinking is all that I do
Memories I have remind me of you
Into the Void
Rocket engines burning fuel so fast
Up into the night sky they blast
Through the universe the engines whine
Could it be the end of man and time.
Back on Earth the flame of life burns low
Everywhere is misery and woe
Pollution kills the air, the land and sea
Man prepares to meet his destiny.
Rocket engines burning fuel so fast
Up into the black sky so vast
Burning metal through the atmosphere
Earth remains in worry, hate and fear
With the hateful battles raging on
Rockets flying to the glowing sun.
Through the empires of eternal void
Freedom from the final suicide.
Freedom fighters sent out to the sun
Escape from brainwashed minds and pollution.
Leave the earth to all its sin and hate
Find another world where freedom waits.
Past the stars in fields of ancient void
Through the shields of darkness where they find
Love upon a land a world unknown
Where the sons of freedom make their home.
Leave the earth to Satan and his slaves
Leave them to their future in their graves
Make a home where love is there to stay
Peace and happiness in every day.