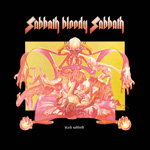 Released November ??, 1973
Re-Released February 28, 1996
Re-Released April 27, 2004 (Black Box)
Re-Released September 16, 2009
[ Lyrics | Tour Dates ]

2009 CD [ Amazon UK | Amazon US ] | 2011 Vinyl [ Amazon US ]
2004 CD [ Amazon US ] | 1996 CD [ Amazon US | Amazon UK ]
Original CD [ Amazon US | Amazon UK ]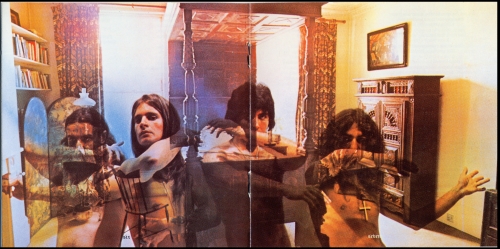 Track Listing
Sabbath Bloody Sabbath
A National Acrobat
Fluff
Sabbra Cadabra
Killing Yourself to Live
Who are You?
Looking for Today
Spiral Architect
Writing Credits
All songs written and arranged by Black Sabbath
Credits
Ozzy Osbourne – Vocals
Tony Iommi – Guitar
Geezer Butler – Bass
Bill Ward – Drums
Rick Wakeman – Piano & Synthesiser
Produced by Black Sabbath
Engineered by Mike Butcher
Album Concept & Design Pacific Eye and Ear
Illustrations: Drew Struzan
1996 Remaster by Ray Staff @ Whitfield St Studios
1996 Design, Art, & Sleevenotes by Hugh Gilmour
2009 Remaster by Andy Pearce & Matt Wortham @ Wired Masters
2009 Project Management: Jon Richards
2009 Project Consultants: Steve Hammonds & Hugh Gilmour
2009 Sleeve Notes: Jerry Ewing
2009 Design: Hugh Gilmour
2012 Digital Remaster by Andy Pearce & Matt Wortham
2012 Vinyl Mastering by Greg Moore @ Masterpiece
Catalogue Numbers
LP Vertigo 6360 115 (UK 1973)
LP Vertigo 6366 101 (EUR 1973)
CASS Vertigo 7229-002 (EUR 1973)
LP WWA WWA-005 (EUR 1973)
LP WWA 6366-201-A (IT 1973)
CASS Warner Bros M5-2695 (US 1974)
LP Warner Bros BS-2695 (US 1974)
LP PGPRTB LP-5825 (YUG 1974)
LP Nippon RJ-7031 (JPN 1975)
LP Vertigo BT-5155 (JPN 1978)
CASS NEMS INT-435.606 (GER 1980)
LP NEMS NEL-6017 (UK 1980)
LP Intercord INT-145.620 (GER 1980)
LP NEMS 16L0144 (SPN 1981)
LP Ariston ARM/42009 (ITL 1981)
LP Victoria VLP-103 (SPN 1984)
LP Castle CLALP-201 (GER 1985)
LP NEMS NEL-6017-3 (GER 1985)
CD Castle CLACD-201 (FRA 1986)
CD Castle NELCD-6017 (FRA 1986)
LP Young 304.7036 (BRA 1986)
LP Vertigo 832-700-1 (NET 1987)
CD Warner Bros 2695-2 (US 1988)
LP SNC C90-31085-007 (RUS 1990)
CD Essential ESMCD305 (UK 1996)
CD Teichiku TECI-24032 (JPN 2000)
CD Castle CMTCD028 (UK 2000)
LP Sanctuary CMHLP196 (UK 2001)
CD Rhino R2-73923-E (US 2004 – Black Box)
CD Sanctuary SMRCD035 (UK 2004)
LP Earmark 641012 (IT 2004)
LP Earmark 641012-P (IT 2004 – Picture Disc)
CD Strange Days POCE-1101 (JPN 2007)
CD Strange Days POCE-9111 (JPN 2008)
CD Universal UICY-94186 (JPN 2009)
CD Universal 2716846 (UK 2009)
LP Universal 2716848 (UK 2009)
LP Warner Bros R1-2695 (US 2011)
CD Universal UICY-25120 (JPN 2011)
LP Sanctuary 3715293 (UK 2012)
Notes
There is a (rather goofy) music video for the song "Sabbath Bloody Sabbath".
Rick Wakeman (of Yes) plays keyboards on some of this album.  Some years later, Rick's son Adam would tour with Black Sabbath, and in 2012 appear on a studio Black Sabbath album.
Killing Yourself to Live has also at times had subtitles of "You Think That I'm Crazy" & "I Don't Know if I'm Up or Down".
The lyric "silver ships on plasmic oceans in disguise" is about injecting drugs, according to Geezer Butler.  Geezer had this to say about the lyric..  "its about injecting drugs, the needle being the silver ship, the plasmic ocean being blood."
The original vinyl gatefold opened to show a picture of the band in a bedroom.  That picture can be seen at the top of this page.
When this album was re-released in 2004 as part of the "Black Box" set, the spine on some printings had a misprint.  It said "Sabbath Bloddy Sabbath".
Links
Images
The back cover of the original album has an "opposite" to the front cover of the album. That is shown here.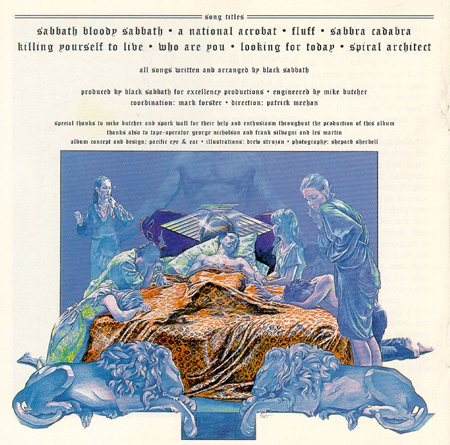 The following are the CD back cover images for the 1996 & 2009 releases, respectively.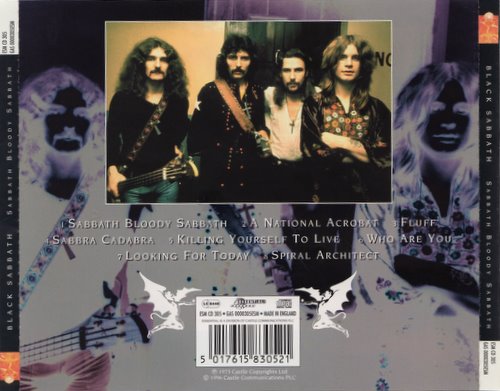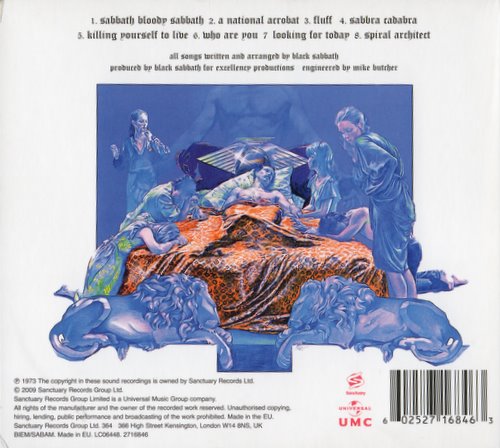 The following images are from the original Warner Bros release of the album on cassette tape in the US.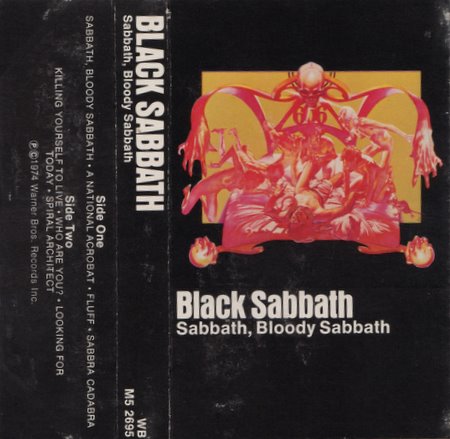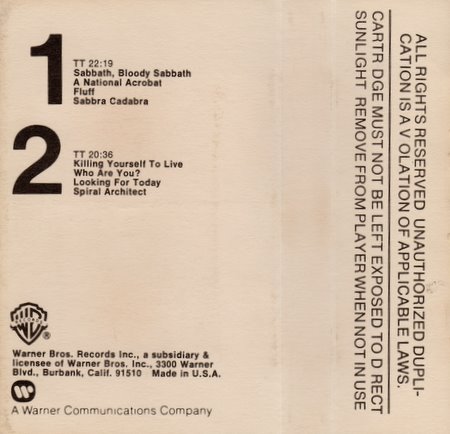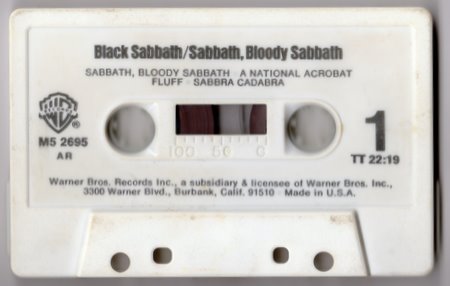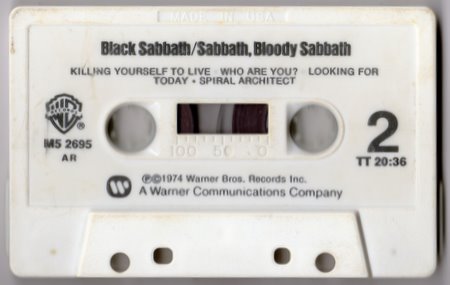 The following is a picture of an old 8 track version of the album, apparently from Warner Bros in the US.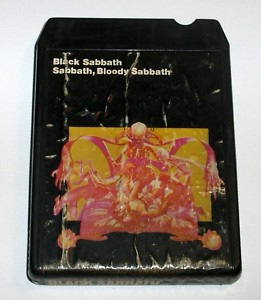 Video


NOTE: These lyrics are verified against the lyrics that appear in the "Black Box" booklet. Those lyrics were gone over by Geezer Butler (who wrote most of them anyway) for that set, and for that reason should be considered definitive.

You've seen right through distorted lies
You know you have to learn
The execution of your mind
You really had to turn
The race is run the book is read
The end begins to show
The truth is out, the lies are old
But you don't want to know
Nobody will ever let you know
When you ask the reason why
They just tell you that you're on your own
Fill your head all full of lies
The people who have crippled you
You want to see them burn
The gates of life have closed on you
And now there's just no return
You're wishing that the hand of doom
Could take your mind away
And you don't care if you don't see again
The light of day
Nobody will ever let you know
When you ask the reasons why
They just tell you that you're on your own
Fill your head all full of lies
Where can you run to
What more can you do
No more tomorrow
Life is killing you
Dreams turn to nightmares
Heaven turns to hell
Burned out confusion
Nothing more to tell
Everything around you
What's it coming to
God knows as your dognose
Bog blast all of you
Sabbath bloody sabbath
Nothing more to do
Living just for dying
Dying just for you
A National Acrobat
I am the world that hides
The universal secret of all time
Destruction of the empty spaces
Is my one and only crime
I've lived a thousand times
I found out what it means to be believed
The thoughts and images
The unborn child that never was conceived
When little worlds collide
I'm trapped inside my embryonic cell
And flashing memories
Are cast into the never-ending well
The name that scorns the face
The child that never sees the cause of man
The deathly darkness that
Belies the fate of those who never ran
Well I know its hard for you
To know the reason why
And I know you'll understand
More when it's time to die
Don't believe the life you have
Will be the only one
You have to let your body sleep
To let your soul live on
I want you to listen
I'm trying to get through
Love has given life to you
And now it's your concern
Unseen eye of inner life
Will make your soul return
Still I look but not to touch
The seeds of life are sown
Curtain of the future falls
The secret stays unknown
Just remember love is life
And hate is living death
Treat your life for what it's worth
And live for every breath
Looking back I've lived and learned
But now I'm wondering
Here I wait and only guess
What this next life will bring
Fluff
Instrumental
Sabbra Cadabra
Feel so good I feel so fine
Love that little lady always on my mind
She gives me loving every night and day
Never gonna leave her, never going away
Someone to love me
You know she makes me feel alright
Someone to need me
Love me every single night
Feel so happy since I met that girl
When we're making love it's something out of this world
Feels so good to know that she's all mine
Going to love that woman 'til the end of time
Someone to live for
Love me 'til the end of time
Makes me feel happy
Good to know that she's all mine
Lovely lady make love all night long
Lovely lady never do me wrong
I don't wanna leave ya
I never ganna leave ya,
anymore no more
Lovely lady, mystifying eyes
Lovely lady, she don't tell me no lies
I know I'll never leave ya
I'm never gonna leave ya anymore no more
Killing Yourself to Live
Well people look and people stare
Well I don't think that I even care
You work your life away and what do they give?
You're only killing yourself to live
Killing yourself to live
Just take a look around you what do you see
Pain, suffering, and misery
It's not the way that the world was planned
It's a pity you don't understand
Killing yourself to live
I'm telling you
Believe in me
Nobody else will tell you
Open your eyes
And see the lies, oh yeah
You think I'm crazy and baby
I know that it's true
Before that you know it I think
That you'll go crazy too
I don't know if I'm up or down
Whether black is white or blue is brown
The colors of my life are all different somehow
Little boy blue's a big girl now
So you think it's me who's strange
But you've never had to make the change
Never give your trust away
You'll end up paying 'til your dying day
Who Are You?
Yes I know the secret
That's within your mind
You think all the people
Who worship you are blind
You're just like Big Brother
Giving us your trust
And when you have played enough
You'll just cast our souls
Into the dust
Into the dust
You thought that it would be easy
From the very start
Now I've found you out
I don't think you're so smart
I only have one more question
Before my time is through
Please I beg you tell me
In the name of hell
Who are you?
Who are you?
Looking for Today
It's complete but obsolete
All tomorrows become yesterday
In demand but second-hand
It's been heard before you even play
Up to date but came too late
Better get yourself another name
You're so right but overnight
You're the one who has to take the blame
Everyone just gets on top of you
The pain begins to eat your pride
You can't believe in anything you knew
When was the last time that you cried
Don't delay you're in today
But tomorrow is another dream
Sunday's star is Monday's scar
Out of date before you're even seen
At the top so quick to flop
You're so new but rotting in decay
Like butterfly so quick to die
But you're only looking for today
Everyone just gets on top of you
The pain begins to eat your pride
You can't believe in anything you knew
When was the last time that you cried
Looking for today
Glamour trip so soon to slip
Easy come but oh how quick it goes
Ten foot tall but what a fall
Hard to open yet so easy to close
Front page news but so abused
You just want to hide yourself away
Overpaid, but soon you fade
Because you're only looking for today
Looking for today
Spiral Architect
Sorcerers of madness
Selling me their time
Child of god sitting in the sun
Giving peace of mind
Fictional seduction
On a black-snow sky
Sadness kills the superman
Even fathers cry
Of all the things I value most of all
I look inside myself and see
My world and know that it is good
You know that I should
Superstitious century
Didn't time go slow
Separating sanity
Watching children grow
Synchronated undertaker
Spiral skies
Silver ships on plasmic oceans
In disguise
Of all the things I value most in life
I see my memories and feel their warmth
And know that they are good
You know that I should
Watching eyes of celluloid
Tell you how to live
Metaphoric motor-replay
Give, give, give!
Laughter kissing love
Is showing me the way
Spiral city architect
I build, you pay
Of all the things I value most of all
I look upon my earth and feel the warmth
And know that it is good
You know that I should