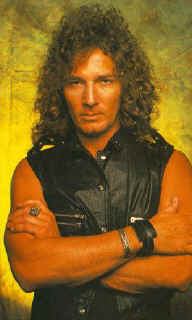 This photo is a band promo picture originally released in 1984.

Information
Real Name: David Tom Donato
Birthplace: Unknown
Birthdate: Unknown
Band Position: Lead Vocals
Started in Band: Mid 84
Left Band: Vague, but a few months later
Album Apperances: None
Other Bands: White Tiger
Links
For the longest time, I was always under the impression that Dave Donato was a minor blip in the band's history. There was a long standing statement that I helped push for a long time about "Dave apparently gives a very horrible interview in Kerrang, and is fired because of it." – In late 2005 I found new information which shows that my knowledge of the era had the emphasis in the wrong places. The angle of my understanding was that Donato was there for a relatively short period of time (which in the overall scheme of things is accurate, I suppose), but it turns out here was there for longer than I thought (which was just a few weeks).
In all Donato was involved in the band from a writing and rehearsing standpoint for about six months apparently. When that six months started and when it ended I'm unclear on. There is some extreme detail as to what happened in terms of demoing, the pictures I used here on this page, how it fell apart, etc, etc, etc on the Rockdetector site here. You'll definitely want to read that.
Bill Ward once dubbed him "Donut".  The reason for that is an interview Bill Ward gave where he talked about Donato turning up to rehearsals and that he loved to eat donuts during rehearsals.