by Garry Sharpe-Young
A site exclusive from the book "Black Sabbath: Never Say Die 1979-1997".
A black-sabbath.com site EXCLUSIVE!
Dio stepped out onstage for the 'Mob Rules' tour's final gasp at the Hoffman Estates Poplar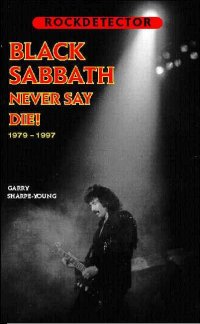 Creek Music Theatre, Illinois on 31st August 1982. A full decade would elapse before he was to share the stage with Messrs. Iommi and Butler again. Although, judging by barbed quotes circulating in the Rock media shortly after, it would seem a ten year hiatus would be thought of by the band members as being on the generous side. Black Sabbath was to go to war with itself.
The manufacture of the live album, culled from taped shows in Texas at San Antonio, Dallas along with Seattle, Washington, would soon spill into farce. The stories that made the British press conjured up a Keystone Cops display of professional ineptitude. Various factions were accused of surreptitiously pushing up levels on their instrument or vocal, only to have them reduced and other desk knobs raised, creeping back into the studio to get their desired personal levels up again, and so on and so forth. What made the stories doubly worse was the veracity of them.
"I'm afraid so", admits Geoff Nicholls sheepishly. "The stories that got into the press were pretty accurate. It didn't do much for our credibility, but it was all true." Iommi, Butler and Nicholls would convene during the day with engineer Lee DiCarlo. What they didn't know, for a long time, was that Messrs. Dio and Appice were conducting a night shift of their very own. Setting their fader levels in the evening, Iommi and colleagues would be perplexed to find they had all changed come the morning. It was almost as if a mischievous gang of leprechauns had been in and run riot on the mixing desk every night.
"What we didn't know at the time was that Ronnie was writing up his solo record at the time too. It got a bit comical really, because this thing of them creeping in at night went on for quite some time. Basically, Ronnie was pushing his vocals up. What he forgets though, is if the vocals go up the rest of it loses the heaviness and starts to sound small in comparison. The engineer was put in an impossible position because he was trying to please everybody. This whole farce went on for about ten days until, finally, Tony Iommi said to him 'Look Lee, tell me what the fucking hell is going on here?' Lee then threw his arms up and blurted it all out. Tony was livid and shouted back at him "I'm the one who's fucking in charge here!" That's when Tony found out and that's when he fired Ronnie."
Black Sabbath had certainly divided into two camps. Ronnie James Dio maintains that separate factions would indeed inhabit the studio at different hours, but puts forward an opposing reasoning behind the manoeuvres, "Vinnie and I would go into the studio and wait for Tony and Geezer. This is where it started. They simply didn't turn up but this is where all the rumours of sneaky sessions came from. There was no sneakiness – we were there on time, they weren't. Because they wouldn't turn up obviously, we got with working in the meantime. Studio time is expensive and I'm not about to sit there and waste those dollars. If they're not there, what did they expect? We were making an album.
"Anyway, this went on for three or four days. We would go in and they still weren't there. It became an absolute nonsense. That drove it home to me right there. Something had come to a head and it was that whole avoiding confrontation thing, which Geezer and Tony specialise in. Eventually Geezer phones me and says, 'I don't think this is working out. We really want Tony to produce the album on his own'. Now, I know this kind of cryptic talk, so I say, 'So, if you don't want me involved with this album are you saying it's over then?' and Geezer says, 'Well, er…yeah, I suppose so.' They could never just tell you straight. It was all a device to force me out. I called Vinnie and said, 'I'm out of Sabbath. I've been given the elbow. Do you want to be in a band with me?' Vinnie says 'Absolutely!' No hesitation. So then we had the start of Dio."
Band splits are often ugly affairs. Creative personalities are emotive, highly strung and have egos that are easily bruised. A quite vicious war of words ignited across the Rock media before both parties retired from the arena to lick wounds and regroup. Behind the scenes though, the divisions were handled in proper fashion. "Black Sabbath didn't screw me", offers Ronnie. "Although things got nasty on the pages of magazines we all just got on with it in the correct manner soon enough. All the blabbing in the press was just superficial really and something we needed to get out of our systems. I had a great attorney and good friends, but nobody in the band was looking to screw me out of any money. It was all professional and decent. There have been bands I've been involved with where I was screwed and it took years of legal work to get paid, but with Sabbath it was all as it should be. Actually, my success with Black Sabbath gave me the profile and financial means to get the money I was owed from earlier bands."
Nevertheless, the cut off from Black Sabbath was about as clinical as it could get. Dio and Appice, with the exception of Ronnie's attorney who had made the break with them, were out on their own. "Besides my attorney we didn't take anyone else with us. It was interesting because a band and crew is more like a family organisation. There is great camaraderie if you are part of the team, but once you're out you are really out. You become a pariah and all the people who probably would like to give you a call don't because they fear losing their jobs. I considered I lost a few good friends there."
Prior to formulating his next band endeavour, the singer had a brief window to reflect upon his term of office with Black Sabbath, "Immediately after being given the boot from Sabbath I was filled with both optimism for my new band and sadness for what had just happened. I wasn't happy with the way everything ended, but I could feel proud of what I had achieved. It was pretty remarkable and had given the career I had for the future a big leap ahead of the competition. I gave as much to Sabbath as Sabbath gave to me, probably more so."
In the unceasing battle for the fan's loyalty towards the two Black Sabbath, camps Ozzy stole a march on his erstwhile colleagues. In a simple manoeuvre, designed to both fulfil a recording contract he was eager to sever ties with and deliver a thundering statement of intent, Osbourne conjured up a double live album all of his own. Sabbath was given a sound drubbing, caught in a classic Blitzkrieg pincer movement. In simple terms the 'Speak Of The Devil' live record, titled 'Talk Of The Devil' outside of America and recorded 26th and 27th September at the Ritz venue in New York, would trounce 'Live Evil'. Recorded with Randy Rhoads second tour replacement Brad Gillis, the record comprised solely of Black Sabbath tunes. Gillis, often sorely overlooked in the annals of Ozzdom, rampaged through the Sabbath classics. Most fans saw it for exactly what it was, a challenge to Iommi and Butler, as to the legitimacy of their claim to the name Black Sabbath.
Offered up in the November of 1982, 'Speak Of The Devil's targeting was as precise as any Gulf War smart missile. It strode defiantly into the Billboard top twenty with ease. Whereas 'Speak Of The Devil' had the testicular fortitude of a herd dominating warthog, both in terms of sheer audacity and aural sonic capacity, 'Live Evil' was neutered before it even hit the racks in the stores. The public bickerings of the now rent asunder Sabbath merely provided the coup de grace. The tired results of their labours lumbered out in January of 1983. As a newly shaven headed Ozzy took to the live circuit once again, 'Live Evil' plateaued at no. 37 in North America. In short, Ozzy's amateur, makeshift and last minute cobbling together of a live album had given him a life saving ark to bob happily on the waves. The mighty Sabbath machine had painstakingly constructed a leviathan, pouring over the mixing minutiae and conducting war games with flying faders. Somewhat pompously, they had cracked the champagne bottle on the bows of their very own Titanic.
Although the original plans for Ronnie James Dio and Bob Daisley to form up a new band post Rainbow had faltered, with Dio joining Sabbath and ironically Daisley teaming up with Ozzy, the singer still had a keen eye for the bassist's talents.
"Ronnie came over to my house in London just after leaving Sabbath", Daisley recalls. "So Ronnie, Vinnie Appice and I went for a curry and some beers down Westbourne Grove. I remember it very well because the curry was fantastic, a place called the Al Kayam. Anyway, they had asked me out to see if I wanted to join Ronnie's new band, Dio. It came at the wrong time though because I was working with Ozzy on 'Bark At The Moon'." With Daisley otherwise engaged, Dio and Appice picked up another former Rainbow man, Jimmy Bain and, together with Vivian Campbell from the NWoBHM band Sweet Savage and ex-Magic and Rough Cutt member, Claude Schnell on keyboards, crafted the band Dio.
As a signature to Warner Bros. with two prominent albums under his belt Ronnie James Dio assumed a degree of open armed enthusiasm would come his way from the label. Quite bizarrely, the organisation took some time to even realise Ronnie was recording at all. "The first Dio album became exactly the same as 'Heaven And Hell' unbelievably", the singer sighs. "For three weeks nobody even bothered to come down to the studio and check it out. It was kind of amusing and alarming at the same time. Eventually, someone from the label called my manager, Wendy, and inquired 'Is Ronnie in the studio recording an album?' Wendy says 'Yes, and he's using your money to do it!'. They say 'Oh, we didn't know. Who's producing it?' This is when it gets interesting. Wendy replies 'Why, Ronnie is of course'. Warner Bros. just went 'Oh…' After that, they started to move and wanted me in their offices at 10 sharp next morning to meet Ted Templeman.
"So, I turned up at 10 as arranged, as Ted turns up at 10.15. The first thing he says is 'Which idiot arranged this meeting for 10.15 in the morning?' When we got down to the talking Ted says 'Are you doing a record?' and I say 'Yeah'. 'Who's producing it?', he asks. 'I am', I told him. After that, Ted gets up and says 'Great! See ya!' Ted's a musician, he knew the score."
Dio's secret weapon for 'Holy Diver' was guitarist Vivian Campbell. The guitarist lent Ronnie's tunes a distinctive edge. Riffs were piled on aplenty and the solos were miniature melodic masterpieces. The Irishman was quite a find. Before Campbell came onto the scene and the band got into the studio proper, Dio and Appice had formed up two tracks, 'Don't Talk To Strangers' and 'Holy Diver', in the shed-come-makeshift studio at the back of the singer's house. Vinnie had laid down the drums for these demos whilst Ronnie took on vocal, guitar and bass responsibilities. Although they were rough, the pair had an inkling that something special was developing with these two unfettled gems.
"Although we had cranked these tracks out, we then realised we needed to get a band together", records Ronnie. "We flew to England because I had always admired English guitarists. People like Blackmore and Tony Iommi just have that bit of quirky uniqueness that I was looking for."
The duo scoured the clubs hoping to locate a six stringer with the X factor, but remained unfulfilled. It was starting to look as though their quest was in vain. "We couldn't find anyone in the clubs so we thought we would ask around. Jimmy Bain told us he had a couple of tapes so he came over and we listened to cassettes of John Sykes and Vivian Campbell. Both were amazing players, but Vivian stuck out a bit more. It was unique and even had a little bit of Chuck Berry in there, which I liked. The guy was flying by the seat of his pants, he pulled off some unexpected, quirky stuff and I liked that attitude.
"Jimmy called him and we arranged a jam. Jimmy took it on himself to bring his bass and kind of made the assumption he was in too! Thank God actually. Vivian was just great. Once we had a band we flew to Los Angeles to start writing and recording."
Dio's inaugural outing, the glorious 'Holy Diver' album, was a sharp statement of intent and an album of such magnitude, it succeeded in carrying many Black Sabbath fans along with the new project. Indeed, 'Holy Diver' would be seen by many as more of an example as to the natural evolution of Black Sabbath had Dio stayed the course than Sabbath 's own follow up, 'Born Again'. The record charted satisfyingly in the USA, peaking at no. 56, but broke into the top twenty across much of Europe. As well as delivering an album of world class, Dio also aided their cause enormously with an electrifying performance at the annual Donington 'Monster Of Rock' festival. These shows, illustrating a pattern throughout Dio's career, paid equal homage to Dio's liaisons with Black Sabbath and Rainbow as well as fresher material.
Tony Iommi responded to the exit of Dio and Appice by re-enlisting Bill Ward and, controversially, pulling in former Deep Purple singer Ian Gillan. The singer had a huge reputation having fronted up one of the very few bands to have eclipsed Black Sabbath itself. Although Gillan was a grade A pedigree Rock star, the weight of opinion both in the industry and amongst fans was that the huge stylistic differences between Sabbath and Purple could not be bridged. Nevertheless, it all made sense to the money men as Iommi had succeeded in securing the most well known British singer after Robert Plant. This next chapter of the band was to signal the onslaught of press diatribe that would dog it for the next decade.
According to quotes from Tony Iommi in the 'Born Again' North American tour programme, other vocalists had been considered and auditioned before Ian Gillan's name was put forward. This admission has intrigued fans, but it has been next to impossible to get any kind of verification of this from the band until now. In actuality, Arthur Sharp at Don Arden's office, a man who had previously sang for the Nashville Teens so knew a thing or two about vocals, was delegated to sift through prospective candidates. (Although Arthur's skills failed him when he rejected the Jet Records artist Madam X's proposed second album demos – the singer was Sebastian Bach, later to go multi-platinum with Skid Row).
Geoff Nicholls confirms this modus operandi, "Yes, we did audition quite a few singers after Ronnie left. Nobody really famous, I don't think. The way it worked was that, rather than wasting the band's time in the studio by dealing with people individually, chatting, etc, the management gave them a backing track of some of the songs which they had to sing on. They then filtered out the unsuccessful ones and the downright silly ones, so we could meet up with just the good ones. I remember we auditioned Nicky Moore from Samson because his tape was excellent. We had a good jam with him. He had a phenomenal voice, absolutely brilliant, but he just didn't look the part, which was a shame. Great, great singer. There was a guy from Wales too. (John Sloman of Lone Star). I'll tell you who else sent a tape in – Michael Bolton! Imagine that? Wonderful voice, but obviously completely wrong for what we were doing."
David Coverdale was also back on the Black Sabbath wish list. "Tony Iommi and I met up with David and Cozy Powell at The Rainbow club to talk about getting them into the band at that point", reveals Geoff. "We had a good chat and we kind of agreed in principle that it could work. Tony has always been keen on working with David. Anyway, we left it awhile and the next thing we hear is that they had gone off camping on Dartmoor and were getting Whitesnake back together."
Speaking to 'Sounds' magazine in August of 1983, Gillan had this to say, "At the time I wasn't considering anything other than what I was doing. Then I had this trouble with my voice, which meant I had to take six months' rest without singing after the last Gillan tour. The split was purely a medical thing. I've read a few things in the press where Mick (Underwood) and John (McCoy) have said 'it was all a farce and just an excuse to wind up the band' – which is a load of bollocks, quite frankly. I could authorise ANY of the specialists I saw to release their reports if you like. I had huge nodes on my vocal chords and they were badly inflamed, and I was only able to get through the last Gillan tour by adapting the way I was singing.
When we finished at Christmas, I was very, very sad indeed; I had a lousy Christmas, and nothing was further from my mind than Black Sabbath."
The actual process of Ian Gillan's inauguration into Black Sabbath has, like so many stories associated with the band, been elaborated on and twisted over the years. The essence of the tale, that of the singer offering his services in an Oxford pub whilst under the influence of the demon alcohol, is basically correct though, as Ian affirms, "This is what really happened. Tony phoned me and suggested we have a talk, so we agreed to meet up halfway between where I was living, in Reading, and where Tony was in Birmingham. It wasn't actually in Oxford either, it was a pub called The Bear in Woodstock. Now, some of my memory of that day is very good because I actually had a car crash on the way up there, some bugger rammed me up the arse, so I arrived in an L shaped car and not in the best of moods. The other thing I remember was that Tony's greeting to me was 'Cor, you're a big bugger aren't you?'.
"Meeting in a pub turned out to have its merits of course, but we all got along so famously that we just got totally pissed, I mean, we were under the table and having a great time. We overstayed our welcome because by 7 o'clock the manager was wanting to open up the restaurant and basically, kicked us out into the street. So, as you can imagine, as to what we actually spoke about the memory is a little fuzzy. Somebody must have taken me home and the first phone call I received was from my personal manager, Phil Banfield, who said, almost word for word 'If you're going to make career decisions, do you think we could consult on them first?' Of course I had absolutely no idea what he was talking about until he explained, 'Apparently yesterday you agreed to become the new singer for Black Sabbath!' Somehow the press had got hold of it and phoned Phil before I had even got out of bed!"
Black Sabbath was now, once again, under the protective wing of Don Arden. They had broken away from the Arden stable for the Dio endeavour, having their affairs handled by Blue Oyster Cult manager Sandy Pearlman, but had been drawn back like the death star's tractor beam back into Arden's empire. Gillan had heard all the stories but was unconcerned, "Don Arden? I have a lot of time for Don. He is from that old school of managers who will threaten to break your legs if you don't do as he says, but he gets things done. You might not like the way he gets it done, but it's done nevertheless. Sure, he can lose his temper. Actually, he threatened to break my legs once. Why? It was personal, we got it sorted out the next day. I have a lot of respect for him, had some good times with Don. He's a great guy. One thing you should make very clear – Don Arden didn't manage Black Sabbath. He owned Black Sabbath"
A fable has sprouted since those days that the alliance of Gillan with Iommi and Butler was never actually intended to be presented as Black Sabbath, but was to be projected as a new Hard Rock 'Super-group'. This postulation has been taken as gospel and expanded upon over time but, according to Ian, has little credence "I have no idea where this 'Supergroup' idea came from, certainly not from any of us", he counters. "All that 'Black Purple' and 'Deep Sabbath' stuff was bloody nonsense. From our first conversations we were very clear about discussing myself joining Black Sabbath and there were never any talks I was party to that put forward the idea of creating a new group.
"The timing was spot on for me because, after the Gillan thing, I had got wind of a mooted Deep Purple reunion, but that was going to take some time as everyone was deeply involved with their various musical enterprises. The guys had started to talk about it though, and it looked like it could happen. Basically, I needed to fill in the time between, so Black Sabbath was a perfect opportunity."
Geezer Butler, speaking in 1997, did not quite see things the same way, "That 'Born Again' album with Ian Gillan. That wasn't supposed to be Black Sabbath. That was the manager and the record company insisting we use the name and I was opposed to it, but they are the ones who can turn the tap off when it comes to paying for everything, so it became a Black Sabbath album. It wouldn't be the last time that happened either."
Geoff Nicholls too saw things in sharp contrast to Gillan. Is this another case of a singer not being in the loop? "Geezer's right about that", the keyboard player says, backing up his band mate. "That album was designed as a new 'supergroup'. They didn't want to call it Black Sabbath at all because, well, it was Ian Gillan wasn't it! How could that be Black Sabbath? It's possible Ian might not have been put in the picture about all of that, that's for him to say. Well, anyway, the record company got their way again and so Black Sabbath it was. It's all about selling albums at the end of the day and that is, as an artist, an argument you will always lose with a record company. Geezer was very pissed off about that, I can tell you."
For many onlookers, especially hardened fans of Deep Purple and Black Sabbath, the Gillan-Sabbath collaboration seemed at best an awkward fit. One of the leaps of faith both sets of fans were asked to accept was that Gillan could place himself lyrically into the Sabbath world populated by demons, dragons and other such devilry. To be blunt, Gillan was more than comfortable when warbling on the tried and tested subject matter of wine, women & Rock n' Roll. It was a literary chasm as deep as it was wide he had to bridge. The UK Rock media of the day scoffed. 'Gillun joins Sabbuf', proclaimed a notice written in deliberately child like crayon script in one of the better known London Rock mags editorial office. Nobody, it seems, was taking the venture too seriously.
Questions were raised in pubs across the length of breadth of Great Britain and heated arguments ensued. Would Gillan wear a cross? Would he (even could he?) sing 'Iron Man'? How on earth could he bottle that famed ribald onstage humour. After all, if Gillan had famously observed there was 'No laughing In Heaven' just how on earth was he going to cope in Hell?
Seemingly, the singer simply did not see a problem and viewed the entire enterprise in more basic terms. "That's just the press again isn't it?", Ian ponders before explaining his take on the perceived mismatch of styles. "Look, we just look to make the music with people who can play well and have some credibility. I never saw any dark side to Black Sabbath at all. It never entered my head. Maybe when they were 18 or 19 or something it was there, but that is just a tag they have to live with. The reality is very different. You know, a very wise lady who used to manage one of the bands I was in during the 60s once said to me 'Be very careful about how you make your first big success because you will be judged by that for your entire career. Nobody will ever see you for anything other than what you did the first time.' I think that about sums up Black Sabbath."
His predecessor, Ronnie James Dio, found the alliance surreal to say the least, "I was expecting them to try and patch things up with Ozzy or go for a certain type of singer, but never in a million years would I have guessed Ian Gillan. The guy's voice is just too distinctively un-Sabbath. Ian Gillan has an amazing voice for Deep Purple. That fact is beyond question. It was never going to work with Sabbath and I remember thinking some clown in a record company who knows nothing about music is responsible for this. Everyone knew there was no way in Hell it could last."
The collective media, many fans and even former Sabbath personnel found the prospect of Ian Gillan with Black Sabbath too much of a stretch of the imagination to even contemplate. The Devil and his minions never figured highly, and then only allegorically if ever mentioned, in the Deep Purple and Gillan catalogue. The singer himself had no such qualms, "I never contemplated not joining the band for any reason. Tony asked, I said yes. The whole thing was very attractive, nothing scary or spooky at all. Tony and Geezer are both great players who have had a great deal of deserved success. Of course I had heard Black Sabbath on the radio and I was familiar with the music in that way, but I never sat down to listen to them to unearth any 'hidden' meanings in the songs or any of that crap. This goes way back to all those guys like Buddy Holly, Chuck Berry, Elvis and back further to all the original Blues players, which is where Heavy Metal comes from. If you believed everything you read, they were all supposed to be in league with the devil. It's just bollocks. Tony is supposed to be the Godfather of Grunge, but as a musician he's a Blues man through and through. He has written a hundred world class heavy Blues Rock riffs and inspired literally thousands of bands, so all credit to him for that. I'm pretty sure the devil had no hand in it though. I certainly never saw him. The bogeyman with Black Sabbath doesn't exist, it's just a Rock n' Roll band like the rest of us."
Keen to find evidence of Gillan's ill fit, the official press photographs would be seized upon as damning indictments of the singer's lack of suitability. Iommi and Butler were fashioned in the expected black leather, Ian more casual and looking like he had just stepped out of, er…Gillan.
"I never stuck to the dress code because that just wasn't me", he states. "The boys never presented me with an inauguration crucifix or anything. I think the only thought I had about any 'image' for me fronting the band was to remind myself to buy a pair of black leather trousers, but that was only because I needed a new pair of pants to wear onstage."
The singer did admit to contemplating a fashion left turn, actually trying on some of Tony's stage wear, but thought better of it, "The press made a huge thing of it of course, because I wasn't wearing the black uniform. I recall reading all this garbage about how I was breaking the Sabbath tradition and that the fact that I was wearing denim and the guys were wearing black leather was evidence of my unhappiness with the whole thing. Totally untrue. In actual fact, we never, ever discussed it, not even in social conversation. I don't think the level of respect from the fans or the press would have gone up if I had walked out onstage dressed head to foot in black swinging a crucifix. In fact, I think I would have been a laughing stock. It was very simply a case of Ian Gillan singing for Black Sabbath. No big deal."
Working up the material that would be offered to the expectant public, Tony Iommi, Geezer Butler and Ian Gillan spent a month long period in a small Birmingham studio crafting songs with Iommi's old ally Malcolm Cope of Quartz on the drums. "I'm pretty sure all the songs we worked on ended up on the album", reckons Malcolm. "We worked up quite a bit of music before Ian came on the scene and when he arrived I can remember him writing up lyrics in the studio. I just kept all of the drums really simple because I knew Billy was coming in to do the actual recording. Bill wasn't in the country, he was stuck in America for some reason, so Tony asked me down to get all the songs ready for the album." It would only be after the tracks were hewn to a state of readiness for recording that Bill Ward was flown over from North America. "Bill arrived to do the actual recording and I stayed on throughout the album helping Bill out. I would drive him around, get him whatever he needed, sort stuff out for him. Bill was always a lovely bloke. Bill put down the drums just great, no problem there. He had some emotional problems at the time though I remember."
As already illustrated, Cope and Iommi had been friends for many years and it was only natural for the guitarist to call on Malcolm for these sessions. Ian Gillan sums up his disappointment upon hearing Bill's news, "Bill came to us half way through doing the record and said 'Look guys, I don't think my health is up to it and I can't do the tour. I'll let you down if I try to carry on'. So we completed the record and Bill did a wonderful job on that. The guy was just very ill at that point and did the right thing by being completely honest with us and taking time out to get himself sorted. I thought he did a fantastic job on the album and it was a big shame we couldn't take him on the road. Lovely guy. The plan from day one was to do a world tour with Bill Ward on drums. He was never signed on to session just for the album. He was in the band. We all really wanted it to happen with Bill, but the timing was wrong for him."
"The 'Born Again' album was a bit of a difficult one. Quite strange in a way because we really did not want to call it Black Sabbath", said Tony Iommi, nearly a decade after the event. "We all had our problems and Bill's were getting the better of him. He had kicked the bottle but the alcohol was back in the picture in the studio, so he had to go and sort himself out. He knew it and, credit it to him, he admitted it and did the best thing. There was a lot of booze around, unfortunately."
Bev Bevan, longstanding friend of Tony Iommi's, and known for his successes with The Move and Electric Light Orchestra, stepped into the breach. "There was never anyone else in the frame other than Bev. Tony and Bev are good friends from way back. I believe the whole thing took just one phone call. Sorted.", Ian reckons.
The question has to be asked though – why not Malcolm Cope? He was there, had worked up the songs so knew the material intimately and was an old ally. "I don't know really", Malcolm ponders. "I would have still been busy with Quartz at that time and Bev was a big name too. I never really thought about it, actually. It wasn't only Tony that knew Bev, I knew him too. Bev used to actually manage me back in 1968. I was in a band called Stacks and he was still in The Move. We all knew each other. Bev was a name though, so I think that was probably it at the end of the day."
Ian Gillan certainly gave everything he had on 'Born Again' and delivered his most aggressive vocal performance to date. Many of Gillan's admirers cite 'Born Again' as the pinnacle of his vocal achievements, the singer giving his vocal chords little in the way of respite, ranging from throat tearing howls to the stratospheric choral wails of the title track. Tony Iommi too seemed to have been lent further inspiration, both on the riff front and with a collection of commendable lead solo performances. The album certainly hangs together well as a complete piece of work. It even contained a gaggle of tracks that almost warrant the title of classic in the mechanical drive of 'Zero The Hero', the unique British schoolboy humour evident on 'Disturbing The Priest' and the quite wonderful vocal performance of the title track. The two instrumental interludes, 'Stonehenge' and 'The Dark', appeared to provide a lineage to some very similar, subterranean sonic experiments Geezer had dabbled with in the 'Mob Rules' sessions.
The faster paced 'Trashed', hung on Geezer's inventive bass lines and topped with a starkly luddite Iommi riff, seemingly captured a page out of Gillan's mental scrapbook of drunkenly careering cars around the Brands Hatch circuit in a dream state, was a indeed a cerebral cut and paste job,"That could have been quite nasty and it was a bit of a wake up call. Hilariously funny afterwards, but scared the living daylights out of me at the time. Richard Branson had a go kart track at The Manor which I decided to tackle in a car. That's why I mentioned Brands Hatch in the lyrics because I was on a bit of a fantasy trip. Unfortunately, I was blind drunk. I hit this pile of tyres and before I knew it I was completely out of control and rolling upside down. In my drunken haze I realised I was in fact heading towards the swimming pool. Luckily, the car ground to a halt a matter of inches before the water. Good job too because I was properly strapped in and in my inebriated state it took what seemed like forever to get out of the thing. If I'd have gone in the drink that might have been the last of me. I can't imagine what I was thinking. I can imagine the obituary 'Deep Sabbath singer dies in drowning incident on go kart track'. That could have been historical."
In a somewhat diplomatic exclusion from Ian, he failed to mention that the totalled car was not his, but belonged to a certain Mr. Ward of the parish. The band had decided to forego the expense of hiring cars and shelled out for a batch of Ford Granadas for transportation. Purchased from road crew-cum-car dealers, the idea was to sell the cars on at a profit after the tour. Understandably the drummer was not best pleased to discover his brand new investment upside down. "Ian was very lucky that day", reckons Geoff Nicholls. Apparently, when the overturned Granada finally ground to a halt it was not only precariously close to the swimming pool, but also the local canal, where Gillan had his boat moored. "Ian was so unbelievably drunk. If he had actually gone in the canal we would not have been able to see him because it was so dirty. The water was pitch black and covered in green scum. He was so close to the edge but he miraculously walked away without a scratch. Bill was not too pleased but he decided to get his own back."
Having walked away from the car crash unscathed, the singer still had a mind for yet more pranks. It would be his undoing. Gillan found a ladder with which he intended to climb in through Tony Iommi's bedroom window and create some further mayhem. Instead, he drunkenly lurched through the window, smashing his head on an iron radiator on the way down. "There was blood everywhere!", laughs Geoff. "We thought he must have come a cropper in the car but he was completely uninjured. Then he goes and smacks himself on the head trying to ransack Tony's room. I could not believe how pissed he was that night. I don't think he felt a thing.
"Funnily enough, while we were recording, Ian chose to live in a tent in the grounds. On more than one occasion though, Tony and I caught him creeping back into the house to sleep late at night. Anyway, Bill and Paul Clark got together, blew Ian's tent up and sank his boat!" The singer's temporary canvas abode would not be the only item on Black Sabbath detonation list either. "We had a lot of fun at The Manor", continues the keyboard player. "They planted a concussion bomb in the lake too. Some of the record company A&R people came down with the management to listen to the music and see how we were getting on. When they were invited down to the lake the bomb was exploded to give them a fright. Well, of course, they absolutely shit themselves! It was like a bloody depth charge going off in a war movie! It also stunned all the fish in the lake, which all floated up to the surface."
Still, the band had not finished with their waterborne pursuits. "A few days later some of the crew were fishing in the lake and one of the guys, who shall remain nameless, started to throw a javelin in to try and spear the fish. He didn't have any luck, but a few days later everyone noticed the water level in the lake had dropped a lot, revealing that it was a man-made lake. The javelin had punctured the canvas base! Branson must have loved us."
As well as incurring the wrath of the Virgin magnate, Black Sabbath upset a prominent part of the local population. This tale is related on the song 'Disturbing The Priest'. In an effort to gain a chunkier guitar sound, Tony Iommi had set a speaker stack set up not just in the regular studio, but also in an outhouse in the house grounds. With Sabbath very often recording into the small hours, these riffs from the outhouse, unconfined by studio soundproofing, blasted out into the clear Oxfordshire skies…
The band also had another method of noise pollution at their disposal in the form of the studio's resident Irish Wolfhound. "This dog used to howl its head off because he wanted to be let out for a piss!", relates Nicholls. "One of us would eventually get around to it at about four or five in the morning." The combination of late night riffing and early morning howling soon produced an unwelcome visitor. "After a few days we got a knock on the door from someone at the local clergy saying that we were disturbing the local priest. He couldn't get a good night's sleep. I think we may have had an official letter to that effect too. We thought they had a bloody cheek, because after we had gone to bed they used to wake us up with their church bells!"
'Digital Bitch' did not let the side down either when it came to aural overload. The latter would provide a historical pinpoint for the pace of change within the recording industry. Ian Gillan explains the background thinking to this track, "That whole song was just euphemistic. It was a nascent era of computers being heralded as a new, great age that was dawning. As musicians we felt it too because of the digitalisation of the recording studio. It was all new to us and seemed very important, probably more so than it was in hindsight. It tickled me thinking about this because the same thing happened when we were writing 'Space Truckin' some thirty years ago. Then it was the space age that was promising a grand new age. It just so happened that computers were the revolution when we did 'Born Again'. It certainly was a big change for musicians used to cutting everything onto tape in good old analog.
Basically, 'Digital Bitch' is the classic rich girl/poor girl story given a twist from the time. It's not one person, I never do that, my stories might involve collections of people but never anything you could pinpoint on one person. Just like 'Woman From Tokyo', same thing."
Another, more wholesome, woman was also to find her way into the 'Born Again' lyric sheet courtesy of the melancholy 'Keep It Warm' written by Ian for his then girlfriend, and later wife, Bron.
Geoff Nicholls lends some behind the scenes detail to his contributions to the 'Born Again' album, "I worked on the whole album from the powerful choirs in the main riff of 'Zero The Hero' to the swirling drum fills in the verses of 'Disturbing The Priest', which were actually done by keyboards. I wrote 'Stonehenge' too. It was my concept. I had just come back from visiting Stonehenge and had this inspiration for an ethereal idea, originally for Tony to play over. Geezer was messing with a pedal board though, and added some things on top, Bill put a water bell on it and it didn't need anything else, so Tony never actually played on it. That other little instrumental filler, 'The Dark', was Geezer's thing."
The band completed recording at The Manor, played out and somewhat porked out too. Richard Branson's 24 hour on hand cook had noticeably increased the band's waistlines. "We all had to go on a major diet when we left that place!", laughs Geoff.
Diplomatic to a tee, Ian Gillan told 'Sounds' magazine in 1983, "There was a bit of a cock-up with the studio time when we finished the album and I had already planned a short holiday – and it was great to be able to just go away knowing that Tony and Geezer would be at the mix." However, as that statement was being broadcast other, less savoury, remarks were apparently being uttered out of press ear shot. Before long word got out in a subsequent 'Kerrang' magazine article that Gillan in fact, hated the mix.
Questioned by the author in 2002 regarding the sonic quality of 'Born Again', the man had another story to offer but was still typically blunt. "It's crap. There is no other word to describe it", states Ian firmly and with no less rancour than his first whispered protestations to 'Kerrang' back in 1983. "When we finished the album, I stood behind the desk at The Manor in Oxford and gave it one final listen and it was fucking great. It wasn't just great, it was monstrous. I remember the smiles in the room. I took a cassette of that mix, which I thought was final. That's what I was told. The next thing I hear is that Geezer is unhappy because he thought the bass wasn't loud enough. So, he took it down to London, remixed the whole thing and from that point on radio refused to play it. It was bloody awful, plain and simple – a total fucking disaster. The band was great, the record was great, but it was issued to the public in a form that was wrong. It was crap and you have to lay the responsibility for that firmly on Geezer's doorstep."
There is an opposing side to this supposition though, with Geoff Nicholls defending Geezer Butler's role in the final mix. "First of all, it wasn't Geezer that remixed it", he states for the record. "It was in fact the whole band, after Ian had taken a break. Tony Iommi was in charge just as he always has been. Tony has final say on everything despite what anyone else says. He is the decision maker. The tracks were adjusted because at that time American radio had this nasty habit of compressing the hell out of everything, so you needed to present the sound of the album in a certain way to cope with this. If you didn't do it there was a great danger of the thing sounding shit on US radio. I do remember that we also suffered from a batch of crap studio tapes, which didn't help. The record was finished, sounded great in the studio, but when you played it on a normal cassette player in the car it sounded dreadful. There was a lot of work done on it after that."
The 'Born Again' album, it is true, manages to portray an almost primitive, garage like quality that could either be considered 'raw' and befitting or just plain bad. It would obviously strike a lot deeper into the Rock n' Roll conscious than at first admitted. As is now widely recognised, Guns n' Roses either borrowed heavily from 'Zero The Hero' for their 'Paradise City' hit or Slash was struck by the unnatural rarity of creative lightning striking twice. Those cheeky chappies, The Beastie Boys too bounced all over the charts in later years with 'Fight For Your Right To Party' brazenly sporting a riff that could have been simply stripped straight out of 'Hot Line'.
If the final mix had raised Gillan's mood to near boiling point, the package it was delivered in blew more than a few gaskets. "The baby. That was Don's idea. Perfect isn't it?" Ian's famous 'Kerrang' magazine quote, "I saw the cover then puked, then I heard the record then puked", has become legendary. Looking back, did he really feel so disgusted? "I think I was", he reckons. "I was certainly very, very disappointed because the record I had made was absolutely bloody fantastic and it had been ruined behind my back. So when I saw the cover I just thought this has to be a joke. C'mon, somebody tell me this is a joke right? But it wasn't. It was the real thing.
"I can remember looking at this thing. A bright red baby with fangs, two horns and long fingernails and just thinking to myself that this about summed the whole thing up. It was just so Black Sabbath. I would have been happier if Don had put a lump of cheese with two horns on it for the cover, because at least they would have been honest. It was just so un-classy. In a way, it didn't matter what the songs were like, how good I was onstage or anything because it all just boiled down to that baby. That's all people would remember. Everywhere I went promoting that record, all I saw was that fucking baby. Strangely though, over the years that cover has become almost as famous as some of the well known Sabbath album covers because it was just so awfully bad. What was absolute rubbish twenty years ago is now an ironic classic. I've come to accept the baby in my life now. It's been a struggle."
Cheese had not only been present in an allegorical graphical sense as the schoolboy pranks continued unabated. "Tony placed this lump of mouldy cheese under Bill's pillow", giggles Geoff. "It was there for weeks and Bill never noticed!"
For the ensuing world tour, Black Sabbath's stage set, a beast of literal monolithic proportions, would go down in history. Known at the time to have been a right royal cock up, the fibre glass menhirs that adorned the stage of the Reading Festival would become immortalised by the makers of the spoof movie 'Spinal Tap'. Here's how it happened according to Ian Gillan.
"We did stage rehearsals at Light & Sound Design in Birmingham. While we were there the production designer asked us if we had any ideas about a stage show. It really was a case of us all looking at each other with blank faces and going 'I dunno', 'I dunno',… So then Geezer said 'Yeah, I've got an idea. What about Stonehenge?' So the next question was "How big?" to which Geezer famously replied 'Life size of course'. That's how we ended up with a plastic Stonehenge stage set so big we couldn't use it anywhere. Spinal Tap, those clever fellas, simply turned the thing upside down. Well, we started rehearsing at the NEC in Birmingham and this Stonehenge thing arrived. As the crew were loading it in you could see it was just ludicrous. The bloody things were 40 feet high. I don't think anybody was laughing at the time. It wasn't just the fact that they were so big, you were also bloody nervous in case one of the bloody things fell on top of you."
This most controversial of Black Sabbath formations tested the water in the icy climes of Scandinavia, opening up the proceedings in Oslo at the Drammenshalle on the 18th of August, supported by up and coming Danes, Pretty Maids.
Captured by the clandestine microphones of eager bootleggers, Sabbath were ambitiously blending a collection of tracks to appease fans of both new and old standing. From 'Born Again' the band ploughed through the less than obvious 'Hot Line' along with 'Born Again', 'Zero The Hero', 'Disturbing The Priest' and 'Digital Bitch'. Besides traditional Ozzy era fare would also sit 'Heaven And Hell' and the cuckoo in the nest that was 'Smoke On The Water'. Gigs on these dates would see the welcome addition of 'Rock n' Roll Doctor' and the quirky 'Supernaut'.
With 'Smoke On The Water' in the set, rumours filtered through of the possibility of Bev Bevans heritage with Electric Light Orchestra somehow being represented. Word was that ELO's 'Evil Woman' had been rehearsed and, perhaps, even performed live. The quite comprehensive bootleg tape trail failed to capture it either in sound check or a live gig situation and Ian Gillan finally wishes to lay this apparent myth to rest, "I don't ever remember us ever discussing doing any ELO songs or rehearsing any. More press speculation I think. Bev was just the drummer you know, just like I was just the singer at that point. I think I would have remembered doing 'Evil Woman'. One of us might have said it as a joke and then it got blown up as these things do. Contrary to what people may think or have read, being a part of Black Sabbath for me was in many ways a lightening of the load because I purposely did not get involved in any 'band' discussions. I left all of that up to Don, Geezer and Tony. It was their thing. I was just there to turn up, sing, entertain the audience and that was it."
Geoff Nicholls though does broker some previously undisclosed information that runs contrary to Ian's memory and pushes the pendulum arm back into the 'supergroup' direction. If 'Deep Sabbath' was ever going to plunder the classic Purple material, one song had, by its very title, to be top of the list. "We messed around with 'Black Night' too", he divulges. "We just jammed it, played it at sound checks quite a few times, but never live onstage. It was on the list of possibles, sure."
And 'Evil Woman'? Fact or fiction? "I think with the ELO songs it was much more of a mess around. Yes, we had a crack at a few. It was more of a mess around kind of thing. Tony would start a chord sequence and we'd all jam along until we couldn't remember how it went and some really horrible chords would make us all fall about laughing! It was all done in a joking about kind of way. If we had managed to get one of them right it may well have turned up in the set. 'Black Night' was talked about a few times and would have fitted in really well."
One left of centre track that did occasionally work it's way into the live set though, would be totally unexpected. "We did a full length version of the Shadows song 'Apache' a few times live", discloses Geoff. "It was quite funny because the kids loved it in Europe, but they were very bemused when we did it a few times in America."
A short burst of dates into Sweden, adding 'Keep It Warm' into the set at the Johanneshoves Isstadion in Stockholm, Finland and Denmark was all that was to prepare them for their real baptism of fire at the Reading festival on the 27th, or to give the event its proper title the 23rd Annual Jazz, Blues & Rock Festival.
Paradoxically, as Sabbath ushered in their new age, a spent Thin Lizzy would top the bill on the other night to signal the end of their reign, Phil Lynnot's words to 'The Sun Goes Down' proving prophetic and deeply moving. The gig itself comprised a diverse billing of acts spanning the likes of the ascendant Marillion, Ten Years After, fellow Brummies Magnum, Mama's Boys, Hanoi Rocks, Heavy Pettin', Lee Aaron and bludgeoning Canucks Anvil plus an eclectic cast of Pop and Indie bands. The festival organisers must have been rubbing their hands with glee with the realisation they had captured two pivotal moments of genuine Rock history.
Most UK press reports of the Reading show would emerge as cursory, dismissive or both. Scorn would be poured upon the band's bare faced cheek in cranking out 'Smoke On The Water', but on the day the massed ranks of fans lapped it up. When Iommi launched into Ritchie Blackmore's most famous of riffs, which upon analysis bears common traits with the mightiest of Tony's own distinguished offerings, the Hampshire night sky was bathed in applause and ecstatic cheers. As the lights dimmed over the silhouettes of the menhirs of a synthetic Stonehenge, fans straggled back to their tents side stepping camp fires and passed out revellers, knowing they had been blessed. British fans would not witness the like again.
Ian Gillan has this observation on the inclusion of the Deep Purple set closing standard, "That was totally Tony's idea. He loved the song and thought we should give it a go. We thought it was no big deal, we even still do it to this day! Sometimes, if I'm around I'll get up on stage and do 'Smoke On The Water' with Tony and he'll jam with us too. There was no sinister 'Deep Sabbath' plot going on for sure. Tony simply said 'How about this then?' and that was it."
From there, Black Sabbath crossed the Irish Sea to Dallymount Park in Dublin to headline a further outdoor event, topping a thundering evening of Motorhead, Twisted Sister, Diamond Head, Mama's Boys and the vibrator wielding Canucks Anvil. The group would spend much of September proffering their wares in mainland Europe maintaining the set intact with the exception of a relegated 'Keep It Warm'. Ian Gillan grants that, for some reason, Black Sabbath lyrics would have trouble registering, "I kept on forgetting the words. I don't know why because I have never had that problem before or since. Those songs just didn't want to stick."
Stuck out on stage with the memory banks flashing a blank warning, Gillan resorted to doing what he did best. "He kept on bloody screaming all the time", says Geoff Nicholls with good humour. "Whenever he forgot the words he would fill the space and just go 'Aaarrrghhh,haaaa…' really high. It wasn't an occasional thing though, it was every bleedin' show. Tony and Geezer had words with him actually. Tony said 'Stop the bloody screaming and just learn the fucking words!' He never did get them though. He even forgot the words to 'Smoke On The Water'!! I loved working with Ian, he was a real character. Sometimes we all used to fall about laughing at his antics onstage. Some nights, because of the smoke, Ian would not see his own monitors, trip over them and fall flat on his face. We all used to howl at that. He also had these Congo drums. His timing on them was crap, but it was so very funny to watch. He tried to put them in the middle of the stage, so eventually we got one of the roadies to tie string to them and slowly pull them away from the centre of the stage. He would keep trying to play them as he followed them offstage! Ian soon got the message though."
Winding their way through Spain, the Low Countries and Germany, Black Sabbath brought along for the ride West Midland kinsman Diamond Head, pushing their grandiose 'Canterbury' album, as openers.
One of the German dates on the 'Born Again' jaunt would go down, for Geoff Nicholls at least, as the very worst gig of his life. Most concerts simply blur to hardened road veterans, but this particular show will stay with the keyboard player forever more. "Usually, if you have had a crap day you can look forward to the gig and forget everything for a while", he surmises. "This gig, somewhere in Southern Germany, was just the absolute worst. Most of the German gigs had been just great but with this one everything that could go wrong did. Firstly, it was fucking freezing and it had taken hours to get to this dump, which was in the middle of nowhere. It was a really horrible bus ride over bad roads so as well as being cold there was no chance of sleep. We all turned up grumpy, tired and in a very bad mood. We got to the motel and it was the poxiest place you could imagine. The rooms were so small you didn't even have enough floor space to open your suitcase. The toilet was outside too and the walls were so thin you could hear people breathing next door, I'm telling you. Oh well, I thought, let's just get to the gig."
It got worse. Much worse. "I walked into the gig and found they had set my keyboards up in the fucking dressing room!", he exclaims in disbelief. "I couldn't fucking believe it. So I started to think – is this a joke? But it wasn't. The stage was small but not that bloody small. They seriously thought I could play the gig in the dressing room and do harmony vocals from there too. It was impossible because of course I provided a lot of cues and intros for the songs, so how could I do that if I couldn't see anyone? I went apeshit and pushed all my gear onto the stage. When the gig started everything broke down. Ian forget his words again and his voice went, Geezer was doing his nut, Tony lost his monitors, the whole sound system was fucked. Fortunately, we only ever had one gig like that!"
Suitably limbered up and with teething glitches ironed out, Iommi and co. braced themselves for the big prize, North America. Rehearsals for this leg took place at the Maple Leaf ice hockey Stadium in Toronto during October, the tour set list simply adding the Dio era tour de force 'Heaven And Hell' to the song roster.
Unfortunately, the opening night of the tour would see the resurrection of something Ian Gillan had been vainly trying to shut away behind a locked door in the recesses of his mind – Don Arden's baby. "I noticed this dwarf hanging around on the day of the show, which obviously piqued my curiosity. When we got into the production rehearsal this dwarf was there again. What happened was so mind boggling that we all had to pinch ourselves afterwards to make sure we had really seen it with our own eyes. The rehearsal involved an intro tape of a new born baby, but distorted and flanged through the PA to sound utterly horrible. The dwarf then appeared dressed in red, exactly like the baby on the album cover, complete with yellow horns and fingernails, and crawled about on top of Stonehenge before standing up and with a scream falling backwards onto a pile of safety mattresses. It actually got worse though.
"The baby's screaming stopped and an ominous bell began to toll and a line of roadies, dressed in monks robes with cowls pulled down, sombrely shuffled onstage. I can imagine those roadies all having a good giggle under their cowls. This was the cue for the band to go on. All we needed at that point was a bearded lady, a couple of elephants and a high wire act and I think we could have got that down to perfection. Don Arden thought it was just wonderful but Bev and I voiced our concerns that the whole thing was deeply disturbing and actually in very poor taste. Don basically told us it was show business and to shut up and get on with our jobs. When Don Arden tells you to shut up and get on with it that is exactly what you do, so that was that."
The mischievous inclusion of a dwarf in the band's show was an obvious snub to a certain ex-singer. "I bet Ronnie was fuming!", laughs Geoff Nicholls. "First Ozzy had taken a dwarf out on the road with him and then Black Sabbath did the same! He was getting it from both ends."
The gig itself will remain forever etched on Ian's memory, "It still staggers me to this day actually. It was a big gig and there were a lot of people there to see us. The screaming baby tape began to roll and the dwarf-baby appeared on top of the monoliths. He fell off on cue but then kept on screaming! The mattress wasn't there. Someone had moved it. We never saw him again."
Geoff Nicholls has this same bizarre episode imprinted on his frontal lobes too. "Just like Ian says, the dwarf was prancing along on top of Stonehenge, like he was supposed to. What was supposed to happen next was that the front of house lights would go off and he would take a dive. However, the back lights were supposed to stay on so he could see where to fall. The problem was that nobody had turned the back lights on in the first place, so that when the cue came ALL of the lights went off and he couldn't see a thing. It was pitch black so of course he fell off in the wrong place. We all heard this tremendous screech of 'Aaaarrrgggh!' It wasn't part of the show. He had really hurt himself, but I don't think anybody cared because it was just so, so funny!"
With his opening Black Sabbath show off to literally a flying start, Ian Gillan soon surmised he had problems of his own to contend with, "As the show started the stage was pumped with dry ice. I realised that if that smoke reached my cue sheets I was scuppered, but that is exactly what happened. They were very important because, and I don't know why, I had great difficulty in memorising the Black Sabbath songs. I had a book of lyrics made up and hidden behind two monitor wedges at the front of the stage. The idea was I could turn the pages with my feet. I had even rehearsed this at home and it worked out fine. Before I knew it, the music had started and I was deep in a dry ice cloud trying desperately to find my notes. The footlights came on and just made the fog thicker so I was totally lost. I was ducking in and out of the dry ice like an idiot, trying to sing the first song but completely having lost it. I ended up racked with laughter."
At the Montreal Forum gig the opportunity was taken by director Lyndsey Clennell to collect two promotional videos of 'Trashed', not actually performed that night but spread to radio as a single, and 'Zero The Hero'. Footing the bill for these Canadian shows and their inaugural foray into the USA, marked by a gig at the Buffalo Memorial Auditorium, New York on the 27th, would be Quiet Riot.
The tour was heavy in all departments with the exception of one. Although the sheer tonnage of riffage, wailing, and rumour mongering was unquestionably as monumental as the megaliths that were hauling in the back of their (often unopened) trucks every night, question marks hung over Bev Bevan's suitability to the proceedings. Black Sabbath fans were accustomed to Bill Ward, a man who in the finest traditions of Black Country industrial heritage hit things bloody hard. But Bev Bevan? Mr. Blue Sky? Ian Gillan posted this anecdote on his official website regarding a conversation with a later drummer of his, the notorious Y&T monster skin basher Leonard Haze.
"Man, I came to see you with Black Sabbath in '83. I thought, what's this Bev Bevan from ELO playing drums with Black Sabbath? That can't be right."
I explained that Bill Ward had some health problems and that Bev had stepped in at the last minute, he was a good friend and a nice guy.
"Yeah" said Lenny, "he plays like a nice guy."
Although Black Sabbath's tour was doing some serious business, enough to add a second leg into the following year, back home in England unsubstantiated whispering told of dissent in the ranks. Black Sabbath had shuffled the set around, now opening with the unexpected maelstrom of 'Neon Knights', utilising 'Children Of The Grave' as a closing tune and by all accounts were having a ball onstage. This gossip would slowly gain ground to such an extent that casual biographers have often assumed this perceived tension was concrete and have gone on to describe the US tour in such terms. Once again, Ian Gillan squashes this as fabrication.
"There were all these rumours flying around that I hated every minute of it. Nothing could be further from the truth because the year I was involved in Black Sabbath was, to my memory, one long party from start to finish. We became good friends and had a great, great time. Tony is a very funny guy and Geezer is just off this planet. It makes me laugh how the media build up these feuds and push these stories when very often nothing could be further from the truth. We all got along just fine, in fact, much better than that. There never was any animosity, I was having a ball. All those guys I love to bits, Tony, Geezer, Ozzy and Ronnie. We had Ronnie out on the road with us just recently (with Deep Purple) and whenever we sit down to have a chat all we can remember is all the good times we had. The rest are just minor incidents the press just love to latch onto. The truth is, I had a big smile on my face for the greater portion of the time I was singing for Black Sabbath."
Ian is keen to address what he sees as misapprehensions, often repeated in print, that he was either fired or quit the band. Wild speculation according to the singer, "I agreed to join Black Sabbath for one album and one tour. That was the agreement acknowledged by everybody, before one single note was recorded. Everybody knew this when the whole thing was decided upon and I certainly don't recall anybody ever suggesting the band be called anything else. All these things were just made up, supergroups, Deep Sabbath, playing ELO songs,… All just garbage. I never viewed Sabbath as a long term thing. How could I? Myself, Tony and Geezer all knew that once the world tour was over I would be teaming up with Deep Purple. Of course, I read in the press that I had walked out, but that was just conjecture. I made a deal and I stuck to it. We all parted on amicable terms. Would I have stayed on if things were different? If Deep Purple wasn't happening I would have seriously considered it but, that was the situation so that, even hypothetically, is something I don't know. There was certainly nothing amiss with the relationship between the band members. Working with the boys was a blast, I had a seriously fun time, but the Purple thing was always there from day one and pretty much on schedule for when I came out of Sabbath. It all slotted in very nicely as it happens."
The vocalist's line though is not endorsed by Geoff Nicholls. "I remember this very clearly because it all tied in with this new thing that Geezer had", he recalls. Butler, apparently, had issued a dictat that he was not to tour for any period longer than six weeks. "Geezer wanted this and he got his way. Tony and I just wanted to tour non-stop but Geezer said no. So, that's what we did. We did six weeks then had a break. That was intended to be for two weeks, then a further leg in the USA was due. The shows were all there and mapped out. Trouble was, Ian Gillan didn't come back. Someone, somewhere lost a lot of money on gigs that should have happened but didn't.
"If Gillan was always intending to go back to Purple then we were all unaware of it. That includes the crew who went out on the road with us. Anyone will tell you that the crew know everything, sometimes before the band. Possibly, it was a big secret Tony and Geezer kept to themselves, but I can't see it. We were on a roll. We were all raring to go, keep the momentum building because 'Born Again' was selling very well, it wasn't slowing down and we were drawing some pretty big crowds. An extra six weeks of dates to big audiences would have sold us a lot of records. The video for 'Zero The Hero' was just out too, so when Ian left they stopped pushing that. The promotion for 'Born Again' was never finished and it cost us."