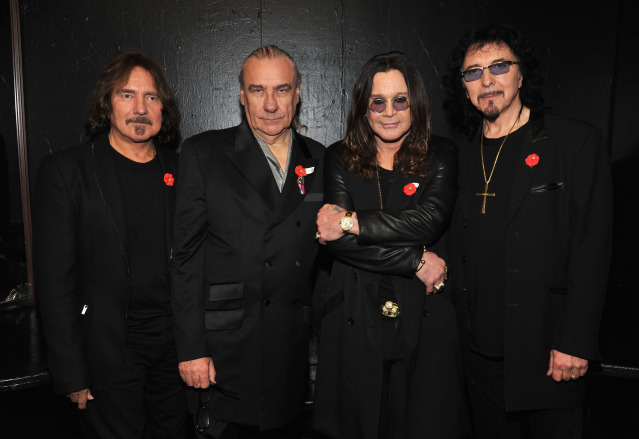 Mk I is back.  Again.
There you go.  All apologies to Kiss…  You wanted it.  You got it.  The best band in the world…

At a press conference in Los Angeles this morning at 11:11AM on 11/11/11, Tony Iommi, Geezer Butler, Bill Ward, & Ozzy Osbourne appeared to announce that Black Sabbath Mk I is back together again and will be releasing their first new full album of material since 1978's "Never Say Die!". Granted, the last official full album by "Black Sabbath" was 1995's Forbidden, and the last full album of material that could be called Black Sabbath was 2008's "The Devil You Know". And don't forget the 1998 Mk I release, "Reunion", which had two new tracks on it.
Announced today at the site of were two simple things.
They would be putting out a full new studio album with the original lineup. No release date (although Fall 2012 is mentioned), no title yet. It will be produced by Rick Rubin, though. It has been announced it will be on Vertigo Worldwide. Management has told me nothing has yet been recorded, but there has been writing going on for a few months now. I've also been told it's all new stuff. The material they wrote back in 2001, which included "Scary Dreams" won't be used. But until the album is in our hands, one can never be 100% sure, eh?
Just one live date – the Download festival on June 10, 2012. There will be more after that, but just one gig announced now.
For the love of God, PLEASE do not ask me about dates. When I have them, you will have them. I have nothing at this time.
Other thoughts:
I do wonder what effect this will have on other projects in various stages by the guys, like Tony's writing with Ian Gillan in the spring for a possible full album of material from that collaboration, the previously talked about fourth GZR album, as well as Bill Ward's "Beyond Aston" (where the fuck is that, Bill?) Ozzy just came off a large world tour for his Scream album, so he's probably not doing anything else solo for a bit.
I inquired about who might be handling keyboards for the project, and was told it hadn't yet been announced. But my gut feeling says either Adam Wakeman or Geoff Nicholls. We'll find out soon enough on that.
The press conference was filmed, I was told that video of it will turn up online, but when exactly isn't known. Will post more news as it comes out.
Here is a direct link to the Official Announcement Video. This link forces it to play in 720p HD. Spread this one, people. :)
There was an official press release put out on Tony Iommi's site. You can read it here:
BLACK SABBATH
REUNITES TO RECORD FIRST NEW STUDIO ALBUM IN 33 YEARS
AND LAUNCH MASSIVE WORLD TOUR IN 2012
OZZY OSBOURNE, TONY IOMMI, GEEZER BUTLER AND BILL WARD
UNVEIL PLANS ON 11/11/11
AT A LOS ANGELES PRESS CONFERENCE
AT THE WHISKY A GO-GO,
WHERE THE BAND PERFORMED THEIR FIRST LOS ANGELES DATE EXACTLY 41 YEARS AGO
After much speculation, the original four members of BLACK SABBATH–OZZY OSBOURNE (vocals), TONY IOMMI (guitar), GEEZER BUTLER (bass) and BILL WARD (drums)–have reunited to record their first new studio album in 33 years with producer Rick Rubin (seven-time Grammy winner, two of those as Producer of the Year) and to embark on a massive world tour in 2012.
OSBOURNE, IOMMI, BUTLER and WARD as well as Rubin all gathered today on 11/11/11 to announce the news at a Los Angeles press conference at the legendary club, the Whisky A Go-Go, the site of the groundbreaking and influential band's first L.A. concert exactly 41 years ago (Nov 11, 1970). The event was hosted by the revered musical and spoken word artist Henry Rollins who has said that "Any band worth their weight in napalm wishes they had written 'War Pigs.'"
Selling over 70 million albums together, the Grammy-winning, Rock and Roll Hall of Fame inductees have signed a new record deal worldwide with Vertigo and Vertigo/ Universal Republic in the U.S., the band's original label. BLACK SABBATH is now in the studio recording the as-yet-untitled new album for release in the fall of 2012 (exact date TBA). It will mark their ninth studio album together and their first since 1978's Never Say Die!
Next summer, BLACK SABBATH will headline the mammoth multi-day UK Download Festival in the U.K. on June 10. The new album will then be supported with a worldwide headline arena tour (dates TBA).
BLACK SABBATH also announced today the launch of www.blacksabbath.com, the first-ever official BLACK SABBATH website for all authorized BLACK SABBATH news. In addition, the band's online presence will also be supported by social media via Facebook and Twitter–again, marking the band's first-ever foray into the social media world.
BLACK SABBATH released their self-titled debut album in 1970. "Black Sabbath is credited with creating heavy metal," according to the Rock and Roll Hall of Fame. "The success of their first two albums–Black Sabbath and Paranoid–marked a paradigm shift in the world of rock. Not until Black Sabbath upended the music scene did the term 'heavy metal' enter the popular vocabulary to describe the denser, more thunderous offshoot of rock over which they presided." The Rock and Roll Hall of Fame also noted, "…they remain one of the most misunderstood bands in rock history," adding: "The band's musicality was generally overlooked, but they possessed an inventiveness and fluency that, in hindsight, makes them seem as much of a progressive-rock band as a heavy-metal one."
In 1998, BLACK SABBATH released Reunion from their 1997 concerts in Birmingham, England, a two-CD live set that featured two new studio songs. The band has also sporadically reunited for shows in 1999, 2002 and 2004; in 2005, the four performed concerts together when they toured Europe and then headlined the 10th anniversary of Osbourne's namesake festival OZZfest. Also in 2005, they were inducted into the UK Music Hall of Fame by Brian May of Queen. This was followed by their induction in 2006 into the U.S. Rock and Roll Hall of Fame, an honor bestowed on them by Metallica's James Hetfield and Lars Ulrich.